Reaching for the Sky
Georgia's aerospace companies – representing sectors from airports to IT – are soaring to success.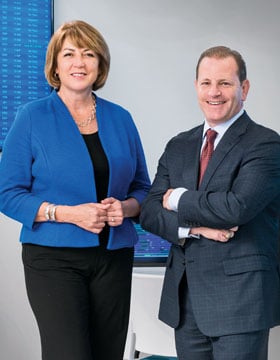 Georgia has long been famous for its peanuts, peaches and poultry, but today's real growth industry includes airplane parts manufacturing, the technology that keeps airliners and rockets flying and the economic drivers of airports large and small around the state.
Overall, Georgia's aerospace industry is worth about $51 billion, according to a 2013 study. That year alone, the industry generated jobs for more than 88,000 Georgians working at more than 500 companies.
Few industries are as diverse and far reaching as aerospace. The state is rich in manufacturing firms for both parts and entire airplanes, and aerospace parts were the No. 1 export for the state, totaling $8.44 billion. Some of the nation's biggest airplane makers are here, including Lockheed Martin in Marietta and private jet leader Gulfstream in Savannah. Georgia also has the nation's fourth largest maintenance, repair and overhaul (MRO) industry to refurbish planes and keep them flying.
"I think one of the reasons Georgia is particularly successful is we have a great location," says Amy Hudnall, the new director of the Georgia Centers of Innovation for Aerospace. "We are accessible. We can reach 80 percent of the U.S. population within a two-hour flight or a two-day drive by truck. That makes us attractive for all kinds of business. On the aerospace side, we have a very diverse industry. So we have those three sectors of manufacturing, maintenance and repair, and air transportation. And that has allowed us to remain steady."
Another key to Georgia's success has been a deep pool of skilled workers. While many come from the military and company training programs, the state's system of universities and technical colleges plays a large role in ensuring that young people – and seasoned workers – get the training they need to keep up.
"Aerospace jobs are high-tech jobs," says Hudnall. "They're good jobs for the state."
---
Business Aviation
When most people think of aerospace they think of planes, and the state is well represented in this category. Over the last decade, few companies have been as successful as Gulfstream, which has been selling business jets both domestically and abroad in ever-growing numbers.
Gulfstream jets are flying in every part of the world, from South America to Russia to China. The planes are tools for business designed to get executives from one location to another quickly and keep them connected and working while in flight.
That has been good for Georgia – especially Savannah, which is home to a manufacturing plant, and nearby Brunswick, home to an expanding center to service the growing fleet of jets now in operation, such as the preeminent airplane for business, the G650 – the company's largest and fastest business jet.
"The backlog continues to be the strongest in all of business aviation," says Mark Burns, president of Gulfstream Aerospace Corp.
The company also has two new planes – G500 and G600 – due to hit the market in the next two years.
"New products always stimulate growth," observes Burns.
Over the last few years, company sales have been divided almost evenly between North America and the rest of the world. This year, a stronger U.S. economy is set to push the U.S. to almost 60 percent of sales.
"The U.S. is a much more mature market than those others," says Burns. "We've got a very large clientele in the U.S., and we've got a very sophisticated buyer. So the activity here is very strong right now."
"Our brand is without a doubt a global brand now," he says. "When I started [with Gulfstream] many years ago, it was predominately North American and Western Europe."
Customer loyalty is a big part of the business, with more repeat buyers than first-time purchasers. The company has also been successful in converting customers from other companies. Last year, about 60 planes went to owners of other brands of aircraft.
---
Connecting Flights
Those Gulfstream jets – and the commercial airplanes that carry tourists and business travelers – wouldn't be nearly as efficient without another Georgia-based company. SITA is the world's leading provider of air transport communications and information technology that checks in passengers and directs baggage to the right location. It also provides the kiosks, gates and desk infrastructure at airports – including Hartsfield-Jackson Atlanta International Airport, the world's most traveled.
Owned mostly by the airline industry and structured as a cooperative, SITA employs 4,700 people – 600 in Atlanta – and provides technology and products at nearly 1,000 airports around the world.
"We provide critical communications and operational support to pretty much every airline in the world," says SITA President for the Americas Randy Pizzi. "At the airport, we provide IT infrastructure support focused a lot on passenger processing.
"The focus for the airlines is providing the network connectivity," says Pizzi. That includes message processing for operational support to the airplanes, air-to-ground data link and communications infrastructure.
Atlanta is also the headquarters for SITA Lab, which develops new applications and technologies that make airlines more efficient and the passenger experience of catching a flight less daunting.
Hartsfield-Jackson is doing a number of things to make the passenger experience less daunting and more efficient. The airport recently launched a $6-billion, 20-year master plan that includes a new runway, new concourse, 400-room hotel, shorter wait times on the people mover – the Plane Train – and upgrades to the exterior of the domestic terminal. All of this comes as the airport hit 1 million annual passengers last year.
Not only is Hartsfield-Jackson the world's busiest passenger airport, it has also long been an economic engine for the Metro Atlanta area, though the Southside, where the airport is located, has lagged behind the rest of the region. The area is looking to catch up with the Aerotropolis Alliance, an organization created in partnership with the Atlanta Regional Commission. The alliance is comprised of leaders from the area's public and private sectors including Porsche Cars North America and Delta Air Lines. It is designed to bring together the various stakeholders in the area to transform the airport region by stimulating investment and leveraging Hartsfield-Jackson's role as an economic engine.
Aerotropolis was coined to describe an urban environment that develops around an airport and reflects a growing realization that airports – both here and around the world – are likely to become centers of trade and commerce, as well as population hubs.
Residential, Class-A commercial and mixed-use development is already underway or in the planning stages in the area.
Middle Georgia is another region of the state whose economy has grown with aerospace.
"One of the big things that we have is that with Robins Air Force Base and its 23,000 people, there is an aerospace workforce in the area," says Pat Topping, senior vice president of the Macon Economic Development Commission. "You've got to have a trained workforce. That is the critical issue."
Area employers can also find well-trained workers thanks to programs provided by local colleges including Middle Georgia State University, which has a large aviation training program located in Eastman. The university is also opening a branch of the program at Macon's airport.
In fact, Boeing Aircraft cited the supply of skilled workers in its original decision to convert its Macon military plant to commercial production of 747 panels – a first for the company. However, the company recently decided not to convert the plant and will close it instead, citing weak demand for the 747.
---
Into Space
The process of sending rockets and payloads into space is in the midst of a revolution, and Georgia has grabbed a share of the fast-developing space business.
In Camden County on the southern edge of the Georgia coast, leaders are working to convert a parcel of land – about 11,000 acres in all – into the state's first spaceport. The goal is to attract rocket companies and other space firms to locate and use the site for launching rockets into space.
"What you're seeing is innovation beginning to thrive," says Camden County Administrator Steve Howard, who chairs the Spaceport Camden committee.
In other space business, the watchwords are smaller size and lower costs.
"The challenge is that we don't have a very deep history in Georgia of being a space state," says John Olds, CEO of SpaceWorks Enterprises, which is developing several cutting-edge technologies designed to get payload into orbit. "There is no NASA field center like there is in Florida or Alabama or Texas, and there is no major air force or military facility as there is in New Mexico."
So the state is playing a bit of catch-up but has focused on the rapidly growing commercialization of space with a host of private companies getting into the business.
"[These companies] are working toward the democratization of space," says Olds. "We're trying to lower the cost and be very innovative in the way we offer launch services and return services from space and the spacecraft themselves. That's where Georgia is making progress."
The company's subsidiary, Generation Orbit (GO) Launch Services, is developing a method to launch small rockets from airplanes. In fact, they're now doing tests on GOLauncher 1 using an older Gulfstream jet.
The single-stage liquid rocket will be put to hypersonic flight testing – flying six to eight times the speed of sound in the upper atmosphere.
"An order of magnitude faster than your standard commercial airliner," says GO COO A.J. Piplica.
The project is supported by the U.S. Air Force, the Defense Advanced Research Projects Agency (DARPA) and a number of aerospace companies, with the goal to speed up getting around the country and the world from hours to perhaps minutes.
To help achieve both a cheaper and better product, the rocket is single-stage rather than the multi-stages of different rockets stacked on top of each other. The technology needed for a launch is contained within the jet and launch vehicle, meaning that launches can take place from many different locations and not just a big space port like Cape Canaveral.
"We're able to fly a wide range of projects and payloads with a single rocket instead of having to essentially build a new launch vehicle every time," says Piplica.
It's the kind of innovation that's keeping Georgia out ahead in the race for the stars.
---
Ready to Launch
Small is beautiful in the emerging development of micro satellites – often called cubesats – for putting tiny payloads into low earth orbit. Georgia Tech and the University of Georgia have both launched cubesat development programs.
"There's a lot of space debris in orbit, and it's adding risk to a number of human activities in space, with the risk of collision in particular," says Marcus Holzinger, assistant professor in Georgia Tech's School of Aerospace Engineering, who has built and is ready to launch his own cubesat called RECONSO.
When Holzinger's small camera-equipped satellite launches into the earth's orbit, it will begin tracking an array of about 17,000 space objects. Most of this metal orbiting the earth is comprised of dead satellites or other junk such as lost space wrenches. Over a six-month period, the Georgia Tech satellite will photograph these objects while scientists back on earth develop algorithms to describe and predict their paths and exactly how they're tumbling through space. The goal is a better way to track them.
The U.S. Air Force issues almost weekly warnings to the owners of satellites when the space junk it tracks will be passing close by. The International Space Station has engaged in evasive maneuvers on several occasions to avoid being hit by fast-moving metal.
"This is really important for us on the ground, for a great deal of the world's economy depends on access to space," says Holzinger. "It's on the order of several hundred billion dollars in economic activity that depends on space."
Ironically, Holzinger's satellite will itself join the ranks of space junk before its decaying orbit causes it to burn up in the upper atmosphere. – Randy Southerland