Legal Evolution
The Great Recession had a huge impact on the practice of law, leading Georgia's law schools to respond with programs that prepare grads for the new legal landscape.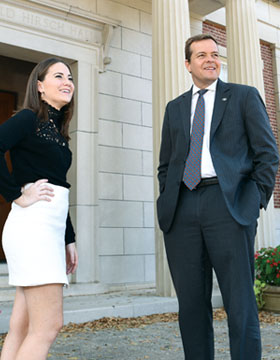 Until the early 2000s, the practice of law and legal education hadn't changed much since the days of powdered wigs. Even now, legal communication is filled with Latin phrases – a dead language – and the study of law still involves reading cases from the beginnings of our republic, and even earlier.
But legal education is finally evolving, kickstarted by the economic challenges we've faced since 2008. Sure, precedence is still important, and students pour over legal cases as the primary way to learn essential analytical skills. But Georgia law schools have landed firmly in the 21st century, responding to changes in the practice of law that involve new technology, new efficiencies, greater diversity and an entrepreneurial spirit with major changes in legal education.
Today, students at Georgia's five law schools – Atlanta's John Marshall, Emory, Mercer, Georgia State and the University of Georgia – are as likely to be working in a legal clinic or judge's chambers as they are to have their noses in a book. It's the era of skills training and experiential learning, with the goal of creating practice-ready attorneys right out of the gate.
---
Roots of Change
As with other professions, the recession had a profound impact on the practice of law. Large firms, which traditionally have done much of the hiring of freshly minted lawyers, stopped hiring; some even laid off entire classes of new associates. This shift in reality in the profession meant that law schools needed a new reality as well.
"The combination of the recession and the effect on the job market [with] the independent but well-timed critique of the legal education [as not being responsive to the needs of the legal profession] led legal education to reassess, much more seriously than I've ever seen in my 30 years in legal education," says Steve Kaminshine, dean of the Georgia State University College of Law. The upshot, he says, is the realization that "law schools need to blend better [their] mission as a graduate program with the equally if not more important mission as a professional program. And it's a profession that we need to coordinate with better."
The upheaval led to substantial changes in the curriculum, along with changes to the business of law school. With declining employment opportunities for law school grads, the schools saw fewer applicants as fewer people were willing to take on the student debt with few guarantees of employment.
"The business of legal education changed because we needed to ourselves be more efficient," Kaminshine says. "We needed to be more creative in our recruitment practice for students. And we had to deal with the realities of a shrinking applicant pool, yet make sure that we continued to attract and enroll quality students who we believed would be able to get through our program, who were diverse, qualified and were able to pass the bar."
"What [the recession] did was it induced a degree of introspection that all law schools, including ours, either underwent or needed to undergo," says Peter B. "Bo" Rutledge, dean of UGA's School of Law, "to tailor what they're doing to the new normal of both the legal education marketplace as well as the legal employment marketplace."
---
Practice Ready
If over the past couple of centuries law students haven't been learning the business skills required to practice law, what, exactly, have they been learning? Well, the focus has been on how to think, reason, research and analyze the law. Classes generally met in large rooms, with a professor lecturing at the front, while the students struggled to read often arcane language on the minutia of legal theory.
The ability to read and understand legal theory is still vital to the practice of law, no matter what area an attorney ends up in, but the legal profession has begun to realize that the business of running a law firm and the ability to draft a letter to a client or memo to a judge – alternately called skills training or creating practice-ready attorneys – are as important in today's climate.
"If you think about what we're doing in legal education, we're preparing [students] to develop the cognitive skills that lawyers need – understanding doctrine, understanding legal analysis, those sorts of things," says Daisy Hurst Floyd, dean of Mercer's Walter F. George School of Law. "That's the traditional emphasis of legal education. Skills training is more about what you do as a lawyer. So, for example, preparing you to draft documents or to interview clients or to negotiate a settlement or to prepare witnesses for trial."
The schools offer a variety of classes and programs designed to help students be skills and practice ready, from legal writing to externships to legal clinics to pre-trial practice class. Every law school in the country is also required to offer a course on professional responsibility – the ethics of practicing law. It is most often a one-semester course taught in the third year – but not at Mercer.
"We were the first law school in the country to offer a first-year required course in ethics and professionalism that is in addition to the advanced required course that students take," Floyd says.
The award-winning class has become a national model for other law schools, with its blend of the personal and the professional that gets students to think "about ethical challenges that they might face and about ways in which the identity that they're acquiring now as a lawyer can be integrated with those values and skills and knowledge that they brought with them into law school," Floyd says.
Atlanta's John Marshall, the state's only for-profit, stand-alone (not part of a larger university) law school, also has a focus on creating practice-ready attorneys, but in ways a bit different from other schools.
"What I did differently from the other schools that I've worked at is I came to accept the fact early on that having knowledge without the ability to effectively communicate it to your audience is like not having knowledge at all," says John Marshall Dean Malcolm Morris. "If I know something but I can't explain it to my client, what good is it to my client?"
To ensure John Marshall lawyers have the ability to communicate with clients, judges and other lawyers, the school added a legal process and communication course in the first year.
"This course is designed to help students from day one start developing their communication skills in the context of legal situations," Morris says. "They will have this experience where they are actually honing their writing skills to a targeted audience or to a specific purpose along with getting the legal analysis training right up front."
The plunge into skills training – and a corresponding focus on careers – in the first year has taken hold across the state.
"Now I think we in law schools understand that preparing [students] for professional development starts at the very beginning," Floyd says.
To that end, the career services office at Mercer's law school teaches the softer skills as part of a well-rounded legal education.
"We're also focusing a little more on the soft professional skills, so still writing and those practical skills, but also things like communication and time management," says Stephanie Powell, assistant dean of career services at Mercer. "All of that is going to be really important for them succeeding once they do find that job.
---
Maximizing Opportunities
An increased focus on experiential learning – learning by doing – goes hand-in-hand with skills education and is also helping make law students more marketable and increasing their opportunities for networking.
"I think what has changed a bit over the past decade or so is a renewed focus on experiential education," says Robert Schapiro, dean of the Emory University School of Law. "Emory was a pioneer back in the 1980s with our litigation skills program, but we've really built on and expanded that commitment to experiential education from a litigation focus into new areas. For example, we have a robust transactional law program, [where] students get a hands-on education in how to negotiate a deal, how to draft a contract and learn all of the skills that will make them outstanding transactional lawyers."
Externships and clinics are essential components of a legal education at all schools and run the gamut from programs in government offices, courts and corporations such as Delta Air Lines and Coca-Cola to legal clinics where students work under the supervision of faculty in areas of environmental law, child law and policy, international humanitarian law, disability rights and veterans legal issues.
"We have taken great advantage of our location in Atlanta to boast probably the best externship program in the United States," says GSU's Kaminshine. "[Being in Atlanta] is a signature part of who we are. We have students in judges' chambers; we have them in nonprofits; we have them in government agencies – state and federal. Obviously we're near all the big law firms, we're near the [state] Capitol. We have programs in the Capitol. It's great to go to law school in an urban environment."
In fact, Atlanta is such a draw that both UGA and Mercer have developed externship programs in the city.
"We now have a semester in Atlanta program that's on Mercer's Atlanta campus," Floyd says. "Students can work up to 30 hours a week in office settings, and they have a two-hour-a-week classroom component. That's an outgrowth of this commitment to putting our resources into preparing students with the skills they're gong to need to be lawyers."
Clinics – a source of free or low-cost legal help in a specific area, where students work alongside faculty and practicing lawyers to help clients – are another source of experiential education. UGA has recently launched a legal clinic for victims of sexual abuse. It's the first such clinic in the country and came about in response to HB 17, the Hidden Predator Act, passed by the Georgia legislature in 2015.
"The Hidden Predator Act for a period of time opens the courthouse doors of the state of Georgia to victims of child sexual abuse regardless of when the abuse occurred," Rutledge says. "Our view was that this is part of the duty of the state's flagship public law school to look for ways to help support that effort to open the courthouse doors to voiceless people in the state. And also to provide a model for other states where this constellation of very sensitive but important issues is being examined. We partnered with one of the law school's alums to set up what's called the Wilbanks Child Endangerment and Sexual Exploitation Clinic."
The clinic opened in January to aid people who have been victims of sexual abuse and to help train the next generation of lawyers to work with this often-silent segment of society.
It's just one more way law schools are educating students as they grow into attorneys, and one of the myriad reasons UGA law student Gracie Shepherd believes UGA was the best choice for her. "I have the great academics here," Shepherd says. "Great access to lots of practice areas and practice area programs, whether it's through clinics or summer jobs or practical classes. In addition, I'm working on my career every day in the classroom or when I go out with my friends – who are future judges, hopefully."
"Being a lawyer is about more than what you need to know or what you need to know how to do, but it's about who you are becoming," Mercer's Floyd says. "We really try to have curricular opportunities across the board that help students develop fully into the lawyers they want to be."
---
Lawyers for Equal Justice
The competitive nature of lawyers – they argue for a living after all, with stakes as high as the pockets are deep – has long been widely assumed. And you probably wouldn't be wrong for thinking it was nurtured in law school. But here in Georgia, those traditionally competitive law schools have found a way to collaborate to increase access to justice for lower-income folks across the state.
Lawyers for Equal Justice is a law firm incubator in downtown Atlanta – the first one in the country supported by all of the law schools in a state, the state bar, the state Supreme Court and various legal aide organizations.
The mission of the incubator is two-fold, says Executive Director Stephanie Everett (Georgia State Law School, '02). "Newer lawyers are choosing to start their own practice earlier in their career," she says. "Making sure that we're empowering our newer lawyers to start a socially conscious law firm is, in a nutshell, what we're doing. Empowering new lawyers to start socially conscious law firms and close the justice gap."
Justice gap? Is that like the income gap we hear so much about? Yes, it is, and it's the second half of the mission.
"Eighty percent of Georgians can't afford legal representation or don't believe it's available to them," Everett says. "A lot of people are familiar with the phrase, 'if you can't afford a lawyer one will be appointed for you.' That's only in criminal contexts. If you're facing an eviction case, where you might be losing your home, or divorce issues and custody issues, you might be trying to fight to keep your child. There are civil matters in which people need lawyers. They might make too much to qualify for the pro bono services of our legal aide organizations, but not enough to afford traditional market rates for attorneys. Some of our literature says 1.69 million Georgians fall into this gap."
So the incubator is "really a laboratory where we can experiment with new ways to practice law," she says, "that will allow us to deliver a quality legal product, where we can lower the prices, serve more people and still be profitable."
The first group of eight attorneys include graduates of all five of the state's law schools, who will spend 18 months in the incubator growing their practices in areas including family law, landlord-tenant, consumer protection, wills and trusts, and even criminal law. The incubator, which just opened in April, will accept 10 new attorneys every six months, with space for a total of 30.
The incubator offers services most business incubators provide – reduced rates on office space, furniture, classes on how to run a business and how to grow a practice, and networking opportunities. But those are not the biggest benefits.
"One of our taglines on some of our marketing materials is that going solo can be lonely and frightening," Everett says, "but with the incubator it doesn't have to be, because now you're not practicing law by yourself. You're in an environment with other lawyers, and it's a very collaborative environment. Having that community and support, I think, is invaluable, especially as a newer lawyer."
Sounds like collaboration is taking hold across the legal profession. – Karen Kirkpatrick
---
By the Numbers
Atlanta's John Marshall Law School
johnmarshall.edu
Type of school Private/for-profit
Tuition and fees (full time) $38,450
Total enrollment 499
Percentage of students receiving grants 48.6%
Georgia bar pass rate (2014) 67.12%
Emory University School of Law
law.emory.edu
Type of school Private
Tuition and fees $51,510
Total enrollment 819
Percentage of students receiving grants 81.9%
Georgia bar pass rate (2014) 88.44%
Mercer University Walter F. George School of Law
law.mercer.edu
Type of school Private
Tuition and fees (full time) $37,260
Total enrollment 427
Percentage of students receiving grants 67.9%
Georgia bar pass rate (2014) 80.99%
Georgia State University School of Law
law.gsu.edu
Type of school Public
Tuition and fees (full time) Resident: $16,858
Non-resident: $36,466
Total enrollment 630
Percentage of students receiving grants 33%
Georgia bar pass rate (2014) 91.58%
University of Georgia School of Law
law.uga.edu
Type of school Public
Tuition and fees (full time) Resident: $19,476
Non-resident: $37,524
Total enrollment 583
Percentage of students receiving grants 56.4%
Georgia bar pass rate (2014) 92.78%
Georgia's law schools by the numbers. All figures are the 2014-2015 academic year except where noted.