Georgia Fare: Le Fat, Le Fab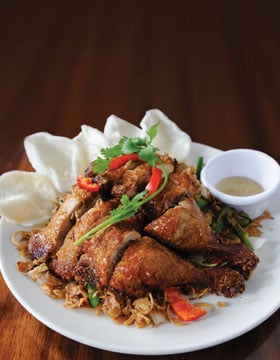 With Atlanta's wildly diverse food scene bubbling like a Korean hotpot, foodies have a lot to be excited about. In the hottest parts of town – Ponce City Market, Krog Street Market, in Midtown and along the BeltLine – that hotpot is more like a melting pot, where cultures once represented primarily along Buford Highway or DeKalb Industrial now take their places in the mainstream, both of the Atlanta restaurant scene and city life.
At places like Midtown's Tabla, you'll find a tandoori clay oven and traditional Indian dishes but also infused cocktails, and at lunch, "deconstructed tacos" of chicken and lamb, along with naan with parmesan and truffle oil. Not far from there, Poor Calvin's menu features a core of Thai favorites like pad Thai alongside Southern treats such as fried green tomatoes and deviled eggs, albeit with Korean barbecued beef and lychee glaze.
Chef Guy Wong is both a pioneer and expert navigator of this trend, starting with his genre-bending Miso Izakaya in the Old Fourth Ward. There, strictly traditional Japanese izakaya dishes (grilled, skewered meats and small plates, designed to go with sake and shochu) mingled freely with "KFC" (Korean fried chicken) and the signature cocktail, Unsung Hiro, with rye, ginger, buckwheat honey, lemon and lapsang souchong tea salt. At his newest entry, Ton Ton at Ponce City Market, he seizes on the current ramen craze.
At Wong's "Vietnamese brasserie," Le Fat in West Midtown, the continental influences are Asian, European and North American. Walking into the bar from the wide sidewalks around the throbbing Georgia Tech corridor on Marietta Street, your first impression is of a slowly dissolving reverie.
The faded colors of a handpainted mural, bentwood bistro furniture and industrial-style lighting all suggest a Saigon boîte in the era before American involvement, under French colonialism.
The music fits, too, with familiar but foreign versions of early '60s hits. You wonder if at night the place bursts into the frenetic jazz club scene from the old Heineken commercial.
But Le Fat's crisply professional staff snaps you out of such fantasies and into the present. That, as it turns out, is a good thing, because nowhere else but here and now could you sample this blend of influences, from iconic Vietnamese dishes like pho (rice noodle soup, here made with chicken broth), cha gio (fried spring rolls) and fresh summer rolls, Shaking Beef and its take on the bánh mì (steak on a split French baguette); as well as popular Chinese dishes (Drunken Noodles, spicy green beans) and the all-American "Wong's Famous" fried chicken, served with the kind of slaw Col. Sanders would never have attempted: crunchy shredded cabbage with fried shallots, Thai peppers and garlic chips.
If you're a fan of Miso Izakaya, you'll recognize Wong's trademark full-frontal flavors – the Drunken Noodles are a slithery, slurpy intoxication of sautéed beef, bean sprouts, scallions and rice noodles in brown sauce. The spicy green beans, polka-dotted with minced pork, are like your favorite Chinese restaurant version … but better – less oily, more green-beany and markedly spicier with red chile flecks. I also loved the fried chicken, featuring my favorite pieces, the leg and thigh, cut into slices over that addictive slaw.
There are occasional misses – the calamari, over another version of slaw, was overly salty and seemed too similar to the fried chicken, and though the dessert of coconut cake was very good (provided by Marietta bakery For Heaven's Cake), it seemed mismatched to the French-influenced cuisine.
And while I like the steamed-bun bao dishes (fried soft shell crab or pork belly), I don't quite get the cult status they've achieved among many. If it sometimes seemed the Chinese dishes outshone the Vietnamese ones – the wonton dumplings were another satisfying standout – you'd still have to weigh them against the terrific cha gio (fried spring roll with chicken, shrimp and wood ear mushroom) and soft, light summer rolls with shrimp, pork, vermicelli and fresh basil. I also adored the chicken clay pot, with bits of crispy rice, and the clear glass noodles with lump crab, onions and cilantro.
In short, I don't really care too much about the provenance of these dishes – just how good they taste and how pleasant it is to sit here like some faraway expat, sipping a Hemingway daiquiri and pondering the next adventure.
---
Le Fat
935 Marietta Street, Atlanta
404.439.9850
lefatatl.com
Hours: Dinner nightly
Parking: Complimentary valet in adjacent garage
---
Hang 10, Y'all!
Ride the wave of new Atlanta restaurants featuring retro interiors and classic cocktails
The Mercury, Ponce City Market
Atlanta
Named for the early '60s space project, this effort from the team behind Decatur's The Pinewood Tippling Room features rec-room appetizers (waffle-cut chips with French onion dip), mid-century modern entrees (steak au poivre) and back-in-the-day cocktails.
---
Ticonderoga Club, Krog Street Market
Atlanta
The theme is a nod to the New York fort central to the Revolutionary War, but the space looks a little more like Dante's Down the Hatch. Rum punches, cocktails (by expert bartender Greg Best), ciders, madeira and even a bottle of sherry, along with an all-over-the map menu featuring both fish sticks and dry-aged duck.
---
SOS Tiki Bar
Decatur
A more intimate – and tackier – version of Trader Vic's, if you can imagine that. Hula girls, fringed lamps, mai tais, wings … let's go now!