From the Publisher: Quotes for All Seasons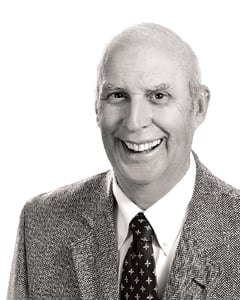 Each year, for the past 13 Decembers, I have presented a Christmas and New Year's column made up of favorite sayings. They can be used for speeches, sent to friends or just kept for your enjoyment. I call them, "I've Learned." They show truth, wit and whimsy and should bring a smile to all.
I've learned a wonderful Irish blessing: "May your troubles be less and your blessings be more and nothing but happiness come through your door."
I've learned: That life is not measured by the number of breaths we take, but by the moments that take our breath away.
That you should promise you will always remember; you're braver than you believe, stronger than you seem and smarter than you think.
That you should never frown when you are sad because you never know who is falling in love with your smile.
Don't count the days, but make the days count.
I've learned: That many people will walk in and out of your life, but only true friends will leave footprints on your heart.
That life is a boomerang – what you give you get.
That we often rob tomorrow's memories by being timid today.
That if you do things with all your heart you will prosper.
That enthusiasm invites enthusiasm.
And here, some notes from the shop at the State Botanical Garden of Georgia in Athens:
I've learned that dirty hands mean a good life.
That if you grow your food, you feed your soul.
That time is precious so waste it wisely: play in the garden.
That it's little good you do watering last year's plants.
That gardeners like to spend all day in their beds.
That you should keep a green tree in your heart and perhaps a singing bird will come.
That all you need to grow a garden is love and a little rain.
And lastly, the best quote: Gardeners in drought like to wet their plants!
I've learned that Will Rogers was right when he said: "Worrying is like paying on a debt that may never come due."
One of my favorite quotes says that you should talk slowly and think quickly.
I've learned that patience is the best remedy for every trouble.
That yesterday is history. Tomorrow is mystery. Today is a gift.
A great football quote was once said by Detroit Lions' Doak Walker about his teammate, quarterback Bobby Layne. "Layne never lost a game," he said. "Some days, time just ran out on him."
I've learned that a person who trusts others will make fewer mistakes than one who distrusts them.
That faith is life's hidden capital.
That prayer does not change God but changes those who pray.
That looking on the best side of every event is worth more than a thousand pounds of gold.
That if you keep your face to the sunshine you cannot see any shadow.
That our main business is not to see what lies dimly at a distance but to do what lies clearly at hand.
The favorite blessing of my friend Tom Cousins: "This is the day the Lord hath made, let us rejoice and be thankful!"
Rudyard Kipling's poem If contains several stanzas that should apply to all of us:
"If you can keep your head when all about you
Are losing theirs and blaming it on you.
If you can trust yourself when all men doubt you,
But make allowance for their doubting too. …
If you can dream – and not make dreams your master.
If you can think – and not make thoughts your aim.
If you can meet with Triumph and Disaster
And treat those two impostors just the same. …
If you can fill the unforgiving minute
With sixty seconds' worth of distance run,
Yours is the earth and everything that's in it."
Merry Christmas and Happy New Year!