2016 Deals of the Year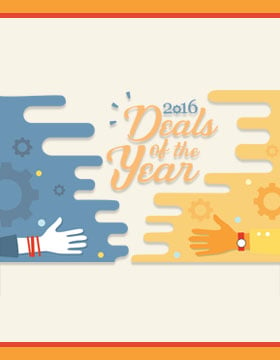 Business deals are by definition made with one element at the forefront: money. However, when you scratch the surface, what the three Deals of the Year in 2016 show is the tandem importance of the human relationships behind those business decisions. In all of the winning deals, there are different examples of the effects of this emotional factor and how friendliness and care often spur new business.
That is not to say the money is any less important, though. After the Georgia Economic Developers Association's (GEDA) more than 700 members submitted nominations to the membership services committee charged with selecting the Deals of the Year, the committee developed a formula to judge the deals based on investment, salaries and population size, says Chair Andrea Taylor, president of the Douglas-Coffee County Chamber of Commerce and Economic Development Authority. The winners "blew us away because of the tremendous economic impact they will have in their respective communities."
First established in 2007, the awards recognize achievement in locating or expanding new businesses. The projects must also meet community economic development goals and involve considerable community support, like providing workforce development, permitting assistance or financial backing.
This year, awards were given in three categories: large (counties with population of more than 100,000), small (50,000 and under) and regional (multi-county).
This year's winning communities and businesses are: Lauren County and Valmiera Glass Group; Houston County and Sandler AG; and Butts and Spalding counties and Dollar General.
In addition to the project awards covered here, GEDA presented this year's Rip Wiley Award for Professional Excellence to the late Joe Riley, Georgia EMC's manager of economic development. The Volunteer of the Year Award was presented to Eric Strickland, CEO of ETS Enterprises and acting chair of the Cartersville-Bartow County Department of Economic Development.
"Everybody has a deal that they think is a great deal, there's no doubt," says GEDA president Kevin Shea. One thing is certain though: these three winners have stood out, both for their sheer economic significance and the collaborative work of the people who made them happen.
Here are the stories of the projects, the communities and the folks who shepherded the deals.
---
Glass Works
In 2014, Valmiera Glass Group, a fiberglass manufacturer from Latvia, brought its first North American facility and 150 jobs to Dublin. As the first manufacturing investment in the U.S. by a former Soviet-bloc country, it was already a big deal. But then Valmiera decided to launch its second phase of expansion, which promises 425 new jobs beginning in September 2017. Once it opens, Valmiera will be the county's largest private-sector employer.
For these reasons, this project and Laurens County have received GEDA's Small Community Deal of the Year for 2016.
"Once Valmiera is under production in 2017, they will be our largest manufacturer and will restore over 425 good-paying jobs to our area," says Brad Lofton, president of the Dublin-Laurens County Development Authority. "The company is also making one of the top three largest investments ever made in Dublin-Laurens County. The economic impact of this project is substantial, and it is especially gratifying for rural Georgia."
It was a big decision for the company because once Valmiera turns on its production furnace it cannot be turned off for 10 years. So the company needed to be certain that the selected community would be equally committed to the project, and Laurens County won company officials over.
Dublin's prime location between the Atlanta airport and the Port of Savannah certainly helped, as well as proximity to Georgia's natural kaolin deposits, but particularly important to the company was the guaranteed availability of a trained workforce to keep the furnace running for the long term.
"Quality of workforce was our biggest concern, and this is why we put a lot of effort into the education system," says Andre Schwiontek, president of Valmiera Glass USA Corp. "The state of Georgia together with the city of Dublin and the college put a tremendous amount of effort into this project to make it happen in record time."
Indeed, Oconee Fall Line Technical College has created and launched customized curricula for various positions at Valmiera on a very short timeline, thanks to great collaboration with the existing facilities in Latvia and Valmiera's donation of $1.2-million worth of equipment. A group from the college traveled to Latvia three times in preparation, and the expedited program they developed condenses two years of training into 12 months.
"Our biggest hurdle was to convince the company that they did not have to be in Metro Atlanta or Charlotte to find good, reliable employees," Lofton says. "It took significant effort to convince the company that we have a great regional workforce here as well. We assembled an unprecedented partnership with Oconee Fall Line Technical College, Job Training Unlimited, the Georgia Department of Labor and the Heart of Georgia College and Career Academy, and we delivered a German-inspired customized training program, which is underway as we speak. It has been an enormous success, and the company is very pleased with the future outlook of their workforce."
Location, workforce and collaboration all came together to solidify the decision for Valmiera. "We had the feeling that Laurens County and the city of Dublin were fighting very hard for us," says Schwiontek. "The owner, Mr. Preiss-Daimler, felt very accepted and at home here. In the end, a lot of soft factors were involved in the decision as well."
"It sounds cliché, but economic development really is a team sport," Lofton says. "The proof is in the pudding, and the pudding in this case consists of over 425 new jobs and a capital investment in excess of $90 million. Our team had active and engaged partners at every level of state and local government plus the private sector and our workforce development partners. Each of these groups were involved not only in the project implementation phase but in the recruitment phase as well."
The only thing missing in this project? A Latvian/German bakery and its dark bread, says Schwiontek. After putting together this deal, that probably seems a much easier task.
---
Right Questions, Right Answers
Sandler AG is a family-owned textile company from Germany founded in 1879. They thought carefully about where they wanted to make their first North America expansion happen. Houston County knew this, and so the community listened carefully to what the company wanted and worked hard to offer it.
"It is the most cohesive and flawless work that I've ever seen a government do," says Houston County Development Authority Executive Director Angie Gheesling of the more than 120 people who worked hard on the project. "It was so impressive to see, because we had to make a lot of decisions at a fast pace to make this whole project work for the company."
As a result, the locality was able to put together a $30-million deal for the creation of more than 140 jobs within exactly a year. For Houston County and Sandler AG's efforts, the project is this year's Large Community Deal of the Year.
Sandler AG is building a production plant and warehouse, distribution and sales center, and the county put together 100 acres around the facility to leave room for expansion. The facility will produce a nonwoven textile product used for baby and makeup wipes.
"I think with this project, we really listened to what their needs were. Sometimes you just have to ask the right questions," Gheesling says. "I think it was about having that open relationship and trust and figuring out how we could really help the company. We were trying to figure out what they really needed to get comfortable in the U.S. and to let them know, 'We're not going to abandon you when you get here.'"
Sandler approached existing industries in the region to ensure that was the case as well, and it appears they have not been disappointed. Gheesling says she sent videos of interior home tours in Georgia to Sandler employees to help them decide where to live before they arrived.
"There has been a real connection between our community and the community where Sandler is located in Schwarzenbach," she says, mentioning interesting parallels between Perry and Sandler's German hometown. Besides the general size of the communities, when they superimposed the model of the site in Perry on the site in Germany, "it was remarkable how similar they are. And we all saw it.
"In the 20-something years I've been in this industry, this has definitely been the most meaningful deal," Gheesling says. "It brought us closer to another community, and it brought this community closer together. I feel like I have lifelong friends now in another part of the world as a result."
Plus, since the announcement, she has heard of several informal Oktoberfest celebrations that happened in Houston County this fall. Once the facility formally opens, she expects the traditional celebration of German culture will become an official annual event.
---
Partnership Pays Off
While landing a large development deal is difficult, Butts and Spalding counties pulled off something harder: coordinating one together for a site in Jackson that stretches across county lines.
Dollar General, which has announced ambitious plans for national growth, approached the local authorities with a site in mind for a new distribution and fulfillment center to service their stores. The project represents an $85-million investment, 1-million square feet of space and more than 500 permanent jobs.
And because leaders in the two counties pulled it off, it's the winner of the Regional Deal of the Year Award.
"We started behind the eight ball in a way, because we didn't know anything about the site," says Laura Sistrunk, executive director of the Butts County Development Authority. "It was owned by a foundation in receivership, and it was all tied up in court and financial issues. Basically, to me, it was just a dead zone. They wanted to know about this one though."
So Sistrunk and her counterpart at the Griffin-Spalding Development Authority, David Luckie, put together a joint development authority so they could make the deal possible. In under a year, they managed to sort out the acquisition of the land and the division of permitting, taxation and utilities. "We decided it doesn't matter who plants the flag, it matters that we get this done for all the people who will get jobs from this," Luckie says.
"From the beginning, it seemed through our discussions and collaborations that everyone we met with in Butts and Spalding counties was very helpful and as enthusiastic and excited as we were. So it made the process go that much smoother," says Mark Payne, director of supply chain operations for Dollar General. "The relationship we developed with the local counties made it work. There are always issues with every site, but how you work with the community and how they work with you collaboratively will either ensure a successful project or not."
This constitutes the largest development deal done in Butts County ever and is among the largest in Spalding County, so Sistrunk agreed it was important to focus on the task at hand together. "Open lines of communication were the No. 1 factor, plus the importance of setting aside any political or personal agendas to do whatever it takes that will be best not just for your county but for the region as a whole."
Luckie echoes this sentiment as well as the significance of their broader collaboration with Georgia Power and the Georgia Department of Economic Development. "I think counties in general in Georgia sometimes should start erasing the county lines a little bit to do a project together and not be overly concerned about who gets a dollar and who gets two dollars," he says. "You have to be motivated by what's best for your community. What was best for our community was getting our share of the $85 million and the jobs. It was a great, great opportunity and wouldn't have happened without the joint partnership."
"It has been a great deal," Payne agrees. "We're pleased with the partnership that we've created."