Transaction Alley
Financial technology is a $72-billion – and booming – industry in Georgia, with more than $2 trillion in payment processing passing through the state. And it's about to get bigger.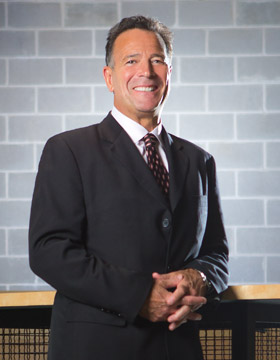 A CEO, a marketing manager and an entrepreneur walk into a bar. They won't sit together because they're in different cities, Boston, New Orleans and San Francisco. But when they swipe credit cards after drinks with colleagues, they'll share something in common. Point-of-sale terminals will route their payments to the same place, companies in the financial technology sector (or FinTech for short) in Georgia.
FinTech firms, companies specializing in technology supporting the financial services industry, number approximately 100 in the Peach State, with about 90 in Metro Atlanta. Companies range from Fortune 500 bellwethers to startups and annually touch or enable more than 118 billion global payment transactions, support almost 4 million merchants, represent more than $2 trillion in purchase volume, and account for 70 percent of the $5.3 trillion in U.S. credit and debit card swipes, according to a 2016 report by the Technology Association of Georgia (TAG) and the Georgia Tech Scheller College of Business.
These statistics are only part of Georgia's FinTech résumé. State firms generate 30,000-plus jobs and produce annual revenues of $72 billion from global transactions, according to the TAG-Georgia Tech report. They also account for more than 60 percent of worldwide FinTech payments, companies, headquarters or significant operations, according to the Atlanta-based, Georgia-focused American Transaction Processors Coalition (ATPC). The bottom line: Georgia is the third-leading U.S. payment processing market, trailing only New York and California.
"FinTech is one of Georgia's most important industries," says Tino Mantella, TAG president and CEO. "I've always said that when people think about Georgia they think about these Ps: peaches, pecans, pine trees, poultry and peanuts. Now, they need to add processing and payments in terms of where we are strong."
H. West Richards, ATPC executive director, put an interesting perspective on FinTech's value to Georgia's economy. "The annual revenue of FinTech companies in Georgia is at parity with the movie industry in Los Angeles. The payments industry in Georgia generates approximately $30 to $35 billion a year in revenues from U.S. transactions," he says. "The film industry in L.A. generates about $35 billion in revenues in the United States. The $72 billion in Georgia's global FinTech revenues approaches the approximately $90 billion Hollywood generates in worldwide sales."
Scott Meyerhoff, ATPC chair and COO/CFO of InComm, adds an exclamation point to the FinTech-Hollywood comparison. "The goal is to grow that $72 billion to $100 billion by 2020."
---
Processors and a Unicorn
Card-processing firms are the most visible aspect of Georgia's marquee FinTech industry. Six of the country's top processors are located in the state: First Data, Bank of America Merchant Services (majority owned by First Data), Worldpay, Elavon, Global Payments (which now includes Heartland Payment Systems) and TSYS.
First Data, which sits in midrise offices at Georgia 400 and the Glenridge Connector in suburban Atlanta, is a global leader in commerce-enabling technology and solutions, serving approximately 6 million business locations and 4,000 financial institutions in 118 countries. "Folks are shocked," says Barry McCarthy, executive vice president of network and security solutions at First Data, when he tells them that a company that processes 2,500 transactions a second – $1.9 trillion annually – supports 28 percent of the world's ecommerce "is based right here."
Another of the leading companies, Elavon, is the No. 1 payments provider for airlines and a top five provider for hospitality, healthcare, retail and public sector/education and is celebrating its 25th anniversary in Atlanta this year.
"Initially, we set up here because this is where there was a concentration of people who already knew a lot about the ecosystem and what it takes to grow a business and serve customers," says Brian Mahony, Elavon's chief strategy officer.
The company committed to Atlanta through several stages of growth – the company now has more than 1 million business customers – for the same reasons that originally made Atlanta attractive, Mahony says. "It was a pretty easy choice because of the well-established ecosystem here and because it's a pretty friendly business climate."
Now, he sees a bright future for a FinTech ecosystem he says has grown into "a mix of mature, emerging and innovative enterprises. We think the road we've paved will continue to be a growth story for as far as we can see."
Lara Hodgson, co-founder, president and CEO of NOWaccount, thinks there's room for significant growth in a new direction in the payments space. "When we talk about payments in Georgia, what we're really talking about is consumer payments," says Hodgson. But not anymore. NOWaccount lets businesses get paid within days on invoices sent to other businesses or to the government. Business invoices go to NOWaccount, which immediately pays the invoice for a flat 2.5 percent fee. NOWaccount then invisibly invoices the business's customer. "This new opportunity is 10 times the size of the consumer payments space," she says.
FinTech is not only one of Georgia's most important and forward-thinking industries, it's also one with a unicorn in its midst. That unicorn – defined as a startup with a market valuation of $1 billion or more – is Kabbage, which provides automated, online lending to small businesses. While the platform is new, co-founder Kathryn Petralia says "there is a misconception that FinTech is new. It's certainly old to Georgia." She mentions Equifax and TSYS in Columbus as companies with a long history in the state. "I think we're just experiencing a resurgence, perhaps adding to what was already here with some new companies and some new technologies."
---
Squarely in the Middle
One reason Georgia's forward-thinking FinTech ecosystem has been successful in supporting legacy companies and spawning startups is that the business community has its back. One of the most active companies in supporting FinTech has been Worldpay, a global payments giant. In 2015, Worldpay made a $1-million gift to Georgia Tech to create a FinTech program that would nurture and develop companies in Georgia at the Advanced Technology Development Center (ATDC).
ATDC is a technology incubator that works with 800 tech entrepreneurs each year statewide from it's headquarters on Tech's Midtown Atlanta campus at Tech Square.
"We're trying to help the disruptors disrupt the FinTech community," says Joe Kleinwaechter, Worldpay's vice president of innovation and design. "What's really fascinating to me is how much we've gotten out of the relationship in terms of learning how these startups are changing the world and how our business model needs to change to support them. It used to be that the banks controlled how money moved, lending occurred and businesses transacted financial terms. This has opened up, and now startups everywhere are developing FinTech apps" that do these things.
"We touch entrepreneurs who are working in about 20 FinTech subgroups," says Michelangelo Ho, who heads ATDC's FinTech Accelerator. "The goal of the program is to accelerate the time it takes FinTech entrepreneurs to get to market. We do that by providing coaching and introductions to companies, their CEOs and our partners. We see ourselves as the catalyst at the intersection of startups, corporations and investors in FinTech."
That intersection has proven to be fertile ground for FinTech companies. Located just across the Downtown Connector from the main Georgia Tech campus in Midtown Atlanta and linked to it with a pedestrian-friendly bridge, ATDC provides prime access to Georgia Tech's resources, including its student talent. As a result, it has been a magnet in attracting Fortune 500 firms such as NCR to the area as well as helping to launch promising new startups such as GROUNDFLOOR, the only real estate lending marketplace open to non-accredited investors.
GROUNDFLOOR moved from Raleigh, N.C., to Atlanta in 2013 because of a Georgia law that created a statewide customer base and also made it possible to pilot its product here, says Brian Dally, co-founder and CEO. That law was the Invest Georgia Exemption, which makes it legal for for-profit businesses in Georgia to raise up to $5 million from in-state resident investors.
"At first we shared space in town," says Dally. "But the more we found out about ATDC, specifically the entrepreneurs in residence, office space, access to Georgia Tech and the Midtown location, those became the key factors that led us to apply to become a signature company at ATDC."
The move resulted in GROUNDFLOOR becoming an ATDC success story. "What may surprise some is how healthy the startup ecosystem is here," says Dally. "It is possible not only to relocate a financial technology company here and do well but also to start from scratch and innovate here. That's due to programs like ATDC and others that have been built here. It's never been a better time to start a company in Atlanta, especially in FinTech."
To help Georgians adjust skills to meet the demand for jobs forecasted at innovative companies such as GROUNDFLOOR, the University System of Georgia is providing an academic-business partnership between FinTech employers and the system's eCampus. The effort is in response to the High Demand Career Initiative Gov. Nathan Deal launched in 2014.
"Eight months ago, there were no FinTech degrees in the state," says Art Recesso, eCampus chief information officer. "We have fixed that. This summer we developed two degrees, an A.S. in FinTech launched this fall and a B.S. with a FinTech concentration that has also launched," says Recesso. Middle Georgia State University is providing these initial courses through distance learning. "A BBA [Bachelor of Business Administration] will launch in spring 2017, and a B.S. in cybersecurity will launch in the fall of 2017. All are designed based on what we hear from employers."
---
Next-gen Investing
"The industry is so important to the region that the Metro Atlanta Chamber [MAC], ATPC and TAG created a FinTech task force to not only support the existing ecosystem, but also to attract and grow new jobs and investment, ensure a skilled workforce is ready for decades to come and promote continued innovation that will help shape the future of the industry," says David Hartnett, MAC's chief economic development officer.
The task force adopted the name FinTech Atlanta and has given Metro Atlanta the nickname "Transaction Alley" because of the region's large number of FinTech firms and the visibility of card processors among those firms. Its mission is simple but bold: Establish Georgia as the global center of the industry.
"The FinTech task force is now the state's economic development platform for this industry," Richards says. "It is probably the largest industry-led economic development initiative in Georgia."
"I'm really proud of the progress we've made in a short time," says First Data's McCarthy, who is also the task force chairman. To put that progress in perspective, he notes that the group has begun raising funds to create a staff, has established working groups to accomplish its mission and has attracted high-profile political leaders to its meetings.
"This isn't just a novelty," he says about FinTech Atlanta and the FinTech industry. "It's really central and core to the Georgia economy."