The Game-Changers
Atlanta's CIDs are evolving to meet their districts' needs – and preparing for a headline-grabbing 2017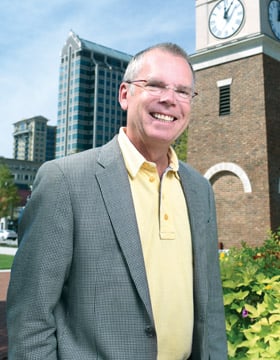 It's been a banner year for the city of Atlanta. In Midtown, 20 high-rise projects are currently under construction, with another 23 in review – the most new development in Midtown's history. In Buckhead, Peachtree Street's 17-year transformation is nearing its close, while ambitious greenspace investments are just gearing up. And in Downtown Atlanta, there's talk of capping the Connector, creating seemingly boundless development opportunities in the process.
At the middle of all of these projects are some of the state's oldest community improvement districts, or CIDs, which funnel millions in commercial property taxes into capital improvements, beautification projects and safety enhancements in their districts.
CIDs allow communities to leverage self-taxed funds against state and federal dollars to accomplish projects that might not otherwise be possible. And they let communities focus their efforts directly inside their borders, an especially attractive advantage for a sprawling area like Metro Atlanta.
With a CID, "you have a concentration on a specific area to give very specific attention to the needs of that area," says Curley Dossman, president of the Georgia-Pacific Foundation and board member for the Atlanta Downtown Improvement District (ADID), which comprises 220 blocks in the city's central core. "In a large metropolitan area like Atlanta, the needs can be very broad based, but it's an opportunity to gain some focus."
Over the past year, three Atlanta CIDs – ADID, the Midtown Improvement District (MID) and the Buckhead CID – have focused their efforts on transportation improvements and increasing walkability along their busiest corridors. But they've also started work on headline-grabbing projects and preparations for major transportation referendums up for public vote this month that all have the potential to dramatically transform Atlanta's core.
---
Capping Interstates?
One of the biggest stories to come out of Atlanta's CIDs are plans to cap interstates in the Buckhead CID and ADID, transforming the space above them into greenspace and highly valuable commercial land. And though the projects are similar, they are designed to address very different challenges in each district.
In Buckhead, the motivation behind the Park Over Georgia 400 – a serpentine plan covering approximately 9 acres from the Atlanta Financial Center on Peachtree Road to the Lenox Road/Georgia 400 intersection – is creating a community gathering place, something the area currently lacks according to Buckhead CID Executive Director Jim Durrett.
"As more and more people choose not only to work in Buckhead but also to live in this urban core of Buckhead, [we] need to be thinking about the quality of the public realm and the opportunity for people to gather in the public realm," he says. "We do not have a gathering place; we have small pocket parks, and we have increasingly nice streetscapes, but we don't have a significant gathering space."
The area doesn't have significant greenspace, either – a fact highlighted by a preliminary study completed by New York-based Rogers Partners Architects + Urban Designers.
"One of the interesting things that the architects brought to our attention … is that area of Buckhead has become so urbanized, it's what they call a desert as far as lacking any sort of park area," explains Thad Ellis, senior vice president at Cousins Properties and Buckhead CID board member. "When you see it on a map, it's very clear that there's not really any sort of major park until you get to Chastain, which I think we would all agree is not in the center of Buckhead."
The Buckhead CID unveiled concept drawings for the Georgia 400 deck park at a public meeting in early September. The CID's board then voted 4-2 in early October to fund a second phase of study of the proposed park that would look at issues like funding sources, traffic impacts and economic benefits. Durrett says the project's biggest challenge so far is forming a realistic funding plan – a shared concern for a similar project proposed across the Downtown Connector.
"The Stitch," introduced in August, would cap three-quarters of a mile of the Downtown Connector from Spring Street to the Piedmont Avenue bridge, creating 14 acres of greenspace, parks and commercial development opportunities and, well, stitching together severed connections from Midtown to Downtown.
"It's an ambitious project, but we think its time has come," says A.J. Robinson, president of ADID and Central Atlanta Progress.
"A lot of people may be skeptical about it taking place, but it definitely can be done. This is not a new idea around the country. It's been done in Dallas. It's been done in Boston," he says. "The technology definitely can be done. The question is can we raise the money, and can we capture the imagination of those who would fund it?"
Initial estimates put The Stitch's construction costs at $300 million, though detailed plans have not been completed yet. (Estimated construction costs for the Georgia 400 deck park hover between $150 million and $200 million.) Robinson sees The Stitch as an enormous economic boon for Atlanta's central core – and one that could be accomplished relatively quickly considering its size and scope.
"I believe that part of this project could easily be done in a five-year timeframe if we put our minds to it. Could all of it be done? It's possible, but we have done projects like this in our community, whether it be Centennial Olympic Park or Atlantic Station or the BeltLine," he says. "This is a big infrastructure project, and I think if we put our hearts and our minds to it, we can make a lot of progress in the next five years."
The next step for each of these two projects is completing an in-depth study of each concept's true cost, engineering schematics and construction timeline. The results – and the ability of each CID to raise the necessary funds to make these projects a reality – remain to be seen.
---
Transportation Improvements
Atlanta's CIDs are also gearing up for two major referendums on the ballot this month: a five-year, $300-million T-SPLOST aimed at alleviating some of the city's major transportation issues and a MARTA referendum that would fund up to $2.5 billion in the mass transit system over a 40-year period.
"This is a really historic time for the city of Atlanta," says Kevin Green, president and CEO of the Midtown Alliance, a nonprofit organization that works in tandem with the Midtown Improvement District. "There's a lot of activity on the part of all the CIDs looking at where is the best place to spend the local T-SPLOST dollars to improve these areas."
Green's team is finishing up a comprehensive transportation plan analyzing the district's most pressing transportation issues, including the most efficient use of Midtown's street grid and multimodal transportation options, the most efficient use of space between curbs, how to create a connected bicycle network, and how to increase Midtown's walkability and pedestrian safety.
"What we're not doing is a traffic plan. This is truly a transportation plan," Green says.
Preliminary results offer some interesting possibilities, including a district-wide 25 mph speed limit and new streets reconnecting the street grid at critical areas. Another suggestion – an extension of 15th Street connecting West Peachtree Street to Williams Street that would alleviate some of the strain on 14th Street and create a new east-west connection point – is currently in design.
Pedestrian safety is also a big concern in Midtown. The CID gathered comments from more than 1,100 Midtown residents during the transportation plan's early stages to gauge public perception of transportation issues in the district. Pedestrian safety was the largest issue, garnering 41 percent of responses and beating the next response – bike safety – by 21 percent. To address this issue, the CID is focusing on slowing traffic, repurposing general traffic lanes into barrier-separated bicycle lanes or on-street parking, and beefing up pedestrian crossings across major arteries.
All these efforts are in anticipation of more people coming to the area, which is expecting more than 10,000 residential units in the coming years as well as an influx of more than 8,000 new jobs. And those planning efforts are not going unnoticed. In October, the American Planning Association named Midtown Atlanta as one of only five neighborhoods named 2016 Great Places in America.
In Downtown Atlanta, increasing transportation options is also a major focus.
"Now that we've got people comfortable with coming downtown, the work now is to help them be able to navigate and move around once they're here," says Dossman. ADID's focus on increasing safety, reducing crime and boosting nightlife has resulted in a strong Ambassador Force and Clean Team program, as well as more community events and venues to keep people downtown after the work day ends. Now, the focus is shifting to accommodate a new demographic of millennials and transitoriented residents with increased shuttle services, bike-sharing programs and commute options.
In Buckhead, a proposed roundabout at the troublesome intersection of Wieuca Road and Phipps Boulevard could relieve rush hour congestion and greatly improve the intersection's safety. The Buckhead CID is also continuing work in partnership with Livable Buckhead and the PATH Foundation on the PATH400 Greenway Trail, a 5.2-mile multiuse trail along Georgia 400 that will eventually tie into the BeltLine and other trail networks in the city.
And the Peachtree Street revitalization, the Buckhead CID's founding project that began nearly 17 years ago, is slated to wrap up as early as the end of the year. The 3.5-mile project has transformed what Durrett once called a "sewer for cars" into a "complete street" with dedicated left-turn lanes at specific pain points, bicycle lanes, buried utility lines, landscaped medians and granite sidewalks to better control traffic flow, support multimodal transportation efforts and promote walkability.
---
Evolving to Address New Needs
While the goal of any CID is to make its district an attractive place to live, work and play, achieving that goal can come with its own drawbacks.
"The more people you have, the more stress you put on the infrastructure that's there to knit everything together," explains Durrett. "CIDs are funded entirely by taxes on nonresidential, commercial property, and as commercial property gets redeveloped over time into higher-density residential, you are removing a tax base that helps pay for improvements in that area, but you're not removing the demands on that environment."
Though other states designate apartments or other multifamily residential uses as commercial residential properties – and, thus, eligible for CID taxation – Georgia's CID legislation currently does not include any residential designation. So, as more apartments and condominiums spring up within Georgia's CIDs, the property taxes collected don't rise to match.
"The problem of too much residential is a high-class problem, [but] it's something we need to pay attention to," says Robinson. In response, ADID, the Buckhead CID and the Midtown Improvement District have teamed with Georgia State University to compare funding mechanisms of CIDs in Southeastern states, with the goal of clarifying best practices for handling residential properties in CIDs. How Georgia's CIDs will address increasing residential uses remains to be seen, but an evolution in residential designations could be in their future.
Atlanta's CIDs continue to evolve in other ways as well. Robinson summarizes 2016 as a year of clarification for ADID, wherein the CID reevaluated its mission and reprioritized its goals in response to its successes, changing demographics and outcomes of the general election referendums.
"It's evolving as the city has evolved," says Dossman. The CID continues to focus on large capital projects that could spur development and keep Downtown Atlanta a viable tourism and activity center, including planned expansions for Centennial Olympic Park and Philips Arena, as well as the ongoing construction of Mercedes-Benz Stadium and the redevelopment of the Turner Field site.
And in Buckhead, it's a similar story – one that can be echoed across all three CIDs, says Durrett. "When we got started here 17 years ago, the focus was on addressing automobile congestion along Peachtree and Piedmont. The focus today is broader than that, and it is all about the person and not the automobile. We, just like Midtown and Downtown, are working like crazy to make sure that we have the most walkable business districts that we can possibly have," he says.
"We're working to make sure that using MARTA is a lot easier for more and more of the population that live and work in our districts. We're working to make sure that a bicycle can be a viable mode of transportation for somebody rather than having to own an automobile. We're working to make sure that the public realm is as attractive as it possibly can be," he says. "The focus has just gotten broader as we've gotten more mature."