On the Cutting Edge
Researchers at Georgia universities are seeking cures for cancer, advancing cybersecurity and breaking ground in immunology. It's a $2-billion enterprise – with room to grow.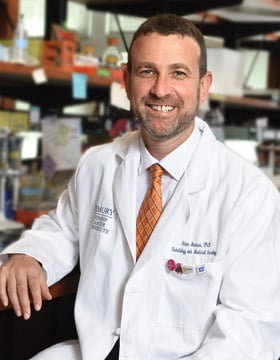 On the leafy Emory University campus, on the fourth floor of the Winship Cancer Institute, Dr. Adam Marcus and his research team are studying how leader and follower cancer cells metastasize – what causes them to break away from the primary cancer site and spread to other parts of the body. The scientists optically enhance the cells, extract them, then create more cells in a petri dish so they can study their makeup and determine how they work. Their efforts could lead to new ways to treat cancer patients.
"Most patients die of metastatic disease," says Marcus. "When you hear about cancer malignancy, it means the cancer cells spread. That's true across nearly all types of cancer. If you can figure out a way to stop the spread of cancer cells, that would be a very useful strategy to reduce the number of people who will die of cancer. Right now, most of our treatments do not specifically target that or stop that from happening."
To do that, he says, you have to understand how cancer spreads, how the process works – thus, the need to make additional cells for study. "We look specifically at lung cancer, but a lot of those mechanics are actually widespread."
The science is exciting, but should the researchers need extra motivation, it is readily available nearby.
"We work in a building where patients are seen downstairs," says Marcus, director of the Integrated Cellular Imaging Shared Resource at Winship and associate professor in the Emory School of Medicine's Department of Hematology and Medical Oncology. "It really impacts you. Every day you see patients and their families, and you know essentially everybody in this building has somehow been impacted by cancer. It's very hard not to focus your research on trying to help the people downstairs. We've all been touched by cancer in some way."
Emory is one of eight Georgia research institutions that are part of the Georgia Research Alliance (GRA), the 26-year-old independent non-profit that works to expand university research capacity and help guide inventions and discoveries into the marketplace. It is funded by a combination of public and private funds.
Other partner universities include Georgia Tech, the University of Georgia, Georgia State University and Augusta University, all part of the University System of Georgia, plus Mercer University, Clark Atlanta University and Morehouse School of Medicine.
The federal government, through the National Institutes of Health and its National Cancer Institute, as well as Departments of Education and Agriculture, provides most of the research dollars in Georgia; the state ranks 11th in the nation in federal research funding representing about 3 percent of the total. Industry and foundations contribute, too. The state supplies some funding, and individual schools like Georgia Tech raise private money for specific research.
---
Wide-ranging Scope
"Research is big business," says Michael Cassidy, GRA executive director. In fact, Georgia ranks 12th in the nation in research expenditures, with a growing share.
"We can see tremendous growth in what we call the research enterprise," Cassidy says. "We try to think of the research activity of our universities as an enterprise in and of itself. Today it's about a $2-billion enterprise. It's a big operation."
The scope of the research is wide-ranging, covering biomedical engineering and regenerative medicine, cancer and human genomics, computing and networks, energy and environmental engineering, vaccines and immunology, as well as informatics and systems biology.
"It's diverse in nature," Cassidy says. "There are some areas of excellence, areas that really stand out, areas we believe the state can build on into the future. But in and of itself, the research is a big business."
Collaboration is important, and the alliance encourages projects that bring scientists from different partner schools together, like the joint Georgia State University and Georgia Tech Center for Advanced Brain Imaging.
The work of the researchers is potentially life-changing, some of it life-saving, but it also has great value to Georgia's economy.
"If we were a business," says Chris Carr, commissioner of the Georgia Department of Economic Development from 2013 until this month, when he became state attorney general, "our research universities and the GRA would be the state's R&D [research and development] facility."
The role universities play as centers of creation and innovation, with the support of the GRA, helps create a climate that furthers Georgia's economic aims.
"There is an international brand that we have," Carr says, "both from a workforce and innovation standpoint and a research standpoint. Just knowing that the state is invested in research and has spread its investments over many, many decades into what we have [is significant]. Look at where these professors focus their research. It's very timely, cutting-edge and making a difference globally."
He describes the GRA as the incubator for the state, nurturing research and ideas. "From those ideas come businesses," Carr says. "When you create a climate of research and innovation, economic development will get its benefit."
---
Clout And Capacity
"What the research alliance does," says Cassidy, "is help to build capacity for more of that cutting-edge research, principally by helping to recruit talent and invest in research infrastructure, in the physical assets needed to do the job."
The talent includes an elite group of 64 Eminent Scholars spread throughout the eight GRA partner institutions. Cassidy calls them the centerpiece of the alliance.
"They are among the best and brightest in the world," he says, recruited in key disciplines. "It's all about talent, all about the right people" and making sure they have what they need for their research.
"Within that research," says Cassidy, "ideas are generated, things are thought up – could be in the biomedical space, computer science, cybersecurity. Could be energy technologies, agribusiness. Those ideas, left to their own devices, sometimes don't make it any further than an interesting discovery and a nice paper published. The alliance's interest is economic activity for the state through formation of new business and creation of new jobs that are tied back to those ideas."
The alliance can help with the process of taking ideas from the lab to the marketplace, with venture capital and, via a separate entity called GRA Ventures, some critical pre-venture capital, Cassidy says, "to help shape those ideas into something that could have market potential." It also addresses what he calls "a big hole in the middle of the process," between research dollars, which cannot be used for commercialization, and the venture capital that gets businesses started.
"It's a sophisticated process of working with faculty, scaling from something in the laboratory to something in the marketplace. With the state as our partner, we are able to provide small amounts of money to get that done. We are able to wire together these different parts and have a continuum of support, a support system in place to take early ideas, help get a startup launched and grow it here in Georgia to become an employer of high-value jobs."
The GRA has also played a part in creating a strong community of researchers. "All research institutions in Georgia work together, being aware of what other institutions can provide, while trying to attract high-tech companies to the state," says Mercer University's Dr. Wayne Glasgow, senior vice provost for research.
---
Technology Square
One of the most visible signs of heightened research activity in the state is Georgia Tech's Technology Square in Midtown Atlanta. It has transformed a once-down-at-its-heels area into a bustling neighborhood with new apartments and condos anchored by business and research facilities – including the Advanced Technical Development Center, the home of the largest public incubator in the country and part of Tech's Enterprise Innovation Institute.
Success has spawned more growth and innovation, says Dr. Stephen Cross, Tech's executive vice president for research. "This is part of the effort to link all these economic development services back to the research itself. That's helped the research by providing us insight into important problems for industry and also helped accelerate the flow of research results into either licenses that industry can use or the creation of new companies."
The neighborhood concept plays a major role. "We are talking about different areas around the Tech campus as innovation neighborhoods, recognizing them as places where people work, live and play. The first part of the strategy is for each neighborhood to have a market focus." Tech Square is a hub for financial transactions, supply chains and health systems. The southeastern corner of the campus is a hub for life sciences; an area along 14th Street focuses on automotive and aerospace.
"We're interested in growing the small companies that are in those markets," says Cross, "interested in those companies scaling and creating jobs in Georgia and staying in Georgia – so we create a place for them to stay and be successful."
The research is building on Tech's academic strong suits and ensuring that students have experiential opportunities.
"Georgia Tech was created in 1888 to benefit the state's economy," Cross says. "We have a culture of research and a passion to get research to users to make a difference. We're running an $800-million-a-year research company."
---
Money And Motivation
Cassidy and university research directors say it is primarily faculty members who drive the direction of scientific investigation, but certainly availability of funding plays a part. Perhaps the overriding impetus is the vision of the individual schools, which tend to play to their strengths and academic missions.
Dr. David Lee, vice president for research at the University of Georgia, says UGA has developed three broad thematic areas relating to healthcare, the environment and promoting economic development throughout the state – that last one is tied directly to its role as a land grant institution.
"We've made a very conscious effort to push and make a difference in human health," Lee says, drawing on the College of Veterinary Medicine, the new College of Public Health and the fairly recent medical partnership with Augusta University, "to develop human-oriented research or expand it in a number of schools and colleges."
He cites the work of Dr. Ted Ross, a GRA Eminent Scholar working to develop better flu vaccines. He is director of the center for vaccines and immunology in the veterinary college.
"Lots of diseases we worry about, like Ebola or pandemic flu, have roots in animals" says Lee, "and animals provide research for infectious diseases."
As a key strategy in its research efforts, "UGA has deliberately been recruiting established faculty with strong research programs – we steal them away from other universities and bring them to the University of Georgia. We are blessed with an ability to make a difference in the state."
---
A Good Fit
Dr. Sandra Harris-Hooker, executive vice dean for research at Morehouse School of Medicine, says work there mirrors the school's mission to help eliminate health disparities and be a leader in health equity – making sure individuals, especially in poor or underserved communities, have access to the healthcare they need.
"What we do here is always about training our students. We recognize that to do this well, we must have a strong research program, on the leading edge, based on our own mission to be a leader in health equity."
Research focuses on cardiovascular disease, hypertension, diabetes and congenital heart disease, as well as cancer and neurological diseases – stroke, Parkinson's, Alzheimer's.
A strong clinical component includes working with nearby communities – a fit with the role the school plays in supplying primary care physicians to the state.
"All that we do is centered on our vision of health equity, creating and advancing the equity, and embracing our mission," Harris-Hooker says.
---
What's Next?
Ask Cassidy where the research growth potential is, and he is ready with a list, starting with energy management, then moving on to cellular manufacturing, security technology and financial technology. More cancer and neuroscience research. "There is so much work to be done," he says.
And there is general agreement within the research community that it will take more money to fuel Georgia's research activities and keep the state competitive.
"We always need more investment, investment for study and for the companies we are creating," says Tech's Cross.
The Winship Cancer Institute's Marcus puts it this way: "Cures and advances don't happen by magic. They require blood, sweat, tears – and dollars."
---
Assets And Emphasis
Research institutions recognize the value of drawing on their academic strengths, location, facilities and other attributes to enrich the scope and quality of research in the state.
Dr. Shafiq Khan is one of the GRA's Eminent Scholars. He came to Clark Atlanta University in 2004 when the school moved to intensify its research efforts on prostate cancer, which has a high incidence in the African-American community and a high mortality rate.
Khan is executive director of the Center for Cancer Research and Therapeutic Development, one of the largest centers in the country, set up to do basic research in prostate cancer, train African-American scientists, and, he says, "really get into the community to study the disease and educate African-American males about it.
"We do a lot of outreach, we train a lot of young students at the doctorate level – at least 15 Ph.D.s in the last three years."
Georgia State University's research portfolio, says Dr. James Weyhenmeyer, vice president for research and economic development, "includes natural and physical sciences and everything in between. We make a very concerted investment in building research capacity. We transitioned to a research university in the mid-'90s."
The school's current award activity is more than $120 million annually.
Work includes investigations in neurosciences. "It's a broad umbrella, behavioral sciences to genetics," Weyhenmeyer says. "Brain science will continue to be a very significant area for us – also infectious diseases. We are one of less than a dozen universities doing high-level research on tuberculosis – we're collaborating with the CDC."
Mercer University has 12 schools and colleges spread among campuses in Macon, Atlanta and Savannah. The Mercer Engineering Research Center in Warner Robins works with government, the military and defense industries. The school joined the GRA two years ago – an acknowledgement that it was growing its research in significant ways, says Dr. Wayne Glasgow, research senior vice provost.
Areas of concentration include the study of targeted drug delivery or personalized medicine in cancer treatment that takes into consideration the genetic and molecular background of a tumor.
"Cancer chemotherapy in the past," Glasgow says, "was broad-based, across the board, not specific. It was often toxic to bone marrow or caused hair loss or GI problems. There's a big push to see if we can identify a biochemical pathway for pancreatic cancer cells. Can we find a drug that will block that pathway and that will be toxic to the cancer cell but not to normal cells?"
Augusta University, home to Georgia's only public medical college, has a research portfolio that Dr. Michael Diamond, senior vice president for research, describes as encompassing "basic science, translational studies, clinical trials, prevention studies." Study areas include cancer, cardiovascular, sickle-cell disease and women's health.
At the request of Gov. Nathan Deal, he says, Augusta is at work on a study to identify a mechanism to provide cannabidiol, which is derived from marijuana, to treat children with intractable, or uncontrolled, epilepsy.
"This patient population has a very severe condition," says Diamond. "It affects the child, parents, siblings – it has a dramatic impact on the entire family. We hope to be able to suggest medicines that may be helpful and hope to be able to help a considerable number of children."– Susan Percy
---
Georgia's Research Institutions
Augusta University
Augusta
augusta.edu
---
Clark Atlanta University
Atlanta
cau.edu
---
Emory University
Atlanta
emory.edu
---
Georgia Institute of Technology
Atlanta
gatech.edu
---
Georgia State University
Atlanta
gsu.edu
---
Mercer University
Macon, Atlanta, Savannah
mercer.edu
---
Morehouse School of Medicine
Atlanta
msm.edu
---
University of Georgia
Athens
uga.edu