Home Alone?
Home care offers a more affordable and less restrictive option to nursing homes. But will the effect of recent federal mandates on the home care industry leave some elderly Georgians without care?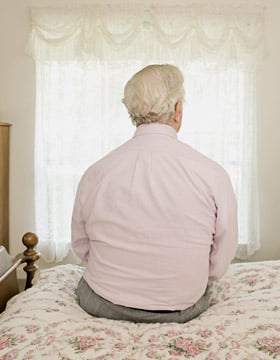 Courtney Gaines was always an active, independent and social person. Neither she nor her family wanted anything to change that, so when the early effects of Alzheimer's complicated by a fall made it difficult for her to get out of the house, her family turned to home care.
Gaines' three grown children lived within 45 minutes of her in Savannah, but their own families and work schedules made it impossible to spend as much time with their mother as she would have liked or needed, says her daughter Grace Gattis. Her caregivers became much like extended family.
Beginning with four or five hours a day primarily for companionship and transportation to appointments and activities, Gaines' needs for care grew as her disease progressed. The last year of her life, Gaines needed help with all of her daily activities, including dressing, bathing and eating, says Gattis. "The caregivers' duties went from companionship to complete caregivers over time."
Gattis' relationship with the caregivers grew, too, as she relied on them to share the details about her mother's day that her mother no longer could. "It gave me so much peace of mind to have that connection and to have a relationship with the people caring for my mother," she says.
---
Home Health vs. Home Care
Gattis is among the growing number of Georgians who have turned to home care when a loved one needs help to age in place. For many elderly Georgians, that decision means the difference between the ability to stay at home – often the one where they have lived for years and even raised their families – and moving to a nursing home or other more restrictive environment.
Started in the 1970s to serve the frail elderly, the home care industry has grown steadily with the aging population. Experts say the need for home care will continue to grow as the number of older Americans does. The U.S. Census Bureau projects that by 2020, 54.8 million Americans will be 65 and older; by 2050, that number will reach 88.5 million. Of those who reach 65, nearly 70 percent will be unable to care for themselves at some point without assistance, according to the Commission on Long-Term Care's 2013 Report to Congress.
Although home care is often confused with home health care, the two are not the same. Home health is medically necessary and doctor-prescribed care that is performed by a combination of medical professionals, such as a physical therapist, occupational therapist, social worker, registered nurse or home health aide. They provide health services such as administering medications, changing wound dressings or helping with prescribed exercises. Home health for seniors is usually a short-term proposition and is covered by Medicare for a limited number of days following a hospitalization. Medicare billing and reimbursement is by procedure.
Home care, on the other hand, is typically provided by certified nursing assistants (CNAs), who have received professional training that enables them to assist in daily living activities such as bathing, dressing, toileting, meal preparation, eating, transportation, running errands and light housework. CNAs employed by Georgia's approximately 1,250 licensed home care agencies undergo criminal background checks, communicable disease screenings and other safeguards to help ensure client satisfaction and safety, says Eddie Grogan, president of the Georgia Chapter of the Home Care Association of America, the leading trade association for providers of home care.
Another important difference in the two is who pays for it and how. Unlike home health, which is covered by Medicare, home care is not covered by Medicare or traditional health insurance. Instead, it is funded almost entirely by patients and their families, long-term care policies or through Medicaid Waiver programs, including the Georgia Community Care Services Program (CCSP), designed to help frail older adults receive services in the community as an alternative to placement in a nursing home.
While some agencies – particularly smaller ones – work solely with long-term care plans and self-pay clients, many larger agencies focus largely on patients receiving Medicaid waivers.
For example, at the Savannah-based Coastal Home Care, which employs approximately 650 caregivers, roughly 75 percent of business is through Medicare Waiver programs, says Martin Miller, president and CEO. For some other providers, the percentage is even higher. Consumers and waiver plans pay for home care services by the hour, unlike home health, which is billed and paid for by the service ordered.
"With home health, their job is to come and do what they are assigned to do and then leave," says Miller, who also serves on the Home Care Association of America's board of directors. "That is very, very different from home care. Home care is often an aid service, and we go in and help people with the activities of daily living. We are not there to do a job and leave – we are there to help you get through life."
Even when similar services are offered by home care and home health, they are handled differently, says Louise Evans, co-owner of BrightStar Care in Marietta. She cites the example of a bath visit, which is common for an older person who has difficulty getting in and out of a tub or fears falling in the shower. "With home health care, you get a bath and maybe the bathtub wiped down. On the other hand, a bath visit through home care is normally two hours. Within that two hours you get your bath, you get your coffee made, maybe get your bathroom cleaned and bed changed, and a little companionship," says Evans, who bought the home care franchise five years ago with her husband, David, after seeing how difficult it could be to provide or find care for her own mother. "You get more with home care."
---
Benefits and Challenges
Research shows that getting more often means less. For example, Americans receiving home care generally need less Alzheimer's care and fewer trips to doctors and hospitals. Assistance in the home means people are also less likely to have falls, experience medication mix-ups, miss out on social events due to driving limitations or suffer from loneliness and isolation.
A study out of Columbia University shows healthcare costs are less with home care as well. According to the report Is Home Health Care a Substitute for Hospital Care? Evidence from Longitudinal, State-Level Employment Data, 1998-2008, the U.S. saved as much as $25 billion in hospital costs in 2008 alone due to the growth of home care.
Despite the benefits home care offers to individuals and the healthcare system as a whole, the industry faces new threats, ironically, from a system designed to make care more widely available.
"Most people know the benefit and value of private home care," Grogan says. "What they don't know is the challenges we are having to be able to continue to provide it."
Regardless of their payment mix, home care agency owners say unfunded federal mandates are making care less affordable for individuals and more difficult for agencies to provide. Recent challenges to the industry include the redefinition of full-time and mandatory health insurance coverage for full-time employees under the Affordable Care Act and changes to the companion services exemption of the Fair Labor Standards Act.
Redefinition of full-time and mandatory health insurance. Home care agencies have traditionally relied on aids working on a PRN, or as-needed, basis. Workers' hours often fluctuated with the number of clients they served and the changing needs of those clients. Under the Affordable Care Act's employer mandate, many of these PRN workers are now considered full-time, and if the agency has more than 50 employees, must be offered health benefits. Agencies that don't offer health insurance to employees working at least 30 hours on average must pay a penalty of $2,000 per employee. That means a CNA who works 40 hours one week, but just 20 another, still qualifies as full time.
The result of this mandate is not only the huge expense of providing insurance to employees, but of the administrative costs that go along with that, says Grogan. "To do the internal record keeping and reporting that has to be done is probably adding about another $20,000 to $45,000 per year just to do the reporting required by the ACA," he says.
Yet reimbursement rates from Medicaid have not increased to cover the increased costs of providing insurance or associated administrative costs, leaving the agencies themselves to somehow cover those costs, says Grogan.
Changes to companion services exception. People providing companion services to the elderly were previously exempt from minimum wage and overtime laws in the Fair Labor Standards Act. But recent changes to the act require home care agencies pay CNAs at least minimum wage – even for time spent driving to clients' homes – and overtime pay for hours on the job – in many cases, even if those hours are overnight spent sleeping in the client's home.
"Minimum wage is not a problem," says Miller. Coastal Health Care, like most other agencies in the state, has always paid its CNAs above the national minimum wage, he says. The challenge lies more in overtime and travel time – particularly to homes in rural areas.
Medicaid programs were designed to reimburse providers for an hour of work, but the new mandates require employers to pay caregivers for more than the hours they are actually working, he says. "It's fine to say we must do that, and it is great for the employee; but the employer has to have money to pay them, and the systems are not built for that."
When agencies can't pay the overtime, that means less work for CNAs, many of whom agreed to work longer hours without overtime because they endeared themselves to the families they worked for, says Grogan. "We have lost caregivers from the industry going somewhere else because they can't get more than 40 hours in home care anymore," he says.
For salaried home care employees who were previously exempt from overtime, upcoming amendments to the White Collar Exemption in Fair Labor Standards Act will require that many of those receive overtime as well. While the current minimum salary limit for an exempt employee is $23,660 per year, that minimum will rise to $47,500 in January. "Anyone who doesn't make at least $47,500 has to be hourly – they cannot be exempt," says Miller.
Even smaller agencies that accept only self-pay, such as BrightStar of Marietta, will suffer from the increased costs associated with the changes to Fair Labor Standards Act. "I don't know if we will be able to reflect that with what we charge," says Evans.
These changes and mandates could mean higher prices for home care, which could put it out of reach for many Georgians, says Grogan.
---
Seeking a Solution
Experts fear unless something changes, companies accepting Medicaid waivers may drop off the program, resulting in more expensive nursing home admissions for Medicaid-eligible elderly.
"We know that staying at home costs an average of 70 percent less than being institutionalized," says Grogan. "Georgia understands that keeping seniors at home saves the state money, but they haven't done anything to help the private care provider industry to continue doing that."
"There have got to be some rule changes, such as exempting caregivers from overtime, to help keep home care at a reasonable rate," says 3rd District U.S. Rep. Lynn Westmoreland, who witnessed his own aunt struggle with caring for his aging grandmother without outside help as well as the difference home care made when his mother-in-law required care. "That is one of the things that we need to be working on."
The Home Care Association of America's Georgia Chapter is working on the issue by requesting a cost adjustment for home care services in the upcoming session of the Georgia General Assembly in January. If passed, the adjustment would increase reimbursement by an average of 5.8 percent. The total cost of the increase would be slightly under $16.2 million, of which Georgia would be responsible for $5.3 million. The remainder would be paid by federal funds through the Federal Medical Assistance Percentage (FMAP).
The adjustment, says Martin, would be beneficial for the state because "100 percent of the increase goes into the pockets of the employee and therefore the Georgia tax roll. We are asking for money from the state, but [home care employees] are going to make more money, so they are going to pay more tax so it goes back to the state. It will also be spent in the state."
More importantly, he and others say, increased funding will enable more of the state's frail and elderly – at least those covered by Medicaid waivers – to age gracefully in the comfort of their own home.
---
What Is the Difference Between Home Health Care and Home Care?
Home health care and home care are two very different services offered to those who need help at home. However they are not mutually exclusive – many families find that home care services, which address personal caregiving and household chores, can be helpful while someone is also receiving home health care following hospitalization.
Home Health Care Is:
• Medically necessary, doctor-prescribed care
• After a hospitalization
• Performed by medical professionals like physical therapists, occupational therapists, social workers, registered nurses or home health aides
• Services including administering medications, changing wound dressings or helping with prescribed exercises
• Usually short-term
• Typically covered by Medicare
Home Care Is:
• For sustaining and maintaining someone's quality of life at home and keeping them safe and comfortable
• Provided by certified nursing assistants (CNAs)
• Services including assistance with daily living activities such as bathing, dressing and grooming; meal preparation; feeding; transportation; running errands like grocery shopping or picking up prescriptions; assistance with tasks like paying bills and doing light house work; and friendly companionship for those living alone and at risk for social isolation
• Not covered by Medicare or traditional health insurance.
– Christy Simo