Changing Landscape, Changing Lives
Eleven years after announcing its first American production facility, Kia Motors Manufacturing Georgia continues to impact the region through jobs, economic growth and giving back to the surrounding community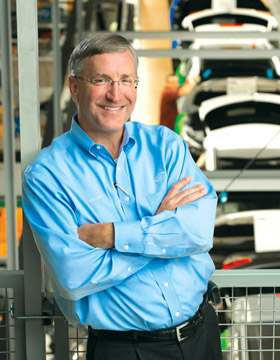 Like a boulder dropped from an airplane into a small pond, Kia Motors Manufacturing Georgia (KMMG) caused a tsunami when it landed in West Point – the plant began production seven years ago this month – and the tidal waves are still felt around the state today.
Certainly in Troup County, where Kia is located, the impact has been huge. But even across Georgia, from Savannah to Cordele, the auto manufacturer is changing the landscape in ways that couldn't have been imagined when the project was announced 11 years ago.
It's an announcement West Point City Manager Ed Moon remembers well.
"I was brought here to be the city manager … in the end of 2005," says Moon, "and did not know about Kia when I took this job. Fifteen days after I took this job, the development authority chairman came in and said, 'There's a project we need to talk about.' Little did I know what a whirlwind we were in store for."
That whirlwind has delivered more than 3,000 new positions at the Kia plant alone, plus another 13,000 jobs (with more announced seemingly daily) around the state that can be directly traced to Kia, according to the Georgia Department of Economic Development (GDEcD), from suppliers to ports employees to truck drivers.
But, more than the job numbers, Kia has settled into the area, becoming a vital member of the community with an impact on the lives of students, educators, builders, restaurant owners and even travelers on I-85 who pass by the facility doors.
---
THINCing Big
Community and Kia leaders realized from the start that workforce development would be essential for the ongoing success of the auto manufacturer. Not only would Kia hire nearly 2,000 workers to begin production, the company would need a steady pipeline of well-trained people to keep the Optimas and Sorentos that are manufactured at the facility rolling off the line for years to come.
"The community could see the impact of a large manufacturing company like Kia. With over 2,000 employees and all of the subsidiaries with up to 13,000 employees, they knew right away that providing a workforce for that industry was going to be a challenge," says Kathy Carlisle, CEO of the new THINC College and Career Academy in Troup County.
Discussions quickly centered on a college and career academy as the solution, she says, "not only for the workforce, but in Troup County we have a low graduation rate. College and career academies typically have a 97 to 99 percent graduation rate."
Kia jumped on board, providing $3 million to fund the initial conversations and explorations of the academy, and it continues to be a strong supporter of THINC.
"The idea is very simple," says Stuart Countess, Kia's chief administrative officer. "How do you grow talent within this area, giving back to the community to help the future workforce – the kids today – to understand what a career could be in different fields?"
THINC opened last year in partnership with West Georgia Technical College, where the academy is located. The school serves 600 students, 450 on the THINC campus, with the remainder doing dual enrollment at a college, most at West Georgia Tech, and some in a work-based learning program where they leave the campus and go to a job.
Kia may have kickstarted the conversation about the academy, but the offerings extend way beyond manufacturing to ensure a well-rounded community.
"The community did a needs assessment and determined the high-growth, high-demand careers, jobs of the future," Carlisle says.
To meet the needs of people throughout the area, the academy offers mechatronics, engineering, business, marketing, healthcare and engineering with an energy focus.
"Kids get a real-life experience of what it means to be in manufacturing [or another career]," Countess says. "They get a hands-on approach to it to say, 'Hey, this is what I want to do in the future,' or 'Maybe I need to think about doing something different.' Certainly we'd love for everybody to be in manufacturing, but reality is that's not what's going to happen."
In addition to a hands-on approach to careers, 30 percent of a student's grade is based on success in mastering 13 soft skills, from working as part of a team to punctuality to communication and how to dress professionally. Tuesdays, for example, are professional dress days at THINC, where nursing students wear scrubs and suits, ties, dresses and heels are the norm for other students.
These are skills that Countess says "are absolutely essential to what we do each and every day."
And they are skills vital across the jobs market. "The majority of the challenges that you have in the workforce, they really revolve around attendance," says Corinne Hodges, KMMG's senior manager in the department of public relations. "And that's just one of the 13 soft skills. Communication skills, problem solving, professional appearance, those things are not typically part of a student's grade in a traditional high school setting."
"We're a real app-based society – iPhones, iPads, whatever. We're so dependent on that, at least in my household, you have to force the children to put them down to have a conversation," Countess says. "By these soft skills being included in their grades, it makes them understand, especially in a company, how you have to communicate, and it's not always through a device. You've got to learn to work and deal with people in a one-on-one situation.
"THINC academy, they really have a unique item in that soft skill set, and companies need that," he adds.
It's THINC's focus on providing what companies need that is the real benefit to businesses like Kia, and also the other 35 companies that are actively involved in THINC.
"Employers for the most part have kind of had to take whatever comes to them from education," Carlisle says. "But the way that we're set up, they really have the ability to create [the employees] they get. They can come in and start a relationship with a student in the 10th grade and mentor that student, actually select their workforce and grow it right here on campus."
Companies get involved in a variety of ways, such as creating shadowing experiences, working in the classrooms, volunteering with robotics teams and help- ing with soft skills.
And for the students, the impact can be life changing as well, she says. "If I'm a student and I live in poverty, and I live in public housing, and I've got a CEO [or a] chief administrative officer shaking my hand and saying 'I'm interested in you,' that's what makes a difference. We can do all the cool stuff, but that's the magic. That's what's going to make a difference."
---
The Ray
The Ray, named after the late Ray Anderson, founder of Interface and a pioneer in sustainable business practices, is the 16-mile stretch of I-85 from Exit 2 to Exit 18 in West Georgia. Kia, which lies along four miles of that stretch (Exits 2 to 6), is a firm supporter of The Ray, a project of The Ray C. Anderson Foundation that is designed to be a global model for the future of transportation.
The Ray is an "opportunity to provide the world with a proving ground for technology that will enhance sustainability and safety on highways," Hodges says. "We haven't seen highways change since they were initially paved 60 or 70 years ago. They continue just to be long stretches of concrete that have no ability to communicate with other technology or with other vehicles or with other infrastructure. They could be so much more."
Ideas the Anderson Foundation is exploring for The Ray include a number of solar power innovations, such as solar paving panels applied right over the highway and highway barriers that would provide solar power while cancelling highway noise for those living on the opposite side of the barrier.
As with the THINC academy, Kia got on board The Ray from the very beginning.
"[At Kia] we're proud to say we're the first implementer of new technology on The Ray," Hodges says. Kia partnered with the foundation and others on the installation of a solar-powered electric vehicle charging station at the Georgia welcome center. "That's the first ever in the southeast. EV charging stations can be found in many places, but there weren't any here between LaGrange and Auburn, Ala., and the solar aspect of it is clean energy and closes the loop essentially."
In September, 200 Kia team members joined the Georgia Conservancy, the Chattahoochee Nature Center and the Georgia Department of Transportation to plant more than 2,000 new plants at the Georgia Visitor Information Center on Interstate 85 in West Point. The "pollinator garden" is designed to attract and provide food for bees, butterflies, birds and bats, which are in decline all over the world. It's just one of many projects in the works, all with an eye on innovation.
"I think [The Ray] will make Georgia a showcase," Hodges says.
---
A Ripple Effect
While Kia has had a huge impact on education, the workforce of tomorrow and more sustainable travel, clearly its biggest impact has been economic.
"Since Kia announced in 2006 that Georgia would be the location of its first manufacturing site in North America, KMMG has made an indelible and lasting impact on this state," says Tom Croteau, deputy commissioner of global commerce at the GDEcD. "There are the obvious economic impacts, like the 3,000 plus jobs created, but what's more, KMMG has created a ripple effect that extends beyond direct jobs and investment."
"The impact here in West Point and the region has been tremendous from Kia – the investment that they've brought to the community and the jobs that they've created behind the failing of the textile industry that led up to that," Moon says. "West Point and the communities around here were really struggling at that time, so it was a great project to announce and come and make the changes in our community."
The biggest improvements in West Point can be seen in the downtown area, a lively place teeming with students, small businesses and restaurants.
"It's been across the board really," Moon says. "Our downtown has completely revitalized. What buildings have not been renovated are being renovated now."
Then there's Point University, which moved to West Point in 2012. "Is that directly related to Kia?" Moon asks. "We can't say that it is, but [Kia] certainly put us on the map for people to visit here and look at our community closely. They now have 760 students in the downtown area attending traditional classes on a daily basis. So that's a huge impact in the downtown area."
"What I recognize in my residency here," says Countess, who has lived in nearby LaGrange since 2008, "is that you can go into West Point and see the revitalization of the downtown area. There are restaurants, Point University. All of that I would say has a direct attachment to what happened here with Kia arriving."
He's seen growth and improvements in LaGrange, too.
"We're looking forward to a new hotel that they're building in downtown [LaGrange]," Countess says. "It's something that's exciting to us because we have visitors that come every day. [It will] give them a different opportunity and has the potential to grow the downtown area of LaGrange that much more."
And there are a number of entertainment options in LaGrange these days, including Great Wolf Lodge, an indoor waterpark resort currently under construction that, in addition to the 93,000-square-foot waterpark, will also feature a bowling alley, restaurants, shopping and log-cabin themed family suites.
Kia has also been indirectly responsible for more than 13,000 jobs from suppliers and others in the automotive industry, and they just keep coming. In September, Gov. Nathan Deal announced that Chinese manufacturer Sentury Tire will create more than 1,000 jobs and invest $530 million in a manufacturing facility in LaGrange. It's a huge project whose impact is being compared to Kia in the growing community.
Another announcement, with an impact that will be felt from Savannah to Cordele, came in August. "Georgia's first inland terminal, Cordele Intermodal Services, will partner with KMMG to handle up to 30,000 TEU [twenty-foot equivalent unit] containers from the Port of Savannah per year to supply the plant in West Point, alleviating more than 6 million truck miles each year," Croteau says.
"We have a large quantity of materials that come in from overseas into the Port of Savannah," Countess says. "By moving these containers to this inland port through the rail system, we now have better access to that material. It's an efficiency improvement for us. It's a good partnership example of how we look for innovative ways to improve not only what helps our piece of the business, but also helps the larger state piece of the business, too, because of the reduced amount of traffic that we're putting on the roads."
"KMMG's willingness to embark on quality partnerships with our statewide economic development assets, like the Georgia Ports Authority, is just another reason they're critically important to our state," Croteau says.
---
Making Milestones
And what about the car manufacturer itself? Well, the West Point plant is going like gangbusters. The facility rolled its 2 millionth car off the line earlier this year. A pretty quick pace – six and a half years – Countess says.
"I would say yes, it is fast," he says. "Based on past experience, it's certainly quite phenomenal how quickly we did get ramped up. That requires all the efforts of the team members. The kudos go to them for how quickly they learned and adjusted. I think how you get there is you build a quality product for the customer."
The focus on quality is near and dear to Countess's heart. Before taking over as chief administrative officer, following the unexpected death of the previous CAO Randy Jackson this past summer, Countess was vice president of quality at the facility. It's a focus that's paid off. The 2016 Optima and Sorento have racked up awards for quality and safety from organizations including J.D. Power, AutoPacific, Parents magazine, Edmunds.com, Road and Travel Magazine and the Insurance Institute for Highway Safety.
"You look at the recent awards and accolades, that clearly shows how quickly this plant has come up and how quickly the overall image of the brand has changed," Countess says. "Team members take a great amount of pride in [these awards]. We want to win those awards each and every day, but we're happy with where that progress is. And it gives us new targets for what to achieve going into 2017."