Candler County: Everything's Better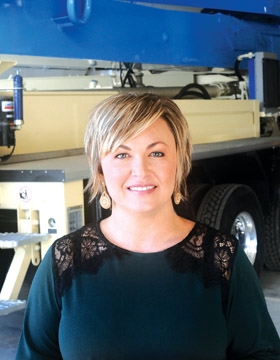 At a Georgia Press Association convention at Jekyll Island in the early 1980s, an attendee spotted some other convention-goers sporting T-shirts emblazoned with the words "Everything's Better in Metter!"
Carvy Snell, publisher of The Metter Advertiser newspaper, says, "That was my family." The slogan they were promoting still endures, and today "Everything's Better in Metter!" encompasses a wide range of assets, from agriculture to education to governmental collaboration and telecommunication.
According to Metter Mayor Billy Trapnell, Snell and his publication are of great value. "He looks for good things going on in our community," Trapnell says, "and anything that is good he'll be there to help support [and] advertise. I think that is one of the great things for our community. He's just a wonderful asset."
Snell and his staff have had a lot of positive news to cover over the last few years in their East Georgia community about 20 miles from Statesboro.
The Candler County School District has consolidated its schools onto one campus that houses all of the district's students. A $30-million, 270,000-square-foot state-of-the-art facility houses Pre-K through 8th grade and connects to the county high school via a covered walkway.
"The whole idea is high school students mentoring our younger ones, then the younger ones having access to a lot of neat things within that building," says Superintendent Bubba Longgrear. "We were very fortunate in receiving funding from the state and some bonds that are being paid back by SPLOST [Special Purpose Local Option Sales Tax] funds."
The school district this year converted to a charter school system, which according to Longgrear "gives more flexibility to do things that are important to help the students in our community, and not quite as rigid in the parameters that you [usually] have to work with."
Moving the elementary and intermediate schools to the consolidated campus resulted in two empty buildings, and there were some initial fears over what might become of them. The concerns proved groundless when the facilities were turned over to the city of Metter and put to good use.
The former middle school was repurposed to house the local Boys & Girls Club and Head Start program. Meanwhile, the elementary campus now includes the regional Georgia Bureau of Investigation drug task force. The GBI relocated five area offices to that central site. Another wing of the building is the new headquarters for the Metter Police Department.
The community is understandably proud of its school system, and not just for its sparkling facilities.
"In the last two or three years, the focus has been on maintaining improved instructional structure but also in partnering better with the local community to prepare students for the workforce," says Longgrear. "We want to be very competitive in offering fine arts, CTAE [Career, Technology and Agriculture Education] offerings, and then having the most challenging and rigorous academic instruction as well."
The school system plans to offer college courses to students still in high school as part of the state's revamped dual-enrollment program Move On When Ready. "The community buy-in is so critical, and they really value public education here," he says.
In addition to core curriculum, Candler students have access to offerings in robotics and agriculture-related courses, and opportunities for internships. A particular point of pride for community leaders is the Candler County Foundation for Public Education, established to respond to requests by teachers for funding projects or needed items.
"We're very fortunate to have a caring community that really desires to grow our own leaders and develop our own young people who are going to guide this community in the future," says CTAE director Robbie Dollar.
---
Growing Industry
Industry is gaining a renewed foothold in Candler County, which suffered a blow in mid-2014 when the RR Donnelley printing plant closed after some 40 years of operation, taking 100 jobs with it. That summer, Hannah Mullins started work as executive director of the Candler County Industrial Authority, and an initial priority was finding a new occupant for the Donnelly site.
"The following year [2015], we were able to fill that building back up" with the addition of Linzer Products, a manufacturer and distributor of painting supplies, Mullins says. Starting production around the first of this year, the company expects its workforce to eventually reach as many as 200.
Also in 2015, CPE (Concrete Pump Engineering) America and Korean partner Everdigm joined Pepsi Bottling Group and The Peterbilt Store in the Candler County Industrial Park. CPE America/Everdigm produces and distributes concrete pumps in a 42,000-square-foot plant. The company plans to hire as many as 50 workers over the next three to four years, according to Mullins.
Candler's industrial park is Georgia Ready for Accelerated Development (GRAD)-certified and only a mile or so off Interstate 16, which offers a direct connection to the Port of Savannah just an hour away and further interstate access to Atlanta and the Brunswick port.
"Because space and land [are filling up] on the coast, naturally it's going to progress west as you go on I-16," Mullins says. "Right now we're strategically placing ourselves. So with our location, we feel we're very competitive as far as industry recruitment and retention."
She adds that the county is also a federally designated Foreign Trade Zone, which means it's an area near a U.S. port of entry where merchandise can be held without being subject to U.S. tariffs and taxes.
---
More Connectivity
In a move that even larger communities would envy, Metter and Candler County boast 860 miles of fiber optic cable, which means this rural community offers broadband to businesses and residents throughout the county. Broadband service is "more and more essential, and not just any broadband but high-speed," says Dustin Durden, general manager of Pineland Telephone, the company responsible for the miles of cable. "The demand continues to grow. We are definitely in the minority to have a 100 percent fiber optic network in our county."
The fiber optic capability has made possible things like the telemedicine clinic in the Candler school system that live-streams two registered nurses at the K-8 school to hospital partners.
"It helps with attendance, with impoverished children who might not have parents [able] to come pick them up and carry them to the doctor," Longgrear says. "But it's also designed for our staff to prevent them from being absent [from] the classroom. It's a really neat concept."
---
Visitor Amenities
The Metter-Candler County Chamber of Commerce runs a visitor center – housed in a historic refurbished lumber commissary building – at the Georgia Highway 23/121 interchange with I-16, and Executive Director Jaime Riggs says 15,000 to 20,000 people a year sign the visitor log there.
"That's a historic little gem just to own, and that [number] doesn't tell how many people are stopping just to eat [or buy gas] and never come inside [the center]," she adds.
In fact, as one of just two major interchange sites on Interstate 16 between Macon and Savannah, numerous restaurants and convenience stores help feed sales tax dollars into the city's coffers when people stop to eat and fill up.
Visitors who venture into downtown Metter on South Lewis Street are charmed by the single-vehicle lanes divided by a median landscaped with colorful ornamental shrubs and flowering plants. In the town center, work is continuing on five phases to upgrade street-scaping, replace aging water oak trees with live oaks, install pavers and renovate a park fountain.
The next two phases, says Riggs, will involve partnerships like the one the city has had with the University of Georgia's Archway program since 2013 to add more pavers, as well as lamp posts, benches and other amenities. Beautification and improved signage at major highway entry points into Metter are other ongoing projects, while another is incorporating Candler County into a regional pedestrian/bike route.
Candler County is one of only eight active communities in Georgia involved in a UGA Archway Partnership, which pairs the resources and expertise of UGA with communities to address local needs and opportunities.
"The main goal is to make sure that we provide university resources for the community as they come together and assess the need for projects," says Archway's Candler County coordinator, Catherine Muse.
---
Sowing Seeds
Tiny Metter is known worldwide as the home of Seeds of the Sower, a daily devotional that is broadcast around the globe via the Armed Forces Network and other media outlets. Seeds founder, the late Michael Guido, also established Guido Gardens in Metter, and many travelers inquire about it at the welcome center, says the chamber's Riggs.
Now headed by Guido's brother, Lawrence Guido, the beautifully landscaped grounds also are home to the Guido Bible Institute and Counseling Center, which offers services to ministers from around the world. The gardens' Christmas lights are a huge attraction, bringing busloads of visitors from across the southeastern U.S., according to Mayor Trapnell.
Agriculture remains the major overall economic driver in the county. And according to the University of Georgia's Center for Agribusiness and Economic Development, the ag industry had a farm gate value of $68 million in 2014. In addition, Candler is part of the certified Vidalia onion region, the 13-county area in Georgia that is the only place in the country where those sweet onions known as Vidalias can be grown.
Metter City Manager Mandi Cody, formerly with the city of Statesboro, has only been on the job a few months but has already come to appreciate her new community.
"Metter is probably the best-kept secret in the state," she says. "This is a quality place to come and live, and what the members of the business community [and government] have done to prepare for future prosperity is really remarkable. I think that as more and more prospects take notice of Metter and find the secrets that are here, it's really ready to explode."
---
LOCAL FLAVOR
Student Success: The 2016 Summer Olympics may be over, but Candler County has its own "relay team" whose goal is a not a medal but improved performance and futures for local students.
Communities in Schools (CIS), the nation's largest dropout prevention organization, and Boys & Girls Club of Candler County partner to develop programs that enhance the lives of young people in the community by surrounding students with support, empowering them to stay in school and achieve in life, teaching the importance of giving back to the community and developing local workforce capabilities.
The program boasts a 99 percent promotion rate and a 100 percent graduation rate for the kids served. In fact, since 2010, the county's graduation rate has jumped from 56.3 percent to 82.5 percent in 2015.
When the bell rings for class dismissal in the afternoon, the Boys & Girls Club takes the reins, offering after-school and summer care that includes meals, tutoring, mentoring and enrichment activities.
Boys & Girls Club Director Lisa Rigdon says many local parents work more than one job and are not at home to care for their children after school or in the summers, so the club provides a safe environment and a place to do homework and engage in positive activities such as music, art and recreation. There is also access to technology.
The hot-meal portion of the program is especially important, she adds, because many "families are poverty-stricken in Candler County and may have no food in the house. [The Boys & Girls Club] enables [youth] to feel pride and respect for themselves and offers opportunities for them to better their lives." – David Shivers