Cities along the 400 corridor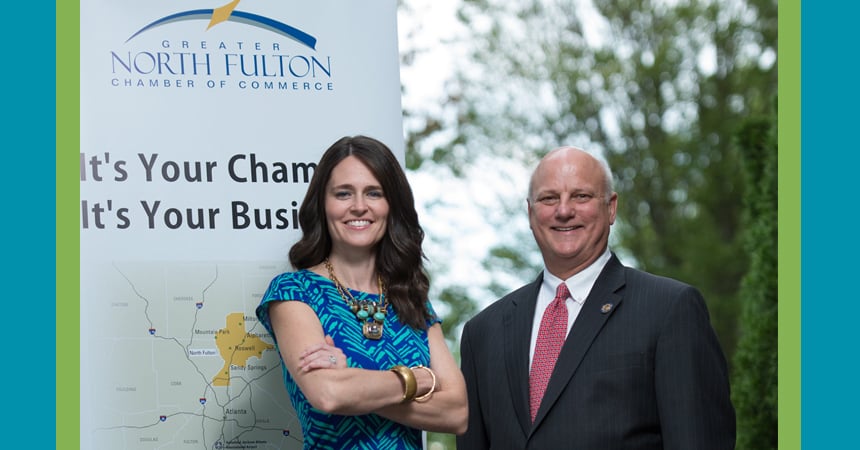 The area along the Georgia 400 corridor – which runs through North Fulton, Forsyth and Dawson counties – may seem like one big 'burb, but the cities along it have distinct personalities.
Roswell, for example, is seeing tremendous job growth, says Steve Stroud, executive director of Roswell Inc. "We're seeing enormous growth with GM – 300 new jobs by the end of '18," he says. "That'll put them way over 2,000 employees in the city of Roswell.
"We're seeing also a surge of small entrepreneurial companies. One of the big areas for us is restaurants. That is our leading industry as far as the number of businesses – 203 independent restaurants. That's not franchises, that's independent restaurants, family, chef-driven restaurants within the city."
Jobs are also the name of the game in Alpharetta, which is a huge player in the technology space. For example, cybersecurity firm Dispersive Technologies has "recently raised $20 million and plans to double their office [size] to accommodate an expansion of 200 jobs," says Bethany Usry, vice president of economic development for the Greater North Fulton Chamber of Commerce.
In Forsyth County, development is increasing, but it's sometimes hard to see, says James McCoy, president and CEO of the Cumming-Forsyth Chamber of Commerce, of the beautifully landscaped – and nearly full – business parks that line McFarland Parkway, just off 400.
"The business parks are tucked away," he says. "It's a point of pride. We've been very thoughtful about how we've placed that growth. We're working to protect the integrity of the community."
Those business parks are home to more than 30 international companies, along with large data centers for Publix, New York Life and Toyota.
Forsyth County was also named one of the Top 10 counties in the country that are most attractive to millennials for buying a house.
Dawson County, home of the North Georgia Premium Outlet Mall and the northernmost stop on 400, is also booming, thanks in large part to that retail niche.
"The outlet mall continues to attract millions of visitors every year," says Charlie Auvermann, director of the Development Authority of Dawson County. "In the last year or so we've also been very successful in attracting new retail projects. One of them is the Kroger Dawson Marketplace, and the other one is a Publix Dawson Crossroads. Both of those projects are very important in our effort here to continue to make Dawson County a retail destination.
"Those two projects represent in excess of $100 million worth of private investment, a huge impact and a huge shot in the arm to our economic efforts and our efforts to provide jobs," Auvermann says. "When you consider that in most years, our private investment level is anywhere from $6 million to maybe $10 million, this is orders of magnitude bigger than anything we've seen since the outlet mall was first built."
For more about the many ways business, government and civic organizations all along the corridor work together across city and county boundaries to get things done for local citizens, check out this month's Georgia 400 Our State feature "Corridor Connections."
Photo of Bethany Usry, vice president of economic development at the Greater North Fulton Chamber of Commerce, left, and State Sen. Brandon Beach, GNFCC president and CEO, courtesy of daemonpictures.com.