Georgia Trend's 2016 40 Under 40
Twenty years of the state's best and brightest in business, government, nonprofits, science, healthcare and education, plus a look back at some of our previous nominees and where they are now.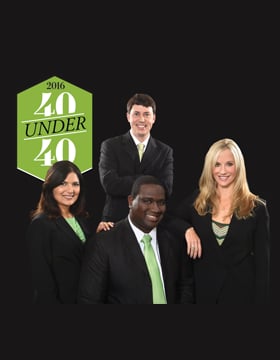 This year Georgia Trend celebrates 20 years of honoring outstanding Georgians under the age of 40 – the state's best and brightest – and looks back at 20 of our picks from years past to find out where they are today.
The 2016 40 Under 40 represent business, government, politics, nonprofits, science, healthcare and education. The 40 were chosen from nominations made by readers throughout the state. Final selections were made by the Georgia Trend editorial staff. We're proud of our selections and glad we can share the stories of these Georgians and their achievements on the following pages.
Four representatives from this year's group, shown here and on the cover, were photographed by Jennifer Stalcup. Shown clockwise from left, they are Sucheta Rawal, Go Eat Give, Smyrna; Brett Fowler, Turner Wood and Smith Insurance, Gainesville; Jaime Foster, Georgia Grinders Premium Nut Butters, Brookhaven; and Desmond Timmons, F.D. Roosevelt State Park, Pine Mountain.
Individual profiles were written by Mary Anne Dunkin, Candice Dyer, Emma N. Hurt, Tom Oder, David Shivers, Bonnie Smith and K.K. Snyder. – Karen Kirkpatrick
---
Alpa Amin 34
Lead Attorney, Victims of Violence Project
Georgia Asylum and Immigration Network
Atlanta
Alpa Amin chose neither a typical nor an easy legal career by advocating for some of the most isolated and disadvantaged members of our society: immigrant victims of domestic violence, sexual abuse and human trafficking.
As the lead attorney of a program she started, Victims of Violence, at the nonprofit Georgia Asylum and Immigration Network, Amin created a new way to deliver free legal help to people who need it most. She screens and supports applicants and mentors and advises volunteer lawyers, while personally handling some of the trickiest cases.
"It's such rewarding work, but I don't know if it gets as much recognition in the legal community," she says. "People joke, 'When are you going to get a real lawyer job and be in a suit in a courtroom?' but I beg to differ. We're doing good, and we're helping people the way lawyers should be helping them." – EH
---
Dabouze Antoine 36
Teacher's Assistant, City Councilman
Ash Street Center, Forest Park City Council
Forest Park
Dabouze Antoine was fulfilling a community service requirement as a teenager when he discovered he had a gift for working with children. Today, as a teaching assistant at Ash Street Center in Forest Park, Antoine uses that gift to help children with emotional disorders reach their target goals of self-control, following directions and completing assignments.
When he is not in the classroom, Antoine is dedicated to helping others locally and globally through a wide range of volunteer activities, including H.O.P.E. Ministries of Georgia Inc., a nonprofit he founded to support mission work in his native Haiti.
In 2014, Antoine was sworn into the Forest Park city council, one of many accomplishments he wouldn't have dreamed of as a teenager. "My goal was never to get into politics. I didn't even know how to spell politics," he says. "My goal was to make it to the NBA, but God knew there was a bigger plan than to play sports." – MAD
---
Rickey Bevington 37
Senior Anchor/Correspondent
Georgia Public Broadcasting
Atlanta
Dedicated to informing and educating Georgians on the complex issues impacting the state, Rickey Bevington reports on topics from politics and the economy to healthcare and the arts.
"It's really about helping people be more informed citizens and therefore being smarter voters, better parents and more civil community members," says Bevington, who returned to Atlanta from Boston 10 years ago. "I think the power of education and information is the foundation of democracy, and it's why America works – because we have a free press."
Bevington frequently represents Georgia on the world stage and last year traveled throughout Europe as a Marshall Memorial Fellow, participating in transatlantic policy briefings. Her passion for impact journalism earned her one of the highest achievements in American journalism – a prestigious 2016 Edward R. Murrow award – for her story about the preservation of Pasaquan, a historic, visionary art site in rural Buena Vista, Ga. – KKS
---
LaSandra Boykin 38
Project Manager, Community Affairs
Delta Air Lines
Smyrna
When LaSandra Boykin mentors young people, she urges them to join companies where they can follow their passion. She is grateful Delta Air Lines is that kind of company.
"My passion is giving back to others," she says, recalling when she first became part of Delta's community affairs team. "I want[ed] a job that fulfills not only working at Delta but also allows me to give back to the community."
In her role as project manager, she helps others from nine to five, then follows Delta's live, work and serve "Rules of the Road" away from the office in numerous volunteer projects. For example, she serves as special events co-chair for United Way's Youth Professional Leaders Board, organizing leadership activities for the group.
At an early age, she learned that serving others is a way of life. "Giving back is something my parents instilled in me," she says. "God has afforded me so many blessings. When you get a blessing, you bless others." – TO
---
Olivia Chelko-Long 39
Director of Communications and Development
Positive Impact Health Centers
Monroe
Olivia Chelko-Long was inspired by those who stood up 30 years ago for people with AIDS and HIV without allowing stigma or fear to stop them from helping. Today she's on the frontline, raising awareness for the disease. While executive director of AIDS Athens, Chelko-Long developed a plan to administer more than 1,000 HIV tests annually, provide more than 450 individuals with housing and establish an $8-million resource center that delivers services from healthcare to childcare.
"Working for a grassroots agency has shaped me as a woman and a mom," she says. "I'm constantly inspired by the founders of the agency and the clients we serve and by helping them throughout the disease progression."
Chelko-Long says her recent transition to Positive Impact Health Center, which provides no-cost behavioral healthcare to people with HIV and their caregivers, will enable her to serve more people across Georgia. – KKS
---
Yaminah Childress 35
Executive Director
DREAM It Forward Foundation
Hampton
When you're passionate about a cause, it can show in everything you do. Such is the case with Yaminah Childress, who has dedicated her work to helping young people succeed.
A single mother who put herself through law school with little guidance, Childress now provides that guidance to at-risk youth. Free mentoring services, low-cost summer camp, free meals after school and in summers, and programming specifically designed for single mothers and teen girls, the DREAM It Forward Foundation's work is widespread.
"I like to show [the youth] you can pretty much be what you want to be if you're willing to put the work in," says Childress, who also operates the Childress Group, a small business management, legal support and tax firm. In that role, she assists aspiring entrepreneurs with starting and sustaining their businesses.
As if what she's been doing isn't enough, Childress is now working to open a community center with an art gallery for local artists. – KKS
---
Caree J. Cotwright 39
Assistant Professor, Department of Foods and Nutrition
University of Georgia
Athens
Caree Cotwright combined two loves, the arts and nutrition, to forge a career fighting our country's childhood obesity epidemic. Her work has taken her from the CDC to the University of Georgia, where her research focuses on ways entertainment can enhance nutrition and wellness education for younger children. As part of her research, she's developed a character, Freggie, who, with his fruit and vegetable friends entertains kids at Head Start centers with the goal of increasing fruit and veggie consumption.
After studying molecular biology, she says, "I knew I didn't want to work with cells all day, I wanted to work with people. Then in grad school they told me they needed a way to engage kids. I said, well … I could write a song."
She has since written many songs and plays, all grounded in research. "It's not just a show, it's a curriculum. But if you don't find a way to get kids interested in nutrition, they aren't going to be." – EH
---
Freda Crump 39
Owner
Miss Crumpy's Hot Wings
Atlanta
Crump grew up in the restaurant industry, "playing with wings since I was 14," she says. Since 2012, she's run a restaurant specializing in Memphis-style wings in the Little Five Points neighborhood of Atlanta. Lately, she's been experimenting with ways to make her food more healthful, and once a week, she organizes around 200 packages of it to distribute to the homeless.
"We go under bridges and to the shelters and anywhere a group of people are gathered who look hungry," she says. "We give them food and a bottle of water, and I'll say a prayer with them if they need that. It's a passion with me, and a humbling process."
Her passion extends to mentoring young adults and to growing her wings business as she seeks distribution through national retailers. She is also planning a multipurpose wellness center for the West End in Atlanta that will focus on strategies to reduce obesity and hypertension in a food desert.
"We can use food to heal ourselves if we know how," she says. – CD
---
Scott Curry 38
Executive Vice President and Vice Chair of the Board
First State Bank of Randolph County
Associate Partner, JW Walker Insurance Agency
Shellman
Curry may hold down two – actually three – different day jobs, but his contributions extend beyond business to civic and government roles. As councilman and mayor pro tem of Shellman, his service has also encompassed cultural and charitable purposes. He sponsored a scholarship for local high school seniors who plan to return home to work after college and served as president of the Cuthbert Rotary Club.
"My parents showed me from an early age that a life well lived is a blessing to everyone and that with great accomplishment comes great responsibility to give back as much to my community as I possibly can," Curry says. – DS
---
Carlton Deese 31
Associate Director
Georgia War Veterans Nursing Home
Augusta
As associate director of the Georgia War Veterans Nursing Home in Augusta, Carlton Deese is responsible for the care provided to Georgia's elderly veteran population. Under his direction, the 192-bed home recently ranked in the top 15 percent nationally for customer satisfaction from Pinnacle Quality Insight.
With a master's degree in marketing administration from the Medical University of South Carolina, Deese had planned to become a hospital CEO, but an administration fellowship at the Charlie Norwood Veterans Affairs Medical Center in Augusta changed that.
"I take great pride in what I do," he says. "[The residents] are not just veterans but are pillars of their communities. It is really taking care of the cream of the crop." – MAD
---
Miguel A. Dominguez 37
Litigation Attorney
Morgan and Morgan
Atlanta
Miguel A. Dominguez became the first Latino prosecutor in the history of the Rockdale and Clayton Judicial Circuits before transitioning into civil practice. Raised under "very difficult circumstances" in the Bronx, with no role models in sight, Dominguez is known as a compassionate public servant, dedicated to empowering and seeking justice for at-risk youth in underserved communities.
"I am one of them. … I made it out of that environment through the grace of God," he says, adding that a couple of individuals made his success possible. "To the extent that I can play that role for others in the at-risk community, I do that to the best of my ability."
A volunteer attorney with the Georgia Justice Project, he visits youth detention centers to encourage and uplift young people. Dominguez is also a founding board member of DeKalb County's first dual-language immersion charter school, a project he's been involved with from its inception. – KKS
---
Brittany Duncan 33
Administrative Coordinator and Public Information Officer
City of Woodstock
Canton
Brittany Duncan has spent most of her life in Woodstock and has a great deal to show for it. Officially, she manages the operations and public communications of the Woodstock police. But outside her work life, she also serves as a founding board member for the Woodstock Public Safety Foundation, works as a volunteer reserve officer, mentors teenagers interested in law enforcement, graduated from Leadership Cherokee and serves on a chamber of commerce committee.
Her greatest passion, however, is helping children in Kenya, where she first visited on a mission trip in 2013. "I fell in love. I definitely left a part of my heart there and go back frequently." She continues to raise funds for education and training and to improve the lives of those less fortunate in Kenya.
When asked about her extensive resume she admits, "I do say yes to a lot. I like to be helpful where I can. But if you ask my friends and family they would say, 'police and children in Africa are her passions, and we can't get her to shut up about them.'" – EH
---
Lynnette D. Espy-Williams 36
Vice Chair, Office Managing Partner
Cozen O'Connor
Smyrna
Lynnette Espy-Williams is proof the apple doesn't fall far from the tree, even when the apple and tree are several states apart. Growing up in Columbus, Ohio, her parents taught her lessons she's never forgotten about helping underserved communities. She's practicing those lessons now in Atlanta's marginalized areas.
"My life mantra, which I got from my dad, is that 'if it's to be, it's up to me,' meaning I need to take responsibility and not rely on others to make change I want to see." That comment led her to become a lawyer, like her father, and assist people in need.
As a business litigation attorney, one of her proudest achievements has been to serve as president of the Gate City Bar Association, Georgia's oldest African-American bar group. In that role, she helped numerous students gain access to educational programs or law positions. "Mentorship is a huge thing for me," she says. – TO
---
Kathryn Fletcher 37
Certified Public Accountant
Draffin & Tucker LLP
Atlanta
Earlier this year, Kathryn Fletcher, who specializes in quality control, became the third female partner in this regional firm's 65-year history.
"The most satisfying part of my job is the one-on-one work I do with clients to help them build more successful businesses," she says.
She has served as president of the Georgia Society of CPAs and in that role worked to teach financial literacy to eighth graders.
Fletcher also has served as president of the Junior League of Gwinnett and North Fulton Counties, is an alumna of Leadership Gwinnett and regularly prepares meals for and spearheaded her firm's involvement with Open Hand Atlanta.
"The great thing about the Junior League is that you get to work with a wide variety of wonderful nonprofits, like Jesse's House and Rainbow Village. I give it credit for developing me personally and professionally." – CD
---
Jaime Foster 39
Founder and Owner
Georgia Grinders Premium Nut Butters
Brookhaven
Shortly after the birth of her second child, Jaime Foster decided it was time to leave the corporate rat race. "I had lost my passion for what I was doing," she says. "I knew I needed to reinvest [in] myself because life was too short."
In 2012, she found her new passion in her grandfather's natural almond butter recipe. Today her almond butter, NaturAlmond, is sold in nearly 1,000 supermarkets and natural food stores throughout the U.S. and, soon, Canada. Her company produces natural pecan, peanut and cashew butters as well.
But Foster's Chamblee plant does more than grind nut butters. Through a partnership with the DeKalb County School System, developmentally disabled teens learn on-the-job skills at Georgia Grinders. The first graduate will soon be on the payroll. – MAD
---
Brett Fowler 30
Vice President and Partner
Turner Wood and Smith Insurance
Gainesville
Specializing in employee benefits, Brett Fowler has become the go-to person on healthcare reform, frequently speaking to organizations on the topic. But it's his long list of community involvement that's most impressive, from United Way and Main Street Gainesville to the Georgia Mountain Food Bank.
Community service was instilled in Fowler, who saw the difference his grandparents and parents made in the area. "I've seen what good work has been done. I just want to move it forward and continue all the good things going on in the community."
As a father, Fowler says the food bank really hit home. "There are so many kids whose only meals are at school. We want to make sure no kid goes hungry." – KKS
---
Evan Glover 38
Senior Counsel
GE Transportation
Atlanta
Attorney Evan Glover is a nationally recognized expert on ways organizations can defend against and respond to cybersecurity attacks. While serving as legal director at Sony's mobile group companies in the Americas, Glover successfully weathered the highly publicized 2014 cyber attack on Sony Pic- tures. A year later the Snellville native joined GE Transportation, where he uses his expertise to protect critical locomotive and mining infrastructures.
But Glover's interests and activities extend much further. He personally raised more than $100,000 for Pro Bono Partnership of Atlanta to provide legal services to those who can't afford them; served on the board for Create Your Dreams, a program for students living in underserved areas of Atlanta; and served as president of Essential Theater, a theater festival that supports Georgia playwrights.
Glover attributes his success to his parents Rose and Bill Glover, who were educators. "They encouraged me to constantly learn," he says, "to constantly find a new challenge, to get out of my comfort zone and grow." – MAD
---
Jennifer Dorminey Herzog 35
Partner
Hall Booth Smith P.C.
Tifton
Whether she's coordinating children's activities at the local farmers market, planning projects for the Georgia Museum of Agriculture, leading fourth-grade girls at her church or speaking to students at Abraham Baldwin Agricultural College, Jennifer Dorminey Herzog enjoys giving back to the community where she was born and raised.
"My parents instilled in me that we are very blessed, so it is our obligation and also our privilege to give back, and I try to have my life reflect that," says Herzog.
Herzog serves as county attorney for Berrien County and assistant county attorney for Tift, Coffee and Ware counties, a job that gives her great satisfaction. "In a lot of litigation cases, you work on a case for one or two or five years and you never see the people again," Herzog says. "I really enjoy the county work because I am able to form long-term relationships." – MAD
---
Jennifer Hidinger 34
Co-owner and Spokesperson
Staplehouse and The Giving Kitchen
Atlanta
Jen Hidinger and her late husband, Ryan, spent years running a supper club to raise funds for their dream restaurant, Staplehouse. Then, in 2012, Ryan was diagnosed with gallbladder cancer. The restaurant industry rallied around him to raise funds for treatment and inspired a much-needed nonprofit organization, The Giving Kitchen.
"We extend emergency grants to workers in the restaurant and hospitality industry who are affected by an unanticipated crisis," Hidinger says. "It's inspiring to see a community rally to help its own."
Ryan died in 2014, but the generosity of the community that supported him lives on in The Giving Kitchen. The organization has partnered with other restaurants, nonprofits and companies to raise funds, resulting in more than $800,000 disbursed to 450 recipients. Meanwhile, Staplehouse launched in November 2015. This year, the restaurant was named both a James Beard Award finalist and best new restaurant in the country by Bon Appetit magazine. The restaurant channels all net profits back into The Giving Kitchen. – CD
---
Jason Holt 37
Funeral Director/Owner
Paulk Funeral Home
Fitzgerald
Although it's a job you may not learn about on career day at school, Jason Holt began his career as a 16 year old, mowing grass and washing cars at a funeral home in Rochelle. Today, Holt is the owner of Paulk Funeral Home, with locations in Fitzgerald and Ocilla.
It can be emotional conducting funerals in a town of 10,000, where the families he serves are often friends and neighbors, Holt says. But he believes that helping people at the most difficult time of their lives is his mission.
Away from the funeral home Holt's life remains one of service. The youngest member of the Fitzgerald City Council, he is currently serving his third term. He is also active with his church, the Fitzgerald-Ben Hill Chamber of Commerce, the Rotary Club and his three young sons.
"I don't have much time for a hunting or fishing hobby," he says. – MAD
---
Valerie Camille Jones 37
Teacher, Department Chair
Ron Clark Academy
Atlanta
Valerie Camille Jones understands the stigma surrounding her favorite subject. "So many people have math anxiety," she says. "I promote math esteem. It's so much more than computation – it's a language; it's visual."
In her curriculum, she uses "non-traditional but rigorous" methods, including video games, computer apps and scavenger hunts. "I've taught math in pool halls and at the mall," she says.
So far, Jones has trained more than 17,000 other teachers about her methods, presented her techniques at several universities and created best practices videos for Teach for America. This year, she received the Presidential Award for Excellence in Mathematics Teaching, the nation's highest honor.
She also serves as a coach for the school's MATHCOUNTS Video Challenge team, which creates a video teaching a specific math concept. In 2014 and 2015, her teams earned the National MATHCOUNTS Video Challenge Award. For their efforts, Jones and the winning teams were invited to attend the White House Science Fair. – CD
---
Michael Kloss 39
Chief of Protocol/Executive Director, Office of University Events
Emory University
Acworth
Leading a team of event planners and building campus-wide partnerships to successfully produce more than 100 events annually, Michael Kloss has worked with visiting dignitaries and luminaries like Paul Simon, Alice Walker, Sir Salman Rushdie and Jimmy Carter.
Crafting these premier live event experiences led Kloss to recognize the need for responsible event planning, including composting, smart sourcing and eliminating waste. Today Emory graduates wear gowns made completely from recycled bottles, diverting more than 80,000 from landfills each year.
Through these events, which require hundreds of hours of planning, Kloss finds inspiration.
"Seeing His Holiness the Dalai Lama spontaneously leave the stage and walk into the audience to embrace a dear friend who was blind reminds me that the reason we work so hard to create safe and structured event spaces is so that the audience and participants are free to be their authentic selves," says Kloss. – KKS
---
Yolanda L. Lewis 39
District Court Administrator
Superior Court of Fulton County/Atlanta Judicial Circuit
Atlanta
Yolanda Lewis is the first African-American female appointed as chief administrative officer and is the top administrative official of the largest and busiest court system in Georgia. She promotes her mission of "re-imagining justice" through her volunteer work with the Southern Center for Human Rights and as vice president of the National Association of Court Management.
"Both of my parents were public servants, and I believe giving is part of my calling," Lewis says. "I am excited to be … a voice for minorities and the disadvantaged in support of fair legal representation to all people."
Lewis has served on the Smart Justice Council, the Repeat Offender Taskforce for the Atlanta Police Foundation, the Fulton County Court Improvement Taskforce and many other advocacy groups.
Lewis can found on any given Saturday at CrossFit, on a hiking trail or boxing. Yes, wearing gloves and throwing punches. – BS
---
Mandy Mahoney 37
President
The Southeast Energy Efficiency Alliance
Atlanta
The Southeast Energy Efficiency Alliance (SEEA) provides Mandy Mahoney a platform to advocate for what she calls social justice for all Georgians. "Everybody deserves clean air to breathe, clean water to drink and a reasonable source of electricity," she says. "That to me is social justice."
Mahoney is especially proud that SEEA is a place where people who might have different initial goals – consumer groups, utilities and state agencies – can come together to find pragmatic solutions to energy issues. "No matter how you identify, you know that we will hold an honest non-judgmental conversation to be able to figure out something that's good for the people who live in our state," Mahoney says.
She calls it a balancing act but says it is one she is glad to perform. "I get to work with people from all walks of life across the state, and that allows me in this time of strife to be optimistic about my home." – TO
---
Elliott Marsh 39
Precision Ag Coordinator
Southern States Cooperative
Statesboro
The fifth generation to live on his family's farm in Statesboro, Elliott Marsh is dedicated to helping Georgia's farmers and future farmers. As a volunteer, Marsh serves on the Agricultural Advisory Committee of Southeast Bulloch High School, the Advisory Committee for 4-H Youth Development for UGA Cooperative Extension and the board of Advancing Georgia's Leaders in Agriculture and Forestry, among other organizations.
Professionally, the University of Georgia alumnus helps Georgia farmers implement precision agriculture, which uses technology to determine acre by acre where and how much seeds, water, fertilizer and more to add to improve their yields.
Precision agriculture is the key to success for farmers in the future as well as to our nation's and the world's food supply, Marsh says. "As an industry, there are fewer and fewer farmers every year and there is less land that can be used for agriculture due to urbanization," he says, "so that farmer has to maximize that acre." – MAD
---
Jennifer Dwyer McEwen 37
Managing Director
True Colors Theatre Company
Atlanta
While working as the marketing director for Tony Award winner Kenny Leon's True Colors Theatre Company, Jennifer Dwyer McEwen cut spending by more than $100,000 and increased sales by 30 percent. She took her current post in 2011, when the theater was hamstrung by debt. Within 18 months, she had paid off the debt and secured $200,000 in reserve. Today, she has six months' operating expenses and True Colors productions are among the most critically acclaimed in the city.
"We're producing high-quality theater that acts as a unifying agent for people of all backgrounds, races, neighborhoods and income levels," she says. "We've created a safe place for people to talk about difference, and that's important, especially in this divisive social climate."
McEwen also administers the national August Wilson monologue competition, in which students vie for scholarships and a chance to go to New York and perform on Broadway. – CD
---
Carl Anthony Miller 31
CEO
C.A. Miller Publishing
Savannah
"My mom always taught me," says Carl Anthony Miller, "'to whom much is given, much is required.'"
Miller has many roles in Savannah, but this motto seems to be their commonality: giving back to his community. Whether spearheading the Ralph Mark Gilbert Civil Rights Museum's first capital campaign as chairman of the board, helping others publish educational and motivational books and magazines with his company, C.A. Miller Publishing, or mentoring disadvantaged African-American young men with his Bridge Builder Foundation, Miller's mission remains the same. And with this mission he pays it forward as well, empowering others to reach for the same noble goals he sets for himself.
It's no surprise that local station WTOC-TV recently recognized him as a "Hometown Hero."
"I want to inspire people to achieve greatness, whatever that is to them," he says. "You don't have to be perfect to do good. You can make a positive impact on your community, no matter what." – EH
---
Jonathan B. Pannell 38
Attorney
Gray Pannell & Woodward LLP
Savannah
It's been a good year for Jon Pannell, a municipal bond specialist and partner in the law firm of Gray Pannell & Woodward LLP. "I was chosen as bond counsel for the state in April," he says. "That's my proudest accomplishment."
He counts participating in Leadership Georgia among his most enjoyable experiences. That's because you go through the program with your spouse.
"It was a great way to learn a lot about each other and go around the state and see what's succeeded and what hasn't," he says.
Leadership Georgia's goal is to bring lessons learned back to your community. For this Savannah native, who is active in professional and civic efforts, that's like going back to his roots. "I was brought up that way," he says, recalling that his parents' community involvement inspired him to begin volunteering at a young age. "I have always felt drawn to giving back and making the community and my profession better." – TO
---
Sucheta Rawal 36
Founder
Go Eat Give
Smyrna
"I grew up in India, and in my society there were only two career paths: doctor or engineer," Sucheta Rawal says. "Worst case, you become an investment banker. That's what I did."
Sucheta Rawal soon left that corporate career to follow her real passions: food, travel and cultural awareness. Beginning as a part-time blogger, today she is a renowned food writer, teaches cooking classes and runs a nonprofit, Go Eat Give. She organizes sustainable and culturally aware trips designed to provide a vacation with authentic experiences of a place, its people and its food.
She chose to move to Atlanta because of its gastronomical diversity, completely different from India where "you could only get Indian food or Chinese-Indian food. For me it was like discovering a whole new world right in this city."
And, despite her travels to more than 60 countries, "In 19 years of living here, I'm discovering new things every day." – EH
---
Tremaine "Teddy" Reese 35
Director of Community Operations and Affairs/Staff Attorney
Georgia Appleseed Center for Law and Justice
Columbus
First in his family with a college degree (actually three degrees), Teddy Reese has what he calls "a seat at the table" as a nonprofit attorney and a young man, giving him a direct connection to mentor underserved children. He lives the belief that it takes a village to raise a child.
"Growing up in rural Wilkerson County, I saw my grandmother and mother sacrifice to give me opportunity, and all children should have and need that same chance," says Reese.
The nature of his work constantly serves the community, but his efforts with Muscogee County's Positive Behavior Intervention Services, Greater Columbus Chamber and pro bono work with 501(c)(3) startups, as well as other advocacy groups, have earned him the reputation as having a heart the size of Georgia.
Not only does Reese delight in giving and mentoring, he loves trekking through the state, sometimes taking the roads less traveled just to appreciate its beauty. – BS
---
Katherine Roberts 31
Emergency Room Nurse
Atlanta Medical Center
Atlanta
Katherine Roberts saves lives every day at Atlanta Medical Center, and she is currently establishing an integrative care regimen involving Reiki and other alternative healing methods that will complement the treatment her patients receive.
Her influence also extends to another continent. Several years ago, Roberts planned to spend four months in Zambia and ended up dwelling there for three years in a mud hut with no electricity or running water.
"I didn't go to give pity," she says, "I went to learn and have a better understanding. The community members wanted their children to be healthier, so my overall goal became to decrease malnutrition."
She learned about a superfood called "moringa" and assisted her community in planting and harvesting it, which has resulted in better-nourished children. She is also saving the lives of disabled villagers and women freed from sex slavery by helping to build the Kwasha Mukewnu Vocational Training Center, which opened its doors in Zambia earlier this year. – CD
---
J. Wesley Rogers 39
President and CEO
Landmark Properties
Athens
While Wes Rogers is known for the success of Landmark Properties, a real estate firm specializing in quality student housing in his hometown, he is known well beyond those borders.
"We started Landmark 12 years ago by serving the housing needs of students at the University of Georgia and are now serving those needs for students across the country," Rogers says. That includes The Mark and The Standard near downtown Athens as well as managing or developing housing in 18 other states; in fact, his company is the top developer of student housing in the U.S.
His motivation to give of his time and money to Extra Special People, an organization empowering children with developmental disabilities, is his belief that giving has a direct, immediate and significant impact on the lives of special needs children.
Also involved in the Boys and Girls Club, the Fellowship of Christian Athletes and the Food Bank of Northeast Georgia, Rogers shows that his community is close to his heart. – BS
---
Howard C. "Trey" Sheppard III 39
Vice President, Kaolin & Timber Operations
Howard-Sheppard Inc.
Sandersville
After graduating from Georgia Southern University in 1999, Trey Sheppard returned to his hometown to be a part of his family's trucking business and to help improve the lives of his neighbors.
He sits on the boards of several organizations, including the Georgia Motor Trucking Association, the Georgia Southern University Athletic Foundation and the Citizens Bank of the South. He is an advocate for adult education and workforce training and was named by Gov. Nathan Deal to the Technical College System of Georgia Board in 2012. He also devotes his efforts to the Broken Shackle Ranch, a Christian-based home in Washington County for young men struggling with drug abuse and emotional or psychological issues.
"I am proud of the fact that I am the third generation of a family business that provides jobs for over 500 Georgians," Sheppard says. "As the father of four children, I am driven to serve and help make my community and state a better place to live for the next generation." – DS
---
Ashlyn Shockley 32
Co-founder and Partner
Abbott Martin LP
Atlanta
Ashlyn Shockley, a native Atlantan, has had a multidisciplinary career grounded in public service. She directed the National Council on Youth Sports Safety. She was a co-director of the New Leaders Council training people in political entrepreneurship and previously worked for a Georgia representative. She also served as National Attorney General for the National Black Law Students Association and has co-founded a full-service firm designed to provide experiential marketing for niche markets, primarily minority consumers, and event production.
She draws inspiration for her vast involvement from her father, her "hero," a post office employee who "didn't see himself as a leader." But the overwhelming, "beautiful" response at his funeral from all the people he affected has stuck with her.
"He worked hard, and he did so humbly," she says. "He did it because it needed to be done, not because he felt there was some accolade to be had." – EH
---
Stanton Stafford 39
Managing Principal
Integral Consulting Engineering
Atlanta
An engineer accelerating critical change in the built environment, Stanton Stafford's efforts carry over to his role with Lifecycle Building Center of Greater Atlanta, which operates a large-scale salvaged building materials retail facility in southwest Atlanta.
In four years, LBC has kept 2 million pounds of building material out of the landfill by donating more than $500,000 of materials to 50+ nonprofits and schools and selling discounted materials direct to the public. Their efforts are gaining notice.
"We're getting a lot of cool attention from a wide swath of the Atlanta business community," he says regarding recent partnerships and additional support.
Stafford is working to change the paradigm with respect to the "disposable culture" in Georgia and the Southeast, where landfill disposal is cheaper than in other areas. – KKS
---
Desmond Timmons 37
Park Manager
F.D. Roosevelt State Park
Pine Mountain
Desmond Timmons oversees a staff of 30 and stewards nearly 10,000 acres of park land with 70 miles of hiking trails and a million-dollar budget. "I have the best job in the world because my office is the great outdoors," he says.
When he arrived in 2012, the historic Liberty Bell swimming pool, a 1930s-era spring-fed project of the Civilian Conservation Corps (CCC), needed repairs and faced closure. Timmons held special nighttime events and swimming lessons and allowed after-hours rentals for parties. The pool was a hit.
"They said we couldn't make a profit from the pool, but for two seasons it has been profitable. That's our biggest achievement so far," he says.
He also oversaw a $1.6-million renovation of 16 historic CCC cabins, revenue has increased every year since he arrived in 2012, and attendance at the park has risen each year as well.
His belief in service above self extends beyond the park boundaries. He is also active with the local Rotary Club, the Harris County Chamber's Tourism Committee, the Pine Mountain Police Department's community outreach efforts and the Team TA Enterprises mentoring program for at-risk teenagers. – CD
---
Kris Vaughn 30
Executive Director
GeorgiaForward
Forsyth
Looking for a role model for a game changer? Look no further than Kris Vaughn. It's a status in title and spirit she achieved while still in her 20s when she ran Young Gamechangers, the leading program of GeorgiaForward, before becoming the parent group's executive director.
GeorgiaForward seeks to engage young professionals with business, political, academic and civic leaders to find innovative solutions to our state's challenges.
"Participants are from a variety of areas, so we are creating a statewide network of young professionals who understand the importance of statewide community," Vaughn says.
"We're really gaining traction with this program because it's not a typical leadership program," Vaughn says. "It's a leadership action program. I love the work I am doing and hope I am having a positive impact on my community and my state." – TO
---
Catherine Woodling 34
Director of Communications and Marketing
East Lake Foundation
Atlanta
Whether she was helping Habitat for Humanity or a local food bank, Catherine Woodling was involved in community service from a very young age. During college, the Atlanta native interned with then Atlanta Mayor Shirley Franklin.
"At that point I became fascinated with the inner workings of local government and how an individual can make a difference and a lasting impact," she says.
The desire to make a difference and an impact has led Woodling to serve as president of her Reynoldstown neighborhood association and as vice chair of the City of Atlanta's Neighborhood Planning Unit (NPU), which is a group of 25 citizen advisory councils that represent the city's 242 intown neighborhoods and make recommendations to the mayor and city council on zoning, land use and other planning issues.
Professionally Woodling serves as director of marketing and communications for the East Lake Foundation – which has turned one of the nation's most violent public housing projects into a national model for community redevelopment – promoting its mission to break the cycle of poverty. – MAD
---
Jessica Wright 33
Chief Operating Officer
Innovative Senior Solutions
Americus
When Jessica Wright was 24, her family faced an all-too-familiar crisis: Her grandmother needed assistance but did not want to move into a convalescent home. So Wright launched a home-care business with her grandmother as her first client. Today, Innovative Senior Solutions serves more than 250 clients and employs more than 100 staff members.
"I enjoy helping seniors and individuals with disabilities live at home with their familiar belongings, which helps them stay well and happy," Wright says.
She also has established the Caring for Seniors Foundation, which provides scholarships for high school students who want to pursue studies in healthcare. "We recently were able to give out a $1,500 scholarship," she says. – CD
---
Shana Young 39
Director
The Leadership Institute at Columbus State University
Columbus
As head of The Leadership Institute, Shana Young's reach spans the state. Her involvement in the Jim Blanchard Leadership Forum extends that reach across the country. But it's her work in the local community that she delivers tirelessly.
"Being a mother of two daughters, I want to instill in them how important it is to be involved in your community and how you should give back," she says. "Being on all these boards and being involved not only let's them see me as a working mother but also as a mother who thinks it's important to be invested in your community."
From the symphony to battered women to the Junior League, if it's a cause that especially speaks to her, Young will work to get involved. – KKS
---
20 Years of 40: Where are They Now?
A look back at some of our picks from years past and where they are today.
Stacey Abrams (2004)
Then: Deputy City Attorney for Atlanta
Now: State House Minority Leader
Hugh Acheson (2002)
Then: Owner/Chef, Five and Ten in Athens
Now: Owns four restaurants; judge on Top Chef
Radcliffe Bailey (2003)
Then: Artist and Assistant Professor of Art at UGA
Now: Award-winning and internationally renown artist; 2016 Welch Artist in Residence at Georgia State University
Stephanie Stuckey Benfield (2002)
Then: State Representative and Attorney
Now: Director of the Office of Sustainability for the City of Atlanta
Charlie Bethel (2008)
Then: Director of Human Resources for J&J Industries
Now: State Senator for District 54
Sara Blakely (2002)
Then: Founder of Spanx
Now: CEO of Spanx and one of the world's youngest self-made billionaires
Chris Clark (2006)
Then: Deputy Commissioner for Global Commerce for the Georgia Department of Economic Development
Now: Executive Director of the Georgia Chamber of Commerce
Ron Clark (2008)
Then and Now: Founder of the Ron Clark Academy in Atlanta and a New York Times bestseller
Warrick Dunn (2005)
Then: Running Back, Atlanta Falcons
Now: Philanthropist and founder of Warrick Dunn Charities
Ernest Greer (2002)
Then: Attorney for Greenberg Traurig
Now: President of Greenberg Traurig and community leader
Jannine Miller (2011)
Then: Executive Director of the Georgia Regional Transportation Authority (GRTA)
Now: Director of the Center of Innovation for Logistics
Ceasar Mitchell (2005)
Then: Attorney with Thomas, Kennedy, Sampson & Patterson and Post 1 At-Large Councilman for the City of Atlanta
Now: President of the Atlanta City Council and candidate for Atlanta Mayor
Michelle Nunn (2002)
Then: Executive Director of Hands On Atlanta
Now: President & CEO of CARE USA
Tyler Perry (2008)
Then and Now: Actor, producer, director, screenwriter and founder of Tyler Perry Studios
Christa Pitts (2012)
Then and Now: Co-CEO of CCA & B, creators of The Elf on the Shelf
Kasim Reed (2001)
Then: Attorney with Paul, Hastings Janofsky & Walker
Now: Mayor of Atlanta
Austin Scott (2001)
Then: State Rep. for District 165 and owner of The Southern Group
Now: U.S. Representative for the 8th District
Steven Stice (1999)
Then: Chief Scientific Officer for ProLinia Inc.
Now: Georgia Research
Alliance Eminent Scholar and Professor and Director of the Regenerative Bioscience Center at the University of Georgia; Chief Scientific Officer for ArunA Biomedical Inc.
Natasha Trethewey (2003)
Then: Associate Professor of English and Creative Writing at Emory University
Now: 2012 and 2013 U.S. Poet Laureate
Sally Quillian Yates (1997)
Then: Chief of Fraud/ Public Corruption for the U.S. Attorney's Office, Georgia Northern District
Now: Deputy Attorney General of the United States