Georgia 400 Corridor: Corridor Connections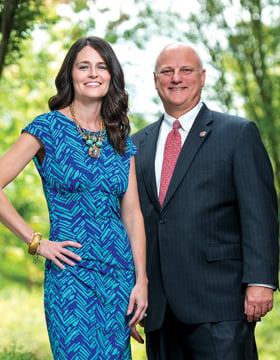 Cities up and down the Georgia 400 corridor in North Metro Atlanta collaborate in a variety of ways to deal with challenges like traffic and transportation and foster successes – Mercedes, GM, education and more – across the entire region. However, leaders are also quick to tout the benefits of living and working in their cities.
This region, which for purposes of this story includes Sandy Springs, Roswell, Alpharetta, Cumming and Dawsonville, is booming as new businesses arrive almost daily, companies grow and people continue to move into the area for the great schools and excellent quality of life.
---
Cross-city Collaboration
Working across city and even county borders isn't new along the corridor. In fact, the need for collaboration is the reason the North Fulton Community Improvement District (NFCID), which includes portions of Alpharetta and Roswell, was created in the first place in 2003.
"The CID was founded because of one project in particular," says Ann Hanlon, executive director of the NFCID. "It was a bridge replacement project along Westside Parkway that was … on the border between the city of Roswell and the city of Alpharetta."
Today, the CID continues to be a facilitator between the two cities, helping to get projects important to business owners within the CID finished faster, she says.
Facilitating multi-jurisdictional projects is just one reason property owners within the CID are willing to voluntarily tax themselves 3 mills ($3 for every $1,000 of assessed value), which can add up pretty quickly for some of the larger owners. But, Hanlon says, participating in the CID gives the owners, which often have out-of-state headquarters, a voice in the community.
"A lot of our properties are owned by hedge funds or real estate investment trusts out of New York," Hanlon says. "And they don't care what city they're in. They just want projects to get done that are near their properties. So they really saw, and I think they still see, the CID as a mechanism to do that."
The NFCID isn't the only group working to improve life across city lines. The Greater North Fulton Chamber of Commerce (GNFCC) also works with all of the North Fulton cities, including those along 400: Sandy Springs, Roswell and Alpharetta.
"We convene the Economic Development Partners Council, which meets quarterly in our office and generally includes any economic development professional that's working in the North Fulton footprint," says GNFCC Vice President of Economic Development Bethany Usry. "Not only does it include the cities' economic development staff, as well as the convention and visitors bureau, but it also brings in Georgia Power, the Georgia Department of Economic Development, the Metro Atlanta Chamber, Gwinnett Technical College – a lot of entities that are working on economic development together."
The GNFCC also travels to trade shows and works with companies and the state to market the entire North Fulton region, with the goal of bringing in – and keeping – businesses in the technology, healthcare, finance/insurance, telecommunications, logistics and business services sectors.
And, she says, North Fulton has plenty to recommend it to business owners looking to relocate.
"The infrastructure has always been something that we tout," Usry says. "We have an excellent cyber network in North Fulton, which has made this area very attractive to a number of technology companies. We can draw approximately 273,000 people per day into the workforce. We're the home to three Fortune 500 companies, [which is] great from a business-climate standpoint. [Finally,] from a quality-of-life standpoint, this is one of the areas where live-work is possible."
---
Easing Gridlock
For people to live and work comfortably and efficiently, easing the gridlock up and down 400 is a real challenge – and one that leaders are tackling with a variety of tools.
Georgia 400 delivers huge numbers of folks to and through Dawson County on the highway's north end for two reasons – shopping and tourism. A major infrastructure project at the intersection of 400 and Highway 53, the east-west route that takes tourists to Gainesville, Lake Lanier and the North Georgia Mountains, will soon ensure folks get where they're going much faster.
"GDOT is putting in what they refer to as a continuous flow intersection [CFI] on Georgia 400 at Highway 53," says Charlie Auvermann, director of the Development Authority of Dawson County. "It's designed without the need for overpasses and exit ramps to be able to handle a high volume of traffic and allow vehicles to make left-hand turns off of 400 in either direction … without backing traffic up."
Construction is already underway on the $14-million CFI, which is the first of its kind in Georgia. Similar in principle to a diverging diamond interchange, the CFI shifts left-turning cars out of the traffic's main flow using longer left-turn lanes and access roads, increasing capacity and making the heavily traveled intersection safer.
And it's coming at a good time, too. Multiple developments are underway or already open near the intersection, including the 100-acre Dawson Marketplace, which includes larger stores like Marshall's and a new Kroger, and the 98,400-square-foot Dawson Crossroads, which includes retail, several restaurants and a Publix.
Forsyth County, while still seen by many as a bedroom community, has a number of industries and in fact has nearly 50,000 people who come into the county for work (and 66,000 who out-commute), which has led to traffic issues there. Voters in Forsyth have spoken about their desire to ease traffic woes with both SPLOST and bond money.
"Last November voters passed a $198-million transportation bond for our community," says James McCoy, president and CEO of the Cumming-Forsyth Chamber of Commerce. "It was matched by over $300 million in state and local government funding [for 10 years]. About a quarter of that is under construction now."
The largest projects included in this funding are a new interchange at McGinnis Ferry Road and 400; widening of McGinnis Ferry; and an extension of Ronald Reagan Boulevard, which runs parallel to 400 and will offer local traffic an alternative to the crowded highway.
"It would probably be easier to say what's not under construction," McCoy says about all the road projects. "It's a massive investment in a short period."
Road projects abound in Fulton County as well and will get a big push if voters approve a new T-SPLOST set for the November ballot that includes potential funding for projects in all of the Fulton cities along 400.
The T-SPLOST "would have a huge impact on North Fulton," says GNFCC President and CEO and state Sen. Brandon Beach. "Anytime you can add capacity, add new roads or connectivity and add an extra turn lane here or improve an intersection, that will help relieve congestion and increase mobility, and our residents want that."
The area voted down the 2012 T-SPLOST, but Beach believes this one is different. "I believe people are willing to vote for three-quarters of a penny if they know that penny is going to stay in their community and be spent on projects that are capital projects that are going to make their life better."
One of the projects designed to make life better in Roswell is the Historic Gateway Transportation Project, a major redo of the portion of Highway 9 that runs parallel to 400 from the river to the historic district.
"Traffic continues to be an issue for the whole region," says Steve Stroud, executive director of economic and community development for Roswell Inc. "What we're seeing, too, is people want walkability. They want to be able to walk to work. They want to be able to ride their bikes. They want to be able to truly work within the community if at all possible."
For that to happen, Stroud says, "our No. 1 priority is T-SPLOST, because the improvements that will come to the city of Roswell over the next five years total $90 million. And those would be system improvements that make dramatic changes to how traffic functions within the city."
Of course, no discussion of road improvements would be complete without mention of the Georgia 400/I-285 interchange redesign in Sandy Springs. Construction on the $803-million project is set to begin this month. Improvements include new collector/distributor lanes, flyover bridges and even a connection through the interchange for a future bike/pedestrian path.
---
More MARTA?
Another transportation issue under discussion in North Fulton is the extension of MARTA into Alpharetta. Leaders at the NFCID and the GNFCC have come out in favor of the expansion as one more way to ease gridlock in the area.
"Our board did pass a resolution last year supporting some sort of expansion of MARTA services into our district," Hanlon says. "That really speaks to the fact that the main purpose of the CID is [to] provide services and build projects that serve to increase property values of our members."
And that's where the CID focuses its efforts around MARTA – educating business owners on the benefits of transit, which are many, starting with the fact that both commercial and residential properties increase in value when located near transit.
"For our members, it really is all about the property value," Hanlon says. "There have been so many studies done that really do prove that proximity to transit is beneficial for commercial property values. We've seen [that] over and over again here in Atlanta and other parts of the country."
"I think the citizens are wanting options," Beach says, "because they're sick and tired of sitting on 400 in gridlock."
Not only do his constituents want options, it's becoming an essential part of the package when wooing new business. "From an economic development standpoint, when companies are making their decisions on where to relocate, transit is one of the boxes they have to check," Beach says.
He rattles off a list of companies that are moving to or expanding in the North Fulton area, including Mercedes, State Farm, Kaiser Permanente and Pulte Homes. And they all have one thing in common, he says, "You just go down the list of the last major announcements of the last couple of years and transit hasn't been the main reason, but it's a box these CEOs have to check off."
Without transit, Beach says, North Fulton will continue to lose companies like athenahealth, which used to be in Alpharetta but moved its 600 jobs to Atlanta. "The CEO lives up here," he says. "But they moved down to Ponce City Market on the BeltLine because that's where all their employees were.
"We have to at least look at [transit]," he says. "We have to be open to having conversations about transit. If you look at any world-class international region or city, they have a transit system that crosses jurisdictional lines and works well together."
---
High-tech to Healthcare
Georgia 400 is not the only major highway running through the region. Much of the area is also covered by fiber – a selling point when high-tech, manufacturing and healthcare companies come calling.
"Really, the reason we grew so fast," Beach says, is because "the leaders before my time were smart enough to put fiber in the ground to attract the technology companies that we have up here in this corridor."
And it's worked. Alpharetta alone has more than 600 technology companies.
And in Forsyth County, it's a vital part of Halcyon, a 135-acre mixed-use community coming out of the ground that will be that area's "first gigabit community," says McCoy. "Comcast is offering the highest-speed Internet available in that community."
The development will include 230,000 square feet of retail, 150,000 square feet of office space, two hotels, restaurants, a dine-in movie theater and housing units in every configuration imaginable from age 55+ multifamily units to single-family homes and townhomes.
Fiber is also working wonders in other areas. It's fueling growth in Dawson County, which is part of the North Georgia Network (NGN), a 1,600-mile system of fiber optic lines.
"Dawson County is one of five counties in Georgia that is what's known as a gigabit community," Auvermann says. "Basically it is the equivalent or better than Google Fiber. It has been up and running since 2012. People like our manufacturing concerns and our medical facilities that are here that need very high-quality, very fast, high-capacity broadband to transmit data files for CAD/CAM systems or MRIs in real time. We have that capability today."
The healthcare industry is taking advantage of fiber – and location – to grow in Dawson County.
"Both of the medical systems that have facilities here, Northside Hospital System and Northeast Georgia Medical, have pretty much reached the physical limits of their buildings that they built and occupied only a few years ago," Auvermann says. The thriving hospitals are also drawing doctors, dental and other medical groups to the area, making healthcare a "a very important component of economic development."
Northside Hospital-Forsyth in Cumming is also expanding, with the build-out of three floors to include 64 new patient rooms and 77,795 square feet. It's one of the largest employers in the county with 2,600 employees.
In Roswell, "the purchase of North Fulton Hospital in April by WellStar is a huge boost to the whole region," Stroud says. "We're seeing a lot of new doctors' groups that are interested in moving and being partners with WellStar. You've got an active ownership that's local. That has really accelerated activity in and around the hospital," which, he points out, is "one of our largest employers in the city, at over 1,000 employees."
The growth in these two areas – technology and healthcare – has led to a workforce shortage, leading educators and businesses to devise new ways to train the next generation of skilled workers.
"One issue that we need to be laser focused on is workforce development," Beach says. "We have certain jobs in our area that we have what I call negative unemployment. We have more computer coder jobs, for example, than we have computer coders. We have more cybersecurity openings than we have people who are trained in the cybersecurity field. We have a shortage in nursing. We've got to figure out how to train these folks faster and get people to get into these fields where these opportunities exist. So we're working with the technical college system, the K-12 system and the Board of Regents to make sure we can supply these jobs."
As challenges go, it's not the worst one to have. And by collaborating up and down the corridor, solutions are probably right up the road. After all, says McCoy, "It's remarkable when you think about what you have access to in a 45-minute drive along that corridor."
---
Local Flavor
Mountain Getaway: The voices of kids laughing, talking and yelling – in very happy ways – could be heard coming from the zip line, the four-square court and from somewhere unseen deep in the woods. It was the end of summer camp at Sawnee Mountain Preserve, and kids ages 4-15 were making the most of their last full week outside.
Sawnee Mountain rises as a serene, forested backdrop to the bustling residential and commercial development taking place in the flatlands of Forsyth County. Preservation of the mountain began in 1982, when owner Jim Mashburn passed away, leaving the land to his wife and daughters.
As Matt Pate, natural resource manager for Forsyth County Parks and Recreation tells it, Mashburn told his daughters not to do anything with the property that would mess with their mother's view of the mountain. She'd been raised in the mountains of Virginia and felt close to home when she gazed on Sawnee from her front porch.
Today, thanks to the legacy of Mashburn's family, people from miles around can enjoy views of and from the mountain at Sawnee Mountain Preserve. With 963 acres, 11 miles of trails, zip lines, a tree house and visitors' center, it's an enormous part of the commitment by Forsyth County to provide opportunities for people of all ages to go out and play.
Fun and games isn't all that goes on at Sawnee Mountain – but don't tell the kids, who might not notice that as they're playing at tranquilizing and tagging bears (fake, of course) at Bear University – they're also learning about animal biology.
"The big thing that [we] do during the school year is the elementary school kids come to visit and do field trip programs," says Laura Pate, marketing and community relations manager (and Matt's wife) for Forsyth County Parks and Rec.
Matt chimes in, "We have a third-grade-specific program" that covers animal biology, geology and the environment. "That program started two years ago. Then we had a contest the end of this last school year. Chattahoochee Elementary won. So all the third graders at Chattahoochee Elementary are coming to learn for a couple of hours what it would be like to be a wildlife biologist."
But again, it's not just fun and games, Matt say. The goal of the program is to help "increase the knowledge base at the beginning of the year, so that at the end of the year they would understand a lot of concepts that are on the [standardized] tests for geology, biology and ecology. In another year or two, we'll be able to see the data [and know if we've been successful]." – Karen Kirkpatrick