Gainesville/Hall County: Growing Like Gangbusters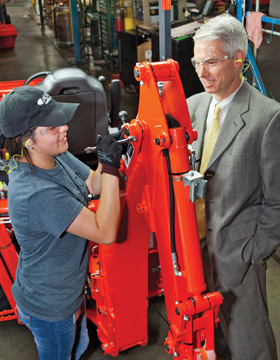 The Northeast Georgia community of Gainesville and Hall County is a region that has succeeded by being in the right place in the right time.
The "first flat area outside of the mountains" as one local describes it, Gainesville was established as Mule Camp Springs in the 1800s. A regional transportation and trade center from its beginnings, farmers once hitched their wagons on Gainesville's main street and sold their products to "city folks." It's remained the economic center of North Georgia and continues to be the place where area residents come to shop, bank and get medical and dental care.
In recent years, a growing number of people and businesses have been drawn here by the easy quality of life and the ability to find everything you need, from executive housing to well-trained workers. It's a place with an economy that is both diverse and revving up.
"The last two years have just been going like gangbusters," says Kit Dunlap, president and CEO of the Greater Hall Chamber of Commerce. "We've had the lowest unemployment rate in the state [4.6 percent in July] for six or seven months. That's because we have a very diverse economy. We have a great manufacturing sector, and you throw in healthcare and they can't hire enough people."
Hall County has been experiencing a level of growth not usually seen in non-urban regions. As Metro Atlanta has expanded, a growing number of people are finding lower home prices and a more pleasant place to live in the county.
"Our single-family residential development is still at a record pace," says Gainesville Mayor Danny Dunagan. "For the first six months of 2016, the new home permits were up 10 percent from the previous year, 73 percent from two years ago and 215 percent from three years ago."
Two of the major players in all that home construction have been Mundy Mill and Cresswind at Lake Lanier. Mundy Mill is the No. 1 selling residential community in Metro Atlanta. It's on track to have 1,100 single-family homes along with 1,200 apartments/townhomes. It's also approved for 806,000 square feet of office and warehouse space and 885,000 square feet of commercial space.
Then there's Cresswind, the third-bestselling community in the metro area and the No. 1-selling active adult community in the state. When complete, Cresswind will have 934 homes and 251 acres of preserved greenspace.
Other residential growth has been occurring in the southern part of Hall County and around attractions such as Chateau Elan Winery and Resort, where several high-end communities have taken root.
Perhaps one of the most remarkable aspects of Hall's economy is its vibrant manufacturing sector. One leading indicator of an economy on the go is a low level of vacant building space and a high rate of absorption.
"Anything that was available in terms of office or industrial buildings has been absorbed," says Tim Evans, the chamber's vice president for economic development. "We're at an all-time very tight market in terms of available office and industrial [space], and we're starting to see developers take note of that and take the lead in developing new space."
One of those is Pattillo Industrial Real Estate, which has been developing industrial buildings in Hall County for more than 25 years. They recently announced they're moving ahead with a new 145,000-square-foot spec building in Oakwood, south of Gainesville. Geared to manufacturing and warehousing, the building is expected to be ready for occupancy by the end of this year.
The county has several corridors that tend to attract different kinds of office and building space.
"It's very diverse," he says. "It's everything from food processing to life sciences manufacturing and equipment manufacturing, automotive parts components. The average wage for our manufacturers in Hall is about $20 an hour. And it's a very skilled manufacturing job. It requires a lot of automation and capital investment from the company to be able to operate."
These companies typically have assembly lines as well as a corporate headquarters for global or North American operations within the facility. Along with line workers, you find the C-suite, marketing, engineers and other white-collar talent.
The fact that the upper echelons of these companies are here indicates that Hall County offers far more than just a trained workforce. It is also a place where CEOs can find executive housing and a vibrant lifestyle for themselves and their staff, with the kinds of amenities usually only found in urban locales.
---
Job Generator
One of the biggest manufacturing presences is Japan-based Kubota. The equipment builder purchased 180 acres at Gateway Industrial Centre in 2014, where it is building a 502,000-square-foot facility that will manufacture its rough-terrain vehicles. The company also has an existing plant not far away in the Gainesville Industrial Park North.
The company is a big-time job generator for the North Georgia region, employing 1,300 people in Hall County and another 870 at a plant in Jackson County. With this expansion, Kubota Corp. will employ more than 2,900 workers in the two counties.
"This new facility is about two miles away," says Evans. "They've gone ahead and graded 180 acres, and the 500,000-square-foot [facility] sits on [43] of those. So they're preparing the next spot for Kubota's future growth in Gainesville and Hall County by grading the rest of the site. They could build up to another 1.5 million square feet of production facility on that 180 acres in addition to the half million they're completing now."
To help supply the employees that manufacturers like Kubota need, Hall County leaders have supported programs at the local career academy to help connect employers with trained workers.
"We needed to take one market segment that had specific needs and see if we could put the process in place to meet those needs and begin to replicate that with other industries," says Perry Barnett, president of Rushton and Co. and head of the chamber's workforce development task force. "We're working with the existing companies because they have the need."
He notes that the county isn't exactly starting from scratch when it comes to workforce development.
"There are a lot of things already going on that just need coordinating a bit better and bringing to the attention of the companies," he says. "Like our school system already had a program of work-based learning coordinators that are meeting with kids and helping get them placed, but they couldn't find an adequate number of positions for the students."
---
High-tech Skills
A trained workforce is the essential lynchpin to attracting industry, and Hall County business, civic and government leaders have made it job one. Along with all the efforts by schools, the companies themselves have taken a hand in developing innovative programs that will ensure a flow of good workers.
IMS Gear has long imported technicians from its headquarters in Germany to handle more complex jobs. Now a new German-style apprenticeship program promises to create a local supply of workers capable of building world-class products for the gear manufacturer. The company's components go into nearly every part of an auto that uses a motor – from window lifts to electric seats.
"We want these people locally, and in the long term we don't want to only rely on our German counterparts for the high-tech [aspect] of our manufacturing [operations]," says company president Greg Vitek. "We want to build those additional skills into people here."
The four-year program offers not only training, but also salary and benefits packages to the apprentices. They will engage in 8,000 hours of on-the-job learning at the company's Gainesville plant while receiving classroom instruction at Lanier Technical College. At program end, the apprentices will receive a mechatronics journeyman card from the labor department and an associate's degree in industrial systems technology from the technical college.
Mechatronics is a high-demand field that includes a combination of systems, mechanical, electrical, telecommunications, control and computer engineering experience.
The need for such workforce training is being met by a diverse and richly varied educational system, with colleges and courses catering to everything from graduate liberal arts to nursing and truck driving.
Lanier Tech is on the front lines of workforce development, with its local campus offering many vocational training programs that students need as they transition into the workforce.
"The [county's] economy is very vibrant and it's very diverse, and there are a lot of economic sectors that continue to grow, whether its manufacturing, poultry, food processing, healthcare or transportation and logistics," says Lanier Tech President Ray Perren. "All these areas are continuing to grow, the need for a trained workforce will continue to grow and we believe our enrollment will grow accordingly."
The college is building a new $110-million campus at I-985 and Howard Road. Groundbreaking was set for September, with move-in scheduled for 2018. The campus will not only allow Lanier Tech to enroll more students but also offer new programs such as commercial truck driving that aren't feasible at the current facility. An allied health building will enable the college to move its radiologic technology program to its new campus from Northeast Georgia Medical Center.
Along with administration, academic and economic development operations, the campus is projected to include a 34,000-square-foot conference center, built on a hill as the centerpiece of campus.
As Lanier Tech gets ready to move into its new digs, the University of North Georgia's Gainesville Campus is eying Lanier Tech's old building as possible new quarters, since the two are next-door neighbors.
"This campus is slated for significant growth over the next 10 years," says Richard Oates, executive vice president of the UNG Gainesville Campus. "You don't get that option very often – to have a campus become available right next door to you."
Brenau University has also had a big impact on Gainesville. With its campus adjacent to downtown, its programs, students, faculty and staff are a big presence there. The university got its start as a women's college, but over the years it has expanded into a multi-faceted institution of more than 4,000 students offering both traditional liberal arts programs as well as more career-oriented programs like a master's of business administration, nursing and physical therapy to adult learners both male and female. It also hosts students from as far away as China, although most come from within the state.
Brenau has the largest MBA program in Georgia with more than 700 students, including nearly two thirds who take classes online.
"Serious diligent students tend to enroll in online programs that are close to where they live, so there is local brand recognition," says Brenau President Ed Schrader. "A private or public university that has online programs typically has a majority within the state where it is located."
---
Community Care
Northeast Georgia Health System (NGHS) is recognized as one of the best providers of healthcare in both the state and the nation. It has garnered a host of national rankings from various quality agencies that have made it easy to recruit physicians who want to work at an organization doing cutting-edge medicine while they also enjoy a more relaxed lifestyle.
"When you look at the quality of the physicians and staff that have made this their place of practice, you have some outstanding providers of care," says Louis Smith, who last year became president of Northeast Georgia Medical Center in Gainesville after working with a large health system in Texas. "We have a significant number who are from this area, but we've also attracted physicians who are not from the area because of our accomplishments across multiple service lines."
NGHS has followed a trend now common among healthcare providers of taking medicine to where people live rather than demanding they come to a central location.
A prime example is in South Hall near Braselton, where NGHS's new hospital and a host of medical office construction are bringing doctors and medical services to this fast-growing area.
Here, a large medical plaza, Highpoint Medical Center, is located right across the street from the hospital. Developed by the Norton Agency, which has built several other medical office complexes in the county, the 22-acre campus will eventually include several buildings totaling more than 250,000 square feet. The first phase is a two-story, 42,000-square-foot facility that will house physicians and support staff.
"When Northeast Georgia Medical Center began developing higher-level specialty care, we got even more specialties locating into our community," says Frank Norton Jr., chairman and CEO of the Norton Agency. "Today the medical community is perhaps our largest industry category – if you can count medical, dental practitioners and alternative medicine such as chiropractors and podiatrists as part of that. We have a very vibrant medical magnet for 48 counties plus going across a couple of states."
---
Thriving City Center
Downtown Gainesville is also thriving again thanks to tax breaks and a city dedicated to redevelopment along Jessie Jewell Parkway, the main traffic artery through the heart of the city.
The downtown became a state Opportunity Zone in 2010, and since then more than 500 new positions have been created thanks to the available $3,500 per job tax credit that can be taken against Georgia income and payroll withholding taxes.
The tax credits helped persuade Homestar Financial to relocate its corporate headquarters into the historic Gym of '36 on the downtown square. It purchased and then renovated the red brick building that has been a local fixture for decades.
"That made it worth their while to do the redevelopment," says Gainesville City Manager Bryan Lackey. "[Renovating an older building] costs more than a greenfield site."
"We've got a lot of plans and a lot of interest in some of our vacant lots downtown," says Mayor Dunagan.
The city recently developed a strategic plan for the downtown that includes mixed-use developments on some of the city's now empty lots.
"It will tell us essentially how much residential we can put into it," Lackey says. "And what we might have to do with our parking deck for it. We're pushing for it. [Purchasing the lots were] strategic investments for the city intended to put some rooftops in the downtown area. Residential is a key focus for us."
The city has experienced vibrant retail growth including a new Kroger Marketplace store that opened on Jesse Jewell Parkway. At 123,000 square feet, it's one of the largest Krogers in the state and anchors a new shopping center, New Holland Market.
Gainesville, like the rest of Hall County is on the way up. With an economy that is expanding and becoming more diverse, both people and businesses see the region as the place to live and prosper.
---
Local Flavor
Innovative Healthcare: You can't talk about what drives the economy in Hall County without talking about healthcare. Northeast Georgia Health System (NGHS) and its innovative physicians have put the county on the state – and even national – map.
So it wasn't a surprise when Northeast Georgia Medical Center (NGMC), the system's Gainesville hospital, became the first and only hospital in the state – and just the third in the Southeast – to treat coronary artery disease with a new dissolvable heart stent. Previous stents had been metal, and once implanted in a heart, they stayed there.
"The new stent is a bio-absorbable compound that is used in some other medical devices such as absorbable sutures," says Christopher Leach, M.D., interventional cardiologist with The Heart Center of NGMC, who performs the procedure. "A pretty good amount of engineering goes into it. It had to be designed into a form that has the radial strength needed to keep the vessel open and act as that scaffold during the initial healing period."
Like many other NGHS physicians, Leach was attracted to Gainesville by the opportunity to do research such as the new stent – he was part of the clinical trials for the new device – and be supported in performing advanced medical procedures, he says.
Coronary artery disease affects more than 15 million people in the U.S., and it's a leading cause of death around the world. The new stent offers many advantages over the metal kind for those suffering from this debilitating and often fatal condition. For example, metal stents remain in the body for life, while the new stents are completely absorbed by the body within three years, after it has opened the clogged artery and helped it heal.
The new stent isn't for every patient – some people with particularly large arteries still need a metal stent. But, thanks to the research and work of NGHS physicians, Georgia is leading the way in this new advance and in other life-saving procedures. – Randy Southerland