Athens/Clarke County: Reaping the Awards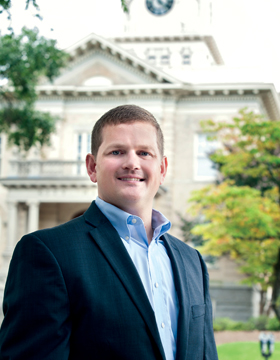 Ashley Steele is surrounded by hundreds of wedding dresses. She unzips one bag and touches the long, lacy sleeves of a creamy gown. She opens another to reveal a flowery, flowy dress that's perfect for a bohemian wedding.
There are so many choices in the 6,000-square-foot Athens warehouse, but Steele is not shopping for a big day. The dresses are inventory for Borrowing Magnolia, a fashion startup that she and her sister, Cali Brutz, founded in Washington, D.C., and relocated to Athens, where they graduated from the University of Georgia. The digital brokerage service connects wedding dresses from individuals, boutiques and designers with interested brides who want to buy or rent a gown, typically for 30 percent to 50 percent of retail price.
While their customers are saying yes to the dress, Athens-Clarke County's economic development leaders are attracting corporations and creative tech startups to say yes to the community's vibrant culture and low cost of living. This summer, Voxpro, an Ireland-based company that provides multilingual customer experience and technical support solutions for clients such as Airbnb, Nest and Google, announced plans to invest $4 million and bring more than 500 jobs to Athens by 2020.
Meanwhile, Caterpillar, which in 2013 opened an 850,000-square-foot facility in Athens for its Building Products Division and has 1,700 workers, was named Georgia's 2016 Large Manufacturer of the Year by Gov. Nathan Deal. In nearby Winterville, a nearly $5-million expansion is underway at Nakanishi Manufacturing, an automotive parts company.
Athens also continues to garner attention on the small business side. The brewery Creature Comforts, which opened in 2014, was named a 2016 Small Business Rock Star by the Georgia Department of Economic Development. Athens also brewed success with Terrapin Beer Co., which is selling a majority interest to Tenth and Blake Beer Co., the MillerCoors craft and import division.
"We really are a community of creators in a lot of ways, whether that's artistically or through a product standpoint," says Ryan Moore, director of the Athens-Clarke County Economic Development Department.
Athens is recession insulated due to the presence of the university and two hospitals – St. Mary's Health Care System and Athens Regional Health System (ARHS) – says Doc Eldridge, president and CEO of the Athens Area Chamber of Commerce.
UGA's estimated annual economic impact on Georgia reaches $4.4 billion. The hospitals combined generate more than $1.1 billion ($789 million by Athens Regional and $440.2 million by St. Mary's) in revenue for the local and state economy in 2014, according to a Georgia Hospital Association report released in 2016.
"Athens is doing better than I've ever seen it," says Eldridge, a native and former mayor.
---
Downtown Renaissance
Hotels and housing are giving downtown Athens an even greater live-work-play setting.
New student housing is being added in four developments – Georgia Heights, The Standard and Uncommon, which have opened, and The Mark, scheduled to open in fall 2017. The investment is estimated at $150 million, and the developments also have about 150,000 available square feet of commercial/office space.
Downtown also will gain more than 665 new hotel rooms in 2017 and 2018 with four new properties – Fairfield Inn (95 rooms), Hyatt Place (192 rooms), Homewood Suites (130 rooms) and SpringHill Suites (200 rooms) – and an addition of at least 50 rooms to the Best Western, which will be converted to a Best Western Plus.
"It's the largest [net gain of hotel rooms] I've seen," says Chuck Jones, who has served as director of the Athens Convention & Visitors Bureau since 1996.
The new hotels will give Athens-Clarke County about 3,010 hotel rooms.
The nine-story Hyatt Place, expected to open in spring 2017 with more than 6,000 square feet of meeting and pre-function space, a restaurant, rooftop bar and lobby bar, will be connected to the Classic Center, the city's convention center and performing arts theater. The Classic Center has a $66-million annual economic impact, with nearly 365,000 people attending 1,200 events each year.
Paul Cramer, executive director of the Classic Center since it opened in 1995, expects that having a connected hotel will attract more corporate market, education, healthcare, technology and agriculture meetings and events to the facility.
"Bringing in the Hyatt Place is going to open up a whole other segment of business that we've never had before," he says.
Athens-Clarke County's tourism industry supported 2,600 jobs in 2014 (the most recent data available from the state) and generated $273.5 million in direct travel spending. Tourism expenditures result in an annual tax savings of $437 per household, according to the ACVB.
Three different downtown buildings – including the home of Wuxtry, the legendary independent record store that turned 40 years old this year – have been repainted and restored using facade grant funds from the Athens Downtown Development Authority. The authority also has invested in beautification and way-finding incentives.
Other building owners are converting more spaces above shops, bars and restaurants to apartments, says Pamela Thompson, the authority's executive director. New downtown shops and restaurants include Zombie Coffee and Donuts, Cinnaholic, Zaxby's and CVS.
Downing Barber opened his first Barberitos, a quick-service restaurant, in Athens in 2000. Then he saw downtown Athens start to suffer in 2005-2006. Even the streets stunk, he says. Now, in addition to more students, as well as national retailers and restaurant chains, he's noticed an influx of professionals and families.
"A lot of businesses are really thriving," he says. "If you're not doing well downtown, then you might want to look at your business [model]."
But some local business owners worry that downtown becoming hot again could make it too expensive to operate there.
"It will drive up rental rates," Barber says.
---
Energizing Entrepreneurs
Brandon Checketts took an online quiz several years ago when he and his wife wanted to move from Annapolis, Md., to a warmer and more affordable community. Athens was the top recommendation. Seeing quirky landmarks such as the double-barreled cannon downtown showed him that Athens is a place for out-of-the-box thinkers.
He moved to Athens and founded Roundsphere, a tech incubator with two main businesses, Seller Labs, which developed an Amazon email automation tool to help third-party sellers increase feedback and generate reviews, and BookScouter.com, a used book marketplace. Together, the businesses employ about 55 people on the second floor of Press Place, next to the Classic Center.
"One of the things that makes Athens Athens is sort of the hip downtown scene," Checketts says. "There's something about the vibe of being there."
Moore notes that tech companies have added about 100 jobs downtown in the past two years and more are seeking Athens' authentic, walkable area. Docebo, an international cloud e-learning company, won a 2016 Historic Preservation Award from the Athens-Clarke Heritage Foundation for rehabbing a vacant office building on Washington Street.
Moore showed off downtown Athens' walkability earlier this year when the county hosted leaders with Voxpro, which has 1,700 workers globally and will be located in Press Place. They sampled crepes at a food cart, ate lunch overlooking UGA's scenic North Campus, toured quintessential streets such as Milledge Avenue and were introduced to other local entrepreneurs and leaders with UGA and Athens Technical College.
"I feel like we pulled out all the stops to show them what Athens' culture is," Moore says.
Commercial buildings were among more than $117 million in new value building permits approved in fiscal year 2015-2016, excluding UGA construction, says Mayor Nancy Denson. Of those, $41 million was in single-family home construction, equating to $300,000-$400,000 on average for homes, Denson says. Single-family home prices have increased but remain still below their peak, according to UGA's Selig Center for Economic Growth.
---
Institutions Evolving
At UGA, the county's largest employer with more than 10,000 employees, construction continues. The 122,500-square-foot, $48-million Science Learning Center opened in fall 2016, while the $30-million Indoor Athletic Facility is expected to open in 2017. Also under construction is the next phase of Terry College's $140-million Business Learning Community and the $25-million, 43,000-square-foot Center for Molecular Medicine. Another facility, the Southeast Poultry Disease Research Laboratory, received $160 million in federal money for an expansion.
UGA's Carl Vinson Institute of Government this year launched the Georgia Certified Economic Developer Program, a statewide certification that offers customized curriculum to economic development pros across the state.
Two other new programs at UGA – the experiential learning requirement for incoming first-year students and an entrepreneurship certificate program – could also link students with area businesses.
The experiential learning program launched this fall and requires all new undergrads to engage in hands-on encounters through undergraduate research, study abroad, service-learning, internships and other experiences.
"The goal behind [the entrepreneurship] certificate program is to prepare students who want to start their own businesses or their own nonprofits," UGA President Jere Morehead says. "We think it's an interesting way for our students to get involved with local partners and get their hands dirty in the area of economic development while they're still earning their degrees."
"There's no reason that any business couldn't locate here and get the workforce they need," Denson says.
Other community education partnerships include the formation of one of the nation's only Professional Development School Districts in the Clarke County School System. Through this program, UGA College of Education faculty serve as professors-in-residence, dedicating 50 percent of their time to a public school. In addition, the system has revitalized the Athens Community Career Academy, a dual-enrollment program where students earn college credits in partnership with UGA, Athens Technical College and OneAthens.
With more than 85 percent of the school system's students economically disadvantaged, the system also plans to expand its Great Promise Partnership program, which provides work experience and mentoring to 60 to 200 students, says Athens-Clarke County School Superintendent Philip D. Lanoue, the 2015 AASA National Superintendent of the Year and the 2015 GSBA/GSSA Georgia Superintendent of the Year.
"Our businesses are saying, 'We want to partner with you because we want to invest in our youth.'" Lanoue says. "We want to build this as a model. I think it's a prototype not only for the state, but nationally. How do you shift from workforce development to youth development?"
New doctors are currently being trained in internal medicine through the Augusta University-University of Georgia Medical Partnership. The plan is to have 100 to 125 residents in Athens over the next three to five years, says Dr. Shelley Nuss, campus dean for the AU/UGA Medical Partnership.
"The goal would be that we could try to eat away at the physician shortage that we have," Nuss says. "They are already voicing that they want to stay and practice in Georgia."
Athens Regional is entering into a formal affiliation with Piedmont Hospital, which will commit $325 million over seven years for capital improvements. In addition, the county will no longer be responsible for a $200-million bond issue it has on the facility, Denson says.
"Putting some additional capital into the organization and taking debt off the taxpayers here was really one piece of this, but it's a big piece," says Dr. Charles Peck, president and CEO of ARHS, the county's second-largest employer. "It's pretty significant for the county, for taxpayers, for us and the organization."
---
Growing Jobs and Companies
Consumer brands – Terrapin, Zaxby's, Your Pie, Creature Comforts – find a testing ground among Athens' eclectic and educated residents. Barberitos now has more than 45 locations in the Southeast.
"I love watching other people do their concepts in Athens, and people embrace that," Barber says.
The Borrowing Magnolia founders are examples of the educated young professionals with a passion for Athens and a fast-growing business that local leaders want to attract. But Steele was warned by those in the investment industry that moving Borrowing Magnolia from the metropolis of Washington, D.C., to Athens would make it appear as if they were not viewing the business as a high-growth startup.
But the company, which expected to grow to 10 full-time employees by year end, is raising $275,000 with a second round of capital in 2016 (the first round raised $240,000) and plans to launch a $1.5-million campaign in 2017. Its inventory of wedding dresses – which sell for an average of $1,200 and rent for about $800 – should increase to more than 1,300 by the end of the year.
"We're trying to show that starting a business in Athens doesn't mean necessarily that you're starting a mom-and-pop shop," Steele says. "There is opportunity here to legitimately start a scalable business."
---
Local Flavor
Collaborative Art: Athens is known for its lively music scene, but new public art shows off the town's quirky, funky nature, too.
In conjunction with the 20th anniversary of AthFest, the city's annual celebration of arts and music, local artist David Hale created an 80-foot mural, Birdsong. The Washington Street artwork is inspired by sounds of music and nature and the city's biodiversity and cultural diversity, he says.
"It's a great way for me to describe Athens," he says. "That's reflected back in what I see. It feels like this place is an orchestra."
AthFest Educates, a nonprofit organization committed to sustaining music education for young people and producer of AthFest, also sponsored the mural project to the tune of $20,000. The project was a venture between Hale, the Lyndon House Arts Center and Philanthropy, a fashion boutique that donated its wall.
Hale worked with four high school student assistants on the project, which reflects the collaborative nature of Athens' arts scene and community members, says Rachel Allen, spokeswoman for AthFest Educates.
There are also dozens of other murals around town by artists such as Lou Kregel, known for her chrysanthemums that grace about 75 Athens buildings, and painter and activist Broderick Flanigan, who recently organized a mural project in East Athens. The painting, Show Us a Better Way, features portraits of Civil Rights leaders Martin Luther King Jr. and Malcolm X and was painted by members of the East Athens community along with UGA students and faculty. – Lori Johnston