World trade 101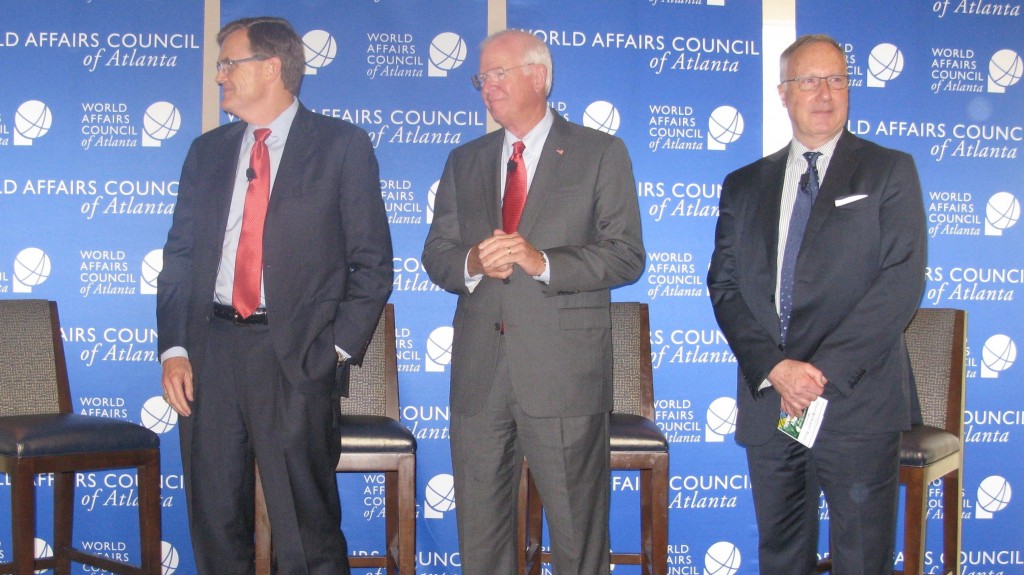 Anyone confused about world trade yet? Ever since Democratic presidential hopeful Bernie Sanders zeroed in on free trade agreements as disastrous for U.S. workers, there has been huge opposition to the latest and biggest deal, the Trans-Pacific Partnership (TPP), which would slash tariffs (taxes on imports) and foster trade among 12 countries (the U.S., Japan, Malaysia, Vietnam, Singapore, Brunei, Australia, New Zealand, Canada, Mexico, Chile and Peru). Despite the focus on the benefits of the TPP to large corporations, it would also greatly increase small business access to export markets.
While it would improve the terms of previous trade deals, such as NAFTA, some are calling the improvements too little too late. The long-term effects of NAFTA and other free trade agreements have clearly left hard feelings among the working class. In fact, unions picketed outside the Commerce Club Aug. 15, when the World Affairs Council of Atlanta presented the panel, "Trans-Pacific Partnership: It's Way More than Trade."
Panel members included Ambassador Robert Holleyman, deputy U.S. trade representative; UPS Chair and CEO David Abney; and former U.S. Sen. Saxby Chambliss. Atlanta Mayor Kasim Reed also spoke. The bottom line: it's do or die, and the U.S. has to lead.
Here are excerpts from the event speakers' comments:
Reed: Export companies grow faster than those serving the domestic market, but they face unfair disadvantages. If we can cut tariffs and reduce no-tariff areas, it would open the East to small businesses. The TPP also includes provisions for the environment, workers' rights, intellectual property and women. These 12 countries represent 40 percent of the global GDP and a third of all global trade. Fifty percent of economic growth is expected to take place globally with these 12 partners. We need to lean in and understand why the TPP is essential.
Holleyman: This [the TPP] addresses flaws in NAFTA and other trade agreements and pushes a reset on our deals with Mexico and Canada. It will stop overfishing and illegal logging and allow unions and collective bargaining. It will give small and medium-sized business new access to the market. We need to convey this powerful message: We are in competition with the Chinese. This deal was negotiated over five and a half years. If it fails, it is unlikely the next president will ever get it done. That means China will develop an agreement of their own. We're better than that.
Chambliss: In my 14 years with intelligence, I visited nearly all these countries. The economic benefits to free trade are unquestionable, but this deal also maintains our national security interests in a fractious part of the world. We need these countries. China and North Korea aren't going away. There is a void now, and if we don't fill it, they will.
Abney: Our customers feel the [export] disadvantage when the dollar is strong. They don't need any more barriers. This would expedite the customs process, which is a huge problem – shipping can take 15 minutes or weeks. Also, historically, when [the U.S.] passes a trade agreement, volume increases 20 percent on average. For us, every 22 packages crossing the border, in and out, represents one UPS job.
There is one misconception: this is not about large companies – they already know how to do global trade. This is about the unsung, the medium and small businesses, most of which only ship to one country. This will reduce red tape, lower tariffs and clarify technology rules. Japan and Vietnam, we have no trade agreement with them of any kind. China is not a part of TPP, but it gives them the ability to join.
I asked Hollyman if new labor and environmental standards would cause a "reshoring" of American jobs, since many corporations go overseas to exploit lax protection of natural resources and workers.
"Absolutely," he said. "The fact that it renegotiates NAFTA, with enforceable environmental and labor standards, levels the playing field. This is a big opportunity to make U.S. production the platform of choice. And by cutting tariff taxes, it becomes more cost effective for companies to be based here."
Photo: Left to right, UPS Chair and CEO David Abney, former Sen. Saxby Chambliss and Ambassador Robert Holleyman, the deputy United States trade representative. Courtesy of Ben Young