How May We Serve You?
Georgia banks continue to face economic challenges, but as the landscape improves they're doubling down on their commitment to serving customers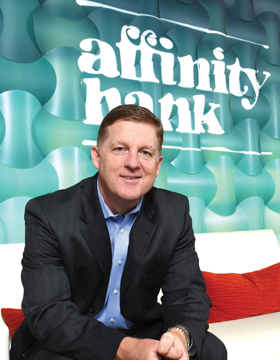 Check out the view as you drive around Georgia. Cranes dot the Atlanta skyline. Houses are going up across the state. Commercial construction can be seen from the mountains to the coast. There's one sector of the economy that doesn't get much recognition even as it helps foster that new growth and celebrates its occurrence, and that's banking.
With the return of a growth economy and years of changes to the banking industry, bankers are turning to customers, whose needs have evolved as well, to ask how they'd like to be served.
"[Banking] is a real success story," says Rob Braswell, president and CEO of the Community Bankers Association of Georgia (CBA). "Georgia was hit really hard during the recession. It's one of the states that was hit the very hardest and yet has bounced back so well. Our banks have returned to health, they're strong, they've got plenty of capital, they've got plenty of deposits."
This return to strength allows banks to offer more in terms of business financing and customer service in ways we haven't seen since before the Great Recession struck in 2008. In fact, banks are growing assets and income at a tremendous rate.
"The actual income for the first quarter of 2016 compared to first quarter 2015 is [up] over 9 percent," says Joe Brannen, president and CEO of the Georgia Bankers Association (GBA). "That's huge. Georgia banks are healthy; they're profitable. We've got 92 percent of our banks profitable."
And a return to profitability is good for not just the banking industry, but for customers and the state's economy.
"[The banking environment] is so different today than it was just two or three years ago," Brannen says. "We're not hearing bankers talk about problem loans, the regulators, the economy being bad. They're talking about business growth; they're talking about serving customers in new and unique ways. They're talking about moving into new markets."
Here's how some of Georgia's banks are taking advantage of improving economic conditions to make life easier and more profitable for their customers.
---
Community Cornerstones
While a common definition of a community bank is one with $10 billion or less in assets that serves a specific geographic area, community bankers in Georgia prefer broader definitions like relationship banks, community cornerstones and economic engines – and these days, the community a bank serves may be business-based rather than geographic.
"We have banks that specialize in certain niches or markets," Braswell says. "They have specific expertise in particular markets and do an outstanding job catering to those markets' specific financial needs."
Affinity Bank in Atlanta, for example, has particular expertise in the dental industry.
"We certainly are a community bank," says Ed Cooney, president of Affinity Bank. "It's just rather than serving a geographic footprint as most community banks would, we serve more of an industry footprint, specifically, service of the dental industry."
What does it mean to have a community of dentists rather than a geographic community? For Affinity Bank, it means offering products and services to help dentists run their offices more efficiently.
"We'll go to a dental office and save them 30 minutes a day and save them money by teaching them how to bank efficiently," Cooney says. "At the same time, we can give them the best [loan] rates that are out there."
It does that by practicing what it preaches – being the most efficient bank it can be. Affinity has one branch, $275 million in assets and 25 employees.
"From an efficiency standpoint, I would say I'm pretty sure we're one of the most efficient banks in the state," Cooney says. "That allows us to really focus on our clients. Typically when you have a high efficiency ratio, you don't couple that with service. And that's what [our] business model allows us to do, is to give our clients the best of both worlds.
"Rather than having 10,000 retail clients with a huge branch network and high cost structure, we started what we consider a very efficient operating platform," he says about Affinity's business model, which includes about 600 doctors and dentists as clients.
"We have deposits and loans. We take care of all [of our customers'] personal [banking] needs. It's a very, very simple concept. It's just a matter of focus."
While Affinity may be redefining what it means to be a community bank, others in Georgia are continuing to be successful with the more traditional model – serving a defined geographic area.
South Georgia Bank, with headquarters in Glennville just west of Savannah, serves a three-county area with four branches, 44 employees and roughly $143 million in assets.
"The basic community banking model is pretty simple," says Bran Thompson, CEO of South Georgia Bank. "We loan to local customers. We take deposits from local customers. That's a pretty simple way of doing business."
It may be a simple way to do business, but it's also vital to the economy.
"Community banks hold less than 20 percent of U.S. banking industry assets," Braswell says, "but they make about 55 percent of all the small business loans, and small businesses create two-thirds of our nation's jobs. A reasonable conclusion from that is that community banks are the financial cornerstones of their communities."
In rural parts of Georgia, those small businesses are often agriculture related. "We have a lot of small to medium farmers," Thompson says. "We have a lot of poultry growers. It's also a stable income source for our farmers because it's year-round; crops are seasonal."
Stability is, of course, an important consideration when looking at whether and how much money to loan a business. But it's not the only consideration. "We just use good common sense in evaluating loan transactions," Thompson says about one of the benefits of a community bank. "Looking at credit quality, but looking at the customer and the credit-worthiness of the customer separate and apart from the collateral. You want to deal with people who you know integrity-wise, they're going to make sure they repay whatever it is they have [borrowed]."
Given the competition for banking in Atlanta and across Georgia, it's not always easy to find your niche as a community bank. Affinity did it with dentists, South Georgia Bank did it with farmers, and BrandBank, a $2.3-billion community bank with headquarters in Gwinnett County since 1905, continues to evolve to meet the needs of its customers.
"If you look at the size of banks in the Atlanta area, we're probably one of the larger community banks," says Bartow Morgan Jr., CEO of BrandBank. It's that fact that led BrandBank to its business model, which is to service businesses that may have outgrown other, smaller community banks.
What BrandBank has tried to do is merge the relationships with clients of a community bank and the products and services of a larger, national bank.
"We're really trying to bridge a gap. We think the size of that is a $5- to $10-billion bank," Morgan says. "So when you ask what my community is, my community is anybody really in the Atlanta metro area. And what we're really good at is looking after medium-sized businesses in that area. Some that require the products and services of a large bank but want more of the touch and feel, they either own their own business or their business is expanding and they've outgrown their bank."
BrandBank is clearly doing something right with its hybrid model. In May, the bank was rated No. 1 in Overall In-Branch Experience among all U.S. banks with assets of $1 billion to $5 billion by Customer Service Profiles, a banking customer satisfaction research, management and improvement firm.
All of these ways – and these are just three examples – that banks have found to create and cater to their community speaks to the strength of banking in the state.
"This goes to the diversity of the state, and also to the diversity of lending and the role [banks] play," Brannen says. "We grease the economy through lending primarily. We see business growth. And the banks doing business in Georgia are in the picture, whether it's a crane dotting a metro skyline or our state's big crop of peanuts or cotton or soybeans or chicken, new manufacturing facilities that are announced around the state, the state's bustling technology sector, that's being funded by banks. I think that sometimes gets lost. So I get excited about that – the role that we play in the general economy by providing the capital to make [things] happen."
---
High-tech and High Touch
"I think the key to a community bank, in differentiating yourself from the larger banks, is that we're able to start from the customer and then work backward," Morgan says about the way BrandBank operates. "That's not typical in the banking industry. I think at community banks, since you're smaller, you have the opportunity to go out and talk to the customer and say, 'what is it that you need and how can we serve you?'"
Often, what customers need is easy access through technology – coupled with the knowledge that personal service is available if they have questions or problems that technology can't answer.
"Technology does basically allow us to offer the same products and services that the large banks offer," Thompson says. "That certainly helps equalize the playing field. Then the second factor becomes the relationship. There's always the need to see a person face-to-face and to resolve a problem. I think that's where a local community bank has a tremendous advantage."
"The community banks have done a great job, I think, of keeping up with the technology and deepening customer relationships by trying to offer the products and services that not only the current customers are wanting," Braswell says, "but also the [customers] that are coming online here – the millennials."
Millennials are having a great impact on banking – just as they are on every sector of the economy. And bankers are looking for ways to serve this group, while also keeping their parents and grandparents – the baby boomers – happy. And in some ways, the two groups want the same things.
"We've just had a couple of events where we focused on this giant crowd of millennials and their preferences in doing business," Brannen says. "Millennials as a group expect easy and convenient technology for the basics. But what's just as interesting to us, and this is a little bit of a throwback to the past – millennials are kind of like me and my generation of baby boomers. When we have a need, we want to go talk to somebody. We need advice, we need to be able to sit down across from someone and ask real questions. We're seeing millennials coming into the branches wanting that."
It's a combination of high-tech and high touch, and striking the balance between the two is key to profitability and maintaining satisfied customers, says Cooney.
"You'll see on our website, we utilize technology to the fullest degree," he says. "But we're really a relationship-oriented bank. What we consider warm technology."
---
The Best of Both Worlds
United Community Banks Inc. (UCBI), a $10-billion company with 29 banks, 130 locations and 2,000 employees, is the third-largest bank in Georgia. With headquarters in Blairsville, the bank also has operations in North and South Carolina and Tennessee. Jimmy Tallent, CEO of UCBI, credits the bank's growth and success to finding the right combination of large banking and community banking.
"Our business model is really to provide the community bank service, where we know people by name and treat them the way we would want to be treated," Tallent says. "The other side is to have the size, and the $10 billion certainly gives us that, to be able to provide the products, services, loans, etc., for our customers. As they grow, we're able to certainly grow with them."
Tallent credits the business model with vaulting UCBI to No. 14 on Forbes magazine's Best Banks in America list for 2016.
"We have 29 community banks with everybody on the same page," he says. "You have this local leadership, bank CEOs, that's what drives our whole business momentum. It drives our service level; it drives our profitability; it drives the growth aspect. It's not one thing with 140 branches. It's one bank holding company with 29 banks underneath, with 2,000 employees all waving and carrying the United flag. It provides that local entrepreneurial spirit of ownership and responsibility. Everybody has their piece to do and their responsibility and their buy-in. And that has worked for us for many, many years.
"I think the challenge with our business is as you get bigger, you better be focused on how to act smaller, because at the end of the day, customers don't care how big we are," he says. "They have a need; they want their local bank to be able to fulfill that need."
---
More Banks on the Horizon
"Something I really think is good news," Braswell says, is that "things have improved so much that several groups have had discussions with regulators about chartering new banks in Georgia."
Chartering a bank is a process that takes about two years, and the last one came online in 2009, he says.
"Having those discussions with regulators is very indicative of the confidence that people have in Georgia's economy, as well as the realization of the critical role that a local bank plays in its community," he says. "Almost without exception when you have a thriving and growing community, you'll have a dynamic local community bank."