Georgia's Top 100 Public Companies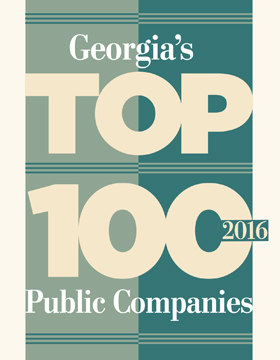 Look around the state, and evidence of the growing economy can be seen from the coast to the mountains. Construction – residential, commercial and highway – dots the landscape, banks report an increase in lending and deposits, and while Georgia may have dropped from first to eighth place in the best-states-to-do-business sweepstakes, the number of companies moving to or expanding in the Peach State continues to rise.
This year's Top 100 public companies list includes the aforementioned banks; retail operations; bioscience, logistics and technology firms; and more – everything our state needs to continue to thrive and positively impact the lives and livelihoods of our residents.
In all, the Top 100 public companies in Georgia posted $452.2 billion in total revenue for 2015. According to the Georgia Department of Economic Development, this year's list includes 18 Fortune 500 and 30 Fortune 1000 companies with global headquarters in Georgia.
Ten new companies made the list this year, including Blue Bird, a Fort Valley stalwart and company synonymous with the school bus, that went public last year.
Another newly public company, payment processing behemoth First Data, came in at No. 8 on the list following the largest initial public offering of 2015.
What of the others in the top 10? The top seven spots stayed the same, while the next three saw lots of movement. Rock-Tenn is no longer on the list after it merged last year with Virginia-based MeadWestvaco to form WestRock Co. Veritiv, Georgia's only Fortune 500 company with a woman at the helm, rocketed to No. 9, just two years after it was formed. Last year's No. 11, SunTrust, slipped into the No. 10 spot this year. AGCO and HD Supply Holdings fell just barely to Nos. 12 and 13 respectively.
Georgia Trend's 2016 list of Georgia's Top 100 Public Companies is determined by S&P Global Market Intelligence and is based on data supplied for 2015.
This year, too, we talked with the CEOs of several Top 100 companies to gain insight into the stories behind their success. These leaders generously shared information about their businesses, their leadership styles and their influences. In making our selection, we looked for diversity of industry, geography and in the CEOs themselves. Read on to learn more about these leaders who continue to make Georgia a great place to do business.
---
The Sky's The Limit
Delta Air Lines, Ed Bastian, CEO, Atlanta
Delta, Atlanta's flight king, has 80,000 employees who serve more than 300 destinations in 62 countries. The king's crown slipped last month following a major computer malfunction that left thousands of passengers stranded. That said, the company has been named America's best domestic airline by TravelAge West and is in the top 50 of Newsweek's Greenest Companies in the U.S. Ed Bastian was named its new CEO in May.
What are you optimistic about in the airline industry and at Delta?
We are, as an industry, finally competing for customers on product and reliability and service, … which is what customers need and what customers want. [We are] making the investments accordingly rather than purely on price and market share.
Our people are making all the difference, and the momentum and the morale at Delta are very high. You can see it in our customer scores; you can see it in the reliability of the product that we produce. And there's more to [come]. There's more innovation. There's more technology. There are more improvements. There are more global investments to be made. That's the very exciting part.
What concerns you?
The obvious thing that's always a concern to us is the security environment. Safety and security are always our highest priority, but the world continues to be very volatile. We are at the forefront of providing a safe and secure operation for our people and our customers.
What's the best business advice you've ever received?
The advice I always quote is a line from our founder, Mr. [C.E.] Woolman, that says, "You take good care of your employees so they can take good care of their customers." To me, it puts everything in proper perspective. It's the employees who make all the difference in a service business. The best thing you can do to improve customer service, in my eyes, is to take good care of the people who are delivering that service. And that's my job. And that's the job of our leadership team, to make sure our employees are properly provided for and have the tools to deliver outstanding service.
---
Paving the Way
Veritiv, Mary Laschinger, chairman and CEO, Atlanta
As the only female CEO of a Fortune 500 company in Georgia, Mary Laschinger of Veritiv recognizes that she's paving the way, but she isn't focused on the history she's making. She's too busy growing this two-year old startup – a business-to-business distribution company with services including packaging, print, publishing, facility solutions and logistics – into a powerhouse. And with 8,800 employees, $8.8 billion in sales and 180 distribution centers across North America, she's well on her way.
How have you taken Veritiv from new company to Fortune 500 in just two years?
I've been able to surround myself with really great people. And one of the things that's been terrific is the people who are here really want this to work. People are dedicated and fully committed to trying to help the company be successful.
You work in a very male-dominated industry. What advice do you have for women who are interested in it?
It's really important not to feel intimidated. You need to be able to engage with all levels of the organization and with all different types of people. Be confident, but not arrogant. And be yourself. I never let the fact that I was a woman be the issue. It was more about what could I do and what could I contribute.
What are you optimistic about in your business?
We're in a position that we can create what we want to become on several fronts. The business model is such that there are not a lot of heavy assets. The investment is more in working capital, which is a flexible investment. So we have the potential in front of us to become who we want to become.
The other exciting thing is we're in a position to create our own culture. When you put those two elements together, you're really building a new business from a really big baseline. It's like running a $9-billion startup company in the public forum.
What business-related book would you recommend to someone who wants to land their company on the Fortune 500?
One of the books that I read, going back many years and that I still rely on, is Changing the Game: [Organizational Transformations of the First, Second and Third Kinds, by Yvonne Randle, Eric G. Flamholtz and Howard Schultz]. It's about organizational transformation. Part of that is understanding where your organization is in its life and what are you trying to do with that organization, … designing the strategies, and then all of the pieces you need to be able to execute that strategy. It's a practical approach to leading your organization in a way that can create success.
---
Building the Dream
Beazer Homes, Allan Merrill, president and CEO, Atlanta
The homebuilding market is heating up again in Georgia, with Beazer booming right along with it. Beazer's 1,100 employees help folks in 13 states build the American dream. CEO Allan Merrill got hooked on homebuilding while in college, and he continues to be energized by it.
What are your concerns as home sales and building keep improving and the industry continues to rebuild?
One of the big issues is barriers to homeownership. We don't always understand how important homeownership is to strong neighborhoods, strong schools and a good quality of life. Affordability, regulation and mortgage lending, those are the three [barriers] that create challenges for accessing homeownership.
What are you optimistic about?
We have two big demographic things happening in the country: one, this much-discussed millennial age cohort is entering their peak homebuying, homeownership years. And they want to be homeowners – maybe townhome owners, maybe condo owners, but they want to be homeowners – and that's going to be good for our economy.
The other major age cohort, the boomers, is at the very earliest stages of transitioning the kind of housing that they need. They need fewer bedrooms, fewer stairs, and that's going to be another big impetus for home construction and development. Having both of those things happening at the same time is going to be very powerful for our industry.
What's the best thing about doing business in Georgia?
It is a very affordable place to live and work. It's one of the most diverse places I've ever lived, and I've lived in New York and L.A. A third thing is institutions of higher education in this state are phenomenal. They're really good at different things. Between Emory, UGA, Georgia Tech and Georgia State, just to name four, you've got such interesting and different skill sets being developed. That's a great thing for the state. And the airport. Being able to get anywhere is a big reason we're in Atlanta.
What business-related book do you recommend?
Malcolm Gladwell's The Tipping Point. It's not really a business book, but it's a book about how change happens. It allows you to look at different kinds of change, kind of pull it apart and understand what caused those changes, and then it gets you the homework assignment of thinking about how could I make some of those things true where I am. I found that book to be a really, really impactful way to get people to think about what's possible, not what's expected.
---
Magic Bus
Blue Bird, Phil Horlock, president and CEO, Fort Valley
Those big, yellow buses have been part of the American landscape since nearly forever, getting kids to and from school safely for 90 years. And they're manufactured right here in Georgia. With Phil Horlock, CEO since 2011, at the wheel, Blue Bird made the transition from private to public company just last year, landing it on this list for the first time ever.
What's the transition from a private to a public company been like?
It's been a whirlwind journey. We're in the public eye now. Being private, you're under the radar screen. Now, every quarter I've got an earnings call. We tell our story every three months. We're Blue Bird. We've been making buses since 1927, and no one knows school buses better than we do. Our customers resonate with that. They understand that we are the experts in the school bus business.
How do you innovate in an old-school business like buses?
We have an incredible new product we launched in the last few years, which is our propane-powered school bus. We're by far the leader in alternative-fuel powered school buses. Our propane bus is now 20 percent of what we sell. We're almost 100 percent market share in propane-powered school buses.
Propane brings several things. First of all, it's green. It's virtually zero emissions. It's quiet. The bus drivers say, "I can hear the kids on the bus. There's no loud diesel engine noise." [They] will save about $3,000 to $3,500 a year every single year on fuel costs and operating costs vs. diesel. So over the 15-year life of a bus, you've saved nearly $50,000 in operating costs.
What are you most optimistic about in the school bus industry?
Of the 550,000 school buses on the road in the United States and Canada, more than 150,000 are over 15 years old. Most school districts replace their buses at between 13 and 15 years, so there is a strong desire to replace aging fleets. Many states continue to issue special bonds to accelerate replacement of aging school buses, making safe student transportation a priority. In fact, Gov. Deal approved special funds of $20 million last year and $15 million this year to accelerate new school bus purchases.
What business book would you recommend?
Raving Fans [by Ken Blanchard and Sheldon Bowles]. How do you make sure your customers become your raving fans and sell your next products? In our business, we can try and sell what we want to customers, but the best salesman is another customer who's going to convince a customer in a neighboring school district [that] you've got to buy a Blue Bird bus. I think it's a great message.
---
Life-saving Science
MiMedx, Parker "Pete" Petit, CEO, Marietta
Georgia's bioscience industry is booming these days thanks in large part to Pete Petit, CEO of MiMedx. Petit's started, run and sold a series of bioscience companies since the 1970s, when he developed the first home physiological monitor for infants at risk for sudden infant death syndrome following the death of his son from SIDS. Now, Petit heads up a company that develops regenerative biomaterial products that help the body heal itself.
You've had a ringside seat to the bioscience industry boom in Georgia. As you look ahead, where do you see it going?
There's so much focus now on new opportunities in healthcare, particularly stem cells and human tissue applications. This should be a very exciting area for everybody, not only the organizations [developing the technologies], but also the patients who will be receiving the care from these new technologies.
Do you have any concerns about these advances?
Regulations. We've gotten to the point where I'm afraid our regulatory bodies in this country have gotten disconnected with what's going on in the private sector. There needs to be a balancing done.
Did you have any idea bioscience would become this important in Georgia?
Many years ago, I told the president of Georgia Tech and [then] president of Emory, Jim Laney, there's no reason why [Georgia] couldn't be the hub of medical activity, with Emory University here and the Medical College at Augusta and engineering at Georgia Tech. That was the mid '80s. A great deal of progress has been made since then. It's wonderful to have been able to see it.
---
Banking on Success
Citizens Trust Bank, Cynthia Day, president and CEO, Atlanta
Citizens Trust, founded in 1921, is now the largest African-American-owned bank in Georgia and in the top five in the country. With a history of trailblazing – it was formed to help African Americans own and operate their own businesses – it continues to forge new paths with Cynthia Day leading the way. She's one of the few female CEOs in banking and on Georgia's Top 100 Public Companies list. Citizens Trust has about $400 million in assets, 10 branches in Alabama and Georgia and approximately 110 employees.
What are you optimistic about in the banking sector?
From a community bank perspective, I'm most optimistic about our resilience to continue to serve these markets. We play such a vital and important role in the local communities. I think we're a catalyst for small businesses, which produces a thriving community.
What are your concerns?
On the flip side, I'm concerned about the maintenance of the community bank footprint. We're in this historically low interest rate environment, and that impacts our whole industry. [It] places pressure on our managers' margins. We're so local-market driven … so that margin has … an impact on us.
On my watch, I will continue to ensure that we remain relevant and viable in these communities, because I think they need our support and our continued presence.
What's the best piece of advice you received about running a business?
I remember a piece of advice as I was contemplating whether I wanted to be in this seat or not. I felt pressure to be a continuation of my predecessor. So a friend and very well-respected mentor of mine said, "You have to be the leader that you were created to be." That freed me. And I know that remaining true to being the leader that I was called to be became my greatest opportunity for success. So I tell everybody, you're going to be more successful when you're being true to who you are and playing to your strengths.
What's a business book you'd recommend?
Jim Collins's book, Good to Great. That became our internal mantra here for my team as I made this transition, and it's what we continuously strive for. I am guided by the principle that my team [is] my greatest asset. Recognizing that and making sure they all know they have a valuable role to play creates a culture and a team that's motivated. They're committed, they're unified and they're invested in the success of the organization. In that book, [he talks about how] you can't achieve great things without great people. It's a favorite to me because I closely align with those guiding principles.
Click here to see our 2016 Top 100 Public Companies feature.