Georgia's 2016 Higher Education Directory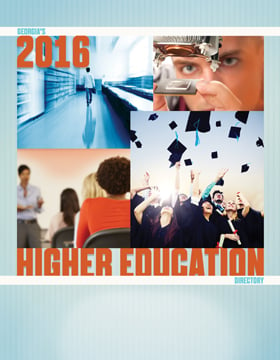 Here in Georgia, if you want to get a good education, there are plenty of options, from the 29 public colleges of the University System of Georgia (USG) that serve more than 300,000 students and the 22-school Technical College System of Georgia (TCSG), with more than 135,000 students, to the dozens of private and for-profit schools throughout the state.
This past April, the USG announced it will not be raising tuition rates – a welcome relief to students after four years of increases. TCSG colleges, too, remain at $89 per credit hour.
There were far fewer mergers this year than in the past. Georgia Perimeter College has consolidated with Georgia State University in Atlanta, and Darton State College will merge with Albany State University in Southwest Georgia.
The 2016 Higher Education Directory includes degree-granting schools that have a physical presence in Georgia and are eligible for HOPE scholarship enrollments. Listings include contact information, test score requirements, tuition costs and courses of study, all based on information provided by the institutions. N/A indicates information was not available or is not applicable.
---