Dalton/Whitfield County: Manufacturing Metamorphosis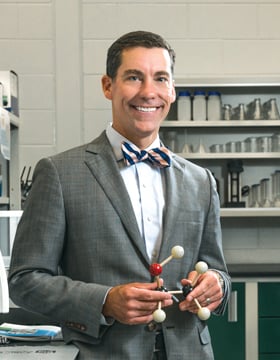 Take a drive up I-75 into Whitfield County and you'll see lots of activity. First you'll pass a sprawling new industrial campus under construction. Then exit onto Walnut Avenue in Dalton and cruise past the busy commercial strip, and you'll discover that the historic downtown is bustling. Shops and restaurants have opened and are full of customers. On a recent Friday night, you can't find a parking space along the main drag as the town fills with music fans headed to the weekly free concert.
Few regions of the Southeast are more closely tied to a single industry than this section of Northwest Georgia. Dalton has long been called the "carpet capital of America," and it is a title that sticks to this day, even as local leaders are focused on diversifying the economy while supporting the carpet industry that's once again in growth mode.
When the housing market collapsed, so did the carpet industry. This city and the entire region took a beating during the Great Recession. Unemployment soared and times were bleak for longer than most locals care to admit. Now those days are a memory, but one that few can forget.
The carpet industry has transformed itself with new, more efficient technology that cuts costs – along with the number of workers needed. It's also diversified. Long rolls of carpet for home and office still roll off the lines here, but much of the work is put into producing a wide variety of floor coverings from tile to laminate.
"We're getting very close to where we were pre-recession," says Rob Bradham, president and CEO of the Greater Dalton Chamber of Commerce.
Unemployment has been more than cut in half, falling from a high of 13.5 percent in 2009 to 5 percent in May, just slightly more than the state's 4.7 percent. Most of the job losses came in the carpet industry – as it collapsed, it produced a rolling effect that spread throughout the region.
"Anytime you have more people employed, there are more people spending money," says Whitfield County Commission Chairman Mike Babb. "There is more business taking place, and that's always good for the community."
"Back during the recession, the carpet industry certainly shrank and certainly went backwards in capacity and employment," says Carl Campbell, executive director of the Dalton-Whitfield County Joint Development Authority. "Then instead of holding on and hoping for the best, they really took a good look to make sure they were as good and as strong an industry as they could be. The carpet industry reinvented itself."
---
Precision Production
Today's carpet industry is much more efficient than the old mills ever were. The carpets have gone from spun yarn technology to products made from polymers. These are essentially pellets that efficiently produce more precise and consistent colors. Production is much less labor intensive than ever before, meaning lower costs to the consumers.
"We do so many other things than just carpet," says Campbell. "We have many of these new products being made in and around the area – the laminates, the vinyl tiles and other floor covering products."
In fact, the flooring industry is doing so well that, in a reversal from recent years, it's now having problems finding enough qualified workers to fill the growing number of jobs. While there are fewer positions than before, those jobs are high tech and require a higher level of training than the old mill positions.
"I was having a conversation with a group of industry leaders, and they are all hiring, which is a good thing, and they want to get the word out beyond just Northwest Georgia that the industry is hiring here," says Bradham.
Not only are they hiring, they're expanding their operations as well. Last year, Mohawk, the world's leading flooring manufacturer, acquired Belgium-based IVC Group for $1.2 billion. The deal will make the firm one of the biggest producers of sheet vinyl and luxury vinyl tile, or LVT flooring.
Mohawk has spent nearly $5 billion over the past 13 years acquiring other firms, including The Marazzi Group in Italy, Pergo in Germany, the Spano Group and Unilin Holding NV, both in Belgium, and Dal-Tile.
In 2010, a new contender entered the market when Engineered Floors set up operations. The company is the creation of industry veteran Bob Shaw. After selling his own family firm to Berkshire-Hathaway, he discovered retirement wasn't for him. There was still too much opportunity in floor coverings.
Engineered Floors invested in new facilities and cutting-edge technology, and focused on selling to high-volume customers who supply carpet to apartment complexes and other commercial establishments. After building plants in Calhoun and Dalton, it acquired residential carpet maker Dream Weaver Carpets in 2011 to connect to the retail market.
Now the company is in the midst of building a massive 2.4-million-square-foot manufacturing operation just off I-75 south of Dalton. The $450-million plant will employ about 2,000 workers and will fully incorporate the carpet-making process from end-to-end, creating both higher value and more profit in an industry that hasn't seen much of either lately.
---
Business Friendly
Dalton is proud of its large manufacturing community and has been busy making sure these companies don't have reason to move their operations elsewhere.
In fact, the county has been willing to tighten its own budget in order to make operations less expensive tax-wise for these companies.
Local government is not only dropping the tax on energy used in manufacturing, but it's also declining to replace it with the 2 percent excise tax authorized by the General Assembly. The new taxing authority was designed to replace those lost funds. The county decided that it wasn't going to put any more economic pressure on local companies by cutting taxes with one hand and then raising them with the other.
Several years ago, Whitfield decided to implement a 100 percent Level One Freeport Exemption from state property taxes on business inventory, which also provided a $2-million tax cut for local companies.
"Everything that we have done is in the interest of making sure that we can recruit new businesses into the county, and we know there are other communities that would love what we have and so they are actively trying to recruit [local companies]," says Babb. "We're very competitive."
Local economic developers are keen on the idea of diversification of the local economy. The Great Recession demonstrated the stark reality of what happens to a one-industry town when that industry falls on hard times. These days, the county is actively seeking other types of employers who can provide some protection against downturns.
"As much as we love the floorcovering industry, this last recession really hit our community hard," Babb says. "We know we need to have more diversification in our local economy, and that's what we hope to do now."
"We want to open ourselves up [to] other avenues and other opportunities," Campbell says. "We have a community that has a lot of resources. We're a manufacturing community that can do a lot of things. So we want to make sure those other industries know they're welcome here as well."
Those resources have helped attract a growing number of chemical plants. Dalton has an abundance of water available to serve companies that need large amounts of the liquid for their processes. Daily water consumption is about 23 million gallons, but the system has a much larger capacity. That often unnoticed resource has generated interest from plastics companies as well as the chemical industry, according to Campbell.
"Our infrastructure was built up to serve a carpet industry that was dying those yarns," Campbell says. "Now many communities might not have 2 million gallons a day in excess [water capacity], and we've got 40 million. That's a big number, so we're attractive to folks who need water."
One big step toward that diversification came when Sustainable Corrugated, a subsidiary of North Carolina-based Jackson Paper Manufacturing Co., announced in January that it would invest $15 million in new machinery and inventory. That plan includes opening a new paper manufacturing plant in Dalton and hiring more than 60 people to make corrugated sheets used in boxes.
The company is building a 150,000-square-foot facility to house its operations. It will use recycled paper as a raw material in making new corrugated sheets. The operation will serve independent box makers throughout North Georgia, East Tennessee and North Alabama.
This new activity bodes well for the region.
"We're pretty optimistic for what the future holds for Dalton," says Kevin Harris, chairman of the Dalton-Whitfield County Joint Development Authority.
---
College Collaborations
Local leaders know that the key to getting more companies is an educated and well-trained workforce. It's no surprise that the chamber, along with business and elected leaders, have made training a high priority.
"We really want to lead the state in workforce development and technical training," says Bradham. "So we have gone out of our way to do a bunch of different things in the workforce development space. We have created an unprecedented level of cooperation between our industry and our K-12 and higher education institutions."
Those relationships have yielded a wide variety of training programs geared to the needs of industry. Georgia Northwestern Technical College offers programs to develop skilled chemical plant operators. There are classes for forklift operators. Students can become certified logistics management technicians in a nationally recognized program geared to the needs of the distribution, warehousing and manufacturing industries.
"We want to be state-of-the-art in our workforce development solutions, and we want to be directly responsive to industry," Bradham says.
The success of these efforts can be measured in the reality that local programs have reached their capacity.
"Our workforce development pipeline on the technical training side is really at capacity," says Bradham. "It's just very difficult to take any more in those programs. So we need new space."
That space – and more opportunities to fuel economic development – should be coming in the not too distant future.
The state just allocated $5 million in initial funds for a new home for the technical college. Currently, it shares space with the Northwest Georgia College and Career Academy.
To build the new facility on land donated by the county, local leaders will need approximately $24 million. Some of those funds are being donated by local industry, and officials plan to go back to the General Assembly next session to ask for more. If requests for funding are successful, construction is expected to begin late next year.
While the college and the county's career academy will no longer share the same space, they will still be close and able to collaborate on training programs, according to Bradham.
"It allows you a lot of crossover between the high school and the college curriculum," he says. "We want to lead the state in this kind of training. In fact, we want to be world-class, and we want to be really responsive to our industry."
Dalton State College also received $5 million from the state for renovation and expansion of its business building. When a private donor ponied up another $5 million, the school was able to move forward. The School of Business is currently housed in Memorial Hall, which will be renovated and expanded. The business school added a major in finance and applied economics, says DSC President Margaret Venable, and is developing a new supply chain and business logistics program. All of these programs will also help produce the kinds of trained workers needed in the region.
---
Downtown Draw
A few years ago, it was hard to find much life in Dalton's Downtown. Nowadays the city center is alive with new restaurants, bars and shops. A summer concert series gave people a reason to come back on weekend evenings. With the construction of new dorms on the Dalton State campus, the downtown is expecting an influx of students this fall who will also shop and dine.
"The college is another big driver for us," says Dalton Mayor Dennis Mock. "Their numbers just keep growing every year as far as admission, and it's made an impact on Dalton already. Dalton is going to be a college town. You can go downtown any day in the fall when school is in session, and restaurants have young folks in them that are here for college. You see them all over town volunteering, and it is changing the complexion of Dalton."
Students aren't the only ones drawn to downtown Dalton.
"We're seeing retail and other sorts of business move in, but mostly the businesses coming downtown are the business offices like law and financial planning and accounting firms," says Garrett Teems, executive director of Downtown Dalton Development Authority. "Those are usually on the upper floors of our buildings. We love to have them in here. It helps boost our service level industry and helps push [pedestrian] traffic."
Dalton has also been working hard to become something of a tourist destination for the region. Throughout the year, a series of road and bike races, Train Day and other events attract crowds of people to the city.
The goal is to capitalize on the abundant history and culture of the region, according to Brett Huske, director of tourism at the Dalton Convention and Visitor's Bureau.
One of these assets is the Dixie Highway, or U.S. 41. It opened the South to Northern and Midwestern tourists in the early 1900s before the interstates and four-lane roads took away its traffic. The past couple of years it's been the subject of academic conferences and exhibits at Dalton State, as well as a documentary on GPB. Now it's going to get more traffic with antique car parades, a 5K foot race and other events centered around its often forgotten history.
"It's an attempt to reach out to the visitors who are interested in getting out on the roads less traveled," Huske says. "The Dixie Highway prior to the interstate used to be the road [to travel through the state]. We're looking at taking it to another level and making a full weekend of it."
The CVB has also developed a self-guided textile industry tour that will take visitors to the historic locations where the industry developed. Plans also call for assembling a sizable exhibit of machinery and other artifacts of the industry in the Dalton Convention Center. The building has sufficient space to show off the types of equipment that made Dalton famous, according to Huske.
All of these developments and events signify a city and a county that is once more on the move. There is a feeling now throughout the area that the bad days are over and bright days lie ahead.
---
LOCAL FLAVOR
Play Ball: Games at Whitfield County's Miracle field at Westside Park are nothing like regular baseball, but the enthusiasm and effort of the special-needs kids and adults who take the field each Saturday are much the same.
The Miracle League plays its games at the unique facility just west of Dalton across I-75. From the rules of the game to the field, everything is geared to the players. The accessible baseball field has a cushioned, synthetic surface that accommodates wheelchairs and walkers, while helping to prevent injuries. The level playing field, which includes painted lines and no pitcher's mound, enables children and adults with physical or mental challenges to hit, run and catch.
The emphasis here is on accomplishment not competition. Everyone gets a bat, everyone gets a run, everyone scores and both teams win, says Millie Hicks.
During a Miracle League game, each player is assigned an able-bodied buddy who assists in hitting the ball, running the bases and protecting them in the field. The games have attracted a waiting list of friends, relatives and a host of athletes from the local high schools who all want to be buddies.
"We've had some incredible stories from our buddies, who think they're coming to help and then they leave transformed," says Hicks. "For some it changes their outlook on life, changes their career path – all because of what they experienced on the field."
Nancy Howell and her husband, Bobby, came to watch a game at the invitation of directors Chip and Millie Hicks and ended up coaching two teams of teens and adults. Like so many who help bring this program to Whitfield County, it has been a transformative experience for them.
Since the first game in 2012 when 55 players turned out, the league has grown to more than 145 this past spring. Players come back week after week, and for many it becomes the place where they make friends and get to feel just like other kids.
"It gives them a chance to be a typical kid for a day," says Hicks. "They're able to come to the field. They're loved. They're accepted. They have teammates. They can make friends."
Kathy Blackwell is a special education teacher with the Whitfield County School System. When she heard about the league, she knew that she had to be a part of it. She had played sports in school and even coached her own sons in rec sports. The non-competitive pace of the games and their emphasis on players winning is ideally suited to the special needs population.
"Due to their disability, they're limited in what they can do," says Blackwell, who now coaches a Miracle League team comprised of younger children. "What we're finding is a lot of the kids can play T-ball because it's not as serious. They have music playing while batters are hitting. The atmosphere is wonderful for the kids. It gives them a chance to play ball like their brothers and sisters." – Randy Southerland