Business Casual: On And Off The Red Carpet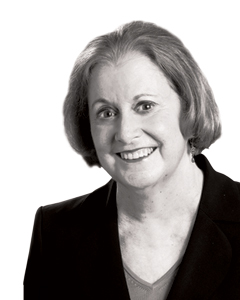 At some point during David Letterman's acceptance speech at UGA's Peabody Awards ceremony in New York last spring, it occurred to me that he was a bit nervous.
David Letterman nervous? Not possible. But there he was, wearing a retirement beard and bantering with Steve Martin, who had introduced him – and he seemed just a little nervous.
And there I was, wearing one of the many black cocktail dresses that showed up at the festivities and chatting with my tablemates. I wasn't nervous at all, just excited to be there.
Of course, he was being honored with a Peabody Individual Award – a very big deal, a kind of lifetime achievement recognition for the more than three decades he spent as host of the late-night TV show that has had an impact on every talk show that's come after it.
But this was not just any gala. The Peabody Awards, which honor achievement in electronic media – journalism, documentaries and entertainment – are housed in the Grady College of Journalism and Mass Communication at the University of Georgia, my alma mater. This event marked the 75th anniversary of the awards, which honor stories that matter and celebrate diversity.
Letterman was gracious, using the occasion to thank all the people he worked with on his show over the years – "the men and women who have done the hard work and heavy lifting to keep me on the air for 33 years."
He told a sweetly funny story about driving to the event with his wife and son, saying several times over, "Daddy hopes that Daddy doesn't bomb in front of Daddy's family …" And his son's droll response: "Daddy, for the love of God, please stop referring to yourself in the third person."
He wasn't the only recipient whose cool was punctured by sentiment. Earlier, Kenya Barris, speaking for the cast and crew of the award-winning ABC comedy black-ish, had joked around with series star Anthony Anderson, but then turned serious and admitted he was nervous.
Understandable. The evening celebrated good storytelling and good work even as it recognized that doing such work is not always easy.
Afghani journalist Najibullah Quraishi, a Frontline correspondent, accepted an award for ISIS in Afghanistan, which included a chilling look into an ISIS school where five-year-old children are trained to use weapons. The program was produced at considerable personal risk to his crew and himself. He ended his remarks with a heartfelt plea to the audience: "This is my country, and I fear for the future. My country is in danger of falling apart, so please, don't forget us."
But amid the solemnity, there were some lighter moments. Host Keegan-Michael Key noted that many of the recipients and attendees were wearing kicks with their evening attire and wondered why he hadn't gotten the memo.
Offstage, it was fun to watch guests come back to their tables after forays to the restroom or the bar and share celebrity cell-phone photos they had snapped and hear others wonder if they might manage to stroll casually past a particularly celeb-laden table. (Aziz Ansari, from Master of None, seemed to be a favorite target of photographers and strollers in my part of the dining room, but Krysten Ritter from Jessica Jones created her own stir.)
As a first-time attendee, I was trying hard to juggle the twin roles of veteran journalist covering a glittering event and proud Grady graduate loving the sound of recipients thanking the University of Georgia for their awards.
The evening was a very chilly one, and most of the New York-based guests were smart enough to dress appropriately. I was not.
Nonetheless, on the pre-event red carpet, I was doing my best to impersonate a seasoned entertainment reporter, trying to convey the impression that I spend a fair amount of time on red carpets, which I do not. (My usual professional haunts on the business beat tend more toward industrial-green carpeting.)
Even though I was enjoying myself immensely, I had the feeling I was not fooling anyone, and that feeling was confirmed when I shook hands with Peabody Director Dr. Jeffrey Jones. Before I could ask him the first question, he said, kindly, "Your hands are very cold."
True, but my heart was warm.