Sen. Johnny Isakson at the Georgia Chamber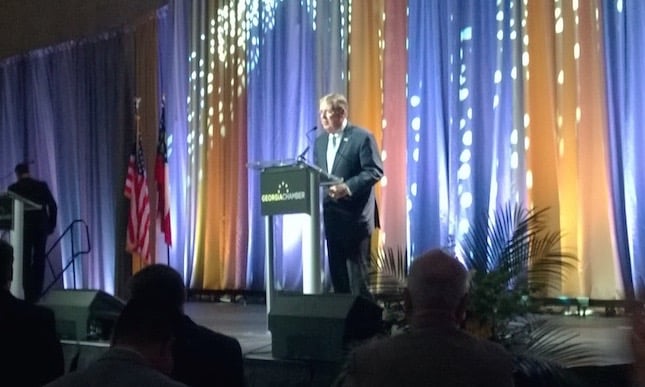 The Georgia Chamber of Commerce congressional luncheon in Macon this week was a rally for and around Sen. Johnny Isakson, who faces two opponents – Democrat Jim Barksdale and Libertarian Allen Buckley – in his run for re-election in November. The chamber has endorsed Isakson, and he was the featured speaker at this event that drew business and political leaders from across the state.
Sen. David Perdue referred to Isakson as the "Howard Baker of our time," a reference to the late Tennessee senator who forged many a deal in D.C. in the 1970s and 1980s, and noted the need for a return to compromise in Washington. "When does a 100 percent solution occur in business?" he asked. "Never. Since when did compromise become a dirty word? Weren't any of y'all ever married?"
Isakson spoke briefly – the event ended on the dot at 1 o'clock. Here are some of his comments.
"If Washington could get a taste of what we do in Georgia, and work with businesses and not against them, there's no telling how great we could be.
As it is, in the upcoming Congress, "Zika will lose, and it shouldn't. We should [commit the resources] to attack it like we did Ebola. We need $1 to $1.9 billion for the Centers for Disease Control – we owe no less to the mothers of America. The national defense appropriation will continue to languish – we can't get it out of the Senate. For 20 years we've been underinvesting in security when there is never a time we should be stronger. It's downright wrong, and no one is more invested in the military than Georgia.
"The continuing resolution, extending the budget ceiling without prioritizing projects for funding, will pass, but it's time we started handling American expenditures like we do at home – imposing priorities. If the executive branch continues to rule through a regulatory regimen, it creates too much avoidance. Mandates cause a loss not an increase in jobs. Regulations are important to level the playing field, but if they're holding us back, we're in trouble. The growth rate is not enough. We must empower business, not government.
"When we avoided the [government] shutdown in 2011, I made my favorite speech – that we're overanalyzing our problems and under-analyzing our opportunities. Now, with budget appropriations being lowered by sequestration, it's an opportunity for mandatory reductions. Division can be good. Remember Bill Clinton and Newt Gingrich? We can disagree on 20 percent, as long as we get to the table and solve 80 percent."
Other speakers included Charlie Cook and Stu Rothenberg, political analysts from D.C., who predicted that not only will Hillary Clinton win, but that the GOP could also lose the Senate because of Donald Trump this fall. They further predicted that hot politics would make for a lamer-than-lame-duck session, not unlike Isakson's outlook.
But, in words that were music to the mostly Republican crowds' ears, they predicted that Isakson would be reelected in November.
Photo: Sen. Johnny Isakson speaking at the Georgia Chamber of Commerce luncheon, courtesy of Ben Young