Squad Spirit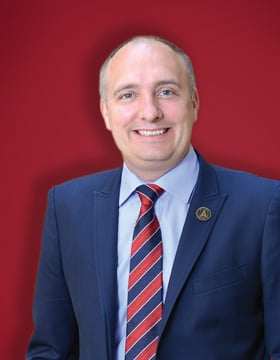 A little over a year ago, nearly 4,500 soccer-savvy fans gathered at SOHO Lounge in Midtown Atlanta to meet the state's new Major League Soccer team. Atlanta United FC – the 22nd MLS franchise – was met with cheers, chants and celebration, bolstering team leaders' confidence about its future in the state.
"I'm really excited about how Atlanta fans are going to respond to this," says Darren Eales, Atlanta United FC's president. "We saw it at our launch last year. We had 4,500 turn out for the launch of our brand, and it was a crazy atmosphere. It was good fun, good energy and great singing. … That's the type of thing that we hope Atlanta United gets known for."
Though the level and fervor of support might have surprised some at the time, it really shouldn't have: Soccer is thriving in Georgia, gaining thousands of players each year and spurring four minor league teams in the past five years.
All of these numbers – along with the dollars they bring with them to communities across the state – appear to be only rising, especially with Atlanta United FC's first season jsut seven months away.
---
The State of Soccer
Georgia, it seems, likes to play a lot of soccer. "We have more than 90,000 youth players playing soccer, making us the largest youth sport in Georgia, which a lot of people don't know," says Greg Griffith, executive director of Georgia Soccer, the state's youth and adult soccer association serving more than 120 member organizations throughout Georgia.
Interest in the sport skyrocketed after the U.S.-hosted 1994 World Cup, and it's been steadily growing since then, says Griffith, with no indication of slowing.
"In the past 20 years, the number of players has doubled. In the past 10 years, it's gone up by about 20,000 players. Last year, we saw about 12 percent growth," he says. "We think we'll have over 100,000 youth players by 2017."
Add to that number about 20,000 adult soccer players, 5,000 referees and 7,500 coaches, and soccer impacts well over 100,000 households in the state, he says.
And though Georgia is proud that Atlanta United FC – the only MLS team in the South outside of Florida – calls Atlanta home, the team is far from the only one in the state playing at a national level. The Atlanta Silverbacks, which competed in the North American Soccer League from 2010 to 2015, are back as a National Premier Soccer League squad for the 2016 season, joining Conyers-based Georgia Revolution in competition against 83 others teams across the country.
And in the Premier Development League, considered a stepping-stone to the big leagues with 67 teams in four conferences, two Georgia teams debuted in 2016: South Georgia Tormenta based out of Statesboro and Peachtree City MOBA from Peachtree City.
Adding to these teams are the adult and youth squads from the approximately 120 member clubs across the state, which at their largest can have upwards of 7,000 members. Most of these players are concentrated in the Metro Atlanta area, but strong soccer communities span from Rome and Clarkesville to Savannah, Tifton, Valdosta and Albany.
It's no surprise, then, that with soccer's immense popularity comes some logistical challenges. "Field space is the No. 1 challenge for soccer right now," says Griffith. "There aren't enough fields for all the growth that we want. Almost every single member club that we have is challenged to get enough fields."
Luckily, communities around the state are responding. In May, Gwinnett County commissioners approved a $5.9-million expansion at Lawrenceville's Rock Springs Park to add a soccer complex and other improvements. And in Marietta, the Franklin Gateway Sports Complex – with help from a $45,000 grant from the U.S. Soccer Foundation – will add three regulation-size soccer fields, along with other amenities. Combined with the Atlanta United FC training facility's six fields, the city will have nine new soccer fields on Franklin Road alone.
In DeKalb County, Georgia Soccer is partnering with Discover DeKalb and private developers to build a soccer tournament facility. While still in the planning stages – the site has not yet been announced – the facility is anticipated to have 16 to 20 fields for tournament use. An economic impact study is currently underway to determine how such a facility would impact the county and the state.
---
Impressive numbers
But what do all of these players and field expansions mean to Georgia's economy? What kind of impact does soccer actually have on the state?
"It's tremendous," says Griffith, pointing to Georgia Soccer's tournament schedule alone. The organization hosts a State Cup tournament each May, with the first weekend of competition held Memorial Day weekend. The tournament sells out every hotel room in its host city – this year, Columbus – on Friday, Saturday and Sunday nights, he says.
"That's just one tournament," he says, "and we have tournaments about 35 weekends a year, from either our member clubs or Georgia Soccer." Tournaments and traveling teams mean hotel nights, meals and entertainment for teams and their spectators, and usually for multiple days at a time. The largest tournaments can include 10 venues spanning multiple counties.
At the professional level, the numbers only get bigger. MLS enjoyed a record-breaking year in 2015 with average attendance numbers rising 12.7 percent to 21,574 per game. That makes the league the seventh most popular soccer league in the world, topping the premier leagues for the Netherlands, Argentina, France and Brazil.
"Already, it's impressive numbers," says Atlanta United's Eales. "We're projecting to be able to do a lot more than 21,500. We're really excited about the way our season tickets are going, and we're really excited about raising the bar in terms of attendance at our games."
Pledges for season tickets have been reported as high as 30,000, and though not all of those pledges will convert to season ticket holders, an average attendance of 23,400 will earn the team a spot in the top five of MLS teams, besting LA Galaxy.
Atlanta United FC will play 18 home games per year, not including international friendlies and global tournaments that Mercedes-Benz Stadium could potentially host, such as the World Cup. Though 2018 and 2022 men's tournaments have already been awarded to Russia and Qatar, respectively, a 2009 study by consulting company AECOM projected a $400- to $600-million economic impact per U.S. host city if the country were awarded the World Cup.
And the Women's World Cup, which broke records in attendance and global television viewership in 2015, has a huge economic impact as well: Canada Soccer reported $249 million in net economic activity across the country from hosting the 2015 Women's World Cup and 2014 U-20 Women's World Cup. The 2019 competition will be held in France.
---
A Unifying Story
The Atlanta United FC story officially began nearly a decade ago. In late 2008, Arthur Blank's AMB Group submitted a bid for an MLS expansion team in Atlanta. But there was a problem: He didn't have a place to put them, and finding funding partners in the downturning economy was a hurdle too big to overcome.
That is, until talk began about building a new Falcons stadium, which could be configured to also house an MLS team. Plans for the new stadium revved and stalled over the years, but MLS remained interested in Atlanta, which was an important piece in the league's efforts to expand into the Southeast – and the largest metropolitan area without an MLS team. Finally, in mid-2013, plans and funding for a new Falcons stadium were approved. Blank's MLS team was awarded its expansion franchise the following April.
Since then, it's been a whirlwind of activity: choosing a team name and colors (red, gold and black, and Atlanta United FC – FC for Football Club – to reflect the organization's one-team philosophy, which extends to fans and players alike); finding top leaders to shape a contending team in a matter of months (Eales, former executive director of the English Premier League's Tottenham Hotspur Football Club, as president and Carlos Bocanegra, retired two-time MLS defender of the year and six-time U.S. Men's National Team captain, as technical director); and drumming up interest to build a supportive, energetic fan base (which, judging by the team's season ticket pledges and three supporter's groups, didn't seem to be that hard to do).
Currently, Eales, Bocanegra and the rest of the Atlanta United FC team are busy recruiting a head coach and filling the 28-man roster. They hope to have a coach named by the end of summer and the team finalized in January, when they will begin training and building team chemistry.
And they'll do that in a $60-million, 30,000-square-foot, state-of-the-art training facility in Marietta. Though the full facility will not be completed until April 2017, the fields will be ready for the team in January.
The facility (by Atlanta-based architecture firm TVS Design) was designed to embody Atlanta United FC's one-team philosophy, says Eales, and that concept starts at the front door: "There's one entrance. We don't have a separate entrance for the first team; everybody goes through the same door," he says. "The idea is that we're all one family; we're all one club. Whether that's media, supporters, front office staff, the first team or our Academy players, we all use the same entrance."
Eales and his team didn't want the facility to feel closed off from supporters, so they built a show pitch – soccer-speak for the playing field – for special training days and exhibitions. The field's sloping berms have enough room for almost 2,000 spectators.
And the facility's massive glass facades, while visually impressive, serve an important thematic purpose as well.
"It's all part of this concept of wherever you are in our training facility … there's almost this ability to step out into the field at any time," says Eales. "That's really important to us for a number of reasons, but in particular, when we have players that are injured and are rehabilitating and coming back, now they have this connection to the team that's playing out in the field. They're seen, they're visible, they're around; they're not locked away in some windowless rehab center. It's all coming back to this idea of team, club and squad spirit, that people feel part of the team even when they're injured and trying to come back."
This inclusive atmosphere extends to community partners, according to Marietta Mayor Steve Tumlin. The city of Marietta leased a 33-acre piece of land, acquired through a $68-million redevelopment bond passed in 2013, to the team in a deal that Tumlin describes as "once in a lifetime."
"I would love to say that when we pushed for the redevelopment bond, we saw something like Mr. Blank [in the horizon]. We were looking at A-grade type of buildings or high-end retail," says Tumlin. "This happened, and it happened quickly."
Tumlin characterizes the impact of a high-profile tenant on the area's redevelopment as nearly immediate, pointing to increasing tenancy rates in office spaces and the addition of three high-quality hotels in the immediate area, all boosting the timeline for transformation along the corridor.
"I knew it would take time," he says. "They came in and accelerated that. It's already put a halo that's unbelievable on that particular area."
Tumlin is also optimistic about the effect that Atlanta United FC's Academy – which launches this month – will have on the area, with its training and tournament schedule. Described by Eales as essential to the team's operations, the Academy will develop young soccer talent in the state through five age groups from ages 12 to 18.
"Our Academy will be based at the training ground as well, so we're really excited about that connection with the community, drawing from all over Georgia in terms of young players that we hope can make the grade," says Eales. "And it's totally free to play. … It's a chance for anybody, regardless of their economic circumstances, to be able to play soccer and pursue that dream."
The Academy is designed to be a source of homegrown talent, and the team's long-term goal is to be able to sign Academy members to the professional team at 18: "Our dream is to have our staffing to be made up of homegrown players. That would be fantastic, if we could ever achieve that," says Eales.
---
Redefining Atlanta
When Atlanta United FC's still-unknown players take the pitch for their first game next spring, it will represent the culmination of more than a decade of work to bring a viable MLS team to the state. And, for the team's leaders and fans, it will be a chance to refresh a sour reputation.
"When I came here, people were telling me that Atlanta wasn't a sports city and doesn't get behind its sporting teams," says Eales. "Clearly that's not so, and I've seen that from being here. I think with Atlanta United, it is a team where nobody has their baggage from previous clubs from previous cities that they've lived in because soccer is quite new. People haven't really had those allegiances.
"I'm quite excited about the fact that it will change the narrative," he says, "and we're going to have positive stories about Atlanta being a great sports city and a great soccer city."
With so many people playing the sport up and down Georgia, you could also say it's a great soccer state.