Georgia Fare: Tortillas and Fishes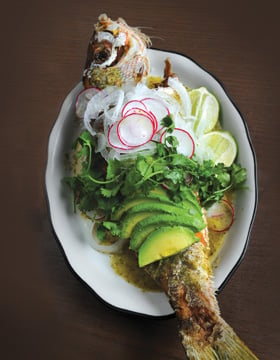 We arrived by foot, hot, dusty and disappointed. Construction outside surrounded Krog Street Market with a kind of gold rush fever, with storefronts and condos rising as fast as you could say "Superica."
Actually, say that again, pardner – and this time, get it right: "Super-EEK-a." (Among the first things I learned on entering Ford Fry's "Mex-Tex" cantina was that I'd been pronouncing its name wrong all along.)
Against one wall, a huge, moving desert landscape projected on a curtained screen makes you think of the golden age of TV and drive-ins, when Roy Rogers and John Wayne lassoed dirty desperadoes. Superica's sheer size, including a big, shaded patio, reminds you of sweeping vistas. The playlist – from Gene Autry to Gene Pitney – simultaneously evokes nostalgia and a restless urge to barbecue. (There's live music from local bands on Friday and Saturday nights.) The oversized Lone Stars remind you of Fry's (and Superica chef Kevin Maxey's) home state; the quirky architecture, music and laid-back party vibe pinpoint Austin.
Within minutes, we're sipping icy drinks and dunking warm housemade chips into roasted tomato and tomatillo salsas. It takes a while to settle on choices from this vast menu. Fry's trademarks here are evident, both in the army of cheerful, speedy servers and the crowd-pleasing fare, supplemented with more exotic creations.
That means the drinks list will include both Mexican Coke (with real sugar rather than high-fructose corn syrup) and smoky mezcals – the latter in a new-fashioned "old-fashioned" called the Highwayman, with agave nectar and mole bitters. The house margarita is pretty, sweet and spiky, dipped in salt; the Red-Headed Stranger is a refreshing, brisk pink grapefruit/Campari-accented affair. The long list of beers include lots of local brews, along with Mexican and Texan favorites. The brunch here (Saturdays and Sundays) also gets long lines for an egg-centric bill of fare, with migas, chilaquiles, huevos rancheros and the like.
On the daily menus, you'll find all the usual Tex-Mex standards – enchiladas, mole, tacos, tamales, fajitas – along with more adventurous house creations like mesquite-grilled quail and blackened catfish. The chicken mole is an orange-tinged archaeological dig for layered flavors, with cumin, chipotle and chocolate taking turns on your tongue. While I loved the wood-grilled quail, I thought the accompanying side of chili-and-cheese covered tamales was an overly heavy, complicated complement. (On its own, it would have been a filling entree.)
Shrimp tacos on small flour tortillas are just-right bites, flecked with fresh cilantro, onion and avocado cream – but am I the only person who thinks the double layer of tortillas is wasteful? Speaking of tortillas and chips, these housemade beauties are overall terrific, but perhaps a little gnarlier and more substantial than the machine-made varieties you may be used to. The thick, deep-fried chips that came with the excellent guacamole also seemed like a bit of lily-gilding, and the cilantro-topped cheese dip, while more complex than the usual thin white "queso," a quickly thickening mass. (The Bob Armstrong version, named for the famous Austin dip, is even richer, with ground beef and avocado.) Enchiladas are offered with an optional fried egg. This is not spa cuisine, mis amigos.
On my second visit, I encountered the dish that stands out as most emblematic of the restaurant's ethos of abundance: the house version of fish tacos. The daily catch (in my case, snapper) is fried whole and topped with paper-thin slices of radish, onion and sprigs of cilantro, with two paper-wrapped rolls of tortillas. I thought surely this single entree would be a small fish, but no … the waitress soon presented a giant platter overflowing with crisp, whole snapper.
It was fabulous – but easily enough for three people, especially with the sides of rice and beans. I could hardly think of a more pleasant dinner than leisurely sampling a few drinks while picking the succulent meat from the bones and making bite after bite to order with the tortillas – this one with a little tomatillo sauce; that one with a smear of beans; maybe one more topped with guac and radish. But lord have mercy, this was a lot. (Although we did save room for the excellent tres leches cake, named for the three kinds of milk it's doused with.)
We ended up taking lots of leftovers home – even more, thanks to our waitress, who smilingly nabbed us some extra chips, salsa, rice and beans. The giant bag was so large we almost felt we were experiencing the Miracle of the Tortillas and the Fishes, in which a small order inexplicably multiplies into many, more meals than you could possibly have expected.
Oh, that Fry guy is smart. He knows this kind of largesse pays off. It's worked out so well so far for him that at presstime, Atlanta's most prolific restaurateur was scheduled to open another new Superica in Buckhead in late June. (Fry's first Tex-Mex effort, El Felix, is still open in Alpharetta's Avalon.)
I'll be back, as soon as I can find two friends who like fish tacos.
---
Superica
99 Krog Street (in Krog Street Market), Atlanta
678.791.1310 or supericaatl.com
Lunch and dinner daily; brunch Saturdays and Sundays
Free in Krog Street lot or paid valet
Cowboy boots mandatory, even in August
---
Love for Georgia Wines
Several local chefs this summer teamed up for a dinner at New York City's famed James Beard House that incorporated iconic Georgia ingredients paired with wines and spirits from the state's wineries (Habersham, Frogtown, Wolf Mountain, Cenita), breweries (Three Taverns) and distilleries (Old Fourth Ward, Thirteenth Colony). Among the chefs participating were Kathleen McDaniel of Atlanta's Murphy's; Dave Larkworthy of Five Seasons Brewing; and Doug Turbush of Marietta's Seed Kitchen, along with sommelier and wine writer Gil Kulers.
The menu included this touch-every-base appetizer: Coca-Cola-cured Frenched Georgia quail with Thirteenth Colony Distilleries Bourbon–mayhaw gastrique. Chef Holly Chute, who heads the state Department of Agriculture's efforts to increase awareness about local fare, coordinated the dinner, which she describes as "like the Academy Awards or Super Bowl for chefs."
Chute says the state's wines surprised the Beard House's sophisticated palates. At a similar dinner last year, she had to retrieve a bottle of Yonah Mountain red from the kitchen to show its label to a doubting diner. "He didn't believe it could be from Georgia," she says, chuckling.