Coloring Outside the Lines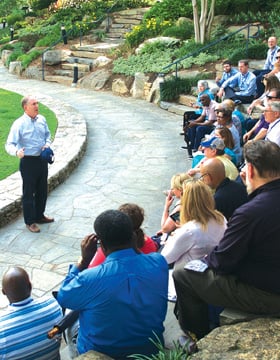 In these days of shrinking budgets and growing to-do lists, it's more important than ever for municipal officials to have the tools they need to ensure the economic good health of the communities they serve. Fortunately there is a workshop for Georgia officials that is as much fun as it is educational.
"Since 2001, the Georgia Cities Foundation's Heart and Soul Bus Tour has highlighted and showcased the downtown revitalization efforts of selected cities," says the Georgia Municipal Association's Director of Community Development Perry Hiott. The GMA partners with the GCF on the tour. "In 2014, the Heart and Soul Tour was repurposed into a mobile workshop training opportunity for city officials who are interested in downtown revitalization."
This year's tour rumbled through the state's northeast region in May visiting Duluth and Gainesville, and, in a first-ever trip outside the state, Greenville, S.C. This step outside the lines is part of the GCF's strategic plan and an opportunity to show officials the best of downtown revitalization without regard to state borders.
"We looked at several cities outside of Georgia and selected Greenville, S.C., for two reasons," Hiott says. "First, Greenville has an amazing story to tell regarding the transformation of its downtown area; second, Greenville's proximity to Georgia and the I-85 corridor made it logistically possible to include it in our workshop.
"The cities of Duluth, Gainesville and Greenville were selected [as part of the same tour] primarily because of their strong leadership, along with their emphasis on downtown master planning, their desire to create a sense of place and their emphasis on the arts, including public art, in the downtown area," he adds.
Here's a look at what these three cities are getting right when it comes to downtown development.
---
Duluth
Duluth is a small town (pop. 29,000) in huge Gwinnett County (nearly 900,000), that has rebuilt itself several times, the last being a charm.
"It took 10 years [to develop downtown], to build the right mix of public buildings and open space around the 143-year-old historic center, but it's paying off," says Chris McGahee, Duluth's economic development manager.
The city eliminated barriers to development, then the Downtown Development Authority recruited visionary but practical developers. One result is a mixed-use development featuring 375 multi-family units, 11 live/work retail spaces and two restaurants.
The city is also leading the redevelopment of Parsons Alley says McGahee. Working with Vantage Realty Partners, Fabric Development and TSW Design, a $7-million investment will result in a central plaza, parking and 50,000 square feet of restaurant/retail space, including Dream- land Bar-B-Que, which is already feeding hungry visitors.
The developers previously worked in Atlanta's hip Castleberry Hill neighborhood and will build on a vibe that's been emanating from Red Clay Music Foundry for years. This 260-seat venue has a Gwinnett School of Music location in the basement and owner/promoter Eddie Owen features concerts by artists like Shawn Mullins.
Duluth is also adapting and adopting the 10/10/10 rule espoused by author and downtown development guru Roger Brooks. The rule includes a goal of having 10 full-service restaurants, 10 destination retail establishments and 10 businesses open after 6 p.m.
"Roger Brooks promotes the 10/10/10 rule as a way to create a vibrant downtown activity center," says McGahee. "He gleaned the concept after studying 400 of the most successful downtowns in the United States and Canada. They all have 10/10/10 in common. The rule essentially creates a downtown economy that takes advantage of the population's leisure time to visit and participate in downtown. It gives a visitor something to do in a special place, and it works economically, socially and culturally."
Duluth Mayor Nancy Harris noted the importance of a vibrant culture in attracting young residents – and older ones as well. "We want to be a destination for all from age 5 to 85. In such a diverse city, we use art as a universal language."
"Duluth is a suburb in one of the most suburban counties in the country. We fully embrace that," says McGahee. "We are working as hard as we can to create walkable urban amenities, and that means density. Developers drive density, and so we say we will consider your density if the location is right and you meet our construction standards."
Duluth also has its eyes on the development of a trail, "a multi-use path along Chattahoochee Drive much like the BeltLine concept," says McGahee. It would extend Main Street to the new Sugarloaf Market complex, a mixed-use development of residential and retail space from Fuqua Development.
Elsewhere, the old, long-vacant, eight-acre Proctor Square shopping center is transforming into The Village in Duluth with a parking deck, restaurants and 375 residential units. The city created a Tax Allocation District and was awarded Opportunity Zone status to help defray costs and encourage the project.
---
Gainesville
Flanked by mountains, lakes, chicken farms and food processing factories, Gainesville (pop. 38,700) is nothing if not bustling. Officials have placed a high priority on maintaining the integrity and character of the city's historic downtown, while working to connect downtown to the rest of the city – in part with a popular new park.
The rails-to-trails Midtown Greenway is a 12-foot-wide paved path that follows the north-south CSX railway line. Phase 1 includes a five-acre trailhead and park, with plans for a three-mile trail that would connect to a proposed 15-mile loop trail that would reach from downtown to Lake Lanier.
"There were a lot of skeptics, and we had to assemble a lot of properties, but property values are rising," says Jessica Tullar, special projects manager for Gainesville, about the impact the trail is having on the area. [Learn more about the Midtown Greenway in "On the Right Path," page 36.]
Gainesville is also growing student-centered tourism as Brenau University moves students and faculty into the former Georgia Mountains Center downtown. The Brenau Downtown Center houses the university's growing graduate programs in physical therapy and other professional healthcare disciplines.
The new facility also features a portion of Brenau's multimillion-dollar art collection hanging alongside the physical therapy classrooms. The collection began when former President John Burd placed an ad in The New York Times and reached out to donors and artists in the 1980s seeking art for the campus.
The center's new Manhattan Gallery features two Andy Warhol portraits, one of Jimmy Carter and one of his mother Lillian that were donated in 2013 by the Warhol Foundation, as well as an exhibit from the collection of Dorothy and Herbert Vogel, a librarian and postal worker who collected art in New York City. The pair's amazing story can be seen in the film Herb and Dorothy 50×50. Herb passed away in 2012; Dorothy still lives in New York.
In addition to pieces from the Vogel's collection, the Manhattan Gallery also includes works by Robert Rauschenberg, Kiki Smith, Francesco Clemente, Salvador Dali and Helen Frankenthaler.
Between the city's administration building and Brenau Downtown Center sits Roosevelt Square, a gathering space under renovation this summer. Plans include space for events and activities, a water feature and new trees and landscaping. Visitors will also see easier accessibility for everyone and a fountain/memorial to public safety workers. Of course, there is the monument to President Franklin D. Roosevelt that gave the square its name. Roosevelt visited Gainesville in 1936 following a devastating tornado and again the next year after some rebuilding had taken place.
A goal for downtown is to draw more residents. In fact, housing is an issue that's being addressed across the city.
"We have high poverty on the south side right by extreme affluence," Lackey says. "Housing is an issue, ranging from $100,000 to $150,000 for older stock to $650,000-plus with nothing in the middle." To help solve some of the area's housing problems, officials are working to create a land bank authority with Hall County.
A land bank authority would provide the city with the ability to clear abandoned, foreclosed or tax-delinquent properties. A land bank could also purchase the property or receive it through donation, and the bank could refurbish or destroy the buildings, with the goal of returning the property to the tax roll. This is just one tool the city and county are looking at.
"We need other tools and incentives like density bonuses," he adds. "We are working on an overlay district where you could demo 10 houses if you replace them with 20 that meet a set of architectural requirements."
---
Greenville, S.C.
For its first-ever trip outside the state, GCF and GMA staff selected Greenville, S.C., assuring tour participants that downtown Greenville would blow everyone away. It was no exaggeration.
Here, style, walkability and aesthetics are built into an immaculate downtown that has an almost European feel. "We've been working on [downtown] for 36 years," says Downtown Development Manager Mary Douglas Hirsch.
Greenville is another smallish town of 64,500, but it has cultivated a robust economy of 100-plus restaurants and 100 shops downtown, mostly independent. The city has reduced its Main Street from four lanes to two and widened sidewalks to allow space for outdoor cafes, says Deputy City Manager and Director of Economic Development Nancy Whitworth. "Now there are 13 hotels, residential condo sales are going from $250 – $450 per square foot and there is a need for affordable housing. National retailers are moving in, and retail rents are escalating.
"We had a TIF, like [Georgia's] TAD, that recently expired. Years ago the city began looking at alternative revenue like hospitality tax, as well as other creative financing," says Whitworth about the ways the city is financing improvements.
Some of the more recent projects include the Village of West Greenville arts district, $20 million to move public works and build a new park in a flood plain, and an extension to Swamp Rabbit Trail, a 21-mile economic and tourism boon that saw more than 500,000 visitors and $6.7 million in tourism revenue last year.
As beautiful as Greenville is, there are still challenges, including transit, says Whitworth. The city has free trolleys that cover downtown on weekends and some evenings, they also take riders to Fluor Field at the West End, which is home to Boston Red Sox-affiliate Minor League Baseball team the Greenville Drive. In addition, nearby Furman University has a shuttle to get students to and from downtown.
The city also encourages cycling and walking as commute alternatives. "Swamp Rabbit Trail has become a commuter route for the cycling community, and it's only 20 minutes to the mountains," says Whitworth. The trail also extends to Furman and the town of Travelers Rest. And the city has invested generously in public art to make the stroll enjoyable.
Adding greenspace has also contributed to the walkability of downtown. The 26-acre Falls Park opened in 2004 after Camperdown Bridge, a freeway bridge that was still in use, was removed and replaced with a pedestrian bridge – a one-of-a-kind design by bridge architect Miguel Rosales and built by Stuttgart's schlaich bergermann partner – a collaboration that reflects the city's multicultural population. The park cost $13.5 million and has sparked more than $150 million in adjacent private investment.
---
Learning from the Best
Over the two-day event, participants shared how they were dazzled by the vision and tenacity of these city leaders. All three cities weathered the recession and are now looking at smart development – which includes the arts as a critical ingredient to downtown revitalization. All are also turning to higher-density projects and walkability, while dealing with affordable-housing and transportation challenges.
"This year's tour marked the first time that we have visited an out-of-state city, and we hope to continue this practice periodically in future years," Hiott says. "We have received excellent feedback from this year's workshop participants, and we are very pleased with the continued evolution of this event into a mobile workshop training program."