Branching Out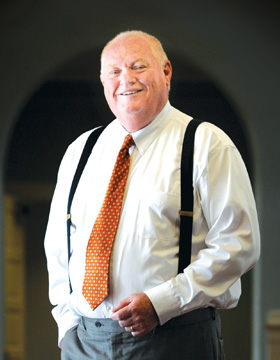 For more than 100 years, Abraham Baldwin Agricultural College (ABAC) in Tifton has been nurturing students in their studies of plants and animals, from crop and soil science to forestry and livestock production. And while the school is firmly rooted in agriculture – after all, it's part of the school's name – it's planting the seeds for so much more.
From the first 27 students in 1908 to the nearly 3,400 students currently on campus, ABAC has spent more than a century ensuring that students from all walks of life have access to a unique center of learning in South Georgia. But education doesn't just take place in the classroom. Students get real-world experience through internships, cooperative education and study abroad programs.
"ABAC has always been more than an agricultural college," says Gail Dillard, interim vice president of academic affairs. "Our well-respected degrees in biology, business, nursing, rural studies and music, as well as our strong core curriculum, support breadth."
The school also serves as an integral partner and economic generator in Southwest Georgia, with a $330-million economic impact on Tift County and the surrounding communities during the 2014 fiscal year and the creation of 1,344 full and part-time jobs.
"Georgia's largest industry is agriculture and always has been since Oglethorpe landed," says David C. Bridges, who has served as president since 2006. "Agriculture touches every part of our state, every person."
While agriculture is and will continue to be at ABAC's core, the fields of study are diverse and growing. Just as an experienced farmer would diversify and grow, the college is widening its rows and expanding on what it does best – preparing fertile ground for educating students to prosper in rural Georgia, on or off the farm.
---
Supporting Agriculture
Agriculture has been ABAC's main focus since the Georgia General Assembly started it as the Second District A&M School, one of 12 state-run agricultural and mechanical schools designed to fill a void from the lack of accredited high schools in the state. At first, these schools were intended to be college prep boarding schools for students 14-21 years old, but they later morphed into schools focused on college curricula.
The Second District A&M School opened in February 1908 with 27 students. It was renamed South Georgia A&M College in 1924 and transitioned to college courses. In 1929, its name changed again to the Georgia State College for Men and finally became ABAC in 1933.
No matter the name, the school has always supported Georgia's No. 1 economic engine.
"In two-thirds of Georgia's 159 counties, agriculture is the No. 1 or No. 2 economic enterprise," says Bridges, the first alumnus ever to serve as president and a native farm son who came to ABAC to assist the next generation to live and work in rural Georgia. "Our state should have a plan to invest in its largest industry that provides an economic impact of approximately $70 billion."
ABAC and its School of Agriculture and Natural Resources are an important part of that plan, with programs such as an innovative rural studies bachelor's degree to address the changing rural landscape. The interdisciplinary program is unique, providing a holistic education that goes beyond a straightforward agriculture degree and emphasizes social responsibility, hands-on learning and a sense of cultural understanding. With the rural studies degree, students study business and economic development, politics and modern cultures, social and community development, and writing and communication.
"Our interdisciplinary rural studies program is the only undergraduate program of its kind in the U.S.," Dillard says.
Because the program focuses on the social, demographic, political and cultural aspects of rural development, students may use the degree to work in nonprofits, public administration, governmental agencies, chambers of commerce, ag-related publications, social work or for graduate study in psychology, sociology and human services.
---
A Growing Industry
Here in Georgia, agriculture doesn't just mean peanuts and cotton anymore. The state has become more highly mechanized and diversified, and ABAC has evolved right along with it.
While for years the school offered two-year associate degrees, in 2008, ABAC began offering four-year degrees in diversified agriculture – with tracks in ag business, crop production, crop and soil science, general agriculture and livestock production – and in turfgrass and golf course management. Those two programs initially attracted interest from 40 students; in fall 2015, nearly 1,400 were enrolled in those programs.
In 2011, ABAC also introduced majors in forestry and wildlife management, with enrollment more than doubling in those programs over the past five years as well.
"The rate of growth is phenomenal," says Bridges, adding that a study by the USDA and the U.S. Labor Department shows steady growth in ag-related industry projecting a 10 percent to 15 percent increase in the next five years.
All of these programs fall under the umbrella of the School of Agriculture and Natural Resources, and Dean Jerry Baker believes that students need a background in all agricultural areas, including human resource management, to prepare them for agriculture's broad segments.
For example, the forest resources department prepares students for careers in sustainable management of natural resources with courses focusing on timber management, biology, genetics, game species and non-game species such as birds, owls and feral hogs.
As part of their education, students' research projects have taken them to Sapelo Island to help the Department of Natural Resources in its efforts to restore the island to its original state and manage invasive species while the natural eco-system takes over. Students have also engaged in a project on bluebird nesting boxes for the Albany Audubon Society.
Students themselves are also more diverse, as ABAC focuses a number of resources on outreach to traditionally under-represented students. In fact, the college recently received a $2.13-million, five-year federal grant that will allow the school to continue to offer financial support to migrant students and families through its College Assistance Migrant Program.
"The agriculture path of study area serves many segments of the Southeastern economy," says Baker, a recognized leader in animal genetics and a fellow of the American Association for the Advancement of Science. "Many graduates enter the family business or work for companies such as Dow and Monsanto or in livestock production, agricultural engineering and erosion control."
Rising senior Amanda Stitt plans to combine agriculture with her love of writing. Currently completing an internship in the communications division of the Georgia Department of Agriculture, Stitt thought ABAC was a stop on the road to the future, not her destination.
"ABAC won me over my freshman year with a caring faculty and staff, a dynamic mix of classes and the experience needed for the agricultural industry."
---
A Shot in the Arm
While Georgia's leading industry continues to be ABAC's core, the school is branching out and offering new opportunities. In addition to the agriculture degrees, the school offers degrees in five other schools: Human Sciences, Liberal Arts, Nursing and Health Sciences, Science and Mathematics, and the Stafford School of Business.
This summer, it launched a new bachelor's degree in nursing, and next year, ABAC will offer a track in community health, which will be geared toward students with an interest in healthcare, but who do not want to be practitioners. The courses are a result of numerous conversations with healthcare providers as well as research in rural health and its future to ensure that the classes are providing students with useful information they can build a career on.
Housed in the School of Nursing and Health Sciences, the track will prepare students for emerging jobs in healthcare such as hospital and medical office administration and affiliates, with courses in business, psychology, sociology and technology with an emphasis on healthcare perspectives.
Troy Spicer is a nurse educator and nurse practitioner with more than 30 years of experience, primarily in community healthcare. Originally from Irwin County, Spicer graduated from ABAC's nursing program, worked in acute care at various Atlanta hospitals, organized not-for-profit clinics for the poor and taught nursing at Kennesaw State University before returning to teach at ABAC. These experiences serve him well in his role as dean of the School of Nursing and Health Sciences.
"ABAC has been educating nurses for 50 years and is one of the top schools in the state of Georgia based on number of graduates and pass rates on the National Council Licensure Examination, a nationwide exam for the licensing of nurses in the U.S. and Canada," says Spicer. "Our graduates are preferred hires."
The associate of science in nursing degree program was established in 1966 and has an employment rate of 100 percent. With 220 nursing students currently in the program coming primarily from the 10 surrounding counties, the focus is on turning out work-ready nurses and advocates in the constantly changing technology of healthcare.
"With the material so challenging and the stakes accordingly high, there is satisfaction in watching nurses become sought-after professionals," he says. "As the older population grows in number, the need will increase for highly trained professionals. As healthcare becomes more technologically driven, ABAC depends upon developing a body of knowledge and the best way to teach nurses to deliver highly effective care."
In addition to the associate degree in nursing, ABAC also offers a one-year registered nurse track – an accelerated program for licensed practical nurses, paramedics and respiratory therapists – and, starting this summer, a bachelor of science degree in nursing, with a path for those with associate degrees to the four-year degree.
The new bachelor's degree is already attracting students. Courtney Jones, R.N., received her associate degree from ABAC and is currently pursuing her bachelor of science in nursing while working at Colquitt Regional Hospital.
"I heard that ABAC was offering a B.S. in nursing, and I knew that was for me," Jones says. "The nursing program has provided me with a working knowledge of the foundation of patient care, and I can continue my education and work as well."
---
Campus Evolution
As the school's enrollment has grown, so, too, has its campus. In 2013, the college completed a renovation on its historic portion of campus, focusing on the school's three original buildings – Tift, Lewis and Herring halls.
This summer, the $8.5-million, 20,966-square-foot laboratory sciences building will open. The facility includes eight laboratories for general biology, microbiology, molecular biology, chemistry, tissue culture, organic chemistry and anatomy/ physiology, with preparation rooms to support each lab. So no matter what degree a student is pursuing, they will pass through the lab building's doors at some point in their schooling.
The school is also strengthening its support of the military. Last summer, the Veterans Success Center opened in the J. Lamar Branch Hall. Its mission is to provide services and support to veterans, military family members and those currently in the armed forces.
Other recent campus projects include renovations to King Hall, which is home to the School of Liberal Arts, and transforming Thrash Gym into a wellness center.
The school also continues to build community partnerships as a key tenet of its educational mission. Business professionals serve in an advisory capacity, providing current trends and needs in their fields as well as offering internship sites.
"With over 200 students completing an internship this summer, ABAC students are provided real-life experiences," says Darby Sewell, assistant vice president for academic affairs, engaged learning. "Students apply their knowledge beyond the classroom that launches careers."
The School of Agriculture and Natural Resources, and the rural studies program, partners with all kinds of organizations out in the community, including chambers of commerce, the Cooperative Extension Service, the Georgia Forestry Commission, the Georgia Cattlemen's Association and the Department of Natural Resources, as well as companies like Helena Chemical, Monsanto, Bayer Crop Science and Sanderson Farms.
Tift Regional Health System partnered with ABAC to create a Dedicated Education Unit at Tift Regional Medical Center. There, senior nursing students can get real-world training with an experienced nurse. The School of Nursing also works with Colquitt Regional Medical Center, Phoebe Putney Health System, South Georgia Medical Center in Valdosta, Turning Point Healthcare and the Greenleaf behavioral health and substance abuse treatment center in Valdosta.
Bridges believes that "setting yourself apart, embracing who you are instead of redefining is the key to growth – expanding the margins and being better at what we do." Bridges' three areas of emphasis for ABAC's future include agriculture, education and economic development.
This last one is a big priority for Bridges, with a goal to not only provide an educational opportunity for young folks, but also to support the agriculture industry, enhance rural communities across the state, and give a new generation the opportunity to return to their own roots and create a career in their hometown. "What could be better for rural Georgia?" he asks.