Southern Investments
Four CIDs in South Metro Atlanta are working to increase prosperity and beautify their districts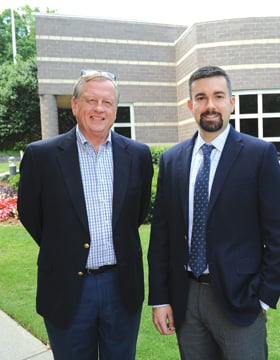 South Metro Atlanta is booming these days. For years it's been home to Hartsfield-Jackson Atlanta International Airport – the world's busiest airport – along with warehousing, distribution centers and logistics operations. Now it's branching out. Porsche's new headquarters has raised the profile of the entire area, giving leaders the confidence to go after a broad array of businesses and showing businesses that it's time to invest in the area to make it more attractive, safer and business friendly. Four community improvement districts (CID) – Boulevard, South Fulton, Atlanta Aerotropolis and East Metro DeKalb – are leading the charge.
CIDs consist of business property owners in a particular geographic area who band together to pay extra taxes – yes, you read that correctly – up to five mills, to help pay for local projects. They must have the okay of local governments and the General Assembly, and once formed expect to have a strong voice in conversations about traffic planning, infrastructure improvements, public safety and beautification efforts.
These entities that bridge the gap between the public and private sectors play a huge role in the economic development of their districts. As the airport grows, traffic increases and new businesses see the area's potential, the CIDs are ramping up and tackling issues including crime and transportation.
---
Boulevard CID
It was 2007, and officials at Miller Zell had seen enough.
For 40 years, the retail store design company had been a major player in the Fulton Industrial Boulevard area, overseeing 800,000 square feet of real estate and employing more than 400 people. But management had become increasingly alarmed as conditions in the area grew worse each year.
Vagrancy and crime were increasing. The area was taking on a seedy appearance. Prospective business clients began to cancel meetings once they had a chance to survey the neighborhood. Prospective hires would sometimes accept a job offer, but renege once their spouses looked the area over and expressed doubts about their safety.
"We were ready to step across the river into Douglas County," says David Seem, Miller Zell's chief financial officer. "We were contemplating the move because we weren't getting cooperation from county officials and law enforcement. But we had some Fulton County officials who convinced us to stay and convinced us that formation of a community improvement district might help solve some of the problems."
The creation of the Boulevard CID in 2010 has helped revitalize the area. The CID sits west of I-285 and stretches for about eight miles from Charlie Brown Airport to Campbellton Road, with I-20 bisecting it. Fulton Industrial Boulevard is the spine that runs the CID's length. Within its borders is one of the largest industrial corridors in the Eastern United States, with 550 warehouses, 46 million square feet of industrial space and 20,000 workers.
The CID hired a public safety manager, funded additional police officers and started a no trespassing program that empowered police to arrest people who were lurking in the area, all of which helped solve many of the area's crime-related problems – centered around the I-20 exits, according to CID executive director Gil Prado – that were driving business away.
"You go farther than half a mile south of I-20 and it's really a thriving industrial area," Prado says, citing the presence of Coca-Cola, UPS, Frito-Lay and Quaker Oats. "We have some amazing companies."
Prado says the CID has identified some problem areas, specifically those adjacent to the I-20 interchanges. Of 56 parcels, 25 have been targeted as problems – vacant land, blighted buildings, crime-riddled hotels.
One of the first steps in the improvement is aesthetics. Plans are in the works for more streetscape improvements, from sidewalks and crosswalks to signage. A recent project saw the addition of ADA ramps and sidewalks on a stretch of Fulton Industrial Boulevard.
Another step in 2015 was restoration of the Gateway Sculpture, the only remaining piece of a collection of 30 that was installed in the 1960s. The sculpture measures 180 feet by 90 feet by 90 feet and was part of the master plan when the Fulton Industrial Boulevard area was established. The CID funded the refurbishment of the work and the restoration of its original red color.
Prado says the changes are already starting to pay off. Atlanta Beverage has proposed a $25-million expansion of its plant. Studios have purchased lots for movie production. Real estate is changing hands, an indication of new blood, he says.
"We're seeing investment and feel the district is on the cusp of revitalization and redevelopment," he says. "We believe 2016 is going to be a big year."
Meanwhile, Miller Zell is no longer looking for greener pastures. The company is in the process of acquiring a 325,000-square-foot building within the CID to serve as its new headquarters.
"We're laying the groundwork for another 20 years on the Boulevard, because we've seen significant improvement," Seem says. "In six years we've gone from a deteriorating social and economic environment to one that's been a big positive. We believe in the CID, what it's done, and we believe it's going to do more good things in the future."
---
South Fulton CID
Traffic is the most daunting issue faced by the South Fulton CID, which covers 6,446 acres of commercial and industrial property in Fairburn, Union City and unincorporated Fulton County.
The importance of the issue is evident in two of its current projects: the reconstruction of the intersection at I-85 and Ga. Hwy. 74 and the development of a park-and-ride lot in Fairburn.
"With the CSX intermodal line and the growing warehouse space, we have a lot of trucks trying to get access to the interstate," says Joddie Gray, administrator for the South Fulton CID. "Reconstruction of that interchange is a big deal for us. There are more trucks on the road every day. For us that means our area is successful. But it also means more traffic and congestion. Economic development means keeping the traffic flowing and giving them good access."
The interchange is one of the most congested on I-85 south of Atlanta, and volume is expected to increase by 50 percent by 2040, according to one report. A design for the interchange, which will include a partial cloverleaf, is underway, and construction is expected to begin by the end of 2018.
The new park-and-ride is being built on land donated by the city of Fairburn. The project is being funded entirely by the South Fulton CID in an effort to promote carpooling by residents who work at Hartsfield-Jackson Atlanta International Airport. The project is currently under design.
The South Fulton CID's big success last year was completion of an expansion of a 1.69-mile stretch of Oakley Industrial Boulevard. The project was a boost in terms of increasing safety and improving the traffic flow.
"There was a school bus stop there, and the kids were waiting with no sidewalks and trucks were blowing by," Gray says. "It was horrible."
The project expanded the busy road from two to three lanes and added turn lanes and shoulders. New sidewalks help protect children while waiting for the bus, as well as give pedestrians access to local businesses.
Traffic "flows a lot better there," says Carl Matter, general manager for terminal operations south region at CSX Intermodal Railroad. "It was horrible before because trucks had a hard time negotiating that turn. Now with the addition of the turning lane, it allows traffic to turn left without tying up traffic to Peachtree City."
Up next, the South Fulton CID recently received approval from the Atlanta Regional Commission to conduct a multi-modal study.
"The multi-modal for us is goods movement," Gray says. "Although we are very interested in expanding MARTA, too. Because we have a lot of warehousing, we need a workforce that can get to work, and without having good transit access in our area it's difficult. But for us, it's finding out what are the best and most innovative solutions out there for goods movement."
---
Aerotropolis Atlanta
The new Aerotropolis Atlanta CIDs, which was formed in January 2016, is actually a cooperative partnership between the Airport West CID and the Airport South CID. The two groups – the West representing Fulton County and the South representing Clayton County – will remain separate and work together under one umbrella to represent the 100-square-mile area that includes 1.3 million square feet of air cargo space and provides 175,000 jobs.
"We think, like some of the other CIDs, it will organize and spur additional infrastructure improvements and aesthetic improvements," says Christopher Brown, regional senior vice president of Duke Realty and CID board member.
The organization is in the middle of creating a master plan for two projects, with final reports expected in the fall, says Aerotropolis Program Director Kirsten Berry.
The first is a gateway design for the area around I-285 and Camp Creek Parkway. The interchange, currently a confluence of converging traffic from multiple sources, will be transformed by the Georgia Department of Transportation into a diverging diamond interchange, similar to the interchanges at Ashford-Dunwoody Road or Pleasant Hill Road in North Metro Atlanta.
The Georgia DOT is investing more than $8 million in the project, and the CID is investing $1.1 million. The CID is designing bridge and landscape enhancements and is working to ensure a smooth transition. Construction is expected to begin in spring 2018.
"That will certainly help alleviate some of the traffic in that area," Brown says.
The other plan in its infancy is a district-wide beautification initiative that would clean up and enhance the interchanges around the airport.
"We recognize that first impressions are very important, not only for the district, but for the city and state," Berry says.
A smaller-scale beautification plan has already begun, with cleanup of trash and signs on the right-of-ways.
"We've got more plans, but this is what we've been able to implement so far," Berry says.
Some of the plans include hiring a manager to oversee the projects, as well as CID expansion. In addition, the Aerotropolis will build on the public safety program started by the Airport West CID. The program already includes a public safety director, 24-hour private security patrols and a contract with reserve Fulton County officers to supplement the patrols and give the area a 24-hour police presence.
The patrols are using cellphones and tablets purchased by the CID and have successfully caught people breaking into cars.
"We've seen an overall decrease in the crime rate since," Berry says.
---
East Metro DeKalb
The East Metro DeKalb CID was created to affect positive changes in the area of beautification, public safety and transportation along an expansive and diverse corridor. Formed in 2014, the East Metro DeKalb CID covers 39 square miles, from the Gresham Road exit on Interstate 20 to Stonecrest Mall, with 400 commercial and industrial parcels valued at $146 million.
One of the first projects embarked upon by the group was a beautification project of the median at the Wesley Chapel Road exit off I-20. The CID joined with numerous civic groups and business partners to landscape the area and performs weekly maintenance and litter control.
"To bring more people into the area, we're trying to clean up the area," says administrator Nicole Hall. "In a clean environment we typically have fewer crime issues, and it encourages local businesses to keep their areas up."
Another point of emphasis is public safety. The CID has formed a task force, since two DeKalb County police precincts overlap the area. They may hire local law enforcement to increase patrols within the area and use off-duty officers to provide additional security in hot spots.
"The next challenge is safety in the county," says Frederick L. Daniels Jr., executive vice president at Citizen's Trust Bank and CID board chair. "We want to make it a place where business owners will feel safe for their businesses and their customers."
Daniels says it also means code enforcement and a cleanup of low-cost hotels in the area.
After receiving input from public forums and an online survey, the East Metro DeKalb CID embarked on some key initiatives – the exploration of an Opportunity Zone and the pursuit of an Urban Land Institute (ULI) Technical Assistance Panel.
The Opportunity Zone is designed to revitalize commercial and industrial areas and give businesses incentive to create jobs. It would also encourage new businesses to relocate to the area.
The ULI panel would provide guidance from business and development professionals and could be used as a framework for future growth. Hall hopes to have approval by early summer and receive a report and recommendations before the end of 2016.
"These will be industry professionals who will have ideas that will help us come back from challenges in the area," Hall says.
After all, that's the goal of all CIDs, addressing challenges in a specific geographic area.