Fitzgerald/Ben Hill County: Right on Track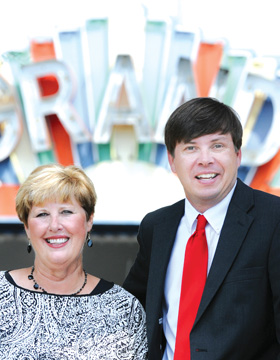 Since last September Jason Dunn has spent his days assessing the needs and assets of the county where he grew up and, after 20 years away, has returned as the new executive director of the Fitzgerald-Ben Hill Development Authority.
The county, located in south central Georgia about 25 miles off Interstate 75, has a rich history and a strong agricultural base but is also home to more than 30 industries, many of which are growing exponentially. A new five-year comprehensive plan based on public participation and input intends to keep that momentum going.
"We do have a unique history, and we like to promote that. Fitzgerald was founded as a place of harmony," says Dunn, noting that the city was designed to be a retirement community for Civil War veterans. That early plan is evident in the names of the streets – those east of Main Street were named for Union generals and those west of Main Street for Confederate generals.
---
Job-Specific Training
One focus of the plan is the creation of a seamless pathway that would take participating high school graduates into the technical college arena. There they will receive job-specific training to directly meet the needs of local industries, industries which in turn will continue to support the community that supports them – an economic circle of life, so to speak.
"We're especially focusing on the kids that we know are going to stay in Ben Hill County and partnering them with industry so that they can transition right into the workforce," says Dunn, adding that, like most South Georgia communities, Ben Hill struggles to keep young people in the area after they graduate. "It's tough to compete with Atlanta."
Mark Sutton, director of Career Technology and Agricultural Education for Ben Hill County Schools for the past 25 years, says the high school has a long-standing relationship with Wiregrass Georgia Technical College, and both institutions are focused on preparing students to enter the workforce. Among the success stories, he says, is the Career Pathways program, offering students options including agriculture, engineering, automobile maintenance, manufacturing, health sciences and information technology.
"Once a student completes three classes in a pathway, they take an assessment test and can enter the workforce with that credential," says Sutton, noting that the school system begins career development at the pre-kindergarten level. Through the Move On When Ready program, Wiregrass partners with 20 area high schools, including Fitzgerald High School. Participation in that program has increased from 250 to 1,100 over the past three years, says Wiregrass President Tina Anderson.
In addition to high school students attending classes at the technical college, Wiregrass instructors also teach academic classes on the high school campus. All of the joint programs allow students to earn college credits while still in high school. In some cases, the student may even complete the tech school program at the same time they graduate from high school, says Sutton, which enables them to go directly to work.
The school system also has a strong work-based learning and youth apprenticeship program, with 49 high school students currently employed by 36 local business and industry partners, adds Sutton. This year alone those students have worked more than 19,000 hours and earned a total of $143,785. "It gives them an opportunity to get their foot in the door and find out if it's a career they want to pursue," he says.
Another direct response to local workforce needs is the Certified Manufacturing Specialist program, now in its pilot year. Interested seniors can earn the certificate that will prepare them for entry-level work, says Sutton. The second phase of the program will be an internship. Local industries have already promised an interview after graduation to those students who earn the certificate, he says.
---
By Leaps and Bounds
While there are a great number of success stories, Ben Hill has its share of challenges, including the current unemployment rate of 7.6 percent. "We are a manufacturing community, so when the recession hit, we got hit hard," says Dunn, who spent the past 20 years in commercial real estate in Albany. "But our manufacturing growth is coming back, and our unemployment rate is dropping at the same percentage as the state and other counties."
For a county of its size, Ben Hill has a very strong industrial base, he says, referencing production of forestry products, cargo trailers, plastics and yarn. Food and beverage manufacturing is also prevalent, including Polar Beverages, which produces AriZona iced tea and various seltzers, and Protein Plus, maker of peanut flour, protein energy products and roasted peanut oils. Peanuts make their way into other products manufactured in Ben Hill, including Golden Boy's peanut butter and peanut butter paste.
Forestry is big business here, with a number of companies producing forestry products and byproducts. Locally owned Southern Veneer Products manufactures plywood and several byproducts such as landscape timbers, wood chips and bark. This summer will bring completion of a $9-million expansion project that adds 60,000 square feet to the facility, creates 35 to 40 new jobs and includes a more modern machine for drying its product, says owner Ken Adams.
A major goal of the expansion is "controlling the energy situation a little better. That's one of our challenges, like with any [Municipal Energy Authority of Georgia] community," he says. "A lot of cities in Georgia have trouble with their power costs. We look forward to working on that and settling those issues and being a little better for the environment as we clean that up."
Smaller businesses in Ben Hill are also experiencing growth, including cargo trailer manufacturer Covered Wagon Trailers, which last year added two additional buildings and 70 positions. Wood processing and manufacturing company Choice Wood Inc. recently started operations in Fitzgerald with plans to hire up to 50 workers, and VLS Recovery Services, a railcar cleaning facility, plans to add another shift this year.
Modern Dispersions South Inc. (MDSI) produces thermoplastic compounds and concentrates used in markets including automotive, agricultural, construction and electronics. Last year MDSI completed the second phase of its latest expansion, adding 60,000 square feet of manufacturing space. "This year MDSI will continue to invest in upgrades ranging from production equipment, research and development, and plant infrastructure," says President Marton Kozma.
There is plenty of opportunity for new industry in the county as well. Dunn is currently marketing about 700 acres of industrial property, including sites available at the Colony City Industrial Park, Millennium Technology Pointe and the 156-acre Perry House Road Site, former location of the Delphi plant that closed in 2007.
"The Perry House Road tract is a premium location that not only has electric, water, sewer and fiber on site, but is also rail served by CSX. We're pursuing GRAD [Georgia Ready for Accelerated Development] accreditation on the site. At that point, the tract will be a great opportunity for any prospect looking to grow into or expand within our region," he says.
Dunn's efforts are bolstered by Neesa Williams, director of the Fitzgerald-Ben Hill Chamber of Commerce, who plays a big role in the growth and success of her adopted county. Williams assists prospective business and industry representatives and extends her scope of services to them once they've located in the county.
"[Dunn] finds them and brings them, and I work with them and hopefully keep them," says Williams, who has increased chamber membership since she took on the role and continues to add new members every month. A structured chamber membership program has made it more enticing for both large companies and small, allowing Williams to customize services according to level of membership.
---
All Aboard
Ben Hill County is a vital stop on the CSX mainline that ties Atlanta and north Georgia to the ports of Savannah, Brunswick and Jacksonville. GBW Railcar Services, specializing in repairing railroad cars, completed a $12-million expansion late last year, adding 75 to 100 jobs to the payroll, says Vic Bowers, regional vice president, region 4. "The expansion was primarily related to a tank car cleaning facility and an inspection track," he says.
The Fitzgerald facility, one of 34 GBW locations in North America, was selected for the expansion because of its location on a Class 1 railroad and the heavy traffic pattern of tank cars, says Bowers. The new state-of-the-art cleaning facility makes the South Georgia location GBW's first "supercharged" site and the largest and most technologically advanced in its operations, says Bowers.
Expansions like GBW's require an educated workforce, which makes local industry leaders eager to serve on Wiregrass's advisory council, offering direct input regarding workforce needs that can influence programming. As a result, classes offered vary from campus to campus, depending on specific community needs, says April McDuffie, associate vice president for operations at the Ben Hill-Irwin Campus, where enrollment has increased the past two semesters.
"GBW has a huge need for welders, and our welding instructor works directly with them to supply the welders that they need," says McDuffie. Some of the increased need for welders is a direct result of the current deepening of the Port of Savannah, which has increased the amount of rail traffic through the area, she says. "We found that beyond railcar welders, they need railcar repairmen, so hopefully this fall we'll be starting a new railcar technician program, which is half railcar welding and half repair."
Also unique to the Ben Hill-Irwin County campus is its Telecommunications and Security Technology program. The school boasts the best telecommunications program in the state, with students repeatedly winning state and national SkillsUSA competitions since 2010, including one student ranked second in the nation, says Lydia Hubert, Wiregrass's director of marketing and public relations. Graduates leave prepared to work for any telecom company, including Windstream Communications, which locally has invested $3.9 million since 2014 to upgrade its broadband network.
---
Touting Tourism
Mayor Mark Massee has much to be proud of in downtown Fitzgerald, where the Downtown Development Authority has entered into a lease purchase arrangement with residents Bill and Sue Rochfort. Sue Rochfort hosts the Atlanta-produced Antiques and Estate Jewelry with Sue, a television show on which she sells antique jewelry and furniture. The couple is rehabbing a number of vacant downtown buildings to create a television production studio that will allow her to produce the shows locally beginning in September, says Massee. Additional renovated spaces will be used to store sets for the show and to house the Rochfort's proposed restaurant, retail and wholesale sales operation, and art gallery, he says.
Also a jewel is the Grand Theatre, a 1930s restored art deco movie theater and home to a historic 1926 Barton theater organ. Recent enhancements include turning the second floor into a meeting space that can accommodate 200, restoring the marquee, upgrading the theater's projection system to digital and installing a new lighting system.
Overall, Fitzgerald has done well by its historic structures, with 100 years of architectural development visible throughout the county. The diverse heritages of settlers are evident in the variety of architecture that remains.
"I'm interested in figuring out how to use our history and our heritage to define our future," says Philip Jay, county commission chairman, whose family was among the first to settle in the county. "If we cannot figure out how to distinguish ourselves, we're going to go where every other small community is going to go. We may survive, but our ambition is to do a lot more than that. … The ability for us to profit from our differences and our diversity is what's going to be tested."
Massee, too, sees tourism as part of the town's future success. For instance, the wild chickens that have roamed free for over 30 years in Fitzgerald were not long ago a source of heated debate among locals. The oddity became a tourism draw that resulted in the Wild Chicken Festival that injects thousands into the local economy each year. It's that kind of willingness to set aside personal opinion for the betterment of the community that has Dunn excited about the future here.
"It's cool to be back and be part of a team creating a healthier economy," says Dunn. "Every day I hope to have a positive impact on this community by growing the industry we have, recruiting new [companies], strengthening our workforce or even doing something as simple as picking up litter while walking back from lunch," says Dunn, happy to be back in his hometown. "It's been a great homecoming."
---
Local Flavor
Feeding the World: If there's one thing in plentiful supply in Georgia, it's peanuts. And for countries struggling to provide food for their citizens, children in particular, peanuts can literally mean the difference between life and death. Recognizing the nutrition peanuts can provide, MANA Nutrition created a product to help relieve severe cases of malnutrition in children around the world.
MANA – Mother Administered Nutritive Aid – is a ready-to-use therapeutic food made of a fortified peanut paste carefully formulated to provide a child's basic nutritional needs. Roughly three servings of MANA a day for six weeks can save the life of a child suffering from severe acute malnutrition (SAM), says CEO Mark Moore.
Moore spent nearly 10 years working in eastern Uganda, serving as a rural community development worker and missionary. During that time he witnessed firsthand the heartbreaking struggle of mothers who often couldn't feed their children. When a limited amount of food is available, often parents and children must rotate, eating one day but not the next.
"These kids are no longer hungry – they're beyond hungry because of the deficiencies," he says. "If you cease to be hungry, you're in trouble."
Today, MANA Nutrition can produce enough to feed about 4,000 children suffering from SAM over six weeks. Founded in 2009, the company partners with USAID and UNICEF to ship the product through the Port of Savannah to 40 countries, including Ethiopia, Somalia, South Sudan, Rwanda, North Korea and Guatemala.
Fitzgerald is an ideal location for MANA because of the plentiful supply of peanuts in the area. Golden Boy, a local manufacturer, provides them with peanut paste to which MANA adds milk and vitamins, creating a product that is essentially part food, part medicine, says Moore.
The company has expanded its workforce rapidly, adding a third shift and more warehousing space in Fitzgerald, and plans are in the works for another expansion later this year or in 2017. – K.K. Snyder