Changing it up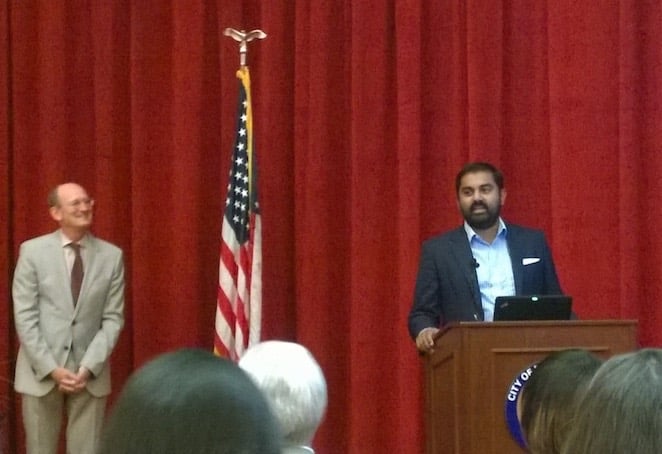 Young Gamechangers, a leadership program of GeorgiaForward, delivered a package of big, bright, brilliant ideas for ways Douglasville, just west of Atlanta, can draw more millennials to the area. GeorgiaForward, a nonprofit devoted to improving intra-state relations, developed YG to focus the best minds in the state under 40 on developing solutions to the problems of one community.
Douglasville, a town of nearly 33,000 people, has traditionally served as a bedroom community to Atlanta, but employment opportunities are growing in the area, including last year's announcement by Google that it would expand its data center in nearby Lithia Springs, boosting total employment to 350. Google also provides free Wi-Fi to downtown Douglasville.
"We couldn't be happier for Google to be part of this," said Amol Naik, the head of external affairs in the Southeast for Google Fiber and a participant in the 2014 YG program.
The 45 members of this year's YG class, with 15 each from Douglas County, Metro Atlanta and greater Georgia, created a plan for Douglasville with recommendations including:
A creativity corridor through downtown to connect the Douglas County Museum of History and Art, the Conference Center, a former jail site that could be repurposed as a performance/market space and O'Neal Plaza.
Pedestrian and bike paths, bike-share facilities, cultural markers, signage and landscaping through downtown and connecting to the Silver Comet Trail and trails of the Chattahoochee River corridor.
A cultural collaborative commission that would include county organizations and governments as well as groups just outside the county working together on tourism, the arts and community development.
D3 (Destination Downtown Douglasville), which would take advantage of the planned relocation of Highway 92 that will move commuter traffic away from downtown, to develop the downtown that residents want and create an attractive gateway corridor into the area.
A new mixed-use development at the entrance to downtown, as well as beautification projects that would help draw people downtown.
An interactive, STEM-based Exploratorium education center and a manufacturing incubator.
A workforce development alliance that would focus on enhancing work readiness and reducing barriers to employability.
An extension of the proposed Aerotropolis Corridor, which is projected to run along South Fulton Parkway from Hartsfield-Jackson Atlanta International Airport to just inside Douglas County. The extension would take it deeper into the county to Douglasville and create a link from Metro Atlanta to Alabama, with Douglasville in between.
These proposals may sound like pie in the sky, but these young dreamers base their recommendations on the availability of resources to support these projects, successful results from similar projects in other areas and existing plans that are already underway.
"I am blown away," said Douglasville Mayor Rochelle Robinson. Next year YG will bring some big ideas to Augusta.
Photo at top, A.J. Robinson, executive director of Central Atlanta Progress, left, and Amol Naik, the head of external affairs in the Southeast for Google Fiber and a participant in the 2014 YG program. Photos courtesy of Ben Young.