2016 Legislative Recap: Progress, Compromises and Taking a Stand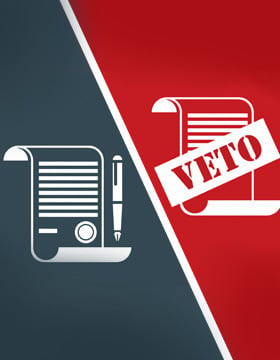 Vetoes loomed larger than legislation this year, and what didn't get done all but overshadowed what did.
Gov. Nathan Deal stole lawmakers' thunder when he vetoed HB 757, the Act To Protect Religious Freedoms, which would have permitted businesses to refuse services to the LGBT community under certain circumstances. And again, when he vetoed HB 859, which would have allowed guns on public college campuses, and HB 1060, which would have made it harder for churches to keep weapons out.
Just prior to the session, the governor decided not to push for legislation this year to implement recommendations of his Education Reform Commission.
What did come out of the session was progress on criminal justice reform, some help for struggling rural hospitals and a late compromise that will provide an opportunity for MARTA expansion.
The only significant education measure that passed, SB 364, greatly reduces the impact of students' test scores on teachers' evaluations.
The vetoed religious liberty bill had support from religious conservatives but strong opposition from the state's business community and others who saw it as discriminatory.
"Our organization has had a very clear position," says David Raynor, senior vice president of public affairs for the Georgia Chamber of Commerce, "to ensure that Georgia is able to grow its economy and maintain its reputation as a leader for global commerce and would oppose policies that would promote discrimination or have a discriminatory effect.
"Our members felt the final proposal around religious liberty would have had this type of discriminatory effect on some segments of our population, which is really counter to the welcoming image we want to have for our state," he says.
Deal announced his veto just days after the session ended, saying, "Our actions on HB 757 are not just about protecting the faith-based community or providing a business-friendly climate for job growth in Georgia. This is about the character of our state and the character of its people."
After the campus carry bill passed, the governor expressed concerns over its effect on daycare centers, administrative offices and other places on campus; he appealed to House Speaker David Ralston and Lt. Gov. Casey Cagle to make changes, but they did not. He announced his veto on deadline day, May 3.
---
Sound And Fury
Social issues like religious liberty, campus carry and loosening of medical marijuana restrictions (Haleigh's Hope, Part II, which did not pass) pretty much sucked the air out of the session, which accomplished relatively little – even by election-year standards.
"Disappointing," says Kelly McCutcheon, president and CEO of the conservative Georgia Public Policy Foundation, in characterizing the 2016 session. "A lot of missed opportunities."
"It didn't have a lot of substance," says Taifa Smith Butler, executive director of the more liberal Georgia Budget and Policy Institute (GBPI).
From the business community's standpoint, Raynor says it was one of the more contentious sessions. "We ended up playing a little more defense."
---
Done And Done
Deal's criminal justice reform effort fared well in the form of SB 367, which passed with strong support from both parties. In this area, McCutcheon notes, "Georgia really is a leader. We've shown what states can do to make changes. Twenty-something states have followed Georgia's lead."
President Barack Obama applauded Gov. Deal and the legislation, "for demonstrating that making our criminal justice system more fair is a bipartisan idea."
Key among the provisions was eliminating a lifetime ban on food stamps for convicted drug offenders. "More than 10,000 families benefit from this," the GBPI's Butler says. "It will put them on a path for financial security."
The new law also imposes restrictions on secure detention for juveniles under the age of 13, except for those charged with very serious offenses.
Rural hospitals get a boost from SB 258, which allows tax breaks for individual or business donors to rural hospitals, providing that funds are used for healthcare. Credits are capped at $50 million.
It's not the definitive answer to the problem of struggling rural hospitals, which will continue to need attention, but it's likely to be a help.
Ranking high on most lists of legislative accomplishments is the MARTA funding measure, SB 369. It permits Atlanta to pursue a $2.5-billion MARTA expansion, very likely including light rail along portions of the BeltLine, to be funded by a half-percent tax increase subject to voters' approval. The same bill allows Fulton County to pursue a .25 percent sales tax for transit in the future; for now, Fulton leaders can try to pass a five-year .75 percent sales tax for road projects.
The bill was all but dead until House Speaker Pro Tem Jan Jones (R-Milton) engineered an agreement on the final day of the session.
McCutcheon calls it "a very good compromise," saying, "We [GPPF] are all for transit, but Atlanta needs to be creating a network of transit."
---
Local Governments
The Georgia Municipal Association's Director of Governmental Relations, Tom Gehl, applauds SB 369 as well. Allowing local governments to pursue fractional sales tax increases is "incredibly powerful," he says, and a good follow-up to 2015's landmark transportation bill. "It's a boon to home rule and gives clout to local governments, giving them more authority to bring additional sales tax."
He is pleased to see the legislature continuing to hold the line on what he calls "incursions into local government … on big things and on trivial things."
Clint Mueller, the legislative director of the ACCG, says a number of smaller, less flashy measures served his membership of county commissioners well, specifically body camera legislation (HB 976), which establishes procedures and schedules for retention of law enforcement video. "A lot more sheriffs' offices are looking at purchasing body cameras. The clarifications in this bill help those who are on the fence. Storage and retrieval is a big cost."
Two more cities – Stonecrest in DeKalb and the City of South Fulton – were authorized by the legislators, but affected voters will have the final say in separate referenda. HB 375, aimed at codifying the way cities are formed and addressing some of the problems that arose over proposals for cities in DeKalb in 2014 and 2015, failed to advance.
---
Nothing Doing
The biggest item in the "didn't get done" column was education reform, which was expected to be a major legislative topic. There were no bills introduced to reflect the work of the Governor's Education Reform Commission and its 40-plus recommendations. Deal announced in early January that he would wait until next year.
"It surprised a lot of people," says Steve Dolinger, president of the Georgia Partnership for Excellence in Education.
There was some speculation that legislators would not have enough time to review the recommendations, released in December by the commission.
Dolinger says others were concerned about whether there was sufficient teacher and school principal representation on the commission. "The governor is very astute. He does a good job of listening," Dolinger says. "The delay gives him an opportunity to have the recommendations reviewed by a panel of teachers. It's a very clever move on his part. That's an important group of stakeholders."
He believes that SB 364's relatively easy passage – and the fact that it addresses growing criticism from parents and teachers about testing – bodes well for education reform bills in 2017.
SB 364 reduces the weight of students' testing scores on teacher evaluations from 50 percent to 30 percent and reduces the number of tests – from 32 to 24 for grades three to eight.
"We feel very good about where that ended up. Thirty percent is more in line with what much research says is most appropriate," Dolinger says.
Other "did not pass" items are income tax reform legislation, including a provision to lower the rate from 10 percent to 5.4; and one that sought to authorize casino gambling. The gambling bill is likely to come back – there's a lot of money available to promote it. The GBPI's Butler says her institute is not advocating for the bill but will be watching. And if it passes, she wants to be sure it provides funds for need-based aid to post-secondary students.
HB 785, which would have allowed the creation of townships to deal with matters of planning and zoning, went no-where; the ACCG was glad to see this one die, concerned about its impact on county government budgets. Mueller describes the measure as "wanting to have your cake and eat it, too."
---
Go Figure
A rape kit processing bill (SB 304), which mandates timely processing of physical evidence in sexual assault cases, had near-unanimous support. It was championed by Rep. Scott Holcomb (D-DeKalb) in the House, but nearly torpedoed by Sen. Renee Unterman (R-Buford), a Senate committee chair who has said she didn't believe it was necessary. On the last day of the session, however, the bill passed overwhelmingly; Holcomb got a rare standing ovation from his colleagues.
---
Next Year
By now, lots of folks are already looking toward the 2017 General Assembly session. Lawmakers are juggling re-election concerns with legislative plans. Lobbyists, interest groups and associations are refining their agendas.
As the municipal association's Gehl puts it: "They say in Alaska there are two seasons, winter and getting ready for winter. At the GMA, there is the session and getting ready for the next one."
---
Here's a quick look at some other key 2016 legislation that passed
The Judiciary
Police Grand Jury: HB 941 restricts privileges for law enforcement officers involved in shootings or killings who appear before a grand jury. They will no longer be able to be present for the entire proceeding, hear the evidence against them or make a statement that can't be questioned. Georgia was the last state to allow this. Officers can still make statements, they but can be cross-examined by prosecutors. A transcript will be created and available to the public. The bill reflects input from district attorneys and police organizations.
More Justices: HB 927, strongly supported by the governor, adds two additional justices to the state Supreme Court, increasing the number from seven to nine.
Judicial Qualifications Commission: HB 808 abolishes the independent state agency so it can be reconstituted by lawmakers; the measure changes the way members are appointed, giving more power to legislators. Since this means a change to the state constitution, it has to be approved by the voters in a November referendum.
---
Weapons
Campus Carry Light: HB 792 allows students and others over 18 to carry tasers and stun guns on public college campuses; it was presented as a less-controversial alternative to the vetoed HB 859.
---
Public Records
Open Records Exemption: SB 323 gives athletic associations at Georgia's public colleges a whopping 90 days to respond to open records requests, rather than the three days mandated for all other public agencies. This bill, generally considered a "Welcome Home" present to new UGA Head Football Coach Kirby Smart, was strongly opposed by the Georgia First Amendment Foundation. Other provisions of the law extend economic development exemptions to additional state agencies.
Disclosure for Public Officials: SB 199 provides that elected officials do not have to disclose income earned from the state on their personal financial disclosure statements made to the state ethics commission if they have included it on their business transaction reports.
---
Environment
Pipeline Freeze: HB 1036 puts a temporary moratorium on petroleum pipelines, the result of a controversial but defeated proposal from energy company Kinder Morgan to construct a 200-mile-plus petroleum pipeline along the Savannah River and coastal Georgia. The company attempted unsuccessfully to use eminent domain after the state denied permission.
Land Conservation: HB 1014 extends the land conservation tax credit for another five years and requires the Department of Natural Resources to report. (Last year, Gov. Deal signed HB 464 that would have terminated the tax credit at the end of 2016.) The tax credit remains $250,000 for individuals and $500,000 for partnerships with a $30-million cap. In 2021, the Department of Natural Resources must provide a report that includes the number of acres donated, donation values, total amount of tax credits granted, and direct and indirect benefits to the state.
Leaky Landfills: HB 1028 requires landfill owners and operators to notify local officials of any leak that may pose a danger to human health within 14 days.
Road Project Exemptions: SB 346 exempts state-funded road projects that do not exceed $100 million in costs from Georgia Environmental Policy Act (GEPA) review if they receive no federal money. Some organizations like the Society for Georgia Archaeology and the Georgia Water Coalition opposed this law as it does not adequately protect some natural resources, historic buildings and sites.
---
Social Issues
Anti-Abortion: Gwinnett's Sen. Renee Unterman, who tried to block the rape kit processing bill, introduced SB 308, which permits the state to direct grants up to $2 million to pregnancy resource centers, to discourage women from having abortions.
Kinship Care: HB 962 establishes a state kinship care administrator to steer services to children living with grandparents or other relatives. HB 887 prioritizes placement with relatives for children whose parents cannot care for them.
---
Healthcare
Right To Try: HB 34 allows terminally ill patients the right to access new medical treatments, products and drugs.
---
Tax Breaks
Super Bowl Break: HB 951, aimed specifically at securing a Super Bowl for the new Mercedes-Benz Stadium, offers breaks and incentives for anything considered a major sporting event. Supporters believe the economic benefits outweigh any loss of revenue. (The bill worked. The NFL announced in May that Atlanta would host the 2019 Super Bowl.)
Ad Valorem Tax Break: HB 935 provides a Freeport exemption for fulfillment centers located in the state.
Premium Break: HB 402 gives a 5 percent tax discount in workers' compensation premiums to employers providing work-based learning opportunities for students.
---
Symbols
State Dog: Courtesy of SB 168, the Adoptable Dog is Georgia's official canine. (Bet you thought it would be the English Bulldog.)