2016 Best Places to Work
This year's list of 17 companies show that employees want to work where they are valued, respected and provided with opportunities to do meaningful work.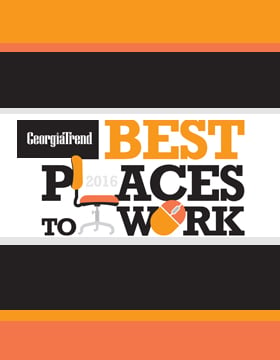 Building on the success of our Best Places to Work in Georgia program last year, this year Georgia Trend teamed up with Best Companies Group (BCG) and SHRM Georgia State Council to expand the program that is dedicated to finding and recognizing Georgia's best employers. We received nominations from across the state and from businesses and organizations large and small.
Though the companies varied in size, location and products/services offered, they all had several things in common – most notably a commitment to ensuring a workplace where employees are valued, respected and provided with opportunities to do meaningful work.
BCG, an independent research firm specializing in identifying and recognizing great places to work, managed the program for us this year. The selection process included two surveys – of both employers and employees – which allowed BCG to gather and analyze detailed data about each participating company.
The employer questionnaire included information about company policies, practices and demographics, while the employee survey asked about eight core areas: leadership and planning, corporate culture and communications, role satisfaction, work environment, relationship with supervisor, training, development and resources, pay and benefits, and overall engagement.
From the entries, the following Best Places to Work in Georgia were named. Congratulations to these companies that are dedicated to improving the lives of Georgians and making them proud to get up and go to work every day. – Karen Kirkpatrick
---
#1) TrueWealth LLC
About: Independent wealth management advisory firm founded in 1999. Manages roughly $1 billion on behalf of more than 400 clients.
Unique Perks: TrueWealth University provides training to encourage advancement within the company, from an entry-level client service associate to wealth advisor.
Giving Back: Employees volunteer at the Atlanta Community Food Bank and participate in fundraisers like The Color Run and Walk for Wishes for the Make-a-Wish Foundation. The company also encourages employees to provide pro bono financial planning through the Financial Planning Association and other organizations.
Healthy Lives: FitBit-based program encourages exercise and well-being; participants may earn a wellness day off for their efforts.
---
#4) GetUWired
About: From a log-cabin office in the North Georgia Mountains, the Internet marketing firm offers web design, copywriting, marketing automation, ecommerce and more to help small businesses compete in today's marketplace. The company provides mentoring, encourages employee growth and operates with 100 percent transparency.
Giving Back: Employees volunteer with Habitat for Humanity, The Salvation Army and No One Alone, a local domestic abuse shelter.
Career Development: Weekly leadership training for any employee who wants to attend.
Family-Friendly Benefits: Paternity leave for the birth or adoption of a child, and kids and pets can come into the office as needed to accommodate activities, doctor appointments or childcare difficulties.
Having Fun: Employees can take a day off from work for team-building events like whitewater rafting, charity work or survival courses. The emphasis on creative play also carries through the day-to-day work, with games for employees to play during lunch and outdoor play time an everyday event in the summer.
---
#9) Alliance Residential
About: One of the largest private U.S. multifamily companies, Alliance Residential offers investment, asset management and property management services and manages a $14-billion portfolio of properties. The company has 35 locations around the country, including a management and development office in Atlanta.
Unique Perks: Alliance InStyle wardrobe allowance program provides an allowance and discounts to its associates to purchase career apparel from popular retailers. Employees are also eligible for discounts on apartment units and have access to discounted corporate suites when traveling. Alliance University provides training and personal development 24/7 including sponsorship of industry certifications.
Giving Back: Employees receive paid time off to participate in community volunteering. The Alliance Cares program benefits charities such as Toys for Tots, Tools 4 Schools, Soles4Souls and an annual tree planting every April.
Keeping It Green: The company has a program to reduce each office's energy consumption and carbon footprint. As an Energy Star partner, it incorporates energy-efficient lighting and Energy Star appliances in its properties, and uses zero-VOC paint and colorants to improve indoor air quality for both employees and property residents.
---
#10) Hodges-Mace
About: Provides employee benefit-management services since 2004 to clients like Cabela's, Fidelity National Financial and Sprouts Farmers Markets.
Giving Back: Offers two days paid time off each year to volunteer at charity of employees' choice. "Bowling for Dollars" event raised $17,000 for groups including the Georgia Special Olympics, Camp Southern Ground and Children's Healthcare of Atlanta.
Encouraging Diversity: Partnered with the Bobby Dodd Institute to recruit disabled individuals or veterans interested in re-entering the workforce.
Employee Thanks: Employees receive a stock option grant after their five-year anniversary of employment with the company, and managers give $100+ gift cards to those who have shown an excellent effort or performance.
---
#15) Garden City Police Department
About: The nationally accredited and state certified Garden City Police Department handles all aspects of public safety for the town of 8,900 in Chatham County, including traffic patrol, investigations, community policing and canine patrol. The department has an open-door policy from the top down and conducts counseling sessions with employees to listen to issues and concerns.
Giving Back: Provided Christmas gifts to 65 needy families within the community last year. Its Garden City Housing Initiative volunteers provide home maintenance and beautification to low-income or disabled residents.
Career Development: Participates in the Department of Justice collaborative effort Fair and Impartial Policing, which teaches officers to identify and deal with personal biases. Also offers time off with no reduction in pay for employees to attend professional management classes and command college. Employees can also attend the FBI National Academy or participate in the Georgia Israeli Law Enforcement Exchange program.
---
#16) Synovus Financial Corp.
About: Synovus provides commercial and retail banking, investment and mortgage services in five southern states through more than 250 branches and 28 locally branded divisions.
Family Focus: The Family Education Leave allows employees to participate in school or education activities for children, grandchildren or other family members during work hours.
Giving Back: Contributed $700,000 to United Way through employee pledges and corporate gifts. Its Jack Parker Scholarship Fund has awarded more than $2 million to students since it was established in 1988.
Keeping It Green: Reduced paper waste by 30 percent over the last four years and invested in high-efficiency HVAC units, Energy Star appliances, low-watt LED lights and motion sensor lighting systems at its facilities.
Healthy Lives: Free annual health assessments. Offers wellness programs with access to coaching for weight, sleep deprivation, smoking cessation and stress management along with programs for fitness, nutrition and special health needs like diabetes.
2016 Best Places to Work Ranking
(*) notes out-of-state headquarters
1) TrueWealth LLC
Atlanta
Financial services
26 employees
2) Duke Realty Corporation
Peachtree Corners (Indianapolis*)
Real estate
495 employees
3) Mighty 8th Media LLC
Buford
Advertising/public relations
15 employees
4) GetUWired
Dahlonega
Advertising/public relations/marketing
33 employees
5) ETA – Creative Event Producers
Marietta
Event production services
15 employees
6 ) Thomas & Hutton
Brunswick and Savannah
Engineering
225 employees
7) Capital City Bank
16 locations around the state
(Tallahassee*)
Banking
898 employees
8) Total Quality Logistics
Atlanta (Cincinnati*)
Third-party logistics for the transportation industry
3,907 employees
9) Alliance Residential
Atlanta (Dallas*)
Real estate
2,439 employees
10) Hodges-Mace
Atlanta and Conyers
Tech-enabled services in the
healthcare industry
195 employees
11) Hall Booth Smith PC
Albany, Athens, Atlanta, Brunswick and Tipton
Legal
391 employees
12) The University of Georgia Small Business Development Center
Athens
Education
88 employees
13) BrandBank
Lawrenceville
Banking
237 employees
14) Rural Sourcing Inc.
Atlanta
Technology
268 employees
15) Garden City
Police Department
Garden City
Government
44 employees
16) Synovus Financial Corp.
Columbus
Banking
4,452 employees
17) Atlantic Foot and Ankle Specialists
Savannah
Healthcare provider
55 employees
Do you work at one of the best companies in Georgia?
Tell us about it!
Go to bestplacestoworkga.com to nominate your company for next year's list. The nomination period is open now through Dec. 9, 2016, and winners will be announced in the July 2017 issue.