The Power of the Peach
For companies large and small, a connection to Georgia and its capital city bodes well for business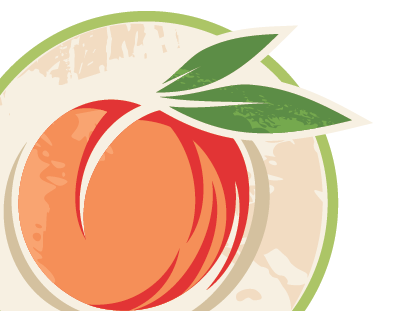 While vacationing in Costa Rica, Judith Winfrey visited a farmers market wearing a hat with the logo for Peach-Dish, the Atlanta-based meal-kit subscription company for which she's president. She wasn't really surprised when one of the expatriate American vendors asked if she was from Atlanta.
"It definitely rings true for people that Atlanta and peaches go together," Winfrey says.
The word "peach" translates to "Georgia" and "Atlanta" in the minds of consumers around the world – and that's a good thing. Foods and agriculture products branded as being from Georgia and Atlanta are usually perceived in the marketplace as healthy, wholesome, fresh and authentically Southern, say marketing experts.
"When you can tie a food brand to a geography like Georgia, you have a clear benefit," says Ted Nelson of Gumbo Marketing in Atlanta, whose food-based clients include Springer Mountain Farms, a family-owned supplier of all-natural poultry in north Georgia. "Consumers feel better when they know a product has been grown in Georgia. There's a real perception those are fresher and taste better."
Kate Dowdle, social media marketing manager for the Savannah Bee Co., says the company's main product fits neatly into the state's image as a food producer.
"Honey is a wonderful metaphor for the naturally sweet productivity that represents Georgia," she says.
---
Positive Perceptions
Blueberries, peanuts and honey are all big here, but if any one food is branded as being from Georgia, it's the peach. An image of the fruit emblazons state license tags, and a dizzying number of Atlanta streets and roads are named Peachtree. Georgia's official nickname is The Peach State.
The peach has positive and wholesome connotations, not to mention sex appeal. A peach is sweet. A favorable situation is peachy. A nice car is a peach.
Yet South Carolina and California now produce more peaches than Georgia – and have for decades. Does that mean Georgia should change its nickname to something more reflective of current agricultural production, like the Blueberry State? Forget about it. (Georgia, by the way, is one of the few states with a food-based nickname, and the others – Ohio the Buckeye State and Kansas the Sunflower State – don't make anybody salivate.)
Then there's the concept of being "Southern." Georgia is in the heart of the Deep South, but are Georgia foods perceived as more authentically "Southern" than foods from other states in the Southeast? It's possible – because of the same fuzzy thinking and positive branding that allows Georgia to enjoy more peach love than South Carolina.
"In general people like Southern cuisine," Winfrey says. "It's one of the few regions in the country with a widely known and appreciated cuisine of its own. I definitely think Georgia is associated with that, arguably more than some of the other Southern states. I don't think it's fair or accurate, but I think it's true."
That concept of true Southerness also shines through the state's restaurant industry, where chefs like Hugh Acheson, Steven Satterfield and Linton Hopkins are known and respected nationally for their southern cuisine.
Tim Calkins, clinical professor of marketing at Northwestern University's Kellogg School of Management and author of several books on branding, says a big Atlanta-based fast-food company also benefits from this generalized perception of Southerness.
"Chick-fil-A has a very strong Southern association," he says. "Part of that comes from what people know about the company and partly from the menu. I don't know if people can place it within the Southeast. If you asked people if Chick-fil-A is based in Atlanta or Alabama or Virginia or Mississippi, I don't know if people could place it."
---
Pro-business Attitude
Food companies aren't the only ones benefiting from the Peach State brand.
Georgia is home to the headquarters of some of the biggest companies in the United States, such as The Coca-Cola Co., The Home Depot and Aflac. Georgia was ranked the sixth most valuable state in the country by brand value in 2014, representing $106 billion in brand value. Those international companies are happy to be based in Atlanta and Georgia and prove it with their continued presence.
"Many global brands are headquartered in Atlanta, so in many ways the success, prominence and sheer number of these companies convey an important message about Atlanta – certainly about the pro-business ecosystem and quality of place the metro region offers," says Hala Moddelmog, president and CEO of the Metro Atlanta Chamber.
"Of course Coca-Cola is one of the world's most iconic brands, and Coca-Cola's history and heritage are inextricably linked to Atlanta," she says. "The brand is literally a draw, as evidenced by the more than 1 million guests each year who visit the World of Coca-Cola in downtown Atlanta. The Home Depot is also known around the world as one of Atlanta's greatest success stories."
Several branding experts have a slightly different perception on the branding of the major Atlanta-based firms. They say the international firms don't go out of their way to tout their Georgia or Atlanta connections to the outside world. They don't need to.
"The companies that are born and raised here, that feel like Georgia companies, they do a good job of making themselves feel like Georgia or Atlanta when they're here," says Mark Speece, founder of the StokeSignals agency in Atlanta and a branding development expert. "But when you're exposed to them in Texas or Pennsylvania, they downplay that."
Speece says big companies rarely want to "plant a flag too firmly in a region."
"Nine times out of 10 they don't benefit from that outside the region," he says. "Unless there's a reason the product should be better because it's from that region, it serves to downplay or not to talk about it."
"I don't think many people know Home Depot is based in Atlanta, and I don't think Home Depot plays that up," Calkins says.
"There are some companies that have geographic associations, but not many," he says, naming Apple and Wells Fargo as two firms branded as California companies. "It's not a huge factor when you make a purchase decision."
---
Southern Hospitality
Delta Air Lines, however, is one of the international firms branded as being from Atlanta, Calkins says.
"There's a history there, and the idea of customer service and Southern hospitality is part of that brand and promise," he says. "They don't talk about it and use those words, but it's still there. … It helps them as they battle with American and United because it revolves around service and service delivery."
Sundar Bharadwaj, The Coca-Cola Co. chair of marketing at the University of Georgia's Terry College of Business, also regards Delta as an Atlanta brand, if only because of the success of the airline and Hartsfield-Jackson Atlanta International Airport. "I think it's because plenty of people have flown through the airport," he says.
Speece says companies like Turner may not brand themselves as Atlanta companies to news consumers, but they use Atlanta as part of their talent recruitment. Though jobs in New York and Los Angeles have more resume power, Atlanta provides a superior quality of life to prospective employees, he says.
"You know what a million buys in the Upper East Side vs. Atlanta," Speece says. "It's the same thing with all these companies. These are big things for employees." He says Atlanta offers the best of both worlds because "it's a massive urban city, but it's got the suburban life, too."
Within their industries, the international companies do brand themselves as being from Atlanta, says Kimberly Krautter, managing director of 13th Generation Strategies, an Atlanta strategic messaging and business development firm.
"When it comes to writing up annual reports and talks to investors and vendor relationships and supply chains, the actual mechanics of doing business, the value of being in Atlanta and Georgia cannot be overstated," she says. "The cost of doing business here is far less than other sections of the United States. And you can't get any better than Atlanta for a transportation hub, and not just the airport. It really is an enormous gateway to the world."
---
Sweet Success
The world already knows that Georgia produces good food – and a lot of it. Agribusiness is the No. 1 industry in Georgia, pumping $71 billion a year into the state economy. Roughly $38 billion of that is from poultry – Georgia is the largest producer of chickens in the country.
Closer to home, the local food movement means consumers want more knowledge about the source of those beans, greens and potatoes on their plates.
"After decades of being disconnected from our food system and eating canned products, people are becoming much more engaged with the food they eat and want to know much more," says Ted Nelson of Gumbo Marketing in Atlanta.
Georgia Grown, the marketing and economic development program for the state Department of Agriculture, is trying to increase the perception that foods grown in Georgia are fresher and taste better with its branding campaign. Through the Georgia Grown program, the Department of Agriculture brings producers, processors, suppliers, distributors, retailers, agritourism and consumers together, helping businesses thrive and advancing the notion that Georgia Grown products are worth eating.
Now, the Georgia Grown program may be expanding to markets outside the state, says Matthew Kulinski, who as marketing division deputy director oversees the Georgia Grown initiative. The state's association with that fuzzy, juicy peach could be a plus.
The top eight state crops sold outside Georgia are blueberries, sweet corn, bell peppers, Vidalia onions, watermelon, peaches, pecans and assorted greens, says Kulinski. Test marketing shows that all those products, with the exception of greens, "fall under a flavor profile of being sweet, or may be considered that way," he says.
Georgia Grown plans to enter test markets in other states and sell those crops under the Georgia Grown label using taglines and marketing with a sweetness theme, he says. The markets would be in places where the growing seasons don't coincide with Georgia's.
The scope of the branding campaign will be very ambitious, Kulinski says.
"Normally geographic branding has worked outside a state but only with one commodity," he says, giving Idaho potatoes or California avocados as examples. "What we've never seen before and what we're testing is if you can brand a group of commodities under one state brand."
Georgia Grown will use social media and in-store taste testing. Consumers will be interviewed before and after the test marketing.
"What we'd be looking at is not an increase in sales but an increase in brand identity," he says. "If we show we can do that, we may go back and try to expand."
Consumers outside Georgia already identify the state with peaches and, to a degree, Vidalia onions, Kulinski says.
"We want to leverage that brand identity and share it with other products," he says. "We don't know of anyone else that's done this in the country."
Researchers at the University of Georgia are working in tandem with Georgia Grown to fine-tune the quantifiable sweetness elements of certain crops by varying growing conditions, such as the amount of sulfur and other minerals in fertilizer, Kulinski says.
Georgia Grown is making inroads on the international market as well, especially in Asia. In China, a recent food craze has centered on pecans, of which Georgia is the country's top producer.
"Asia buyers would really like the Georgia Grown logo on those products," he says. "Getting a pecan from the U.S. and specifically from Georgia is seen as a higher value product in Asia."
And that's sweet news for the state. – Ralph Ellis
---
The Most Valuable Georgia Brands
(National ranking is in parentheses)
#1) Coca-Cola* (9), Atlanta
#2) The Home Depot (17), Atlanta
#3) UPS (27), Atlanta
#4) Delta Air Lines (79), Atlanta
#5) Southern Company (120), Atlanta
#6) Sprite* (138), Atlanta
#7) Fanta* (178), Atlanta
#8) Aflac (191), Columbus
#9) SunTrust (268), Atlanta
#10) Flowers Foods (321), Thomasville
#11) HD Supply (353), Atlanta
#12) Invesco (412), Atlanta
#13) Carter's (489), Atlanta
*Owned by The Coca-Cola Co.
Source: 2015 Brand Finance U.S. 500