Changing the Conversation
No longer being swept under the rug, the perception of mental health issues and the 43.8 million Americans who suffer from them is changing. Here's how the shift is playing out in Georgia.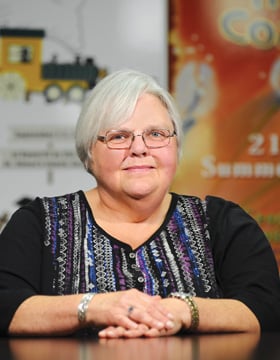 Denise Hardy of Stockbridge is a mother, a grandmother, an aunt, a friend and an advocate. That is how she defines herself today, but not too many years ago she was a troubled young woman. Molested as a child and diagnosed with major depression at 15, she spent her high school graduation and several birthdays in a hospital psychiatric ward following repeated suicide attempts.
Thanks to a large loving family, a hardworking mother who provided them with good health insurance and changing attitudes about mental illness and the way it is treated, Hardy, 52, is not only surviving today but thriving and helping others facing mental health challenges to do the same.
---
Peers Helping Peers
Hardy, who has made it her life's work to be an advocate for people with mental illness, began her career and continues to serve as a certified peer specialist through the Georgia Mental Health Consumer Network's Certified Peer Specialist (CPS) Project.
The first class of peer specialists was certified in 2001. The program is a partnership between the Georgia Mental Health Consumer Network (GMHCN) and the Georgia Department of Behavioral Health and Developmental Disabilities (GDBHDD) and is funded in part through a grant from the Substance Abuse Mental Health Services Administration, Center for Mental Health Services.
The program trains people in recovery from mental health issues to work with other people with mental health challenges, says GMHCN Executive Director Sherry Jenkins Tucker. Certified peer specialists, like Hardy, work in provider sites across the state.
"Recovery is no longer only about what clinicians do to consumers," Tucker says. "It has become, with the assistance of CPSs, what peers do for themselves and each other."
The network – one of the most successful such programs in the United States – is one of a number of organizations that use peer support to help people successfully deal with mental health issues, which can range from clinical depression and post-traumatic stress disorder (PTSD) to schizophrenia and dissociative identity disorder.
Other agencies and organizations offering peer support in Georgia include the Wounded Warrior Project (WWP) – a national nonprofit formed to provide programs and services for wounded veterans of the military actions following the events of 9/11 – and the Georgia Parent Support Network (GPSN), a grassroots family-run nonprofit organization established in 1989 to help address the needs of children with mental illness, emotional disturbances and behavioral differences and their families.
Through WWP's peer support program, wounded service members share experiences in support groups facilitated by members who are further along in the recovery process and have received training specifically designed to help them support their peers on the road to recovery.
In Fulton County, young adults between the ages of 17 and 25 who have aged out of child and adolescent mental health services may be eligible for participation in GPSN's Transitional Youth Peer Center (TYPC), a unique program staffed by peers who serve as mentors. The center's peer mentors are young adults, also ranging in age from 17 to 25, who are successfully navigating the path from adolescence to adulthood.
"The peer center has for the last 13 years provided young people a place to make their dreams come true," says GPSN CEO Sue Smith. "They assist program participants in areas such as life skills, education, employment and community life, but most of all they provide young people with hope."
---
Community Mental Healthcare
Peer support is part of a larger and growing effort to bring mental health services into the community. The movement began almost two decades ago when the U.S. Supreme Court held in Olmstead v. L.C. – a case that began with a suit by two Georgia women institutionalized with mental illness and developmental disabilities – that unjustified segregation of persons with disabilities constitutes discrimination in violation of title II of the Americans with Disabilities Act and that people with disabilities have a qualified right to receive state-funded support and services in the community rather than institutions.
"It is widely accepted and consistently practiced that individuals need to be able to access services in their community," says Terri Timberlake, Ph.D., GDBHDD director of adult mental health.
The result of the decision has been a nationwide shift in the treatment of mental illness, a problem that affects an estimated 1 in 5 Americans each year. According to the GDBHDD, close to 349,000 adults in Georgia live with mental illness severe enough to limit daily activities.
Mental disorders are diagnosed based on the Diagnostic and Statistical Manual of Mental Disorders, fourth edition (DSM-IV). They include mood disorders such as depression and bipolar disorder; anxiety disorders like phobias; obsessive-compulsive disorder; post-traumatic stress disorder; psychotic disorders like schizophrenia; sleep disorders; eating disorders; and impulse control and addiction disorders like substance abuse and dependence.
Treating in the community presents new challenges but also new opportunities for people with mental illness to live more active and fulfilling lives. Seventeen years after the Olmstead decision, the perception of mental illness is starting to change, and there are several programs in Georgia to help treat people dealing with these medical conditions.
---
Taking a Team Approach
GDBHDD uses a team approach to serve the most chronic users of mental health services in the state through two key programs – the Assertive Community Treatment (ACT) Programs and Community Support Teams (CST) – says Timberlake.
People eligible for support are those with acute and persistent mental illness that seriously impairs the ability to live in the community, says Timberlake. "They may have had issues with hospitalization, issues accessing emergency rooms and things of that nature."
Both services deliver person-centered, recovery-oriented adult community-based services – including psychiatric treatment, nursing treatment, medications management, support with housing, employment, vocational training and help with accessing different community services. ACT services include a multi-disciplinary team of 10 or more members and can be accessed statewide; CST is a small team of three to four members and is primarily contracted for service delivery in the most rural counties across the state. The department currently has ACT teams serving 1,700 people throughout the state and CSTs serving around 300.
"ACT and CST are specifically in the community where the individual lives," says Timberlake. "That means that the clinicians are coming to the individual's home, or they may be meeting the individual in a park or wherever the individual wants to be. That is geared toward the population of individuals our department serves who don't typically successfully obtain their treatment by going to a doctor's appointment."
---
Managing Crises
When a mental health issue becomes a crisis – meaning it overwhelms a person's ability to cope, causing significant distress and difficulty functioning – GDBHDD offers a number of services, including a statewide network of behavioral health crisis centers, a 24-hour toll-free hotline (800.715.4225) and mobile crisis services, which are all run using state funds.
The department's seven behavior health crisis centers – six of which were constructed as part of a settlement agreement with the Department of Justice to provide community-based mental health services – are walk-in clinics that operate 24 hours a day, seven days a week. People in a crisis can walk in at any time to see a health professional for an assessment and be admitted for observation or treatment if needed.
The Georgia crisis and access line is available to anyone in Georgia needing immediate help with a mental health issue. The line is also the dispatch number for the department's mobile crisis service, which is key to reaching individuals where they are if they are having a crisis, says Timberlake.
When possible, the department works to avoid police intervention when someone is having a mental health crisis, says Timberlake. "The purpose of our mobile crisis team is so that when an individual is having a crisis, wherever they are – at home, at school or in the street or wherever they are – that team of mental health professionals goes out to that person to assess them and assist in de-escalating that crisis and to connect them with a service that will support their needs."
For situations where the police must or do become involved, the department contracts with the National Alliance on Mental Illness to deliver crisis intervention training for law enforcement officers. The department trains around 1,000 law enforcement officers every year on how to work more effectively with people with mental illness, Timberlake says.
---
Educating Youth
While most mental health services are reactive, there is a need for more proactive services, and education is the cornerstone of that, says Ellyn Jeager, director of public policy and advocacy for Mental Health America (MHA) of Georgia, the state's leading nonprofit organization dedicated to mental health. "People shouldn't be to the point where they need mental health services before that education geared toward them begins," she says.
Such efforts include suicide education in Georgia's middle and high schools and, for younger children, a program called Kids on the Block from MHA of Georgia. Offered in elementary schools, after-school programs and camp programs, Kids on the Block is a troupe of life-size multicultural puppets that interact with their young audiences to address issues such as bullying, depression, crisis in times of war, and overall mental health and wellness. The troupe has performed for more than 150,000 kids over the past 10 years in schools and communities across the state.
While the troupe travels throughout Georgia, it is used most in low-income areas where kids have more challenges and fewer opportunities, Jeager says. "We know that poverty leads to trauma, and trauma can lead to mental illness. The younger the kids, the faster we can help them," she says.
Ideally, Jeager says, educational efforts should start at birth. "You educate the mom to understand how important it is to bond with your baby – that's why you have to look at post-partum depression, perinatal depression, because you have to treat that and get the mom to understand what is happening so she can get help and she can bond with the baby.
"Children who don't have a bonding relationship really have a challenge from the beginning of their life," she says.
---
Assisting Arrestees and Inmates
According to the Bureau of Justice Statistics, up to 64 percent of inmates at state and federal prisons and local jails have a mental health issue. When people with a mental health condition are arrested or incarcerated, several programs of the GDBHDD can assist them to get the help they need.
For people with mental illness who are arrested on misdemeanor charges, the department contracts with courts to deliver mental health treatment court services, or diversion courts, at several locations throughout the state. These courts are "similar to accountability courts in that persons with a qualifying criminal charge who are found to be in need of behavioral health treatment are not jailed, but are diverted from incarceration and required to participate in assessment and treatment along with court-ordered supervision for a determined length of time," says Timberlake. "This obviously goes a long way toward assisting these individuals with their needs and not just being jailed."
The department also partners with the Department of Corrections to assist individuals with mental illness who are leaving prison with making the transition and getting connected to mental health services in the community.
"The department has trained a large number of forensic specialists who have backgrounds in mental illness as well as the criminal justice system to work inside the prisons with people who are transitioning out of prison but who have a mental illness," says Timberlake. "We find that it is much more effective to support someone while they are transitioning rather than letting someone be discharged and then trying to get them after the fact."
For non-crisis situations, the GDBHDD contracts with nonprofit or (in a few cases) for-profit organizations for the provision of community-based mental health services, including community clinics throughout the state. Clinics provide doctor services, nursing services, medication management, case management and counseling regardless of one's ability to pay; however, the clinics bill private insurance for those who have it, says Timberlake.
---
Room for Improvement
Despite strides Georgia has made since the 1999 Supreme Court decision, mental health advocates say there is still room for improvement – for example, higher Medicaid reimbursements to attract more mental health professionals to the state and more counselors in the schools, says Jeager.
But one of the greatest challenges is changing perceptions of mental illness, she says. For people who could receive services in the community, there is often a hesitancy to do so. "Sometimes people don't recognize they need help," Jeager says. "Sometimes people recognize it but are afraid of discrimination in terms of insurance, in terms of job promotion."
Hardy says she has seen a difference in attitudes toward and treatment of mental illness since she was a young woman spending her birthdays in a hospital psychiatric ward. "There was not a lot of education about mental illness, and there was stigma. You didn't go out and talk about it out loud, because your family would be embarrassed," she says. There were also a lot of financial barriers to care.
Programs like the Certified Peer Specialist Project not only make mental healthcare more accessible to more people, but they also let people with mental health issues know they are not alone – or simply just a diagnosis. "I always want to encourage people to see the person first and not the diagnosis," says Hardy.
Timberlake admits that the perceptions are gradually changing; but there is still a long way to go. "It is a huge continual battle for all of us who work in this field to not only eliminate those kinds of stigmatizing perceptions, but also to work for policy change to ensure that mental health treatment receives the same kind of treatment that medical issues receive," she says. "The stigma will continue to be on the forefront for our department and most all other agencies across the country."
Still, Georgia has made significant strides since the time when having a mental illness often meant institutionalization. "The focus for the Department of Justice settlement that our state is operating under was primarily deinstitutionalization, ensuring that we are transitioning people out of state hospitals and back into the community and having services for them in the community," says Timberlake. "That is truly the focus for all of us and the majority of mental health in the nation today."
---
When Someone You Know Needs Help
Everyone goes through times when they are down or blue, but when such feelings persist and interfere with the ability to function, it is time to seek help. If you suspect a friend or loved one has a problem, the first thing to look at is if there is a change in how the person is functioning day to day, says Ellyn Jeager, director of public policy and advocacy for Mental Health America (MHA) of Georgia. Signs may include:
• Lack of interaction with friends or family.
• In adolescents, abandoning friendships, often for a new circle of friends.
• Pulling away from activities one once enjoyed.
• A slip in job or school performance.
MHA of Georgia offers screening tools at mhageorgia.org for a number of mental health issues, including depression, anxiety, post-traumatic stress disorder, bipolar disorder and alcohol and drug dependency.
If you think you need help, speak with your primary care doctor or call the Georgia Department of Behavioral Health and Developmental Disabilities' 24-hour toll-free hotline at 800.715.4225. It's not just for emergencies.
All health plans purchased through the Healthcare Marketplace are required to provide mental health coverage without waiting periods. People without insurance are eligible for services through the department regardless of ability to pay. – Mary Anne Dunkin