Beyond the Classroom
Collaboration and community engagement are what it's all about for Clayton State University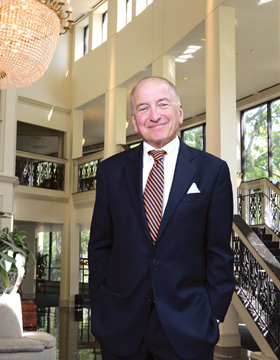 The leading edge of a new industry is just where a university wants to position itself, and Clayton State University – in Morrow, just 18 miles south of downtown Atlanta – is in the perfect place to take advantage of the growing film industry. It's all part of a strategy of community engagement and business collaboration that ensures CSU students are getting the kind of education that will land them good jobs in film, but also in healthcare or logistics – just to name a few of CSU's growing offerings.
"We are striving to adapt to the area's workforce needs as they arise with innovation and community engagement, which we take very seriously," says president Tim Hynes.
That nimbleness and ability to respond to business and industry is exactly why more than 7,000 students have chosen to attend Clayton State University. And more are taking notice and want to be a part of the school's success. For the 2015-2016 school year, the admissions department saw a record 5,600 applications that led to the largest incoming freshman class in the university's 46-year history.
---
Meeting the Challenge
Clayton State was founded in 1969 as a junior college, an oasis of scenic greenery in Morrow – it was named a "Tree Campus USA" by the Arbor Day Foundation in 2014 – amid the sprawl of Metro Atlanta's southern crescent.
In 2005, the name was changed to Clayton State University to acknowledge its fast-growing undergraduate, graduate and professional programs. The university also maintains a separate Fayette County instructional site in Peachtree City and offers additional instruction at locations in Jonesboro in Clayton County and McDonough in Henry County.
And the school is expanding, both in degree programs and new facilities.
In the spring of 2015, the bachelor of arts degree in film production was approved by the Board of Regents, and classes began that August.
In September, the school celebrated the opening of the Lakeview Discovery and Science Center building, a project 10 years in the making. The $25-million, 64,000-square-foot building includes biology and chemistry suites that integrate research, as well as prep and teaching labs to help foster more graduates with STEM (science, technology, engineering and math) skills.
"Engaging undergrad students in research is an essential part of the preparation for careers in the natural sciences and health sciences," says Hynes. "The innovative laboratory teaching spaces in this building will expand our support of undergrad research projects where faculty and staff work side by side in the learning and exploration process. It also impacts allied health students and every student on campus who takes a lab science course."
Clayton State offers more than 30 undergraduate and nine master's degrees – many in high-demand fields like healthcare. It's a way of serving both its traditional student population and also older students – the average age of the university's students is 27, and students come from more than 30 countries.
---
Breaking with Tradition
"I just love making movies," says Rafael Salis, a film production student. "My dream is to own my own production company. Right now, I'm building my portfolio. It feels good to be in on the ground floor of something, to be part of the first generation of film production majors, setting the tone. We all work closely together to help each other succeed. Our professors encourage us to submit to film festivals. There's a lot of artistic freedom and growth."
That freedom is paying off for Salis, who, along with Angelina Servin and Andy Francois, recently won the regional level of the Yelp Reel Local Film Festival for the short film Bad Review Man Takes H&F Bread Co., earning a team member a trip to San Francisco to compete in the nationals.
That's when Salis changed his focus from theater to the newly created film production major – the first university in the state to offer such a program in response to Georgia's booming film industry.
He and his fellow students enjoy plenty of resources at CSU. Now that the university has retrofitted an old aviation warehouse into a 10,000-square-foot, state-of-the-art film studio and sound stage, the growing college is ready for its close-up.
"There's a real diversity in the film department in expertise," Salis says. "One professor specializes in theory, in the implicit meanings and messages, while others are strong in production values, in keeping your film from looking amateurish. We learn lighting, camerawork, editing, construction, makeup, screenwriting, sound engineering, what key grips and gaffers and best boys are – all of it."
CSU also partners with the Georgia Film Academy, which works with several institutions across the state in certification for film work.
"CSU has a commitment to innovation and [is] forward thinking about one of the most important and growing industries in our state, which makes it an outstanding founding partner with us," says GFA executive director Jeffrey Stepakoff.
Already CSU alumni and students are clocking in at several high-profile projects, such as Krystal, which stars William H. Macy and is filming some scenes at Pinewood Studios. "We have other students working on The Vampire Diaries and Captain America," says Akil DuPont, interim director of the Film, Digital and Media Center, adding that the school also partners with Pixar and Matrix to teach students about editing after-effects. "It's all very new, but the results are promising. The hard part is breaking into the business, and we have that covered.
"It's a real immersive, nuts-and-bolts experience that leaves you ready to graduate right into a fulfilling and exciting job," he says.
Of course, glamorous showbiz is not entirely new to CSU. The 400-seat Spivey Hall is celebrating its 25th anniversary this year as one of the South's vaunted, jewel-box venues of crystalline acoustics for classical and jazz artists and chamber music. The hall offers more than 400 performances per year, many of which air locally on WABE FM 90.1.
"That's part of our community engagement," says Hynes. "Our acoustics have been called among the most perfect in the nation."
---
Community Ties
Starry-eyed film students and music lovers are not the only ones working outside the traditional classroom. In fact, that emphasis on community engagement stretches across the Clayton State campus, offering students purposeful learning and service experiences beyond the classroom walls.
One such example is the Primary Health Clinic that opened this past February on campus. The clinic not only serves faculty, staff and students on campus but is also open to those in the local community, especially those who may not have a primary physician.
The purpose of the clinic is twofold: serve the school and the community while also providing a healthcare facility for nurse practitioner faculty and students to satisfy their clinical rotation hours required for certification.
Through the school's Partnering Academics and Community Engagement (PACE) initiative, students are paired with at least 50 external organizations across a broad array of disciplines. Those can range from someone in an ecology course partnering with a local conservation group to an accounting student assisting community members with their tax returns to psychology, criminal justice and education students partnering on a bullying prevention program for a local school.
"We have them doing videos and social media and other campaigns for nonprofits, government agencies and small businesses," says PACE Director Antoinette Miller. "The biology students help with invasive species at the W.H. Reynolds Nature Preserve – they pull ivy and maintain trails and learn about ecology. An English major might lead a public relations campaign for Atlanta Pet Partners, and our psychology students take oral histories from their elders at assisted-living facilities.
"We have activities going on across the board that get our students prepared to work in their respective fields," she says. "There's a whole lot of networking and tweeting and Instagramming going on."
Moreover, the university's Small Business Development Center is part of a statewide network that provides no-cost confidential counseling and community outreach with a focus on, among other things, connecting entertainment vendors with industry. The center has disbursed $10 million in capital to businesses primarily on the south side of town, including medical facilities and fast-food franchises.
The center also offers seminars and workshops in digital marketing, financing and other areas of expertise. "We're self-sustaining," says Area Director Alisa Kirk. "We're seeing more student entrepreneurs who have started businesses, and they get our free one-on-one services."
"We believe in these specific, intentional connections – between faculty and students, between students and leaders in their field – that benefit everyone," Hynes says. "These relationships are all part of our strategic plan."
Last year, when The Carnegie Foundation for the Advancement of Teaching announced the selection of 240 U.S. colleges and universities to receive its 2015 Community Engagement Classification, Clayton State University was included in the group for the first time.
"The receipt of the Community Engagement Classification reflects excellent work by our campus and so many of our colleagues and students," says Hynes. "It also reflects the achievement of a goal of our strategic planning process that advances our mission, in part committing us to cultivate an environment of engaged, experience-based learning, enriched by active community service."
---
International Reach
CSU has also pursued a collaborative partnership with Daejeon Health Sciences University in Daejeon, South Korea, following a trip to the country by Hynes and Dr. Lisa Eichelberger, dean of the College of Health.
Hynes' and Eichelberger's visit helped coordinate a program for Korean pre-nursing and nursing students to study at Clayton State for four weeks. During that time, Clayton State's nurses in training meet with the Daejeon cohort to compare experiences about healthcare, cultural health practices and the differences in nursing education between the two countries.
A Memorandum of Understanding is in place to help facilitate future shared activities with the schools' colleges of business.
"It opens the door to expanded academic collaborations – student and faculty exchanges, joint teaching or collaborative degree programs, Korean student enrollment – between Clayton State and foreign institutions that have compatible health curriculum," says Hynes of the partnership.
Another new program that strives to address a marketplace need in manufacturing is the Supply Chain Management major, started in 2010 and now graduating around 36 students a year. "Six of the basic things we cover are transportation, warehousing, global sourcing, financial reports and performance measurements," says Craig Hill, the program's chair. "We specialize in all of the intricacies of moving commodities to markets."
In keeping with CSU's mandate of professional outreach, there is a Supply Chain Center that fosters relationships with students and industry insiders.
"I love the fact that our professors are so eager to share their real-world experiences and connections with us," says Vermeka Martin, a senior supply chain management major. She started as a business major but attended a forum where several alumni got her fired up about entrepreneurialism. "They were all so passionate about what they were doing that I decided to change my major. I'm learning goal sourcing, the paperwork to get commodities through customs. Human resources chain, from warehousing to buying equipment. How customs decides to charge you for imports and exports. It's exciting."
And she has found plenty of mentors.
"It's a close-knit campus where everyone from the dean on down is accessible and helpful," she says. "One of my professors did a pre-interview with me to help me prepare for my first interview, so now I have a job waiting for me when I graduate."
Martin soon will start her new career, but not until she returns from Europe. The business school sponsors several overseas trips where students get firsthand experience about how global business works; she will present a paper when she returns. The College of Business is accredited by the Association to Advance Collegiate Schools of Business (AACSB) – only the top 5 percent of all business schools worldwide are AACSB accredited.
"I have the opportunity here to blossom as a well-rounded person, not just as an academic," she says. "You're not just a number at Clayton State. There's a real sense of intimacy and community here that you just don't find anywhere else."