Actively Aging
Resort-style amenities, low-maintenance homes and built-in social networks: Meet the revamped retirement community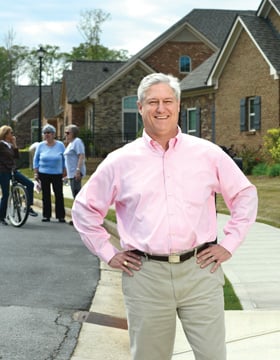 Active adult communities – developments geared toward those 55 and older who want to retain an active, social lifestyle – are attracting more and more homeowners around the state with their appealing combination of low-maintenance homes, resort-style amenities and a built-in, action-packed social life.
It's not quite what you imagine when you think of a retirement community. But, baby boomers themselves – the generation that's driving demand for these communities – aren't quite what you imagine when you think of retirees, either. They're healthier, more energetic and living longer than generations before them.
"They're very socially oriented, they're active and they're anxious to spend this part of their life with others who are like them," says Sarah Garlick, corporate communications specialist with Del Webb, one of the nation's largest developers of active adult communities. "They have a very strong connection to community, so they really want to live where they know their neighbors."
These communities are definitely not ordinary subdivisions, and they're not the retirement homes of the past, either. They're highly social, master-planned developments that are attracting an increasing number of a growing market segment – and, as developers and builders have realized, the market for them in Georgia is just as active as baby boomers themselves.
---
Serving a Growing Demographic
Though active adult communities have been rising in popularity over the past decade, they're nothing new. Youngtown, Ariz. – the country's first retirement community – was founded in 1954. Six years later, Del Webb unveiled Sun City on the outskirts of Youngtown, leading to a new breed of residential communities designed for retirees hoping to spend their golden years in sunny states like Florida and Arizona.
"Twenty or 30 years ago, a lot of people might have seen that as something that was for the elite few who could afford to retire, move to Arizona and live in this great community, whereas now, it's not necessarily the case," says Bill Ness, president and founder of 55places.com, a website that helps people research and compare active adult communities nationwide. "You see a lot more small-scale communities closer to population centers that people already live in so they can enjoy the active lifestyle and still live close to home."
That desire to stay close to home is one reason these communities started to sprout up outside of the Sun Belt, in places like Ohio, Illinois and New Jersey. Not only that, there are simply more people interested in them. Baby boomers – the 76.4 million people born between 1946 and 1964 – are reaching retirement age in record numbers. Moreover, the National Association of Home Builders forecasts that nearly 45 percent of U.S. households will be headed by someone 55 or older by 2019.
All of those people have to live somewhere, and more and more, they're choosing to live close to their children, grandchildren and jobs. That's right: jobs.
Jim Chapman, president of Atlanta-area active adult community firm Jim Chapman Communities, estimates that in more than half of the homes in his communities, at least one member of the household still works. He's also noticed a downward trend in the age of his homeowners, moving from 72 six to eight years ago to 62.
"The picture of retirement has really changed over the past couple of years," says Garlick. "They're so active, and they don't want to necessarily settle down and relax as they move into retirement years. They want to stay fit and healthy, continue to improve their minds and take classes, and just build a social community."
In Georgia, there are more than a dozen active adult communities either under construction or in development. Del Webb, one of the state's biggest players, is currently developing communities from Griffin to Greensboro and up into Hoschton. Kolter Homes has two communities, one at Lake Lanier in Gainesville and another in Peachtree City. Jim Chapman Communities has communities in development primarily in north Metro Atlanta, and the Orchards Group is bringing communities to Alpharetta and Cumming.
Though statistics vary among builders and within their communities, these homes average between 2,000 and 3,000 square feet and range from the $200Ks to the $400Ks. Community size can vary as well; larger communities may contain as many as 3,000 homes, while others might cap at less than 150.
---
Driven by Lifestyle
"When you first describe these types of communities to people, they think senior living or senior communities. They somehow lump it into assisted living or a nursing care facility," says Ness. "And it's really not at all. It's just like a regular neighborhood. You own the home, just like you would anywhere else. You pay an HOA fee, just like you do in many subdivisions. But in this instance, it's really focused on the lifestyle."
When people look for an active adult community, they are by and large looking for the lifestyle that comes with it: the endless activities, the well-maintained landscaping, the resort-style amenities and the tightly integrated sense of community.
"I've always lived in subdivisions," says Judie Goldman, a resident of Del Webb's Sun City Peachtree in Griffin. "One of the communities that I've lived in was a lake community where the kids were raised, and it had a lifestyle. I wanted a community that had a lifestyle."
Judie and her husband, Charlie, moved to Georgia from New Jersey four years ago. They chose Sun City Peachtree because it allowed them to be close to their daughter and grandchildren in Metro Atlanta, but still far enough way to have a little breathing room from the congestion of its major suburbs. The community's golf course was a big draw for Charlie, an avid golfer. And the ready-made, built-in groups and activities made it more than a neighborhood, says Judie.
"There are a lot of subdivisions where it's just a subdivision with houses on a block. It's nice to be in a community that has a clubhouse and a lifestyle geared around it."
Most active adult communities feature resort-style amenities like indoor or outdoor heated pools (and sometimes both); spacious clubhouses; state-of-the-art fitness centers; pickleball, bocce ball and tennis courts; and outdoor draws like networks of walking trails, community gardens and playgrounds for the grandchildren.
But it's not just about physical activity; clubs and groups keep residents mentally active as well. At Sun City Peachtree, Judie estimates that there are more than 75 clubs or groups spanning myriad interests from photography and cooking to genealogy and Apple products. Plus, at larger communities, there is often an activities director who plans community events, like movie nights, outdoor concerts or holiday festivals.
"In many respects, it's like going back to college but without the classes," says Ness. "You've got tons of things to do on any given day and a lot of people who are interested in doing whatever it is that you want to do. It's a social element, really, that's provided when you find other like-minded people who share similar interests with you."
Judie agrees: "The best thing about it is that you never really feel lonely. If you want to do something, you just get up and go. There are game nights and games in the afternoon. There's a card room; there's a billiards room. If you feel like doing something, pick yourself up and go."
---
Designed to Last
If you spend much time in an active adult community, you'll probably notice something interesting about its homes: They're almost all one-story houses, though some might have a second-floor loft.
This is a deliberate design choice meant to promote aging in place, or the ability for people to stay safely in their homes as they age. By keeping all of the main living space – especially the master bedroom and laundry room – on one level, these homes eliminate the challenges that staircases can present as people get older. The goal is to keep people in their homes longer, an important concern for the 90 percent of homeowners who say they would like to stay in their homes as long as possible, according to a March 2016 report from AARP.
"There's this huge group of 60- to 85-year-olds who … really very much want to live on their own, but they don't want to maintain their yard and they don't want to maintain their home," says Chapman. "They want to buy a house that has maintenance-free materials. They want a house that allows them to age in place."
Chapman is the founding chairman of the ALL Home program, a voluntary statewide certification created by the Home Builders Association of Georgia that promotes accessibility and universal design in new construction. For active adult communities, this translates into zero-step entrances to garages, front doors and showers; wider hallways; and design considerations like rounded countertops, lowered microwaves and raised dishwashers.
Outside the home, the focus on longevity is just as important. Homes are built with low-maintenance materials like brick, stone or cement siding; vinyl windows; 30-year shingles; and fiberglass exterior doors – materials that won't rot or need to be repainted constantly. Plus, HOA fees cover regular lawn maintenance, eliminating the need to mow, prune and maintain a yard year-round.
Low-maintenance living was a key consideration for Peggy Russell, who chose to move into Sterling Estates in Marietta before construction on the development was even completed. Peggy's husband, Chuck, had been suffering from dementia for about five years when she decided to downsize from her large home in East Cobb, which had become difficult to maintain.
"I finally decided after about three months that moving into a smaller home was not the answer because I'd still have the air conditioning or roofing problems," she says. "That's when I realized that there were senior communities out there."
Peggy chose Sterling Estates' independent cottage, one of three types of housing in the community. Though not a true active adult community, Sterling Estates offers both independent and assisted living through increasing levels of care across its housing, which include cottages, garden homes and apartments. Chuck would have access to the medical attention he needed, while Peggy could retain her active, independent lifestyle. Plus, she says, "I just wanted to be around people who were my age. Most of them here are."
Like active adult communities, multilevel care communities like Sterling Estates are another example of the evolution of retirement housing. By offering progressive levels of care, these communities appeal to a wider swath of retirees and provide options to couples like the Russells, who have different medical needs but want to stay together.
Pete Green, Sterling Estates partner and director of development, says this configuration means that couples don't have to separate if one ages more rapidly than the other. The community is also developing a Sterling Concierge Care program that will provide respite for caregiving spouses like Peggy, he says, as well as a second location in West Cobb that will open in August.
---
More Than a Home
"We firmly believe that the neighborhood that somebody lives in is just as important, if not more important, as the home they live in," says Ness.
Peggy Russell and the Goldmans would surely agree. Active adult communities give those 55 and over a low-maintenance home that's designed to accommodate them and their abilities as they age, while also providing nearly endless outlets for physical and mental activity.
It's easy to see why these communities have become so popular with healthy, active baby boomers, who don't necessarily want to slow down as they age.
"They're finally able to focus on themselves, so there's a whole world of opportunity open to them now. A lot of them are still working, but many of them have retired, so they're thinking about how they want to spend their time and what activities they want to pursue," says Garlick.
Active adult communities "make those opportunities available to them and give them opportunities to figure out some new interests or what they have always wanted to pursue but maybe haven't had the time for," she says.
Pickleball, anyone?