Traveling the Town Center CID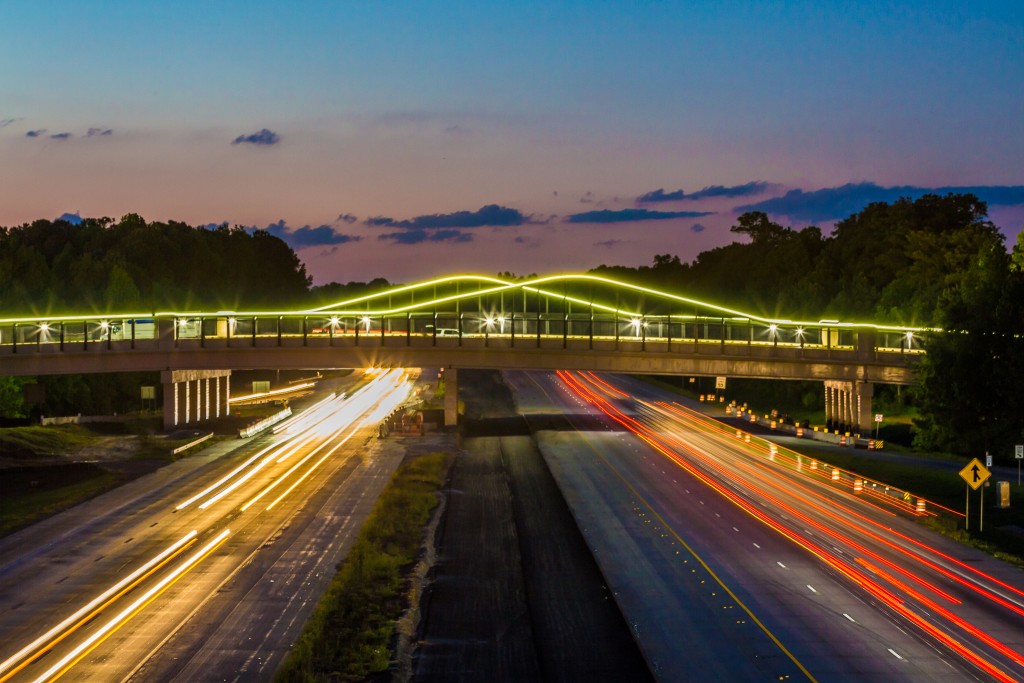 Two projects out of North Cobb County's Town Center Community Improvement District (TCCID) have folks in that very congested area getting around more quickly and safely.
First up, the new Skip Spann Connector, a lighted bridge over I-75 just north of Chastain Road, opened at the end of April. The four-lane divided bridge, with wide sidewalks along both sides, is expected to reduce traffic and increase safety for walkers and bikers – many of whom are students at Kennesaw State University on the west side of the bridge.
The bridge came about thanks to a partnership between Cobb County Department of Transportation, Georgia Department of Transportation, KSU and TCCID and will provide better access across I-75 for KSU, Town Center at Cobb and other areas.
Not only are students expected to be some of the primary users of the bridge, they were also instrumental in its design. In 2010, Cobb DOT hosted a competition with students from Chattahoochee Technical College (CTC), KSU and what was then Southern Polytechnic State University (SPSU). The team consisting of Donna Jones (KSU), Lewellyn Payne (CTC) and John Tufts (SPSU) won with their rail design that reflects the peaks of Kennesaw and Little Kennesaw Mountains.
Also in April, the Atlanta Regional Commission presented its 2016 CREATE Community Award for Technology to a second TCCID transportation project, the Zagster Town Center Bike Share Program.
Zagster, a mobile app, allows area visitors and residents to unlock and rent bikes at three Zagster stations with just a mobile device. The first hour of every ride is free, with each additional hour only $3.
The program debuted in November 2015 and already has nearly 2,000 members who have pedaled more than 4,000 trips.
"We are thrilled that our Zagster Town Center Bike Share Program has been recognized with this award," says CID Executive Director Tracy Rathbone in a press release. "Developing innovative projects to improve access to and connectivity across the Town Center area is a main focus for the CID, and this recognition is a powerful nod that regional leadership sees us moving in the right direction."
So, as the band Queen says, "Get on your bikes and ride."
Photos of the Skip Spann Connector bridge courtesy of TCCID