Visit Georgia's State Parks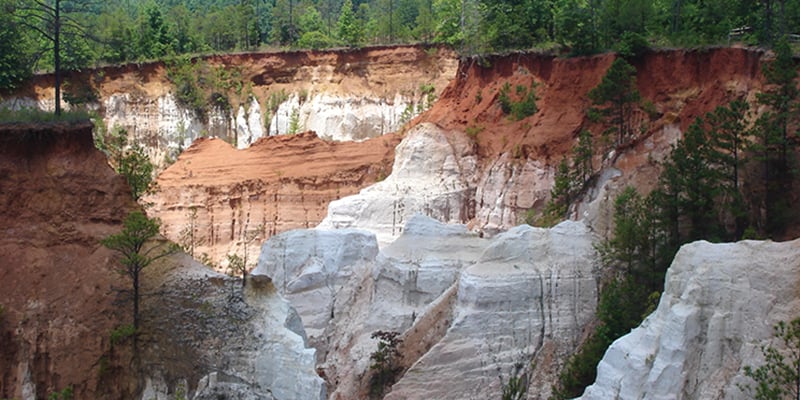 There are few resources that are available and accessible to nearly everyone no matter your location, your income, your mobility, your age or your education. Georgia's State Parks and Historic Sites, celebrating 85 years of encouraging people to go outside, are one such resource in our state. With more than 60 parks and historic sites scattered across Georgia, there's something for everyone.
And this year, as part of the parks system's birthday celebration, it's offering new programs designed to bring in more visitors and encourage them to enjoy the system's other parks, too. Here's just a taste of some of the activities at Georgia's State Parks and Historic Sites (click on the photos to view them full size):
Hike the trails and enjoy the spectacular colors of the "Little Grand Canyon" in Southwest Georgia at Providence Canyon.

I spotted the wrecked moonshiner's truck at Amicalola Falls. It's part of the park's Hidden Gems program, which is ensuring that some previously unknown – or at least hidden – areas of the parks are more accessible. And speaking of accessible, the truck sits above and within sight of a wheelchair-accessible (if you have a strong pusher) trail made of recycled tires that leads to a beautiful view of the falls.

Visit Witch's Head, a rock formation off the beaten path at Tallulah Gorge, which is only accessible with a guided hike.

Jimmy Carter isn't the only president with strong ties to Georgia. Franklin Roosevelt had his Little White House at Warm Springs. There you can see a replica of the Mayflower – a ship in a bottle – carved from timber from the original ship, which sailed in 1620.
From Black Rock Mountain State Park in Northeast Georgia you can see four states – Tennessee, North and South Carolina and Georgia.
Next time you're on I-75 just north of Macon and need a rest stop, don't pull into a gas station or fast-food outlet. Stop by High Falls State Park, where you and your kids can cool off in the pool, fish or check out the ghost town.
Helping keep programming fresh and parks pristine is the Friends of the Georgia State Parks and Historic Sites. A statewide organization with chapters at 57 parks, Friends volunteers provide park clean up, fundraising, trail blazing, whatever a park needs, says Andy Fleming, executive director of the Friends group.
"The folks at Red Top [Mountain State Park] do re-enactments of what pioneer life would have been like in the 1840s," he says. "Fort McAllister, [near Savannah] is where the conclusion of Sherman's March to the Sea was. So our Friends volunteers support Civil War re-enactments including the famous March, and the conclusion of the U.S. battle there in December. Down the coast a little bit they have Colonial, Revolutionary War re-enactors at Fort King George."
Read more about Georgia's state parks in this month's feature "Into the Woods," and make plans to explore all our state has to offer this summer.
Featured photo of Providence Canyon courtesy of the Georgia Department of Economic Development.