Old Values, New Successes
2016 Most Respected Business Leader: Larry Gellerstedt III, President & CEO of Cousins Properties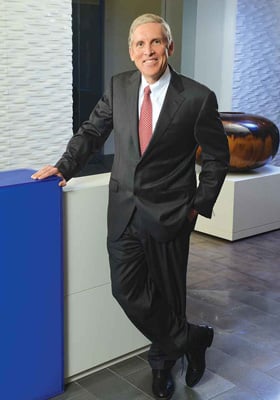 The Saturday afternoon in 2009 when Larry Gellerstedt walked into a meeting of the board of Cousins Properties, he knew he was about to be offered the CEO's job. Like other real estate businesses, the Atlanta company founded by Tom Cousins in 1958 was feeling the effects of the recession. The board turned to Gellerstedt, then the company's president and COO, who had a career-long history of success in the construction industry.
But his initial remarks to the board addressed neither the company's portfolio nor its balance sheet nor plans for its future.
Instead, he said, simply: "I don't know if y'all were talking about it before I got here, but let's put my mental health on the table, because I don't want y'all to feel uncomfortable. Here it is: I had this challenge. Here's what I do today to try and stay healthy."
The challenge he referenced was a long struggle with depression, for which he had first sought help several years before and about which he has spoken candidly and publicly. "I did what I did because I thought it was important, and I hoped it would help people. I haven't tried to be a poster boy, but I'm not embarrassed about it."
Before and after he confronted his illness, Gellerstedt ran some profitable and innovative companies, including Beers Construction Co. He has steered Cousins, a real estate investment trust (REIT), to a post-recession position of strength, with 2015 year-end revenues of $381.6 million and total market capitalization of $2.9 billion. He has been a leader in arts, cultural and civic endeavors, including a successful stint as 2015 Metro Atlanta Chamber chairman.
For his business success, his civic leadership and his personal courage, Larry Gellerstedt is Georgia Trend's 2016 Most Respected Business Leader.
---
Career Path
Gellerstedt, 60, is a third-generation business leader who combines an energetic New Atlanta style with impeccable Old Atlanta credentials. His grandfather worked with banker Mills B. Lane, part of the progressive business and civic coterie that kept Atlanta on the right side of racial history during the Civil Rights Movement. His father ran Beers, one of the city's premier builders, and helped establish the Georgia Research Alliance.
Gellerstedt grew up in Druid Hills, was educated at Westminister, then studied history and psychology at the University of North Carolina in Chapel Hill. After college, newly married, he thought he would go to law school or to grad school in psychology. "I needed an interim job to finance that," he says. "My dad had an opening in his company. I had worked in the field as a laborer [in the summers], but never anticipated going back. But I went to work for my dad."
At age 26, under Beers auspices, he started a new business, BCB Company, which focused on building for the healthcare industry. "Most contractors were generalists," he says. "I really felt like there was an opportunity to specialize in certain building types that had certain levels of complexity – hospitals were one of them." Since then, the industry has moved in the direction of specialization, but it was a new approach in 1982 – and a very successful one.
"The company could never have worked without the blessing of my father and the support of his company," Gellerstedt says. "The company just took off. It was extraordinarily successful."
By 1986, his father was ready to step away from day-to-day management and asked his son to take over. Beers and BCB were merged, and Gellerstedt became CEO; his dad stayed on as chairman of the board. "My dad was such a terrific person. He was always there if I needed to ask him a question or bounce an idea off him, but he never hovered; he never interfered. Now that I'm approaching his age at the time, it amazes me even more."
When Gellerstedt took over, the combined company revenues were about $160 million annually; by the time it was sold to Swedish company Skanska AB in 1994, revenues were $1.2 billion.
"In a relatively short period of time, we grew the company in an amazing way. I always say in life it's a combination of a little bit of skill and strategy and a lot of luck. Little things happen," he deadpans, "like the Olympics happened to come to Atlanta. We built the Olympic Stadium; we built Turner Field."
A favorite story of his early days at Beers illustrates his straightforward business approach and presages his current role at Cousins.
"My dad always had this philosophy in his business: He never marketed the company, he never went out and asked for business. He was sort of old school in that regard. He was prominent in the community, but it was like, 'People know I'm here, and if my friends want me to build something, they'll pick up the phone.' I had started a business, and I was aggressive."
Despite the fact that his father and Tom Cousins moved in the same circles and were friends, they had never done business together. Gellerstedt went to see Cousins. "I said, 'I don't know why we've never been able to do any business,' and he looked at me in that Old Atlanta kind of way and said, 'Well, your dad's never asked me for any business.'"
That, Gellerstedt realized, he could do something about. The companies subsequently worked together on the 191 Peachtree Building, where Cousins Properties is now headquartered, the Bank of America Plaza, and other projects.
After Beers was sold, Gellerstedt was chairman and CEO of an Atlanta-based manufacturing company, American Business Products. It was sold as well; his leaving coincided with coming to terms with his depression – and taking a year off to teach history, coach his son's baseball team and take some graduate classes at Georgia State.
---
The Road Back
Next he spent a couple of years as a partner at The Integral Group, a company founded by his good friend Egbert Perry, a protégé of Herman Russell; the company was involved in replacing public housing developments with mixed-income communities, including the re-do of Techwood Homes.
"The work was amazing – you were not just doing physical transformation, you were trying to do social transformation. You had to deal with school problems, drug problems, trust problems."
Despite coming from a family he describes as very progressive on race issues, working as one of a handful of white employees in an 80-person company had an impact. "It taught me so much. People that I'd always done banking with, when Egbert and I went to see them, they acted different. In different communities, I learned that I could say the same thing that Egbert would say and the room would light up in a negative way."
He left Integral to start The Gellerstedt Group, focusing on condos and mixed-use developments; that company was subsequently bought by Cousins.
"Cousins had decided it wanted to get better at urban mixed-use properties," he says. "In 2005, they were seeing a trend. They saw what we were doing – retail components on top of housing – and they were interested.
"My company had gotten to a size where I was either going to have to make a decision to keep it small or have to start putting a lot of infrastructure in and growing a bigger business. I sold my business to Cousins, and they asked me to run what was then called the Office Division."
---
At Cousins
A few years later, Gellerstedt was leading the company. "I became CEO in June of 2009. It was a very tough time for the company. The world was in trouble. A lot of the recession had been driven by real estate challenges. Cousins certainly had its share. Although it was certainly an honor to get to be CEO of Cousins Properties – the history, the admiration I had for the company and for the Cousins family – it was a huge responsibility, not just to the shareholders and employees, but also to the values that Tom Cousins and this company had always stood for.
"I told Tom when I took over the company: 'I hope I make good business decisions, but I guarantee the company won't do anything to embarrass you.'"
The first couple of years required some tough calls about cost structure and getting out of certain businesses. "Those aren't decisions you sleep well at night having to make," Gellerstedt recalls. "They were decisions of survival. We had to triage the company and get it stable so we could then chart a new path. Because of the hard decisions we made, with the values [in mind] of the way this company has always been run – we were always transparent, always very aboveboard and operated with a high degree of integrity."
Those decisions allowed Cousins to set off in a new direction at the end of 2011 – including a focus on urban projects in the Sunbelt.
"One of things he [Cousins] stressed was core values, remaining consistent not just from year to year but from decade to decade," he says. "One of those core values was having a conservative balance sheet. Real estate is not known for always having conservative balance sheets, but it's one of the reasons Cousins survived for so many years during some really wicked recessions. Tom learned that lesson during the early '70s, so today Cousins has the strongest balance sheets of anybody in our peer group. In 2009, we had the weakest."
The strategy makes for a more nimble company. "We won't be right all the time in picking the right asset to buy or build, won't be right all the time in terms of picking when the economy's going up or down," Gellerstedt says. "But as long as you keep that balance sheet conservative, you can withstand recessions when they inevitably do come and make sure the company is stabilized.
"We had to fix that in '09, and I want to make sure whoever sits next in my chair after me inherits that flexibility – we can focus now on making the right real estate decision and don't have to worry about balance sheet decisions and finance decisions."
He is optimistic about the future. "Our company generally is in a great position. We do business in the Sunbelt. The Sunbelt population is growing. Businesses like to be in the Sunbelt. We focus the vast majority of our attention on urban, whether it's Austin, Texas, or Atlanta or Dallas. More and more people, particularly young people, are wanting to live in the urban core. We like to be in the Sunbelt, like to be in the urban core of really successful cities. We like to be near transit."
The Atlanta portfolio includes properties in downtown, Midtown, Buckhead and the Central Perimeter – all within two blocks of transit. Portfolios in other cities mirror that.
Current projects include a new $200-million headquarters for NCR in Midtown; a $120-million mixed-use project in downtown Chapel Hill; a $70-million office project in Alpharetta's Avalon; and another one in Charlotte.
---
Civic Rent
You can't tell Larry Gellerstedt's story without focusing on his civic activities. He is a trustee of the Robert W. Woodruff Foundation and has chaired the boards of the Woodruff Arts Center, Children's Healthcare of Atlanta, Fernbank and the Metro Atlanta Chamber, among others.
"Wherever you live, you benefit so much from the community being healthy," he says. "You have an obligation to pay it back. My parents used to call it civic rent. All these institutions you benefit from – whether it's a church, the YMCA – somebody had to have put time and passion into making them happen. I was raised in an environment where that was expected – but it was a gift to be able to do it."
There is a business value as well: "I've always been in the kind of business where it wasn't inconsistent" to be engaged in the community. "Construction and the real estate business – they are local businesses, they are relationship businesses. That's really been fortunate."
Perhaps no civic responsibility was as demanding as Gellerstedt's chairmanship of the Metro Atlanta Chamber last year; it is something of a family tradition. His grandfather led the chamber in 1944 and his father in 1972.
During his year, in 2015, there were some tough stands to take on legislation under consideration at the State Capitol. Internally, there were new policies to implement in support of a new leader, Hala Moddelmog, the first woman to serve as president and CEO of the chamber.
"Larry was invaluable in his role as chairman," says Moddelmog. "His guidance of the chamber and his commitment to ensuring a positive and growing business environment in our city and state were critical to the success of the chamber's initiatives. On a personal note, I deeply admire all that he has accomplished and consider him both a mentor and a friend."
Gellerstedt is pleased with the chamber-backed transportation funding bill that passed the General Assembly last year and enthusiastic about the ChooseATL campaign Moddelmog initiated to promote Atlanta as a digital hub and attract new professionals and new companies.
He is proud, too, that the chamber continues its tradition of serving as the voice of the business community on issues of importance, including so-called "religious freedom" bills he sees as harmful to the state and its economy. "I keep asking the question of every politician I see, 'What problem is it we're trying to fix?' If you insist on [passing] something, lead with, 'You can't discriminate against anybody.'"
Speaking out goes with the territory, he believes. "I felt compelled. It's not only the right thing to do as a human being for the state and region, but for long-term value to Cousins. It's going to be better with a healthy community and healthy environment. If it caused me to take some heat in the short run, that's just the price of leadership."
Of course, Gellerstedt has experience speaking out on difficult topics – including the story of his own depression. He says without hesitation that he has never regretted that decision. Almost 16 years later, he still gets calls "from people I don't know very well that call on a confidential basis" to seek his advice.
"I spoke out for a very simple reason: Treatment was available, and I was too proud to acknowledge that I needed help. I paid a price for it and, more importantly, my family paid a price. There was nothing heroic about it. It didn't cost me my business career. I had been blessed enough up to that point of time I could have provided for my family" if there had been repercussions.
---
Looking Ahead
Gellerstedt is ready with an answer to the question of how long he is likely to remain at Cousins: "The day I don't wake up and have just 100 percent passion and excitement about being in this spot is the day I need to turn it over to somebody else. I don't measure a CEO's success by tenure. I'm going to continue to do this as long as the board wants me to, as long as it's fun and I think I'm adding value to the company."
So did he feel that passion and excitement when he woke up this particular morning?
Absolutely, he says. He is anticipating a meeting later in the day with company leaders to talk about strategy and vision for the company over the next five years.
"It's so much fun at this point in my career. I will go into that meeting and be primarily a listener. I know this talent I've assembled. If I can just provide the context, they'll come up with stuff I can't imagine.
"I don't need or want to catch the ball in the end zone anymore. I get so much more joy in seeing somebody I happened to be a part of bringing to this company or mentoring. … Yeah, I was excited this morning."