Into the Woods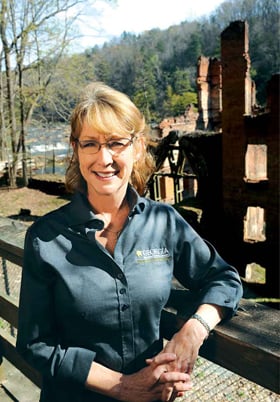 Georgia may be the No. 1 state in the nation for business, but it takes so much more than a healthy corporate climate and strong industrial base for a state – and its people – to thrive. In fact, we've known since at least the mid-1600s, when the saying "all work and no play makes Jack a dull boy" first appeared in print, that a work-play balance is important to a life fulfilled. Thankfully, the Peach State's got us covered there, too.
Our strong and diverse system of State Parks and Historic Sites, which is celebrating 85 years of encouraging folks to get off the couch and into the great outdoors, offers an abundance of historic sites, lakes and rivers, hiking and biking trails, cabins, campgrounds and yurts that add to our quality of life and draw a significant number of visitors every year.
So put on your hiking boots and let's take a look at how our system of parks, which stretches from Black Rock Mountain in the far Northeast corner of the state to Seminole State Park in the Southwest, is getting us moving and adding to our economic prosperity.
---
Past Meets Present
A division of the Georgia Department of Natural Resources (DNR), the State Parks and Historic Sites was officially established in 1931. The statewide jewel was inspired by the National Park Service, which is also celebrating its own 100-year milestone this year.
The seeds of the state's park system were planted in the 1920s. By then, more people could afford automobiles and venture out of town, and Georgia's forests were already drawing people for recreation, contemplation and camping. In 1927, the state Senate placed 10 acres at what is now Indian Springs State Park in Flovilla under the control of the State Board of Forestry for use as a state park.
It was a first step, but one at odds with the prevailing view of forests as crops to be harvested. So a separate division of state parks was established in 1931 with two parks: Indian Springs and Vogel, in Blairsville, which were called forest parks.
"Back in the day there were forestry parks and pretty much just timberland that were set aside that didn't really have much direct purpose," says Becky Kelley, director of State Parks and Historic Sites. "As the state started accumulating these lands, they recognized that they had the opportunity to invite people to enjoy them and learn from them. So the decision was made to formalize this [system]."
Since then, the system has grown to include 48 parks and 15 historic sites, with lots to see and do. You can mountain bike on 20 miles of trails at Fort Yargo State Park in Winder, kayak through whitewater rapids at Tallulah Gorge during the bi-annual dam release, get nose to nose with an alligator at Stephen C. Foster State Park or watch the sun paint Georgia's "Little Grand Canyon" at Providence Canyon Outdoor Recreation Area in Lumpkin.
The state park system also offers a number of ways for people to have fun while learning something – in an effortless and painless way – about the state we live in. History buffs can get their noses out of books and step into the past, whether their interests are Native American (Etowah Indian Mounds Historic Site), the Civil War (Fort McAllister), presidential (FDR's Little White House Historic Site) or the 18th century (Fort King George).
Fort McAllister Historic State Park near Savannah marks the end of Sherman's March to the Sea. "That fort is a remarkable historic asset," Kelley says. "On that same property but away from the fort, we also have cottages and campgrounds and water trails and nature trails. So we call that a park even though it's an extremely important historic property as well."
Different from parks, historic sites are focused solely on the importance of a particular building or location, she says. "We have places like Fort King George or the Hofwyl-Broadfield Plantation or sites in our system like the Robert Toombs House. Those are structures or properties that are exclusively focused on the historic part of what that building meant to our state."
The system's newest state park, Don Carter outside Gainesville, also offers a bit of education – this time ecological. The park sits where the Chattahoochee River meets Lake Lanier. Opened in 2013, it is the first state park on the lake. "It's where the mouth of the Chattahoochee becomes Lake Lanier," Kelley says. "That was an important acquisition for us, because it allows us to talk about the transition from the river to the lake and is a great opportunity to bring people further away from the crowds in the bigger water parks of the lake."
The next park will likely be Standing Boy Creek, just north of Columbus. The system owns the property and is developing a master plan for the park, with funds provided by the Georgia Natural Resources Foundation, the nonprofit arm of the Georgia DNR.
"The Standing Boy master plan is so important because [it] is the closest state park on the water to Columbus," Kelley says. "With all of that energy associated with [whitewater in Columbus], we know that Standing Boy, if we can capture any of that, will help the city of Columbus, Muscogee County, and we've got an automatic draw to our state park. That's a great example of working together with a community that's already really recreation minded."
---
Movies and More
With the growth of the entertainment industry, it was just a matter of time before film and TV producers discovered the beauty of our parks and put them in the movies.
On the southwest side of Metro Atlanta, Sweetwater Creek State Park, the most visited park in the system, is getting wide exposure thanks to The Hunger Games: Mockingjay 1 and 2, which were both filmed at the mill ruins there.
"We've had a lot of moviegoers come here the last couple of years, especially with the release of Mockingjay, because the New Manchester mill ruins are here," says David Jordan, manager at Sweetwater Creek.
The mill, partially destroyed during the Civil War, also draws history buffs.
"The mill only survived for a period of about 15 years," Jordan says. "It was destroyed by the Union Army because they were making fabric that was used to clothe [Confederate] soldiers."
To accommodate this upsurge of visitors in style, Sweetwater Creek opened a yurt village back in September.
"I think the best thing about a yurt is the fact that you don't have to sleep on the ground," says Jordan. "Staying in a yurt is glamping, because it's a little bit upgraded from staying in a tent. It's still a canvas structure, but it's got some futons. There's a little porch on the back. It was probably one of the most awesome things to happen here."
Movies aren't the only draw to metro area parks. Panola Mountain State Park, east of Atlanta, is a National Natural Landmark and a part of the Arabia Mountain National Heritage Area – one of only three national heritage areas in the state and only 49 in the country.
"National heritage areas are places that are lived-in landscapes, as opposed to a true national park model where the federal government comes in, buys the land and sets aside that land for public use," says Mera Cardenas, executive director of Arabia Mountain National Heritage Area Alliance. "In a national heritage area, you are as likely to find Stonecrest Mall, [which] is in the Arabia Mountain Heritage Area. There are modern subdivisions, but then there are also pockets of these protected greenspaces. We have history and culture and nature, and that's what most heritage areas are built around."
Thanks to its inclusion in the national heritage area, Panola Mountain is connected to Arabia Mountain – and beyond – as part of the PATH trail system of greenway throughout Metro Atlanta.
"The PATH Foundation trail might not have been something that either park [Arabia or Panola] would have done on their own," Cardenas says. "But by having a vision that extends beyond the park boundaries and draws more of the immediate community and the metro community in, I think it enhances what all of our partners are doing."
"We're celebrating our 10-year anniversary of the national heritage area," says Kelley. "That's the kind of thing that we're all about these days, working with other like-minded people to do this stuff that will last for generations. We want to be a draw for our state. We want our parks to be safe and inviting to all and to give experiences that you can get nowhere else."
---
Parks as Business
The parks in Metro Atlanta may draw the largest numbers of visitors – not surprising says Kelley, given the population surrounding them – but they aren't the only assets in the state's box of beautiful spaces.
"We view our Metro Atlanta parks as our gateway. These are the close-at-home parks for the majority of our population. And it's just the tip of the iceberg of the opportunity that people can find if they choose to look at visiting some of our other parks and historic sites," she says.
Going outside has become big business. According to the Outdoor Industry Association, Americans spend $646 billion each year on outdoor recreation, which generates 6.1 million jobs. In Georgia, we see $23.3 billion per year in consumer spending and 231,000 jobs. And state parks are an important part of that.
"We consider ourselves one of the biggest businesses in the state of Georgia," Kelley says. The system manages more than 85,000 acres that offer outdoor recreation, protect the environment and preserve our history. "The 8 million visitors we have bring in $610 million worth of revenue and support well over 6,000 jobs statewide. The economic impact of our parks is equal in some ways to the natural, cultural and recreational value."
---
Partners and Friends
Working with communities and other partners has become increasingly important, especially since the Great Recession took its toll on park funding. The system has developed partnerships to raise funds for upkeep, to help get the word out about the parks through marketing and to grow the volunteer base.
"Back in 2009 when everything really started getting serious with the economy, we were challenged with the legislative mandate to pursue a strategy of self-sufficiency that was helped along with about a 39 percent cut in our budget," Kelley says. "So we had incentive to seek a new operating model."
The system took a hard look at all aspects of its operations, including unique cultural assets (think historic sites), existing services and system needs. This critical examination led to partnerships that are allowing the parks system to thrive today.
"We have made some very significant changes in the way we do business and have brought on a number of partners – philanthropic, civic, as well as our corporate partners, to really make sure that we keep our state park doors open, that everyone feels invited to come and have a great time every time," Kelley says. "We really saved our park system and have transitioned it to be one of the best in the nation."
As director of the parks, Kelley should feel the system is the best – and say it. But others have recognized parks management, as well. The system was named a finalist for the National Recreation and Park Association and American Academy for Park and Recreation Administration's National Gold Medal Awards for Excellence in Park and Recreation Management. It's the third time since 2007 the system has made the list, which is only announced every other year.
One of the partnerships that is not only saving system resources but is also helping park visitors enjoy a better lodging experience is the privatization of all lodge operations. The system owns lodges at Amicalola Falls, George T. Bagby, Georgia Veterans at Lake Blackshear, Little Ocmulgee, Reynolds Mansion on Sapelo Island and Unicoi.
As they were looking at operations, Kelley says, they realized they had a hospitality partner in the North Georgia Mountain Authority. (NGMA operates Brasstown Valley Resort in Young Harris, which is state owned but not part of the parks system.)
"So we worked with them to create a third-party operator agreement, where they run our lodge parks for us and they contract with Coral Hospitality," she says. "Coral and NGMA have been able to make investments, renovations and improvements. We have completely refreshed many of our assets [to provide a] hospitality experience that only state parks can provide. They work with our resource management team and our interpretive management team to make sure that when you come you appreciate the natural and cultural environment as well as you do the hospitality that's offered."
Another organization that's grown in importance as a partner is the Friends of Georgia State Parks & Historic Sites. "I cannot say enough about the value of this team," Kelley says. "This is a statewide organization that has established chapter groups in almost every one of our parks and historic sites. They help our frontline park team work with the local community from the chamber of commerce to the board of education to the board of commissioners to the mom-and-pop convenience store that people are going to to buy their ice and Cokes before they go to the parks."
The work of the Friends organization is two-fold, says executive director Andy Fleming. "We're primarily a membership organization. People join Friends because they get deals on camping and golf and other things at their state parks. We have about 25,000 members currently. Second, we're a service organization. We have about 6,000 volunteers each year, folks who come out and work at their state parks or historic sites."
This army of volunteers, which essentially doubles the workforce of the parks, works at the individual parks and sites through one of 57 Friends chapters, which offer support, fundraising and labor – whatever is needed in a particular park. "We have created a strong grassroots frontline support team, and that team does everything to help our team maintain the parks, run the programs, raise money and just maximize the profile of our parks for our local community," Kelley says.
It's an essential part of park operations, Fleming says. "Our volunteers provide more than 82,000 volunteer hours each year to the state parks system. And we place a value on that of about $1.9 million a year."
The value of the Friends is growing in other ways, as well. The organization in partnership with the parks is in the preliminary phase of a capital campaign.
"We've recognized that the best way for our system to continue to grow and help our state, serve our citizens and to provide all that we want to do, is that we need to have capital investment," Kelley says. "Friends are reaching out to people to help get perspective on how they can best position themselves to help us get funding to enhance and improve the park system."
It's all part of the process of the Friends growing from a service organization at the individual park level to helping the parks system as a whole, she says. They're exploring ways they can bring in corporate and philanthropic partners and looking at the kinds of projects that organizations will want to support, from master plans to specific playgrounds to outdoor classrooms.
One corporate partner that has been vital to both the Friends and to the parks system, as well as providing recreation opportunities on the company's own lakes and property, is Georgia Power, whose work with the Georgia DNR stretches back decades and continues to this day.
"Georgia Power has a long history of working, consulting and partnering with the GDNR to protect land and wildlife resources on Georgia Power property and lakes," says Mike Phillips, Georgia Power's land management manager and a member of the Friends board. "A great example of our partnership with the state is the creation of the Tallulah Gorge State Park. The park was created in the mid-'90s when Georgia Power and the state entered into an agreement to create the park from lands owned by Georgia Power."
"I think the corporate message is that state parks are a good investment because they are directly adding to the prosperity of our local communities as well as our state," Kelley says.
It's not just a corporate message – it's one all Georgians should heed. So grab your camping gear, your swimsuit and your curiosity. Our state parks and historic sites await.