Gaps in Care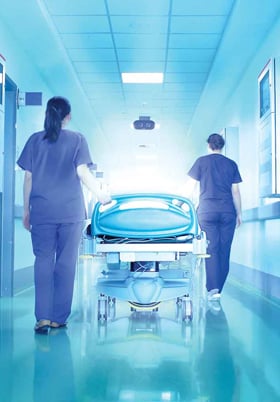 The statistics are grim: Georgia's ratio of physicians to population is one of the lowest in the nation at 39th, according to a 2013 report released by the Georgia Board for Physician Workforce (GBPW). The same report, the Georgia Physician and Physician Assistant Professions Data Book 2010/2011, states that Georgia's population growth is outpacing its primary care physicians. Plus, more than half of the total physician workforce is 50 or older, hinting at a troubling purge of physicians in the next decade.
Fixing these issues is a long-term endeavor, says Georgia Sen. Renee Unterman, chair of the Senate Health and Human Services Committee. "It didn't occur overnight, and it's not going to be fixed overnight," she says. "It has been a focus for several years now, but now we're getting to a critical status."
We know the problem. Let's see what we're doing to find the cure.
---
Expanding Nursing Education
"In the past decade, beginning in 2001, we've begun adding programs," says Gretchen Corbin, commissioner of the Technical College System of Georgia (TCSG), which oversees the state's 22 technical colleges. "We only had one associate of registered nursing program in 2001. We have grown that now to 13 colleges, and we have made sure that all of these colleges are located strategically around the state."
Nursing is an integral component of the healthcare shortage. Nationally, the nursing shortage is projected to balloon to 260,000 registered nurses by 2025. In Georgia, the University System of Georgia (USG) Center for Health Workforce Planning and Analysis (CHWPA) projects a shortage of almost 50,000 registered nurses by 2020 without effective action. And, as with physicians, a large number of the state's registered nurses are expected to retire in the not-so-distant future – 60 percent of this workforce is 50 or older, according to a center report from 2010.
In addition to the expansion of registered nursing programs, Gov. Nathan Deal's Strategic Industries Workforce Development Grant program includes practical nursing as one of its 10 strategic areas. The program provides grants to students studying certain high-demand career fields to boost workforce development in these areas while helping cover the educational costs for students.
In all, the state's technical colleges produce approximately 500 registered nursing candidates each year. USG, which includes 29 colleges and universities statewide, produces an additional 2,600. Add to that the approximately 300 nursing candidates produced by private colleges, and the state of Georgia produces approximately 3,400 registered nursing candidates each year. But is it enough?
"We keep hearing the predictions for the future that there's going to be a tremendous shortage of nurses going forward, and we're also very much aware that there are a large number of nursing programs around the state, both through the university system institutions and the technical college schools," says Hank Huckaby, USG chancellor. "We've become concerned that going forward, if we're going to make the impact that we will likely need to make in terms of providing appropriate healthcare professionals to the Georgia economy, that we need to do a better job of knowing what we're already doing, how well we're doing it and, particularly, where we're doing it."
To better understand the nuances of the state's educational and healthcare landscapes, the USG and TCSG began working on a comprehensive analysis of nursing supply and demand late last summer. The plan is a close collaboration among USG, TCSG, numerous state associations and leaders, and a New York-based consulting firm that has performed similar analyses for the federal government.
It's a long-range planning document that will provide projections and insights for the next 10 to 15 years, says Ben Robinson, CHWPA's executive director. He anticipates receiving the first bits of data from the study this summer. From that data, the state's educational and clinical institutions can develop targeted, informed strategies for improvement.
"So much has changed. Our capacity to educate in both systems has gone up. On top of that, we've had radical change in the healthcare system itself," Robinson says. "So what does that mean in terms of demand and supply? We don't know; and we need to take a second look."
---
Increasing Medical Residency Positions
"We already have a deficit of physicians, and if we don't do something very specific, that deficit will increase," says Huckaby. "To that end, a critical aspect of educating physicians and then keeping them in our workforce in Georgia is that we need to create more opportunities for graduate medical education, and that means creating opportunities for there to be residencies in Georgia. The research shows that the more doctors you have do their residencies in Georgia, the more likely they are to stay here."
Increasing these positions in Georgia is a tricky endeavor. Because healthcare programs all require clinical experience, expanding one program can mean straining another. They take time, too; Robinson estimates that on average it takes three years to establish a new medical residency.
But perhaps the biggest challenge for Georgia's residencies is the federal cap on the number of medical residency positions at existing teaching hospitals, says Cherri Tucker, former executive director of GBPW. The cap has been in place since the 1997 Balanced Budget Act, and it effectively prohibits the state's graduate medical education programs from growing.
In this area, too, Georgia ranks near the bottom in the nation. According to the Association of American Medical Colleges 2015 State Physician Workforce Data Book, Georgia ranks 40th in the total number of medical residents per 100,000 population. To meet the average across the contiguous states, Tucker says, Georgia would have to add approximately 465 residency positions. And the state would have to do this by transforming existing hospitals into teaching hospitals to work around the federal cap.
But there's good news, too: The USG's medical resident expansion initiative began in 2010 with a goal of growing residency positions in the state by 400. About five years later, the state's beating its goal, with more than 420 new graduate medical education positions slated by 2022, says Tucker.
Lawrenceville's Gwinnett Medical Center now has three residency programs: one in internal medicine, one in family medicine and the third, a transitional year residency, allows residents to experience a variety of specialties during the program. In Athens, Athens Regional Medical Center's residency program will begin in July, and St. Mary's Hospital's 10 residencies will double next year.
Valdosta State University and Southwest Georgia Medical Center (SGMC) have been partnering since 2008 to train and retain nurses in the region via a nursing scholarship. The initiative seems to be working. Not only has SGMC hired more than 30 nursing students from Valdosta State to help meet the growing regional need, a 2012 VSU study of alumni, including those who graduated with a degree in nursing, found that approximately 67 percent stayed in South Georgia after graduation.
Colquitt Regional Medical Center in Moultrie will also begin training residents in its new rural-track family medicine residency in the hopes of keeping more physicians in Southwest Georgia, the state's most underserved region. And Redmond Regional Medical Center in Rome will add 10 internal medicine residents this summer.
"We're now beginning to see the fruits of our labor. We're not done, but this year, currently we have 26 new residents. That's meaningful, but that's not where we're ultimately trying to get," says the CHWPA's Robinson. "We're trying to get much bigger, and this year we'll start to see the first real substantial volume of residents in play, with nearly 100 new residents in training on July 1, 2016. We're very excited about that."
---
Growing Pains
Building the state's ability to produce a highly skilled healthcare workforce is vital to the state's health – but it's also extremely expensive. And, because of the interconnected nature of the state's educational and clinical facilities, it also presents a precarious balancing act.
"The reason we want to be careful in how we expand or where we expand … is because if you add a new nursing program, you add demand for faculty. You add demand for deans and the administration. You add clinical demands as well," says Robinson. "It is a very complicated set of issues when you open a program."
And there are other issues to consider as well, says Kathy Love, president of Savannah Technical College. Savannah Tech recently embarked on a $2.5-million major gifts campaign to expand its health services programs and equip biology and chemistry laboratories at its Liberty and Effingham county campuses. Though new programs are still in the planning stages, Love foresees bringing an associate nursing program to the Savannah campus, with other program expansions based on industry needs.
Though demand in the area demonstrates these programs' necessity, adding them will cause strain, says Love. "For faculty members, there's just as much competition within their field outside of teaching at a medical college or a university," she says. "Salaries are great. We have to compete with industry to make it worth their while to come and teach for us."
Love also cites clinical exposure as a pain point for all of the state's healthcare institutions. "We don't want any, particularly in Georgia, of our sister institutions or university system institutions to not be able to have adequate clinical experiences for their students," she says, "but we want the same for our own to make sure that our students are being able to get the experiences so we'll know we're turning out the best possible graduates."
---
Legal Aid
In the General Assembly, the state's mounting healthcare workforce problem has been a major focus for years. And, just as the problem has many causes, the solution has many fixes.
"We're addressing it from many angles, from the education part of workforce development through getting people through college. We're addressing it through the issue of legislation called scope of practice," says Unterman. "That scope of practice is where you are, little bit by little bit, changing laws so that more people can do more things within their practice abilities."
To address demand, you traditionally increase supply by simply creating more of what is needed. But you can also increase supply by doing more with what you have, such as by expanding the role of nurses and other health practitioners once they are licensed, according to Unterman.
"There are more than 125,000 nurses who are licensed through the secretary of state's office, and one of our goals is to make sure that when they went to nursing school and got trained in certain things, that when they get out of nursing school they can do those things. And Georgia, unfortunately, has been a very restrictive state as to what mid-levelers can do and not do."
HB 394, which went into effect May 6, 2015, broadened the licensure of both registered nurses and licensed practical nurses, allowing them to do more with their nursing licenses (among other changes). However HB 684, which would have lifted direct supervision requirements for dental hygienists in some settings, died in session this year.
Georgia's legislature has also expanded charity clinics and federally qualified health centers, allowing healthcare professionals to work in more settings than before.
"What we're trying to do is have more clinics and clinical settings … where these mid-levelers can have access with more patients, and that's very, very important. No longer do we have the traditional emergency room and family doctor clinic; we have more clinics in a broader setting," Unterman says.
This focus also extends to telemedicine, which allows licensed nurses and other mid-levelers to provide everyday healthcare services remotely through interactive, two-way communications. This technology expands clinical settings while also delivering healthcare services to underserved areas that otherwise might not have many options.
Overall, the biggest challenge the state faces is a familiar one: funding. Growing residency positions is expensive. Opening new nursing programs is expensive. Building the laboratory and instruction space necessary to train healthcare professionals is expensive. And getting physicians to serve in rural areas – which are the most underserved in Georgia's healthcare network – is expensive, requiring loan repayment funding and other financial incentives to attract physicians.
To effectively address this issue requires collaboration among the state's many interconnected healthcare entities: educational institutions, community clinical providers, and local and statewide governments. It's a tangled give and take, as changes to one affect the others.
Though the issues contributing to this shortage may be complex, the stakes are simple, says Love. "If we don't provide the workforce that we need in all areas, we're not going to thrive as a state."