Perimeter Area: Robust Assets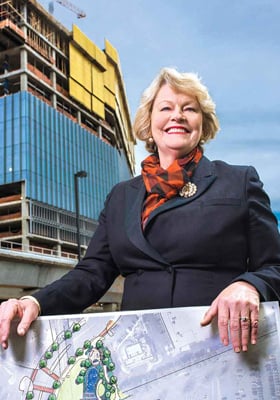 Georgia's newest boomtown isn't really a town – rather it's actually several towns spread across two counties. Central Perimeter on Atlanta's northern arc of I-285 stretches across both Fulton and DeKalb counties and includes the close-in cities of Sandy Springs, Dunwoody and Brookhaven.
The region is being transformed by an influx of corporations building massive campuses, and by cities and agencies that see this once-quiet expanse of suburbia rapidly taking on a more urban hue.
Two of those sprawling corporate campuses in the works – worth billions of dollars in building and infrastructure improvements – are bringing thousands of new jobs that will make the region a bigger economic engine than it has ever been before.
---
Moving In
State Farm, the nation's largest insurer, is building an operations center – one of the largest corporate office projects in the region's history – along Hammond Drive in Dunwoody. The Park Center development is approximately 17 acres and will be built on the existing Hammond Exchange Operations Center and an adjacent 3.9-acre site.
Once completed, the development will include three 20-story buildings that have the potential for up to 2 million square feet of office space. Unlike traditional suburban office parks, it will also include 100,000 square feet of retail, restaurant and entertainment space along with a 175-room hotel and be surrounded by a large expanse of greenspace.
"It's going to be very much a destination for not just folks who work there, but also people from the surrounding towers," says Michael Starling, economic development director for the city of Dunwoody. "They really want to build it as part of the overall community, which is very different from a lot of corporate campuses that are disconnected and everything is internally focused. This is going to be very externally focused."
State Farm currently plans to lease approximately 585,000 square feet of office space in the Park Center development, and that could increase if the company grows.
To get the right workers, State Farm is willing to pay the price. It announced plans to hire 1,500 new employees with an increased minimum starting wage of $15.50 an hour – $2.59 an hour more than usual.
Not far away in Sandy Springs, Mercedes-Benz USA is busy investing nearly $100 million in a 200,000-square-foot North American headquarters. The German automaker will bring about 800 high-level jobs and its global brand to Perimeter.
The company began relocating executives and staff from its Montvale, N.J., headquarters last summer.
These firms will join other well-known Fortune 500 brands such as First Data, UPS and Cox Enterprises, which is also expanding its own corporate campus.
The Perimeter area has become one of corporate America's favorite addresses. Sandy Springs has more Fortune 500 companies per capita than any other city in the country.
"It's kind of the new downtown, if you measure downtown by where your corporate headquarters locate," says Sandy Springs Mayor Rusty Paul. "It's where your major hospitals are located. It's where your major shopping districts can be found."
Even The Atlanta Journal-Constitution abandoned its longtime home on Marietta Street in downtown Atlanta for the Perimeter, he observes.
A variety of factors have contributed to the region's appeal. A network of roads including Ga. 400 and I-285 make getting in and out from anywhere in the metro fairly easy – unless there's traffic gridlock. It's also one of the only suburban markets with mass transit, which these days is a prime criteria for companies that want to recruit an urban, savvy, millennial workforce.
---
Back In a Big Way
All this growth has been good news for the local commercial real estate market. At the depth of the recession, vacancy rates were as high as 40 percent. Now they're down to about 9 percent.
"The [real estate] market has definitely come back in a big way," says Kay Younglove, senior vice president of commercial real estate investment firm JLL (formerly Jones Lang LaSalle). "There is a lot of absorption [of office space] taking place. During the downturn you really didn't see expansion of companies. Now we're starting to see a lot more companies expanding."
Many of the companies that JLL represents in the area are taking advantage of "right of first refusal" on space and adding more square footage to their holdings as they grow beyond their old boundaries.
"Internal growth of existing companies is a huge factor in that," she explains. "There will be some excess space in Central Perimeter that will be freed up as State Farm relocates from some of the existing buildings where they're leasing space into the buildings they're constructing. There will be a backfill over time of those areas that they're vacating."
As companies have snapped up available office space, that has started putting upward pressure on rents, says Kris Miller, a Fulton Perimeter CID board member and president of real estate firm Ackerman & Co., which has its headquarters off Abernathy Road in the area.
"Rents have risen, but both Central Perimeter and Atlanta [in general] continue to offer some of the lowest overall occupancy costs for businesses in the U.S.," he says.
The best Class-A office space in the Perimeter is now commanding rents in the $32 to $34 per square foot range, according to one estimate.
Higher rents mean greater value for commercial properties, and that has started enticing buyers. Late last year, Sterling Pointe, a 351,500-square-foot office complex, was snapped up for an estimated $55 million, according to news reports. Mercedes-Benz USA is leasing Sterling Pointe II as its temporary corporate headquarters.
"Purchases of quality commercial real estate are at an all-time high," says Miller.
Coming out of the economic downturn, office buildings quickly became a very attractive investment option. Buildings – especially those in need of freshening up – could be had for a good price. As the economy began to get moving again and companies had to think about expanding, these properties became easier to fill.
One such structure, Hammond Exchange, was sitting empty after going into foreclosure. The building's owner renovated the lobby and the space and gave it a new name, even a new address.
"We oriented it more toward the Hammond Interchange because of the new exit there and repositioned it so that it was a good outcome for our client GE," says Younglove.
Her team at JLL got busy leasing a few floors, then found a tenant for the rest in State Farm, due to its location across from its new building. The insurance giant eventually decided to buy it outright for $44 million.
---
More Than Just Business
These mammoth developments are getting most of the press, but they're not the only activity in the Perimeter area. A host of new residential and mixed-use developments are also coming out of the ground.
The first speculative office project in the area in more than a decade is now underway. Developer Seven Oaks Co. broke ground on a $140-million, 15-story spec office building in Perimeter Summit, an 83-acre mixed-use development on Ashford-Dunwoody Road in Brookhaven. The project is the fourth office building in the development.
Near the State Farm complex, the 42-acre mixed-use High Street project will include 400,000 square feet of retail and restaurant space, 1 million square feet of Class-A office space, 750 hotel rooms and 3,000 residential units near Perimeter Center Parkway. The development was originally planned before the recession hit and is only now getting underway.
"It's like Avalon [in Alpharetta], but denser and just much larger," says Starling. "So again, [it's] another sort of urban iteration that's happening in the suburbs. It will not only play off MARTA, but it will also connect a lot of [nearby properties]. Because we were built as a suburban car-dependent place, we have very large parcels of property that are fairly self-contained. High Street will begin to connect some of those on more of a grid so folks from Cox will be able to walk straight through this development to MARTA or the mall. It will begin to piece together this market in a much different way."
---
Transit Oriented
State Farm's neighbor, Cox Enterprises, is also putting finishing touches on its new corporate campus. The company built a 19-story building next door to its headquarters, which was completed in 2001, on a 28.8-acre corporate campus known as Central Park. The company has more than 7,500 employees in the Perimeter area.
Accessibility to the area's three MARTA stations and other means of getting to and from work is encouraged by the company, which also provides employees with a shuttle service.
"Transit is an important factor in our location," says Cody Partin, Cox Enterprises' vice president of real estate and corporate services. "Our sustainability program, Cox Conserves, encourages employees to embrace eco-friendly lifestyles. At our headquarters, we offer bike racks and showers, preferred parking for fuel-efficient vehicles, electric car charging stations, loaner cars for commuters and subsidized MARTA passes."
Companies are also taking note of the fact that development seems to spring up more easily around MARTA stations – nearly 28 percent of the metro area's jobs are now concentrated within a half mile of a transit station according to one study.
MARTA is actively working to create residential and other mixed-use projects – known as "transit-oriented development" – around each of its stations, including the four stops in the Perimeter area: North Springs, Sandy Springs, Dunwoody and the Medical Center stations.
"Transit is a big indicator here," agrees Yvonne Williams, president and CEO of the Perimeter Community Improvement Districts. "We probably have the most robust package of assets within a four-mile area of these MARTA stations."
The Dunwoody station that will be connected to State Farm is already a prime conduit for commuters. Approximately 73 percent of riders are traveling for work or business, according to MARTA data.
The biggest group of transit users is younger – in the 25 to 34 age group.
"A generation is now entering the workforce who seem not so attached to their cars as their parents were," JLL's Younglove says. "They like the lifestyle of being in a walkable environment and having options that don't involve sitting in traffic. You can see just around the Perimeter area a lot of new apartments that are in walkable proximity to these workplaces and to shopping. We're going to see more and more of those kinds of communities, because that's the preference of today's consumer and worker."
Perimeter has also proven adept at both growing and keeping companies. One prime example is AirWatch – now owned by Palo Alto, Calif.-based VMware. It provides software that enables businesses to manage, monitor and secure employee cellphones, tablet computers and other mobile devices. The company was founded in Atlanta by Georgia Tech alum John Marshall and has made its home here ever since.
AirWatch, which employs about 2,000 companywide and about 1,100 in Atlanta, has been growing rapidly. Last year, it expanded its Sandy Springs offices by another 50,000 square feet to accommodate 500 new employees.
"Mobile device management, or what we're calling enterprise mobility management now, is one of the fast-growing divisions within tech and VMware," says Blake Brannon, vice president of product marketing. "At AirWatch, we're seeing continual growth as more and more companies adopt and implement mobile business processes."
Companies like AirWatch are attracted to Atlanta's Perimeter area for very practical business reasons. At the top of the list is the ability to recruit quality employees, especially the well-educated kind being produced by universities such as Georgia Tech and University of Georgia.
"With several technology hubs located in Atlanta, we have a deep pool of partners and collaborators throughout the city that do meet our need for technical talent," Brannon says.
It's also easy for those workers to get to the office here. And they can hop on MARTA for trips to Hartsfield-Jackson Atlanta International Airport and access to virtually anywhere in the world. In addition, the East Coast location means employees can easily work with time zones from Europe to the West Coast to Asia.
With all this growth comes traffic, and Perimeter leaders have been working on road infrastructure and offering different forms of transportation. The state has also recognized the need to keep moving traffic through the area with the $679-million reconstruction of the I-285 and Ga. 400 interchange – one of the most expensive road projects in Georgia's history. The project is funded through a combination of federal, state, Perimeter CIDs and private sector funds.
The work, which is expected to be completed by 2020, includes new flyover ramps and new collector-distributor lanes to aid east-west travel along I-285 and north-south travel along Ga. 400. It will also extend the PATH 400 trail system inside the perimeter. Construction is slated to get underway later this year.
The investment is a good indication of how important Perimeter is to Metro Atlanta's continuing economic health and the degree to which the city now looks north.
---
Local Flavor
Grab Your Walking Shoes: Atlanta's Perimeter is certainly becoming a more urban space with denser development, but it will never lose the suburban appeal that has brought so many people to the area.
"There will be some changes, but we're going to remain a suburban community," says Dunwoody Mayor Denis Shortal. "We've grown to 47,000 citizens, but we'll remain a city with a small-town feel and a family atmosphere."
The region's growth has meant more than shiny new office buildings. Residents have been demanding and are starting to get more greenspace and parks, says Brookhaven Mayor John Ernst Jr.
The 12-mile Peachtree Creek Greenway along Buford Highway will one day connect to the Atlanta BeltLine and provide new and enhanced recreational opportunities for local residents.
The linear park will eventually run along the north fork of Peachtree Creek through Doraville, Chamblee, Brookhaven and into Atlanta, but for now, the initial focus will be a three-mile park through Brookhaven.
In Sandy Springs, 40 acres of parks and 2 miles of trails are scheduled for development this year, including the four-acre Windsor Meadows Park along Nancy Creek. And Sandy Spring's new town center, City Springs, plans to incorporate a four-acre central greenspace.
Dunwoody has seven parks and more than 170 acres of greenspace, including Brook Run Park. The 102-acre park features a playground, a two-mile trail, a skate park and dog park, a community garden and event pavilions.
Last spring, TreeTop Quest opened a course in the park. The self-guided obstacle course includes 12 zip lines, and there's even KiddieQuest, a pint-sized playspace with a mini obstacle course and giant net trampoline for kids ages 4 to 6. – Randy Southerland