Georgia Fare: Sustenance and Subsistence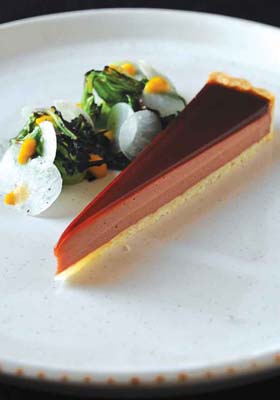 "Oh my god," my dining companion moans swoonily. He shakes his head, closes his eyes and then goes back for one more bite to dispel disbelief.
This is a man who, for years, rejected my every effort to get him to try this dish. A man who only became a convert by tiny bites and hand feeding, sometimes with the assistance of port-soaked cherries. This is my husband, having the chicken liver tart, at Staplehouse.
"This is the best thing I've ever tasted," he says, his cavernous eyes now mournfully reflecting on wasted decades.
This is, indeed, a most excellent version of chicken liver – one of the best I've ever had, too, and I've always loved it. This version is so elevated and streamlined, yet homey – the tiny slice in flaky pastry crust, topped with a thin layer of burnt honey gelée, like frosting; the liver itself so smoothly puréed yet sweetly infused with rich chicken flavor – it's more like chicken butter pie than anything. Beside the mini-salad of satsuma and grilled dandelion greens, it's a pretty dish, like almost everything here, and such a skinny little triangle you can almost feel virtuous for ordering it.
It was the first thing we tasted at Staplehouse, but incredibly, over two visits and more than a dozen small dishes, the chef, the staff and even the vibe maintained a consistency of high-quality food and heartfelt joy that I haven't experienced at a new restaurant in a long time. (We're not alone in our assessment; Staplehouse is a finalist for a James Beard Best New Restaurant award. Winners will be announced this month.)
The name riffs off the word staple (not stable, although the red brick building on Edgewood looks a little like a rehabbed carriage house), for foods that are mainstays, yet must-haves. That fits. This buoyantly youthful team has devised a thoroughly contemporary menu that treats vegetables with respect and creativity, but the focus on meats, sausages and offal recall an era of handlebar mustaches and starched collars. In a good way, that is.
Meats from small or local providers are smoked or ground in the little building across the patio. Succulent roasted shiitake and oyster mushrooms with farro, for example, surrounding a gently coddled (or more likely, sous-vide) egg, were singular standouts, but one of the few completely flesh-free dishes on the menu.
We'd certainly order the squab confit again, which looks like a thick mortadella with cilantro leaves but tastes like the gentlest game you've ever encountered. The Szechuan sausage, on the other hand, is a barely tamed tube of grilled pork exuberance, aided and abetted by bok choy, Charleston Gold rice, peanuts and a fermented shrimp broth. (The bill of fare changes often, so you may or may not encounter some version of these dishes.)
On our second visit, we opted for the tasting menu, available by advance, paid reservation only. Here we sampled small, vivid amuse-bouches that included pepper "chips" that looked like chicharrones and gorgeous, pastel (again, sous-vide) steelhead trout with lardo, Meyer lemon and charred baby leeks. Some unlikely luminaries emerged – Sapelo Island clams with verdant Romanesco nubs in a pale broth were subtly delicious, but their accompanying house-made seeded crackers threatened to kick their way out of the chorus line to stardom.
A few things flat didn't work – overly salty ruby red shrimp, for example, and a slightly flabby and unattractive pork loin with mustard greens and whole shiitakes. Desserts – a pistachio financier and chocolate, banana, benne and burnt cinnamon concoctions on our visits – are beautiful but perhaps not equivalent to the audacious feats among the entrées.
I haven't even mentioned the excellent cocktail program (with an emphasis on classic flavor profiles) and wine list, with what sometimes seemed like our own personal sommelier. He appeared genuinely pleased to find a Madeira after all for us; the cheerful staff seemed universally to act according to the motto printed on the menu: "With gratitude."
Nor have I mentioned the restaurant's poignant backstory, which I didn't know fully until after both visits. I'm glad, because it would have been hard not to want to pull for this enterprise co-founded by the late chef Ryan Hidinger, who with his wife Jennifer began Staplehouse as an email-fueled supper club.
When he was diagnosed with cancer in 2012, an outpouring of community support led to the founding of The Giving Kitchen, which provides grants to local restaurant workers facing similar unanticipated crises. As a for-profit subsidiary of The Giving Kitchen, Staplehouse donates 100 percent of the restaurant's after-tax profits to the cause.
What is the difference between sustenance and subsistence? Perhaps if you're doing it right, it's the same thing.
---
LIVE FOR CHICKEN LIVER?
Floataway Café
Atlanta
Known for chicken liver mousse, Floataway also sometimes serves a traditional
Italian bolognese subtly enriched with White Oak Pastures chicken livers.
starprovisions.com/floataway-café
The Colonnade
Atlanta
Fried the old-school way (that is, crisp outside but still tender within)
The Olde Pink House
Savannah
A refined, low country version, with Bordelaise, spinach and Geechie Boy grits.
plantersinnsavannah.com/the-olde-pink-house
Bagel Palace
Atlanta
New York-style chicken liver spread (and egg creams!)