Albany | Dougherty County: The Right Environment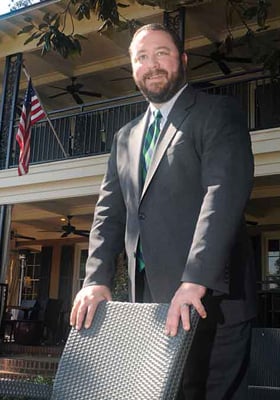 Collaboration continues to be fundamental for Albany and Dougherty County, and it's working across all economic sectors, including the city and county, tourism and recreation, downtown revitalization, education and healthcare.
"Strategic collaboration, I think, is the most important place for the county to focus its efforts with respect to economic development," says County Commission Chair Chris Cohilas. "Government can't create business, but it certainly can create an environment that is conducive to business."
City Manager Sharon Subadan, on the job just less than a year, echoes Cohilas' words. "As a government we don't create jobs, but we certainly have the opportunity to create the environment for existing businesses to be successful here and for new businesses to locate here," she says.
New business locations and expansions have made news in Albany over the past year, with more expected. In the industrial sector, Albany-Dougherty Economic Development Commission (EDC) President Justin Strickland says Thrush Aircraft received $200,000 from the city's job investment fund to add 100 jobs and new production space. WebstaurantStore announced a new distribution center to ship restaurant supplies and equipment across the Southeast with 150 jobs and a $10-million investment.
Procter & Gamble continues construction of a biomass facility, bringing 500 jobs during construction and 75 permanent jobs when completed. The plant will help run one of P&G's largest U.S. facilities and significantly increase the company's use of renewable energy.
Mars Chocolate North America announced that its Albany plant will be the sole global producer of goodnessknows snack bars, says Strickland. And Grifols, an international healthcare company, is building a second Albany facility for the collection of plasma donations used in medications. The facility represents a $4.4-million investment with initial employment of 25 workers when it opens this summer and a potential expansion to 45.
Marine Corps Logistics Base-Albany is the county's largest employer, and the P&G biomass facility will help it achieve net-zero status in its energy usage. The Albany VA outpatient clinic is now on the base, and – thanks to legislative approval of Gov. Nathan Deal's funding recommendation in the state budget, combined with $200,000 each from the city and the county – the Georgia Army Air National Guard Armory will move onto the base as well. All of these are expected to help cement MCLB-Albany's role in national defense in the event of another base realignment and closure (BRAC) study by the federal government.
---
Recipe for Success
Retail and restaurants are popping up throughout the county. A drive-through Starbucks opened, a Cheddars restaurant is under construction, and Five Guys Burgers and Fries and Jimmy John's have announced plans. The chains join a number of locally owned dining outlets, including Newman's Bar & Grill and Harvest Moon, that provide options for date night and families.
Additionally, two Walmart Neighborhood Markets opened in the past year.
New hotels are rising as well. A former Best Western is now a Radisson property known as Park Inn. Hampton Inn built a new hotel, and its former building is occupied by Quality Inn. Downtown, the Hilton Garden Inn is considering construction of a sister hotel, Home2 Suites. Albany currently has more than 2,000 hotel rooms among more than 30 properties.
The community is getting its first local microbrewery in downtown Albany. The city has approved the brewery in hopes it will be a catalyst to attract other retailers.
Its proposed location is within walking distance of downtown attractions, including the Flint RiverQuarium and the Wetherbee Planetarium and Thronateeska Heritage Center (Thronateeska is the Creek name for Flint River), and will be a short jaunt from the proposed rails-to- trails walking/biking trail project that local officials expect will draw visitors into the community and provide a healthy recreational outlet for residents.
Once complete, the rails-to-trails project will extend from Radium Springs in unincorporated Dougherty County through the city to Chehaw Park, and ultimately to the town of Sasser in Terrell County, via former railroad bed property purchased by the city.
A number of ingredients are coming into play in the recipe for downtown revitalization, not least of which is housing. To that end, a developer has committed to renovating the historic Albany Heights hotel building into 75 residential units, with commercial space including a café on the ground floor. "We're really excited about that, coupled with the microbrewery project," says downtown manager Latoya Cutts. "It's great that they're happening simultaneously."
The opening last November of the new Broad Avenue Memorial Bridge over the Flint River, closed several years ago by the Georgia Department of Transportation due to structural deficiencies, provides another gateway to downtown. The redesigned span, in conjunction with a nearby newly beautified railroad underpass, should create an attractive pedestrian route for students from Albany State to enjoy downtown destinations.
Tourism continues to increase, says Albany Convention & Visitors Bureau Director Rashelle Beasley. The CVB counted more than 15,000 at the visitor center alone last year. In addition, hotel room occupancy was up 6.8 percent, and visitor-related revenue jumped 12.6 percent. In 2014, total tourism-related economic impact was $221.5 million, a significant increase over 2013's $213.85 million.
Dougherty County's central library in Albany underwent a $5.5-million renovation using SPLOST funds, reopening in 2014. The South Georgia Archives opened last year in the Thronateeska Heritage Center. The Georgia Historical Society recognized the state-of-the-art, climate-controlled archives center with its Roger K. Warlick Local History Achievement Award in Archival Excellence.
"The archives building is a great asset to us," Beasley says. "During the summertime, tourism thrives on family reunions, so having the archives building over there, as well as the library, people can research their genealogy and really look way far back," into 19th century records.
Other tourist draws include Chehaw Park with its zoo and the Albany Civil Rights Institute with its Freedom Singers. Plus, arena football has returned to the city, with the Georgia Firebirds in the midst of their inaugural season in Albany's James H. Gray Sr. Civic Center.
In addition to the Central Library renovation, Dougherty County has reopened two branch libraries that were closed a few years ago due to funding issues. Chairman Cohilas views the libraries as a complement to education in the community.
"Education is the root of all economic development, and unless you have a strong educational system in place you're not going to be able to attract quality employers," he says. "Being able to open all our public libraries after having some close during the economic recession is a big deal in making sure we're putting out services that attract users."
The city is also collaborating with Boys & Girls Clubs to provide services. In East Albany, the city built a new splash park that will be operated, along with an adjacent gym, in partnership with BGC. "There was a need to do something to help the children over there and to have a program," Mayor Dorothy Hubbard says, "so to have a partnership with the Boys & Girls Clubs was key."
---
Consolidating Colleges
Rumors had swirled for some time, but speculation became reality last November when University System of Georgia Chancellor Hank Huckaby announced the consolidation of historically black Albany State University (ASU) and two-year Darton State College into one institution to be known as ASU.
Dr. Art Dunning, already serving as interim president of ASU, was named president of the combined institution, which will have an enrollment of almost 9,000 students.
"The chancellor is demanding that we take the best of both colleges and create something very good," Dunning said in remarks to an Albany civic club earlier this year. "It also means we have an opportunity to leverage resources on both campuses to serve Southwest Georgia." A commission of people from each institution is working through what Dr. Dunning described as a "staggering" list of decisions.
Local officials express optimism over the decision. "Higher education for Albany is an industry," the EDC's Strickland says. "My hope is that with the consolidation of those two great schools that more people in our community realize that Albany is a college town, and we begin to capitalize on that."
Plans for the new university include added resources, research, graduate programs and downtown housing for students. The combined annual economic impact of the schools is currently about $328 million.
Albany Area Chamber of Commerce interim President and CEO and EDC Vice President Barbara Rivera Holmes reiterates Strickland's view. "The consolidation gives us an opportunity to strengthen the educational opportunities that are available for Albanians and Southwest Georgians, but really also to maximize our recruitment efforts of intellectual capital and keep them here as well," she says.
Mayor Hubbard is also confident about the move. "I think that the climate has changed in Albany. I think it changed over the last three or four years when we had Dr. Dunning and [former Darton president] Dr. [Paul] Jones to come in," she says. "I believe their work in this community has changed the face of how we will collaborate with our institutions of higher education. They understand that they are here to make this community and this region better."
The mayor's excitement is tempered by challenges for the city, especially infrastructure. Aging water and sewer lines are a constant worry and replacing them is a focus, but it can't all be done at once due to cost. She fervently hopes citizens will vote in November to renew the current SPLOST, a tax borne not only by residents but by visitors to the city as well.
---
Quality Medical Care
Phoebe Putney Memorial Hospital has worked for decades to expand healthcare services and jobs in Albany and the surrounding region. It is now the city's second-largest employer.
"Our board's vision is that very few things would cause you to leave this region because of a lack of technology or expertise," says Phoebe Putney Health System President and CEO Joel Wernick. Cardiac services is one example. "Recently we introduced a new procedure known as TAVR [Transcatheter Aortic Valve Replacement]. Instead of going in and surgically removing a bad valve and sewing a new valve in, it essentially goes through your vein and ultimately uses a balloon technology so you don't have to have your chest opened up. That's only being done in a few medical centers here in the state."
Cancer services are another area. "We are going through a complete replacement of our radiation therapy here, at several millions of dollars, to add the most recent technology," says Wernick.
Another thing the hospital is doing, Wernick says, is setting the stage for becoming part of the state's official trauma-care system. Part of that is establishing alternate care sites, such as its new adjacent Phoebe Community Care Clinic, which opened March 1, for patients who often use the emergency center at the main campus for primary care "so that we have the space to really be able to respond as a true trauma center."
Phoebe Putney Memorial is working with the Medical College of Georgia at Augusta University and the University of Georgia to help address the shortage of doctors in our state by increasing the numbers of residencies for doctors and pharmacists. An April groundbreaking was scheduled for Phase I of new resident housing for medical and pharmacy students, the first in a planned three-phase project. Completion of the first phase is expected in summer of 2017. The project is being funded by the Phoebe Foundation.
---
Local Flavor
Walk on the Wild Side: Wildlife and nature have long been important to quality of life in Albany, as evidenced by the region's history of plantations and quail hunting. But there are also other ways locals and visitors can get up close to wild animals.
Chehaw Park and its wild animal park and zoo provide an avenue for interaction with native and exotic non-native animals. The park is home to 238 specimens ranging across 87 different species, including Colobus monkeys, cheetahs, black rhinos and alligators, along with less exotic but no-less adorable critters like miniature horses, pigs and goats.
The wild animal park was designed by Albany native and former Wild Kingdom host Jim Fowler. In addition to viewing animals in a spacious natural landscape, visitors can also wander along scenic boardwalks and through a cypress swamp.
Plan to spend the day because Chehaw Park also offers a Children's Play Park, a nationally sanctioned BMX bike track, a café and a reptile house. All are part of Chehaw's vision of conservation, education and preservation.
Chehaw is joined in its wildlife and conservation mission by the downtown Flint RiverQuarium with its focus on habitat and life in and along the Flint River.
As Doug Porter, retired executive director of Chehaw Park, wrote in a column earlier this year in The Albany Herald, "The value of zoos [and aquariums] is that they personalize wildlife, stirring our emotions, teaching us respect for other creatures and creating young conservationists in the process." – David Shivers