Southface Fulcrum Awards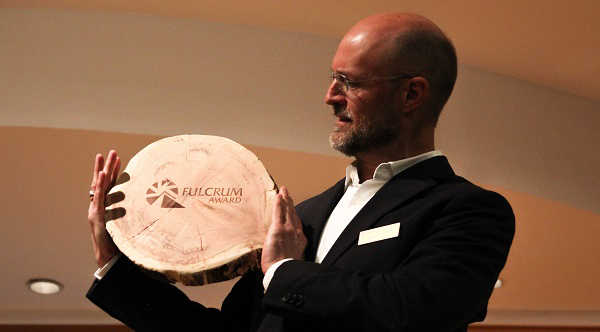 Southface, the Atlanta-based nonprofit that promotes sustainable homes, workplaces and communities through education, research, advocacy and technical assistance, presented its inaugural Fulcrum Awards in mid-March at its annual Greenprints Conference at Georgia State University.
The awards recognize people, programs, buildings, movements and organizations that demonstrate excellence in pursing Southface's vision: a regenerative economy, responsible resources use and social equity through a healthy built environment for all.
This year's four honorees selected from 23 entries are:
Stanton Oaks – The Woda Group and Parallel Housing
This affordable multi-family housing redevelopment in the Peoplestown neighborhood of Atlanta was a collaboration between developers, the Peoplestown Revitalization Corp. and various community groups to create more energy-efficient homes.
WaterHub at Emory University – Sustainable Water
This on-site, university-wide water reclamation system recycles nearly two-thirds of campus wastewater for heating, cooling, irrigation and toilet flushing. Since May 2015, the system has reclaimed nearly 40 million gallons of wastewater. Going forward, it will reduce Emory's draw of potable water by up to 40 percent, helping to create a more resilient campus in a drought-prone region. The WaterHub also offers lab space and tours, facilitating research and education about the benefits of sustainable water management.
Metropolitan North Georgia Water Planning District – Atlanta Regional Commission
This Metro-Atlanta water-planning agency serves 15 counties, 92 municipalities and 5 million people by coordinating with 55 water utilities. The Metro Water District helps guide intergovernmental coordination for stormwater management, wastewater treatment, and water supply and conservation issues. Their aggressive water management strategies have resulted in savings of more than 2 billion gallons since 2011, and projections for regional water demand in 2050 have fallen by 25 percent since 2009.
Iberville Offsites – Kronberg Wall Architects
This revitalization project of 46 single- and two-family homes in New Orleans eliminates neighborhood blight, reinvigorates local culture and improves the quality and efficiency of affordable housing stock while actively avoiding resident displacement.
Featured photo: Southface's Shane Totten displays a Fulcrum Award. The awards were made from wood reclaimed from inside Atlanta's perimeter and include a laser-cut image of the Fulcrum Award logo.
All photos courtesy of Southface.