West Central: Mounting Momentum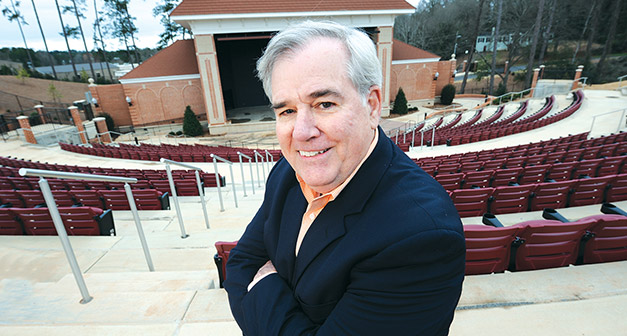 Maintaining the momentum of 2015 might be the best way to describe the hopes of economic developers and government officials in the West Central region. That's certainly true in LaGrange and Troup County, which garnered a nice collection of new projects and expansions last year.
The biggest economic development win is the December announcement by Jindal Films Americas, a leader in the development and manufacture of plastic packaging, that it would move its U.S. research and development facility and national headquarters to its LaGrange facility. The $180-million investment will bring 240 jobs to Troup County. The move requires an expansion of the company's existing facility, which was purchased from ExxonMobil. Jindal already employs 200 at the site.
"The [Jindal] project will bring a lot of corporate white-collar jobs, and we are excited about that," says Bobby Carmichael, executive director of the Development Authority of LaGrange.
Among other projects is a 500,000-square-foot distribution center for Badcock Furniture that was nearing completion in early 2016. It will employ 125.
Also in LaGrange, Fokker Aerotron is expanding its maintenance, repair and overhaul (MRO) facility for aircraft components, adding 10,000 square feet of space and renovating the same amount of existing space.
More good news could be on the way. Carmichael says three local companies are discussing expansions. "We feel positive that in 2016, some or all will decide to make additional investments," he says.
The retail side is picking up steam as well. Carmichael cites several improvements at the town's mall. Also, a 2,200-seat amphitheater is slated to open this month in downtown LaGrange, with a summer concert series already on tap. Plus, there have been discussions about a new hotel for downtown.
Existing industries continue to thrive. LaGrange is a major carpet center with Milliken and Interface operating large facilities. The county is also home to several Kia suppliers.
"We feel pretty positive about the next three to five years," Carmichael says.
Kyle Fletcher, executive director of the Thomaston-Upson County Industrial Development Authority, hopes 2016 will be as good for her region as 2015, which she describes as ending "on a high note" for many of the county's existing industries.
This includes Standard Textile, which is undergoing a $7-million expansion that will create and retain 59 jobs by 2017. Standard Textile, which is headquartered in Cincinnati, serves a variety of markets including healthcare and industrial apparel.
"As we continue to recruit new industry to our community, we are fortunate to have a 240-acre Georgia Ready for Accelerated Development (GRAD) site available as well as buildings ranging from 50,000 square feet up to 233,000 square feet," Fletcher says. "The Development Authority Board has secured incentive money from local government to attract new industry, and our distance from Atlanta [one hour south of Hartsfield-Jackson Atlanta International Airport] provides a strategic location."
Jane Fryer, executive director of the Meriwether County Industrial Development Authority, describes 2015 as an "up and down" year economically. Perhaps the biggest news coming out of Meriwether of late is Legacy Movie Ranch, a 1,700-acre site being developed by Rob Frank, who has been a location manager and location supervisor for Happy Madison Productions, Adam Sandler's film company, for the past 18 years.
"They plan to create sets and film action movies," Fryer says. "He's showing the site to movie producers."
Fryer says Frank hasn't revealed how much he plans to invest in the site, which is about 40 miles from the Atlanta airport, but he is patterning it after Walt Disney Studio's Golden Oak Ranch in California, which offers back lots for shooting in both business and residential environments, plus a variety of outdoor locations.
Also in Meriwether, a new spring water bottling plant, Meriwether White Springs, has opened targeting the sports water market. The plant has contracts with grocery chains including Kroger and Piggly Wiggly to sell its allqua brand of water.
Kia's presence continues to be felt in this part of the state with supplier expansions. This includes Mando Manufacturing, which is starting its third building on its manufacturing campus. Fryer says when the complex is complete in 2018, Mando will be the county's largest manufacturing employer.
"I'm optimistic about 2016," Fryer says, as she mentions a number of Korean suppliers that are looking to locate near the Kia plant.
Tourism continues to be a big economic driver in Meriwether County with Franklin Roosevelt's Little White House in Warm Springs a main attraction. The county is also home to one of Georgia's oldest covered bridges, the Red Oak Creek bridge built in the 1840s that is not only a tourist draw, but also continues to carry cars across the creek today.
Jim Livingston is community and economic development director for the River Valley Regional Commission, which covers several counties in West Central Georgia. He notes that Taylor County is becoming a significant location for solar energy development, especially with Southern Company's 150-acre Butler Solar Farm. The project will consist of more than 180,000 thin-film photovoltaic solar modules made by First Solar. Georgia Power will purchase energy generated by the 20 MW farm for a 20-year period.
In Stewart County, alcohol production is becoming a significant endeavor, with Richland Distilling and Omaha Brewing. Richland is one of only a few distilleries in the U.S. solely dedicated to handcrafting rum from pure cane syrup. Its rum is getting national attention and won several awards recently, including a 2016 Good Food Award. Omaha produces craft beer and began distribution outside of the Columbus and Valdosta markets in late 2015 with plans to go statewide.
Livingston also notes that D&J plastics in Quitman County, which manufactures fishing lures, was recognized for its business success with a 2016 Rock Star Award from the Georgia Economic Development Association in February.
Marion County is touting successes in both economic development and tourism. Debby Ford, president of the Marion County Chamber of Commerce, says a significant success story is Armageddon Gear, a homegrown and fast-growing company specializing in sewn products for the shooting industry.
On the tourist side, Pasaquan, a folk-art environment created by St. EOM, was restored by the Kohler Foundation, which recently transferred ownership of the site to Columbus State University. CNN named Pasaquan one of 16 intriguing things to see and do in the U.S. in 2016. It will open to the public this fall.
Bill Murphy, executive vice president of economic development for the Greater Columbus Georgia Chamber of Commerce, says the chamber and the Valley Partnership recently wrapped up development of a Regional Prosperity Initiative, a community and economic development strategic plan.
"We took a deep dive in assessing what the region has accomplished, what the challenges [are] and how we can capitalize on those opportunities and minimize those challenges," Murphy says.
The Regional Prosperity Initiative identified six key industry sectors for the region to pursue: insurance and financial services; financial technology and information security; aerospace; automotive parts; call centers; and shared services.
Murphy says some of the Columbus area's biggest employers have made large investments recently, including credit card processing giant TSYS, which has expanded its campus. Blue Cross Blue Shield of Georgia invested more than $70 million in a new operations center.
"I am hopeful about 2016," Murphy says. "Our friends at the University of Georgia and at Columbus State University have both issued economic forecasts that are not as optimistic as many would hope, but knowing some of the projects we are working on, I am hopeful that short of some significant contraction in the overall economy that we will have some really good things to talk about in 2017."
Read About Individual Regions: