Technically Speaking
The Technical College System of Georgia offers viable educational opportunities for Georgia's workforce – from high school through adulthood.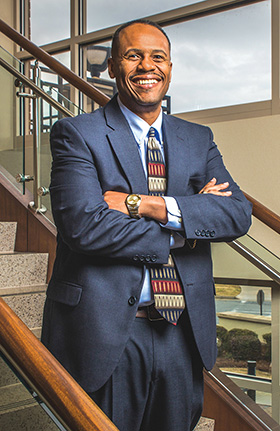 It's been a busy year for the Technical College System of Georgia (TCSG). Over the past 12 months, the TCSG and its 22 technical colleges kept their focus on increasing the state's workforce by implementing initiatives to boost growth in high-demand industries.
The end result is a bevy of new or revamped programs – like Georgia WorkSmart, a hands-on learning partnership between colleges and industry leaders; Move On When Ready, a simplified high school dual-enrollment program; and expanded grants for high-demand industries – that are all helping to ensure that Georgia's workforce is prepared to address the challenges of today and tomorrow.
Growing Pains
Across the board, Georgia's technical colleges continue to focus on a few key areas that line up with Gov. Nathan Deal's strategic industries workforce focus – growth industries that continue to need more and better educated workers. Commercial truck driving and practical nursing are two of these industries. The list also includes movie production, precision manufacturing, welding and joining technology, diesel equipment technology, early childhood care and education, computer technology, certified engineer assistant and health science, with an 11th in industrial maintenance in the works.
Each of these high-demand industries is also supported by the Strategic Industries Workforce Development Grant program, which awards grants to HOPE- eligible students pursuing a degree in one of these areas. Together, these two grants should cover the cost of education in these fields, says TCSG Commissioner Gretchen Corbin – and serve as a powerful incentive for students to fill these workforce gaps.
The need for skilled, qualified healthcare professionals is a well-documented concern across the nation as well as in Georgia. July 2015 data from the Health Resources and Services Administration lists 113 of Georgia's 159 counties as Health Professional Shortage Areas for primary care professionals, highlighting the state's strapped healthcare pipeline, which extends to nursing, physical therapy, medical technology and paramedicine.
In response, Georgia's technical college system has ramped up healthcare degree programs, with 13 colleges currently offering nursing programs. Many others are planning to add these programs in the coming years. Due to demand from students and healthcare employers in the region, North Georgia Technical College also expanded a nursing program to its Blairsville campus last year.
As Georgia continues to serve as an important logistics hub for the Southeast, demand for logistics programs, including commercial truck driving, stays strong.
"You can't outsource truckers," says Lanier Technical College President Ray Perren. "You've got to have people to physically drive trucks, so there's a great need for those nationwide."
A commercial truck driving certificate program is on the drawing board at Lanier Tech, which serves seven counties in northeast Georgia – but the need is reverberating across the state.
In Central Georgia Tech's 11-county service area stretching across Milledgeville, Macon and Warner Robins, the need for truck drivers is just as strong.
"About 20 minutes ago, I was on the phone with a particular beverage company who was talking about moving around its products and how important it will be over the next five to 10 years that we continue to turn out a high volume of commercial truck drivers," says Central Georgia Tech's president, Ivan Allen. "We're hearing that not just in the halls of state government; we hear that from business and industry."
---
Boosting GED Achievement
"This is what we know: 18 percent of our working-age Georgians do not have a high school diploma," says Corbin. "That's 1.2 million working-age citizens in our state."
In some parts of the state, that number is even higher. Allen estimates that 20 percent to 25 percent of residents in some parts of Central Georgia Tech's service area do not have a high school diploma or GED.
"It is very difficult to have high-quality workforce development if a segment of the community is not participating," he says. "From a true dollars and cents perspective, when we're able to move a person who does not have a high school diploma or GED into the realm of having the high school diploma or GED – and then get that person the skills that he or she needs to land that career – we then have made an indelible mark, perhaps not just for that person, but for generations to come in that household."
All technical colleges have ongoing outreach in their communities to advertise their programs, including adult education. And TCSG has partnered with the state's correctional facilities to increase the number of inmates earning GEDs. A big focus for this year, says Corbin, will be expanding that partnership to include the state's county correctional facilities.
The Georgia Employer GED Tax Credit Act of 2015 aims to boost GED achievement in the state's workforce. Companies can earn up to $100,000 per year in tax credits for helping employees earn their GEDs.
---
Industry Partners
Ensuring that technical colleges meet the needs of their service areas' business and industry partners requires a high degree of collaboration – and responsive adaptation.
"Every one of our programs has a Business Advisory Council or Industry Advisory Council that we meet with at least two times a year, so we have members of our business community come directly to our campuses," says Perren. "They walk through our labs, they look at our curriculum, they look at our equipment, and they tell us any trends they see in their industry so we can be prepared."
For Lanier Tech, adapting means expanding. The college is undertaking a multiyear expansion of its Oakwood campus in Hall County to bring more technical education options to area residents. The expansion will boost the existing campus to 320,000 square feet and is expected to be completed by fall of 2018.
And Georgia WorkSmart, launched in late October last year, provides another powerful partnership tool between Georgia's technical colleges and business and industry. Through Georgia WorkSmart, businesses are able to develop customized training programs and technical college students are able to gain valuable hands-on training through apprenticeships, internships and co-ops.
Perren says the program has gained a considerable amount of industry interest; Lanier Tech is developing Georgia WorkSmart programs with King's Hawaiian bakery and IMS Gear, a German manufacturer of gears for auto and mechanical applications, as well as other companies. When the program was announced, Gov. Deal's office reported 30 companies had already submitted letters of commitment.
---
Dual Enrollment 2.0
One of the biggest developments in technical education was the passage last year of two bills aimed at improving the state's dual-enrollment options for high school students, SB 2 and SB 132. Through dual enrollment, high school students can take approved courses at a state technical college (and at University System institutions) and earn high school and college credits simultaneously.
The two bills consolidated previous dual-enrollment programs into one simplified program called Move On When Ready. They also reduced a previous age requirement, opening some courses in the program to all high school students instead of only juniors and seniors. And they provided the vital funding to let all of the state's school systems work together to give students more options earlier in their education.
And students are taking advantage of these improvements. Statewide, says Corbin, the percentage of students under the age of 21 accessing technical education grew from 33 percent to 37 percent in the fall of 2015. Fall 2015 dual enrollment numbers are up 39 percent compared to the same period last year; also, students participating in Move On When Ready are taking more credit hours than dually enrolled students in the past, she says.
At the local level, the impacts are undeniable. At Central Georgia Tech, for example, Allen estimates that the number of high school dually enrolled students has grown from 600 or 700 just a couple of years ago to more than 1,000 this year from all 11 school districts that the college serves.
"Having these young people coming out of high school with both a high school diploma and a college credential will yield great dividends over the next decade or two," says Allen. "It's so important that they come out of high school career-ready, but the beauty is that's just the beginning for these students. They have so many options available to them when they come out of high school with that high school diploma and a college credential."
The easy-to-navigate, easily accessible dual-enrollment program is introducing students to technical education earlier, says Corbin.
"We know that we have students who go between the Technical College System of Georgia and the University System of Georgia. We also know that in the past, we have had individuals who have left high school and not gone into higher education. They've gone into a career field and then felt that they needed to come back to college to receive their higher education credentials and a skill," she says.
"We feel like being able to have students at an earlier age in our colleges provides the opportunity for them to learn more about the opportunities that the Technical College System of Georgia can provide for them as they continue their learning at a high school level, at a college level and even as an employee."
One of the biggest hurdles the technical college system faces is battling student perception of technical education and helping students understand that it "encompasses more than it did 20 years ago when their parents were making these same decisions," says Corbin. "It also encompasses biotechnology; it encompasses logistics. It encompasses basically a program for anyone."
Technical colleges across the state have customized training programs and partnerships with some of the state's business and industry leaders, including Southern Company, Kubota, CSX, Southwire, John Deere and Caterpillar, as well as military installations like Robins Air Force Base and Moody Air Force Base. A technical education is a hands-on education, and there are dozens of programs throughout the state's technical colleges in fast-growing, modern industries like computer technology and other STEM-related fields.
Aside from technical instruction, Move On When Ready students gain other valuable skills as well, says Allen. "[These skills] are applicable in several career pathways – not just the actual hard skills, but some of the soft skills you pick up by being on a college campus or in a college setting that early in life. I think it's one of the greatest preparatory programs we have for ensuring that our state remains strong.
"Move On When Ready is not the end game. It's really the beginning of opening up this whole new world of achievement," he says. "It's not just a right-now solution; it's a long-term solution for workforce development in our state."