Southwest: The Road to Prosperity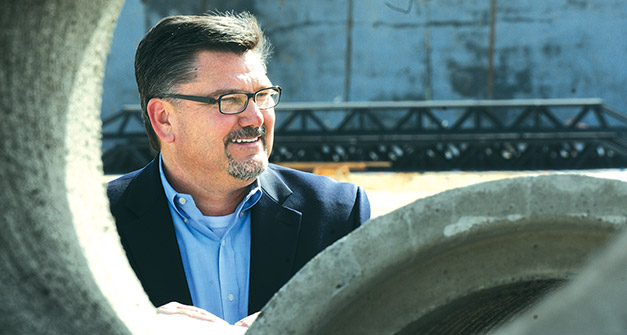 The road from recession to prosperity is proving to be a long and sometimes bumpy one for Southwest Georgia. However, the region's economic developers say they are seeing enough positive signs to make them optimistic that better days are ahead.
"The economy in our region is heading in the right direction, but the pace is modest," says Cindy Tori, a professor of economics at Valdosta State University. She tracks the local economy as author of the South Georgia Business Outlook and issues a quarterly forecast for the region, which includes all 25 Southwest Georgia counties.
"Unfortunately, I see no robust growth this year, but the economy is improving and that's more than I could say a couple of years ago," she says.
One encouraging trend Tori sees is more communities working to lay the groundwork for future growth. "Business, educational and government leaders are working together," she says. "What they do now may not show up in a big announcement in the next few months, but it will pay off in the future."
Southwest Georgia is a widely varied region. Some counties are almost strictly agricultural; others are more economically diverse. And those located on the I-75 corridor, with easy access for manufacturers and distributors and a constant stream of customers for restaurants and retail stores, are generally faring better than their inland neighbors.
Tifton-Tift County is one area that has enjoyed the benefits of its I-75 location, reporting more than 400 new jobs and almost $24 million in investments in 2015.
As for 2016, "We continue to be very bullish on the Tifton economy and the likelihood for continued growth," says Brian Marlowe, president and CEO of the Tifton-Tift County Chamber of Commerce, who also heads the Tift County Development Authority. "Our existing industries continue to add jobs and invest additional resources in the community. In January, the authority broke ground on a new 100,000-square-foot spec building in the county's new industrial park, and it's already garnering interest.
"We are fortunate in that we continue to experience a tremendous amount of success across all sectors within the community," Marlowe says. That success is shown in the big unemployment rate drop, from 12 percent five years ago to just over 5 percent today.
On I-75 at the Florida border, Valdosta-Lowndes County sees positives ahead. "I'm excited about 2016. Our existing industry is doing well, and we're seeing good prospect activity," says Development Authority Executive Director Andrea Schruijer. "Our unemployment rate is way down, and we're seeing nice, steady growth."
Lowndes County has eight exits off I-75 attracting travelers and shoppers, and Schruijer says retail and hospitality look good for growth. Expected to help spur activity in downtown Valdosta is a planned 125-room, five-story Wyndham Garden Hotel.
For other prospects, Schruijer says Valdosta-Lowndes has three industrial parks "with some 500 acres completely ready."
Lowndes' neighbor, Cook County, is off to a good start in 2016, says Lisa Collins, director of economic development for the Cook County Economic Development Commission.
"In the first quarter, Cook County has seen more prospect activity for both manufacturing and retail than it has seen in recent years," she says. "We've also had three existing industries announce plans for expansions, and we have a Walmart opening in mid-April, creating up to 250 jobs."
Collins says the county has been laying the groundwork for growth, including infrastructure improvements at the county's 3,000-acre megasite industrial park.
While his county doesn't sit right on I-75, Darrell Moore, president of the Moultrie-Colquitt County Chamber of Commerce and the Development Authority, says he has reasons to be optimistic.
"We have some good things happening, and if we can continue building on what we have it'll be a good year," he says. "Our unemployment rate dropped last year, but importantly we also had 1,400 new jobs created."
The local job market got a big boost when National Beef Packing Co. a leading beef processing and packing company, announced it is expanding operations in Moultrie, creating almost 300 jobs. That was a welcome rebound from two years earlier, when the plant had to lay off workers.
Moore says Moultrie's retail sector is also looking better. "We've got an $18-million shopping center anchored by Publix coming online later this year that'll add some 250 jobs and should help spur more retail growth in the area," he says.
Moore says he's also excited about the progress the new regional marketing organization, Locate South Georgia, is making.
"We have a lot of interest from our members and are getting good participation," says Moore, who is chairing the group for the second year. "We have some type of event every quarter and host meetings with project managers here and in Atlanta. Having 21 member counties makes us stronger to market the region as a whole."
In Albany and Dougherty County, Economic Development Commission President Justin Strickland says he is seeing "the good seeds planted in recent years paying off in positive growth."
"We saw good signs of an improving economy in 2015 with companies expanding and unemployment down, and it looks like 2016 will be a good year," he says. For 2015, the commission reported 344 new jobs and $225 million in new investment.
Projects getting underway include a distribution center for restaurant supplier WebstaurantStore, creating up to 150 jobs, and a new microbrewery, expected to provide a boost to downtown Albany.
Strickland says a community-wide rebranding campaign has helped spur "more collaboration between business, government and education entities and has put us in a position to better market our community."
Grant Buckley, executive director of the Cordele-Crisp County Industrial Development Council, is another who foresees "good things happening" in 2016.
"We've had some expansions, some new business and some important infrastructure projects at our inland port that will increase capacity significantly," he says. The Cordele Intermodal Center (CIS) operates the inland port that serves as a staging area for container cargo shipped via rail to the Port of Savannah.
Buckley says the $1-million CIS expansion "will make the port and the county more attractive for corporations, and we already have a couple of very good industrial projects we hope to close this year."
One of the most enthusiastic forecasts for 2016 comes from Winston Oxford, executive director of the Lee County Development Authority, who says, "This may very well be one of the best years we've ever had. We've got several large and several good-size projects getting underway, and we have some major road projects that'll help spur future growth."
Commercial growth has been key for his area, Oxford says. "We've been fortunate to have enjoyed really good commercial growth over the years, and it looks like that will continue," he says. "For 2014 and 2015, we had 17 commercial projects completed or getting underway, and we have two really nice projects in the works so far this year."
In Sylvester-Worth County, Chamber of Commerce President and CEO Karen Rackley has her eye on the future.
"We're largely an agricultural community and agriculture has been doing great, but we've also positioned ourselves to welcome any new business, large or small," she says. "We have our 196-acre shovel-ready industrial park and a great workforce, and we're pleased with the interest we're getting. Fortunately, our existing industry is doing well, adding about 125 new jobs last year."
Thomas County started 2016 with the news that its Caterpillar plant would be closing and some 200 employees would be losing their jobs by the end of the year. But the county has a diverse economy and a thriving Thomasville downtown, and Shelley Zorn, Thomasville-Thomas County Payroll Development Authority executive director of economic development, says she's still optimistic "2016 will be a good year with some exciting projects in the pipeline.
"Last year was a great year, especially for existing business," she says. "It's incredible what Thomasville and Thomas County generates organically, with local businesses expanding and local residents starting small businesses. We added 425 industrial jobs in 2015 and 210 new jobs in the service and retail sector."
For 2016, Zorn says, "We have a lot of new prospects, one great one I'm hoping comes through. Our 293-acre business park will come online this summer and will be a big boost for helping recruit new business. And we're excited about the city of Thomasville's planned convention and event center, a project that will include an outdoor amphitheater."
Such diverse projects show that the region is indeed heading in the right direction.
Read About Individual Regions: