Savannah | Chatham County: Long-Range Thinking
Entertainment, tourism and logistics.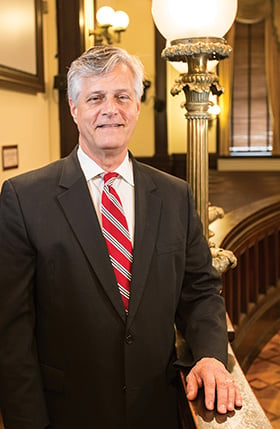 Already a booming tourist destination, Savannah and Chatham County have huge potential to become the second biggest location for entertainment production in Georgia. With the approval late last year of local incentives – added to the state incentives already on the table – the Savannah area continues to boost its appeal to the entertainment industry.
The three-year, $4.5-million Savannah Entertainment Production Incentive, effective since the first of the year, includes two distinct incentives, the first being cash rebates for feature films and television series for qualified productions. The rebate requires a half-million dollar minimum spend in Chatham County. A second incentive, for workforce relocation, will reimburse up to $2,000 per household in moving expenses for qualified applicants.
The film incentives, funded by the Savannah Economic Development Authority (SEDA), should serve to increase the number of qualified crew members living and working in the area, in turn building a sustainable production industry and increasing the number of film and television productions there.
"While the number and quality of productions in Savannah has grown over the past few years, due to incentives offered by the state and the great diversity of shooting locations available, there is a cost disadvantage to shooting here. This is mostly due to a limited local crew base," says Trip Tollison, president and CEO of SEDA.
Film and television projects last year spent more than $58 million in the area, an investment expected to generate more than $124 million in economic impact, according to Savannah Film Services Director Will Hammargren.
SEDA entered into a partnership with the city of Savannah to manage the marketing and selling of Savannah for film, television and other productions and last year hired Los Angeles-based Ralph Singleton to manage those efforts.
"We hope to see an increase from 20 to about 120 crew members in about 14 months," says Singleton.
---
Taking Control
Brand new to his role as mayor, Eddie DeLoach has deep roots in the community and served from 1992 to 2000 on the Chatham County Commission. His first order of business after taking office in January was to add about 100 police officers to the city rolls, positions that were budgeted for but had remained unfilled.
"There'd been a downturn [in crime] for a number of years, and then it started moving back up," he says. "What made me run for office is the number of people being killed. Crime was rampant, and it didn't seem like anybody was stepping forward with any ideas on how to improve the situation."
DeLoach is confident in the ability of police Chief Jack Lumpkin Sr., whom he calls "one of the best police chiefs in Georgia," to reduce crime rates in Savannah. "We also need to ramp up technology and equipment to improve the situation for our chief," says DeLoach, noting the city plans to use bonds to pay for the improvements needed to keep residents and visitors safe.
The mayor is also focused on drafting a long-range plan for the city and says without one they can't have a good overview of what the next couple of decades should look like. Projects such as development of additional hotels, providing more affordable housing downtown and adding a parking garage will all be included in that long-range plan. Because many projects will likely be SPLOST funded, pre-planning is critical.
Since rates for crime and unemployment are often intertwined, DeLoach has initiated a summer paid internship program for rising high school seniors. He hopes to put about 500 students to work for nine weeks this summer with local businesses.
Keeping residents and visitors safe is also a priority for Chatham County Commission Chairman Al Scott, now in his fourth year in office and planning to run for re-election this fall. Keeping law enforcement salaries more competitive with other areas is one way he hopes to keep the job slots filled.
"We lose many of our officers to the Port Authority," he says. "There's no threat, it's a fairly safe environment and the pay is slightly higher."
Scott echoed DeLoach's intention to take advantage of the city's high bond rating to help finance new technology for area law enforcement, including customization of a smartphone app that would allow people in emergency situations to make known their exact location to first responders.
Scott says his nearly complete efforts to move the county to a zero-based budget, which in turn has allowed the county coffers to increase from a two-month reserve fund to a three-month one, will help move the county from a double-A to triple-A bond rating.
Savannah City Manager Stephanie Cutter, who announced her retirement in January, says crime is certainly the No. 1 issue in Savannah, though they're "making great strides in that area," she says. Her office is also working to computerize and streamline processes such as permitting in answer to the current boom in growth. Cutter will remain in her position until the nationwide search to hire her replacement is completed.
Helping the county's bottom line greatly, visitors to Savannah in 2014 numbered 13.5 million, producing an economic impact of $2.5 billion, says Joseph Marinelli, president of Visit Savannah.
There's easier access these days for visitors who fly in, he adds. Jet Blue added a nonstop daily flight from both New York and Boston, and Allegiant Airlines begins service to and from Savannah this month. In addition, Sun Country Airlines recently began weekly service from a number of large cities in the Midwest.
---
Steady Growth
Savannah's manufacturers continued to demonstrate strength through much of 2015, hitting a 15-year high by employing 17,000 workers. The county's gold star of the aerospace industry, Gulfstream, reported second-quarter sales topping $1 billion, the best since 2008. Additional test flights of the G500 continued in 2015, and the aircraft is expected to be certified in 2017, entering global service in 2018.
Gulfstream also delivered its first G650ER to Qatar Airways, the first of as many as 30 expected to be delivered to the private fleet. Despite this good news, in December, Gulfstream announced a streamlining move to reduce its workforce by about 1,100 contract and direct employees.
Overall, 2015 was a year of relative strength for the region's manufacturing sector. More than 700 jobs were added to manufacturing payrolls. Employment growth is expected to be more restrained in 2016, according to chamber reports, as the job-growth momentum developed by other manufacturers needs to be sustained to counter-balance Gulfstream's announcement.
JCB, one of the world's top three manufacturers of construction equipment, selling products in more than 150 countries, added a new production line of backhoe loaders and roughly 50 jobs to the 600-plus JCB workforce already in place. The success of JCB in developing products to meet the needs of the Department of Defense earned it a $206-million initial contract in 2005 followed by an additional $50-million contract in 2014, and it led the company to move its global Government and Defense division to Savannah in 2015. Roughly half of JCB's production is shipped to foreign destinations through the Port of Savannah.
OA Logistics/JLA Home, a California-based importer of home furnishings and décor, announced an expansion of its Savannah operations last year, including plans to construct a 1.1-million-square-foot e-commerce fulfillment center and add 200 to 300 jobs by mid-2017.
"This is a half-billion dollar business growing in excess of 20 to 30 percent annually," says Tim May, vice president of distribution, noting the Port of Savannah was a top factor in selecting the area for the company's expansion. May cites the quality of the local workforce and ability to recruit and train employees as another factor. The company currently operates a 679,000-square-foot distribution center in Savannah's LogistiPort Industrial Park.
Late last year, Safavieh, producer of designer-quality rugs, including collections for Martha Stewart and Ralph Lauren, announced a $24-million investment in a second building and another 100 jobs in Savannah.
Israeli-based BRAM Industries made a capital investment of $3 million to open Bramli USA, a manufacturing plant and distribution center in Savannah's Georgia Commerce Center and its first in the United States. A leading manufacturer of plastics for such clients as Target; The Home Depot; Bed, Bath & Beyond; Amazon; and The Container Store, BRAM added 60 new jobs when they opened in January.
Blue Force Gear – 2015 Savannah Small Business of the Year – announced a $30-million expansion, adding 50 new jobs and relocating to a larger facility that will include a retail store. Blue Force, located in Pooler, manufactures military gear such as weapon slings, utility pouches and armor carriers.
Founder Ashley Burnsed, a Savannah native, says they plan to triple their workforce over the next five years and chose Pooler because of all the recent development there, including the Tanger Outlet Mall, a new waterpark, several new hotels, dozens of restaurants and substantial new home construction.
"So much happens in this area – all positive energy," says Burnsed. "I was interested in staying in Chatham County if the right property could be located. SEDA did a fantastic job of helping us to stay local."
Staying local is also crucial when it comes to the 33,000 active military personnel within an hour of Savannah, says Savannah Area Chamber of Commerce President and CEO Bill Hubbard. "We have a long tradition of having military presence here," he says, noting that many who transition through Fort Stewart and Hunter Army Airfield return to retire in the area.
For a time, uncertainty regarding sequestration had the community holding its breath. Hubbard was relieved to learn the net affect will be 500 enlisted soldiers, a smaller loss than anticipated.
---
Growing Pains
While he admits it's a good problem to have, SEDA's Tollison says Chatham County is busting at the seams due to a lack of availability of industrial warehouse space.
"Warehouse shortage is our No. 1 issue, with just 3 percent vacancy," he says, adding that 8 percent to 12 percent is considered a healthy vacancy. "Obviously, we're on the unhealthy side. We're being very proactive and working to get back to healthy margins on industrial space."
Among their efforts was a recent rezoning in Pooler of 328 acres marked for an industrial park to accommodate construction of five new warehouses.
Curtis Foltz, the retiring Georgia Ports Authority executive director, acknowledges the demand for warehouse and distribution space will only go up as the completion of the port-deepening project, estimated to be in 2020 to 2021, gets closer. They're already seeing port container volumes up 23 percent, numbers not projected until 2018.
It's just one big part of the diverse Savannah/Chatham economy that's growing stronger every day.
---
Local Flavor
Film Life: In January, Savannah's draw as a prime production location received an industry vote of approval when trade publication MovieMaker magazine ranked Savannah No. 1 on its list of Best Small Places and Towns to Live and Work as a Moviemaker.
The ranking noted "2015 was something of a banner production year for the city, which hosted 90 professional projects, such as the Adam Sandler-starrer The Do Over, Marc Webb's Gifted and three Sundance 2016 features: Nate Parker's The Birth of a Nation, Antonio Campos' Christine, which also shot in New York, and Clea Duvall's The Intervention."
Georgia currently ranks third nationally in total number of productions per year, behind California and New York. Other films recently produced in Savannah include The SpongeBob Movie: Sponge Out of Water and Magic Mike XXL, as well as independent biopic, The Miki Howard Story. Based on the 2012 novel of the same name, Live By Night was recently filmed in Savannah and is set to be released this year. Set in the Prohibition Era and centered around a group of individuals and their dealings in the world of organized crime, the movie stars Ben Affleck, who also wrote the screenplay and directed the movie.
A new Baywatch movie, a film version of the popular '90s television series about lifeguards in Los Angeles, stars Dwayne "The Rock" Johnson and Zac Efron and is currently in production there. It serves as a good example of Savannah's draw, especially with the new incentives in place.
"They were supposed to shoot the beach scenes in Florida, but once they learned more about the incentives Georgia is offering, they were very attracted to that and decided to shoot on Tybee Island," says Joseph Marinelli, president of Visit Savannah.
This was Efron's second film on Tybee of late, having appeared with Robert De Niro in Dirty Grandpa, filmed on Tybee Island last year.
Of course, the Hostess City of the south is no latecomer to the film production industry and counts among its shining stars the 1994 blockbuster hit Forrest Gump as well as the widely popular 1997 Midnight in the Garden of Good and Evil, both of which brought curious tourists to Savannah in droves. – K.K. Snyder