Northwest: The Sounds of Success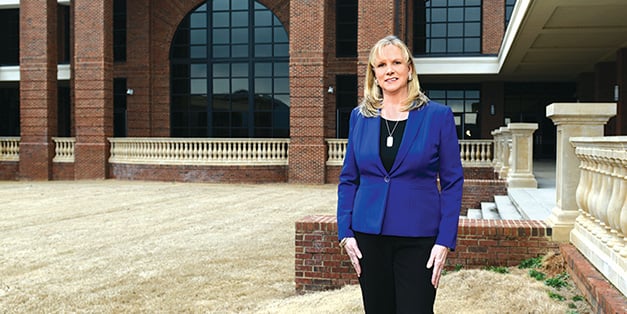 Visit any of the 12 counties in Northwest Georgia, and you're likely to hear the sounds of success – from construction noise to leaders talking up new projects.
In Murray County, the business outlook is so good it makes folks want to "toot our horns," says Dinah Rowe, president and CEO of the Chatsworth-Murray County Chamber of Commerce. Rowe's enthusiasm is in part because of what she calls Murray County's "bragging rights." They include outstanding medical care at Murray Medical Center, the Cohutta Springs Conference Center and a strong tourist industry featuring small-town charm and scenic mountain vistas.
Education is high on Rowe's list as well. "We have the highest dual enrollment of high school and college prep courses in the North Georgia region," she says. "Murray County High School has the second-highest graduation rate of state schools, and North Murray High School has the ninth highest. We've been working a long time and partnering with our local college and technical college to ensure that employers have an educated and work-ready workforce."
But it's Murray's inland port that tops her list. Scheduled to open in 2018, the Appalachian Regional Port is already a magnet for new business. Rowe says that several businesses have begun the process of relocation. "We are looking forward to these businesses coming in and being good community partners," she says. "In return, Murray County will invest everything in them that we can."
Rowe's fellow economic planners across the region share her excitement.
In November, the Georgia Economic Developers Association recognized Rome-Floyd County with its Deal of the Year Award in the Medium Community category for retaining Bekaert Corp. after a devastating fire in November 2014. Bekaert, a Belgian company that makes steel wire for tires and high-pressure hoses, will invest $16 million in rebuilding the facility, retaining 120 jobs.
A key to attracting and retaining businesses in Rome and Floyd is a tax credit and several tax exemptions, says Heather Seckman, director of economic development for the Greater Rome Chamber of Commerce. Rome and Floyd, she points out, have a 100 percent Freeport Inventory Tax Exception, do not implement a sales tax on energy used in manufacturing and offer a Georgia Job Tax Credit of $3,000 to companies creating 10 or more new jobs.
Two tourist-related activities at Berry College are also fueling optimism. One is the Rome Tennis Center, with phase one scheduled to open in June. "When complete, it will be the largest tennis center of its kind in the United States and will host tournaments that will attract thousands of people," says Seckman. The other draw is a pair of nesting bald eagles that took up residence on the campus in 2012. Millions watch the webcam to see what the latest brood is up to. "People also come from all over the country to see the eagles, and this has quite an economic impact," Seckman says. Two eaglets hatched in February, bringing renewed attention to the nest.
Up the road, Dalton-Whitfield County is emerging from the recession.
Carl Campbell, executive director of the Dalton-Whitfield County Joint Development Authority, credits changes in the Carpet Capital of the World's flooring industry for spurring much of the turnaround. "There is retooling on the carpet side and a lot of growth in LVT [luxury vinyl tile], which has the appearance of wood, tile and other traditional flooring products," he says. That turnaround, he adds, has reduced unemployment in the county from more than 12 percent in 2011 to 5.8 percent in December.
The retooling includes growth in plastics, some of which is related to floor covering. Flooring giants Shaw, Mohawk and Engineered Floors have invested in the plastics extrusion process, and small businesses such as Advanced Color Technologies are supporting these new processes and materials.
"We also have businesses that do a fair amount of automotive work in small ways," Campbell says, pointing out that economic developers in the region have worked hard to recruit automotive suppliers because of the Volkswagen plant a half-hour away in Chattanooga.
Business leaders are also clearing the way for new industries. Carbondale Business Park, a 238-acre industrial tract along I-75, has been GRAD certified. The site includes a 40-acre graded pad that is ready for a tenant.
Sustainable Corrugated broke ground in January on a $15-million, 150,000-square-foot factory in Dalton that will make corrugated cardboard sheets and employ 62 people.
Campbell takes great pride in Dalton's "comeback" status. "The area lost more than 4,000 jobs in the carpet industry during the downturn in housing during the recession," he says. "We took it on the chin through the recession, but we never went anywhere, even though some thought we were down for the count."
Keith Barclift, project manager for the Northwest Georgia Joint Development Authority, says "we're pretty excited" about new investment and strong activity in existing industries in the four counties of Walker, Catoosa, Chattooga and Dade that the authority works with. That activity has dropped unemployment in Chattooga County, which had soared to the 16-17 percent range during the recession, to 6.2 percent in December, he says.
In Dade County, Vanguard National Trailer Corp. is investing $30 million into a new manufacturing facility near Trenton with plans to employ 400. In Chattooga, Mohawk is more than doubling its previous $200-million investment with another $250 million.
In Catoosa, Shaw is investing $20 million in Evergreen Ringgold, a facility that will recycle carpet, and in Walker County Barclift is optimistic that a $50-million investment in 2014 by Pennsylvania-based plastics maker Audia International will help attract other manufacturers in the automotive industry.
"A lot of manufacturers are looking at this area, and we're focusing on workforce development," Barclift says. "The entire community in Northwest Georgia grew up doing manufacturing with floor covering. Changes in technology have made production more efficient, decreasing the number of jobs and increasing the need for skilled workers in many of the remaining ones."
Bartow County has seen recent expansions at some of its strongest companies, including Voestalpine, a producer of high-strength automotive components; Surya, a rugs and home-décor company; and Beauflor, a manufacturer of cushion vinyl flooring.
Melinda Lemmon, executive director of the Cartersville-Bartow County Department of Economic Development, expects Avatron Smart Park, a tech-driven, Hollywood-inspired theme park, to break ground in the spring in Emerson with completion expected in early 2019. Constellium, a manufacturer of aluminum products, will also begin work this year on a $32-million facility that will create 150 new jobs.
Gilmer County is looking for more of its citizens to stay within the county to work. "More than 70 percent of our working population commutes out of the county daily to their jobs," says Chuck Scragg, executive director of the Greater Gilmer Joint Development Authority.
Jobs that keep people in the county can be found at Pilgrim's Pride, which expanded its employment back to pre-recession levels, and small businesses and retail stores in towns such as Ellijay are doing very well.
In Gordon County, officials celebrated the opening of two major facilities in 2015, including LG Hausys America, which employs 50 people and represents a $120-million investment.
Perhaps the event that created the most buzz in the county, says Kathy Johnson, president and CEO of the Gordon County Chamber of Commerce, was one that has been 20 years in the making: the opening of the new Union Grove exit on I-75. It provides easier access to I-75 for the many manufacturers clustered near the exit, including EVCO Plastics, Nourison, Shaw Industries, Mannington, Dodd's Carpet and Berry Plastics.
"We were pretty busy in 2015," says Eric McDonald, president and CEO of the Haralson County Chamber of Commerce, adding that 2016 is also off to a great start.
One new business location and three expansions created 115 jobs in the county last year, including Mexico City-based Rotoplas. The company, which makes plastic agricultural tanks, opened with a $6-million investment that created 35 jobs. The big story last year was Honda Precision Parts, which launched a $245-million expansion.
McDonald attributed what he calls significant interest in the county to its proximity to Hartsfield-Jackson Atlanta Inter- national Airport. "Land is expensive and becoming unavailable, and people are trying to stay near Atlanta and the airport," he says.
In Polk County, Southern Company opened the largest battery storage research project in its operating system in Cedartown in September. The new research project will test and evaluate batteries similar to the ones in electric vehicles and many consumer electronics. In October the county received another feather in its cap – and future tourism dollars in its pockets – when the American Association of State Highway and Transportation Officials approved a new bicycle route that will pass through Cedartown and Polk as it connects Atlanta to Chattanooga.
That's the ringing of bicycle bells added to the other sounds of success in Northwest Georgia.
Read About Individual Regions: